#72: Into The Groove by Madonna
Peak Month: July 1985
13 weeks on Vancouver's CKLG Chart
1 week Hit Bound
Peak Position #2
Peak Position on Billboard Hot 100 ~ did not chart
YouTube.com: "Into The Groove"
Lyrics: "Into The Groove"
Madonna Louise Ciccone was born in Bay City, Michigan, in 1958. Raised in the Pontiac, Michigan, Madonna's mother died of cancer in 1963. While she was attending a Catholic middle school Madonna, as reported in Madonna: An Intimate Biography, would perform cartwheels and handstands in the hallways between classes, dangle by her knees from the monkey bars during recess, and pull up her skirt during class—all so that the boys could see her underwear. Madonna later told Vanity Fair that she saw herself in her youth as a "lonely girl who was searching for something. I wasn't rebellious in a certain way. I cared about being good at something. I didn't shave my underarms and I didn't wear make-up like normal girls do." After high school, she got a dance scholarship at the University of Michigan in Ann Arbor.
In 1978, Madonna dropped out of college and moved to Manhattan. Looking back on that time, Madonna later said "It was the first time I'd ever taken a plane, the first time I'd ever gotten a taxi cab. I came here with $35 in my pocket. It was the bravest thing I'd ever done." She got an apartment in the Alphabet City neighborhood of the East Village. She lived a paupers' existence, getting some work at Dunkin' Donuts and working with several modern dance troupes. She studied dance under dancer and choreographer Martha Graham. Eventually, Madonna began to work as a backup dancer for Patrick Hernandez, who had a disco hit in 1979 titled "Born To Be Alive". In 1979 Madonna formed a band called The Breakfast Club. She went on to form Emmy and the Emmys.
In October 1982, she released her first single, "Everybody". Though it failed to crack the Billboard Hot 100, it made the national dance chart in the USA and sold 250,000 copies. This gave her exposure on the cover of Dance Music Report. In addition, she appeared on TV for the first time on Dancin' On Air. As well, Madonna performed live at Danceteria, a four-floor nightclub at 30 West 21st Street in New York City. A second single release was "Burning Up". In the "Burning Up" video, at one point Madonna was in a white dress lying on the road while writhing in passion for her lover. The single shot to #3 on the Billboard Hot Dance Club Play chart, and #9 in Melbourne, Australia. The song was also featured in the 1984 film The Wild Life.
In the fall of 1983, Madonna had her first Top Ten international Top Ten hit single with "Holiday" (Australia, Belgium, Ireland, Netherlands, New Zealand, United Kingdom and West Germany). Overlapping the release of "Holiday", was a Top Ten hit in Canada and the USA titled "Lucy Star". In her videos, Madonna had a unique, fashion-setting look that consisted of lace tops, skirts over capri pants, fishnet stockings, jewelry bearing the crucifix, bracelets, and bleached hair.
In late 1984, Madonna released her album Like A Virgin. The lead single, "Like A Virgin", became the first of five Top Ten selling singles from the album, peaking at #1 on the Billboard Hot 100. It was followed by "Material Girl" (#1 in Vancouver), "Angel" (#1 in Vancouver), and "Into The Groove".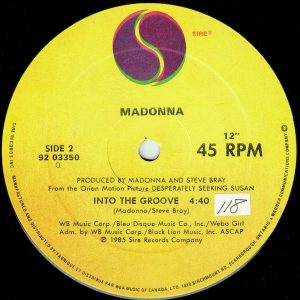 "Into The Groove" was co-written by Madonna and Stephen Bray. Bray was born Detroit in 1956. He was in the Breakfast Club band with Madonna, and dated her before she became famous. Bray co-wrote many songs for Madonna. These include "Angel", "True Blue", "Causing A Commotion", "Express Yourself" and "Keep It Together". He also wrote the number-one U.S. Dance Club hit from 1986 titled "Say It, Say It" for Eileen Daily. As well, Bray wrote "Baby Love" for Regina, "Each Time You Break My Heart" for Nick Kamen, and "Cross My Broken Heart" by the Jets. Bray made his Broadway debut in 2005 as composer and lyricist for the Broadway version of Alice Walker's book The Color Purple. He was nominated for a Tony Award for his work on the show. When the production was remounted, Bray won a Grammy Award in 2017 for Best Musical Theatre Album.
"Into The Groove" is a celebration of dancing at a club and the pull of sexual attraction with a stranger. Tired of dancing in her room by herself, Madonna exclaims "tonight I wanna dance with someone else." On the dance floor she sees a guy with "the fire burning in your eyes." On the dance floor, people can let the music pull them out of their inhibitions. Madonna sings "Live out your fantasy here with me. Let the music set you free. Touch my body and move in time. Now I know you're mine."
"Into The Groove" peaked at #1 in San Francisco, DeKalb (IL), Saskatoon (SK), Arlington (VA), Milwaukee (WI), Atlanta, Mesa (AZ), New Haven (CT), Kansas City (MO), St Louis, Baltimore, Washington D.C., Pittsburgh, Dallas, Houston, Buffalo, Minneapolis/St. Paul, Cincinnati (OH), #2 in Vancouver (BC), Portland (OR), Calgary (AB), San Diego, Tampa (FL), Fort Lauderdale, Seattle, Norfolk (VA), Winnipeg (MB), Toronto, and Cleveland, #3 in Chicago, Montreal, New York City, Phoenix, Boston, London (ON), and Columbus (OH), #4 in Edmonton (AB), Racine (WI), and Detroit, #5 in New Orleans, and Morgantown (WV), #10 in Ottawa (ON) and Hamilton (ON). In 23 states in the USA, "Into The Groove" got no airplay, as DJs opted just to playlist the A-side "Angel". Consequently, "Into The Groove" didn't crack the Billboard Hot 100.
Internationally, "Into The Groove" peaked at #1 in Australia, Austria, Belgium, Finland, Iceland, Ireland, Italy, the Netherlands, New Zealand, Spain and the UK, #2 in France, Greece, and Switzerland, #3 in Germany and Sweden, and #4 in Norway and South Africa.
Another hit in 1985 was "Dress You Up". In the midst of Madonna's streak of hits, her single "Crazy For You", from the 1985 film Vision Quest, became her second number-one hit in the USA, peaking at #2 in Vancouver.
In the spring of 1986, Madonna released her lead title track from her forthcoming album, Live to Tell." "Live To Tell" became the third number one hit for the singer in Vancouver. It was a track from the film At Close Range. "Papa Don't Preach" became the second hit single, climbing to #1 in Vancouver. A third single, "True Blue", topped the pop charts in Ireland and the UK. Her fourth Top Ten hit single from Live To Tell was "Open Your Heart", which became her fifth number-one hit in the USA. And her fifth single release from the album, "La Isla Bonita", was a number-one hit in Vancouver in the spring of 1987, also topping the charts in Austria, Canada, France, Iceland, Switzerland and the UK. True Blue topped the album charts in 28 countries, and sold 25 million copies.
Through 1987, Madonna continued her non-stop string of hits with "Who's That Girl", the title track from the film of the same name, which she also starred in. A second song from the film, "Causing A Commotion", was her second back-to-back #2 hit from the film in Vancouver. In 1988 Madonna released a remix album, You Can Dance. One of the few new tracks on the album was "Spotlight".
In 1989 Madonna entered a contract with Pepsi, and her video of the song "Like A Prayer" was featured. The single became the lead release from the album of the same name. It was the first of three number-one hits from the album in Canada. The next two were "Express Yourself" and "Cherish". A final Top Ten hit from the album was "Keep It Together".
In 1990 Madonna starred in the crime film Dick Tracy. Inspired by the 1930s era in the film, Madonna released the album I'm Breathless. It featured her number-one single "Vogue" and "Sooner Or Later", the latter which won an Oscar at the Academy Awards for Best Original Song, as it was featured in Dick Tracy. And Madonna subsequently on a Grammy Award for Best Long Form Music Video for the live recording of her Blonde Ambition Tour.
In 1991 Madonna started out the year with another number-one hit, "Justify My Love". She also released Madonna: Truth or Dare, a documentary about the singer. In 1992 Madonna starred in the film A League of Their Own, which included her tenth number-one hit on the Billboard Hot 100: "This Used to Be My Playground". In 1993 she released her album Erotica, featuring the title track hit single, and "Deeper And Deeper". In 1994 her song "I'll Remember" was featured in the film, With Honors. It was nominated for a Grammy Award for Best Song Written Specifically for a Motion Picture or for Television. Later that year Madonna released Bedtime Stories, with the number-one hits "Secret" and "Take A Bow".
In 1995 Madonna released an album of ballads, including the Top Ten hit single "You'll See". And in 1996 Madonna starred in the film Evita. It featured the international Top Ten hit "You Must Love Me", and international number-one hit in 1997 "Don't Cry For Me Argentina". In 1998 Madonna released the Grammy Award-winning Best Pop Album Ray of Light. It included international hits "Frozen" and the title track which won Grammys for Best Dance Recording and Best Short Form Video. Other singles from the album, "Drowned World/Substitute for Love", was a Top Ten hit in seven countries, and "The Power of Good-Bye" a Top Ten hit in 13 countries. In 1999 Madonna released "Beautiful Stranger", which was also featured in the film Austin Powers: The Spy Who Shagged Me. The single earned Madonna another Grammy Award for Best Song Written for a Motion Picture, Television or Other Visual Media.
In 2000 Madonna had another number-one hit titled "Music". A followup Top Ten hit in the USA titled "Don't Tell Me" tied her for Top Ten hits with the Beatles. In 2002 Madonna was in the James Bond film Die Another Day, and her title track, "Die Another Day" was a Top Ten seller in 22 countries. In the winter of 2005-06 Madonna's single "Hung Up" tied Elvis Presley for most Top Ten hit singles in the rock 'n roll era at 36 discs.
In 2007 Madonna's album, Confessions on a Dance Floor, earned her a Grammy Award for Best Electronic/Dance Album. On October 30, 2008, Madonna gave a concert in Vancouver at the BC Place Stadium. That year the singer had her 37th Top Ten hit single titled "4 Minutes". This surpassed Elvis Presley for the most number of Top Ten singles ever by a recording artist.
On September 29th and 30th, 2012, and again on October 14, 2015, Madonna appeared in concert in Vancouver at Rogers Arena. That year Madonna recorded "Give Me All Your Luvin'", which became Madonna's 38th top ten hit on the Billboard Hot 100, extending her record as the artist with the most top-ten singles in the chart's history.
In December 2014 Madonna topped a list of the Top Ten wealthiest recording artists. CNN reported at the time "Madonna, 56, can really play the role of a material girl with a net worth of $800 million." She has likely increased her wealth in the past seven years.
In 2020 Madonna charted her 50th number-one single on the Billboard US Dance Club Songs chart with "I Don't Search, I Find". In doing so, she became the first recording artist to chart number-one songs across five decades. Over the decades she has been nominated for 28 Grammy Awards, and won seven.
January 11, 2023
Ray McGinnis
References:
J. Randy Taraborrelli, Madonna: An Intimate Biography, (Sigwick & Jackson, 2001).
Matthew Rettenmund, Madonnica : The Woman and the Icon from A to Z (St. Martin's Griffin, 1995).
Kathryn Vasel, "The World's 10 Richest Recording Artists," CNN, December 2, 2014.
Paula Zahn, "A Star with Staying Power," CNN, 2004.
Imogen Tilden, "Madonna," Guardian, July 4, 2001.
Christopher Connelly, "Madonna Goes All the Way," Rolling Stone, November 22, 1984.
Malina Bickford, "'It Was a Beautiful Thing:' Danceteria and the Birth of Madonna," Vice, September 8, 2014.
Sean Howe, "How Madonna Became Madonna: An Oral History," Rolling Stone, July 29, 2013.
"Madonna Chart History," Billboard.
Gary Graff, "Bray's Loyalty to Madonna Pays Off,"Chicago Tribune, April 24,1987.
"CKLG Top Thirty," CKLG 730 AM, Vancouver, BC, July 25, 1985.
For more song reviews visit the Countdown.