#307: Invisible by Alison Moyet
Peak Month: April 1985
13 weeks on CFMI's Vancouver Charts
Peak Position ~ #5
Peak Position on Billboard Hot 100 ~ #31
YouTube: "Invisible"
Lyrics: "Invisible"
Geneviève Alison Jane Moyet was born in 1961 in Billericay, Essex, England. After leaving school at 16, she worked as a shop assistant and trained as a piano tuner. She was involved in a number of punk rock, pub rock and blues bands in the South East Essex area during the late 1970s and early 1980s, including the Vandals, the Screamin' Ab Dabs, the Vicars and the Little Roosters. At the age of 21, Moyet's mainstream pop career began in 1982 with the formation of the synth-pop duo Yazoo with former Depeche Mode member Vince Clarke.
In the United States, the band operated under the name Yaz, due to trademark issues with the Yazoo Records record label already operating in the region. Yazoo had several hits, including "Only You", "Don't Go", "Situation" and "Nobody's Diary", and recorded two albums.
After Yaz disbanded in 1983 Moyet got a record contract with CBS. And in 1984 she released her debut solo album Alf. The debut single, "Love Resurrection", cracked the Top Ten in the UK and Ireland. The followup release from the album, "All Cried Out", made the Top Ten in New Zealand, Ireland and the UK. Her third single release from Alf was "Invisible".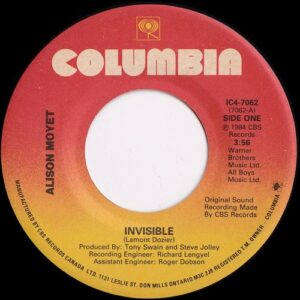 "Invisible" was written by Lamont Dozier. Born in Detroit in 1941, he wrote and recorded a few songs before he became part of a songwriting trio with Brian Holland and his brother Eddie Holland. In 1963, they had blossomed into a hit making team. That year they co-wrote "Heat Wave" and "Quicksand" for Martha & The Vandellas and "Mickey's Monkey" for The Miracles. Holland-Dozier-Holland wrote numerous hits for the Supremes including "Love Is Like An Itching In My Heart", "My World Is Empty Without You", and string of number-one hits: "You Can't Hurry Love", "You Keep Me Hanging On", "The Happening" and "Love Is Here And Now You're Gone".
Holland-Dozier-Holland also co-wrote hits for the Four Tops that included "Baby, I Need Your Lovin'", "It's The Same Old Song", "I can't Help Myself", "Reach Out I'll Be There", "Bernadette", "Standing In The Shadows Of Love", "Shake Me, Wake Me (When It's Over)", "7 Rooms Of Gloom" and "Something About You". They wrote "Its Your Thing" for The Isley Brothers, "Love's Gone Bad" for Chris Clark, "Nowhere To Run" and "Jimmy Mack" for Martha & The Vandellas; "(Come Round Here) I'm The One You Need" for Smokey Robinson and the Miracles. In 1970 the trio also co-wrote the Top Ten hits "Band Of Gold" for Freda Payne, and "Give Me Just A Little More Time" for Chairmen Of The Board.
Lamont Dozier was the producer and musical arranger for Holland-Dozier-Holland. He later had his own Top 20 hit on the Billboard Hot 100 in 1974 titled "Trying To Hold On To My Woman". In the 1980's, Dozier co-wrote "Two Hearts" with Phil Collins.
"Invisible" is a song about someone who feels like their partner doesn't ever notice them. Their partner flirts and doesn't "care how much it hurts." The 'relationship' is in this state: "You don't have the time and you won't spend a dime. Not even to call me." Nonetheless, the person in the relationship who feels invisible has decided so far to hang in with their 'partner' who never calls them. The neglected narrator reveals "Although I know it's not a lot, don't want to lose whatever we got." For most listeners, it would seem the neglected person in the relationship has just about nothing. But, the scenario of being taken for granted resonated with enough listeners in some record markets to send the single into the Top Ten.
In an article titled "10 Reasons Why We Stay in Toxic Relationships." Joanna Pantazi explores the topic. One reason is a push-pull dynamic where there are some rewards in being in the relationship, even if they come with a toxic dose of abuse and neglect. The neglected person hangs on for the few scraps of positive attention they can stand to wait for. An aspect of this is that in some relationships there is a bond that forms around the trauma of the way they interact. Chiefly, this is a cycle of violence that includes fear, violence, and finally 'love/affection'.
Another factor Pantazi describes is the problem of low self-esteem. She writes "people with low self-esteem tend to get in abusive relationships, and the abuse further deteriorates their self-esteem and self-worth. People with low self-esteem also have low expectations, and low comparison levels. They do not expect many benefits from a relationship, but instead problems- so their low expectations are fulfilled and they stay in the relationship. Alternatively, they may compare their situation with one that would be worse, for instance "At least he doesn't hit me."
A third factor is when a neglected or abused person forgets or denies the traumatic experiences in the relationship, and chooses to focus on what few positives there may be. A fourth factor driving people to stay in a toxic relationship is fear of loneliness. A fifth factor is the history and investment the neglected or abused person has put into the relationship so far. They don't want "to throw it all away," even if what is being thrown away is a toxic stew. Other factors include having children, trying to "fix" the partner who is neglectful, feeling somehow responsible for the bad behavior they are on the receiving end of from their partner, and "Manipulation and Entrapment."
Of the last factor, – Manipulation and Entrapment – Joanna Pantazi writes "Many individuals in unhealthy relationships are continuously manipulated in order to believe that it is not even an option to leave the relationship. Quite often, they may feel isolated, distanced from their support network. They may be afraid to leave the relationship because their partner may have threatened them about worse outcomes, should they even attempt to."
"Invisible" peaked at #3 in Minneapolis/St. Paul, #4 in Toronto, #5 in Vancouver (BC), #6 in Montreal, #7 in Ottawa (ON), and #9 in Hamilton (ON) and Moose Jaw (SK). "Invisible" was almost invisible on the pop charts in 30 states across the USA. As a result, the record stalled at #31 on the Billboard Hot 100.
In 1985 Alison Moyet covered a 1944 blues tune by Billie Holiday titled "That Ole Devil Called Love". Her cover climbed to #2 on the UK pop chart, becoming her biggest hit record. While her single was on the UK charts, her record label released "For You Only' from Alf on continental Europe. The single climbed to #7 in West Germany.
In 1986 Moyet released the studio album Raindancing. From the album came "Is This Love?", which she co-wrote with David Stewart of the Eurythmics. The single cracked the Top Five in Belgium, Ireland, New Zealand, Norway, Sweden, and the UK. A second single release from the album, "Weak In The Presence Of Beauty", was released in early 1987. It also cracked Top Ten charts in the UK, Ireland, New Zealand and Norway. Later in 1987 Moyet was again in the Top Ten in Ireland and the UK with a cover of the Kitty Lester hit from 1961 titled "Love Letters".
Over the years Alison Moyet has released nine studio albums. Aside from "Whispering Your Name" reaching #18 in the UK in 1992, she has not returned to the Top 40 anywhere internationally.
May 19, 2021
Ray McGinnis
References:
"Interview: Alison Moyet," Nottingham Post, October 16, 2009.
Paul Lester, "Alison Moyet: 'I Smashed all my Gold Discs. There Were Hundreds'," Guardian, April 18, 2013.
Una Brankin, "A Confident Alison Moyet is Beating her Demons," Belfast Telegraph, May 28, 2013.
Kay Pearson, "'I Quite Enjoy the Invisibility of Middle Age'," Echo, October 27, 2017.
Lamont Dozier biography, Lamont Dozier.com.
"Brian Holland-Lamont Dozier-Eddie Holland," Michigan Rock and Roll Legends.com.
Joanna Pantazi, "10 Reasons Why We Stay in Toxic Relationships," September 29, 2019.
For more song reviews visit the Countdown.