#1260: It Doesn't Matter by Coleman Wilde
Peak Month: July 1989
9 weeks on Vancouver's CKLG Chart
Peak Position ~ #20
Peak Position on Billboard Hot 100 ~ did not chart
Youtube: "It Doesn't Matter"
Lyrics: "It Doesn't Matter"
Coleman Wilde was the name of a duo comprised of Ralph Cole guitarist formerly with Lighthouse, and composer Doug Wilde. Doug Wilde was born into a musical family and raised in Sault Ste. Marie, Ontario. His father, Bob Wilde played jazz bass and piano, his brother Jim Wilde became a choir director/composer and multi instrumentalist. At Humber College he studied arranging with the legendary Ron Collier, and was awarded the Duke Ellington Memorial Scholarship. He later studied film scoring and advanced arranging with Rayburn Wright and Manny Albam at the Eastman School of Music, earned a master's degree in composition from York University.
As a composer and founding partner of the music production company "Harris Cole Wilde " (later known as "Jungle Music") Doug Wilde spent many years writing and learning on the front lines – creating all kinds of music, working with great musicians and recording everyday. As a screen composer, Doug has created well over 1000 scores for radio and television commercials – including numerous scores for TV variety, documentary programming and radio drama. Doug also has extensive experience as a music director for live television. He has composed, arranged, and led bands for the Gemini and Genie awards, weekly national variety shows, Canada Day from Parliament Hill and the Canadian Songwriters Hall of Fame.
Doug is the principle composer, music director, and keyboard player for the Canadian world/ jazz /fusion group Manteca and plays keyboards with David Woodhead's Confabulation. As well as composing for Manteca, Doug has released a number of projects under his own name, both "Chamber/ Scenic Jazz" and "Ambient Music". He also worked as a keyboard player with numerous Canadian artists including Leonard Cohen, Jane Siberry, Nancy White, Manteca, Simon Wynberg and Scott Merritt.
Ralph Cole was raised in Kalamazoo, Michigan. He was in a Michigan band called Thyme, who happened to share the stage with the Paupers at a concert in Detroit. The Paupers were a band from Ontario that included Skip Prokop. After the Paupers folded in 1968, Prokop invited Cole to join in the formation of a new band called Lighthouse. Cole was with Lighthouse from 1968 to 1975.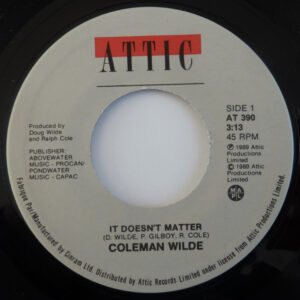 "It Doesn't Matter" started life as a beer commercial for an Australian beer. Attic Records asked Cole and Wilde to record it and release it. They expanded the 30 second beer commercial tune to single length. They released it under a name formed from both Cole and Wilde's surnames. It was an upbeat song ready to get people tapping their feet in the summer of '89. The core message of the song contained some ancient folk wisdom: "it's what's inside that counts."
"It Doesn't Matter" was cowritten by Cole and Wilde, along with an advertising agency copywriter named Peter Gilboy. In a 2004 interview, Doug Wilde recalled "We decided on the combo of our last names for the mythical artist Coleman Wilde. The single ["It Doesn't Matter"] sold about 30 thousand copies… Not bad for Canada, and still gets played once in a while on the radio. It's a pretty simple piece but people seemed to like it. An interesting bit of trivia… when asked to write the song we were given some lyrics from the ad agency and actually wrote 5 other pieces of music to the same lyric. We submitted all 6 to the agency and other music houses submitted pieces as well, so there were about 20 pieces of music written to the lyric. The agency chose the one that became the single."
Since Lighthouse reunited in 1992, Ralph Cole has remained one of its original members of the band.
May 15, 2021
Ray McGinnis
References:
"Doug Wilde Bio," Dougwilde.com.
"Ralph Cole Bio," lighthouserockson.com.
Doug Wilde comment thread, "Coleman Wilde," Reid News, October 8, 2004.
"The Whole Story," Lighthouserockson.com.
"Vancouver's Top 40 Hot Hits," CKLG 730 AM, Vancouver, BC, July 12, 1989.
For more song reviews visit the Countdown.