#208: It Might Be You by Stephen Bishop
Peak Month: May 1983
15 weeks on Vancouver's CFUN chart
Peak Position #4
Peak Position on Billboard Hot 100 ~ #25
YouTube: "It Might Be You"
Lyrics: "It Might Be You"
Earl Stephen Bishop was born in 1951 in San Diego, California. He remembers his growing up years as a "nerd" who the girls only wanted to be "just friends" with. Bishop moved to Los Angeles seeking to establish himself as a singer-songwriter. In his late teens and early twenties, Stephen Bishop was suffering from acute hypoglycemia. He recalls he was "paranoid and insecure all because I was the Twinkie king of Silverlake."After eight lean years, he got a break when Art Garfunkel recorded two songs written by Bishop for his 1975 album Breakaway. The following year, Stephen Bishop got a recording contract with ABC Records. Soon after he recorded his debut album Careless. His first single, "Save It For A Rainy Day", peaked at #22 on the Billboard Hot 100, and #20 in Vancouver (BC).
In the fall of 1977, the second single from Careless, "On And On", peaked at #11 on the Billboard Hot 100, and #3 on the CKLG Top 30 in Vancouver. In addition, in 1977, Stephen Bishop appeared in The Kentucky Fried Movie, and performed the theme song. Bishop was voted Best New Male Vocalist at the 1977 Rock Music Awards.
But his second album, Bish, released in 1978, failed to score any notable hit single. In 1979 Stephen Bishop sand "Somewhere In Between" for The China Syndrome soundtrack. His third album, Red Cab in Manhattan, released in 1980, was a commercial flop. That year he sang a duet with Yvonne Elliman titled "Your Precious Love" for the film Roadie. The song was a cover of the 1967 duet by Marvin Gaye and Tammi Terrell. In 1982 he wrote and performed "If Love Takes You Away" for the film Summer Lovers. Other songs from the film included "Hard To Say I'm Sorry" by Chicago and "I'm So Excited" by the Pointer Sisters.
In 1982 Dustin Hoffman and Jessica Lange co-starred in the romantic comedy Tootsie. Stephen Bishop was asked to record the song "It Might Be You" for the film soundtrack.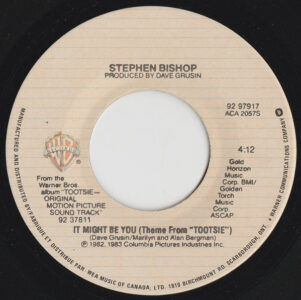 "It Might Be You" was cowritten by Dave Grusin, Alan Bergman and Marilyn Bergman. Dave Grusin was born in Littleton, Colorado, in 1934. In 1967 he scored his first film Divorce American Style. Subsequently, he wrote six numbers for the soundtrack for The Graduate. He scored music for a number of films in the 1970s, including The Day of the Condor and On Golden Pond. In 1988, Grusin won an Academy Award for Best Original Score for The Milagro Beanfield War. He has been nominated at the Academy Awards for Best Original Score for Heaven Can Wait (1978), The Champ (1979), On Golden Pond (1981), The Fabulous Baker Boys (1989), Havana (1990), and The Firm (1993). Dave Grusin has won ten Grammy Awards, and received 38 nominations.
Alan Bergman was born in Brooklyn in 1925. Marilyn Bergman was born in Brooklyn in 1929, and is the daughter of Edith and Alan Katz. Both were raised in Jewish families. In his early twenties, Alan Bergman worked as a television director and songwriter at WCAU-TV in Philadelphia. He was persuaded by Johnny Mercer to move to Los Angeles to advance his career as a songwriter. Marilyn Katz moved to Los Angeles, and after an injury that hampered her piano playing, she switched to songwriting. Alan and Marilyn met while collaborating with a fellow songwriter in LA. They married in 1958.
Alan and Marilyn Bergman wrote the title track for Dean Martin's 1958 album Sleep Warm. And in 1960, Frank Sinatra recorded their song "Nice 'n' Easy". The following year they wrote music for the film The Right Approach. And in 1964 composed music for the Broadway musical Something More! In 1967 the songwriting couple wrote the title track for the movie In the Heat of the Night, starring Sidney Portier and Rod Steiger. And in 1968 wrote English lyrics for "Les Moulins de mon cœur", for The Thomas Crown Affair. Though Noel Harrison sand the song in the film, it was Dusty Springfield who had a hit with the English version, titled "The Windmills Of Your Mind". Over the decades the Bergmans have written songs for 23 films. Most notably "The Way We Were" in 1973, for The Way We Were starring Barbra Streisand and Robert Redford. "The Way We Were" won Best Song at the 46th Academy Awards in April 1974. And in 1977 the Bergman's co-wrote with Neil Diamond "You Don't Send Me Flowers".
"It Might Be You" is narrated by someone who has "been passing time watching trains go by," and "lying on the sand watching seabirds fly." A preponderant observer of life, he watches lovers go by and wonders how they met. Remotely, he saves love songs and lullabies, but doesn't know how to insert himself into circumstances that might lead to a date, never mind a romance. Nonetheless, someone appears in this bashful guys life and he thinks she'll be the one "all of my life."
"It Might Be You" is featured in Tootsie. The film's plot is about Michael Dorsey is a respected actor, but nobody in New York City wants to hire him because he is a perfectionist and difficult to work with. He makes ends meet by working as a server in a restaurant and teaching acting classes. After many months without an acting job, Michael hears of an opening on the popular daytime soap opera Southwest General from his friend and acting student Sandy Lester, who tries out for the role of hospital administrator Emily Kimberly. In desperation, he impersonates a woman, auditioning as "Dorothy Michaels", and gets the part. Michael takes the job as a way to raise $8,000 to produce a play by his roommate Jeff Slater, which will star himself and Sandy. Michael plays Emily as a feisty feminist, which surprises the other actors and the crew, who expected her to be (as written) another swooning female. His character quickly becomes a national sensation.
On the set of Southwest General, Michael (as Dorothy) is attracted to Julie. While older cast member John Van Horn and Julie's widowed father, Les, proposes marriage, insisting that Dorothy think about it before answering. In the context of Tootsie, "It Might Be You" reveals individuals picking up on the wrong cues, unaware of the disguises others are wearing.
At the Academy Awards, Tootsie was nominated for nine awards, but only won Best Supporting Actress for Jessica Lange's performance. Additionally, in 1983, Lange was also nominated for Best Actress in the film Frances.
"It Might Be You" peaked at #1 in Louisville (KY), Bangor (ME), and New Kensington (PA), #2 in Minneapolis/St. Paul, #3 in St. Cloud (MN), #4 in Vancouver (BC), Monroe (NC), San Jose (CA), and Kansas City (MO), #6 in Toronto, Fort Lauderdale, Lebanon (OR), Greensboro (NC), San Bernardino (CA), and San Francisco, #7 in Denver, #8 in Jackson (TN), and Yellowknife (NWT), and #10 in Kitchener (ON), and Richmond (IN).
In 1984 Stephen Bishop wrote and performed the title track for the romantic comedy Unfaithfully Yours. That year he also wrote and performed the song "Something New In My Life" for the film Micki & Maude. In 1985 Bishop released a studio album titled Sleeping With Girls, released only in Asia. Bishop's composition "Separate Lives", sung by Phil Collins and Marilyn Martin, from the 1985 movie White Nights, was nominated for an Academy Award for Best Original Song.
In 1986 Stephen Bishop contributed "The Heart Is So Willing" for the film The Money Pit. He waited nine years to release Bowling In Paris. The 1989 album included vocal and/or musical contributions from Sting, Eric Clapton, Phil Collins, Brenda Russell, and Randy Crawford (of the #1 European hit in 1980 "One Day I'll Fly Away"). Included in Bowling In Paris was the 1986 single release "Walking On Air", featured in the film The Boy Who Could Fly.
In 1991, Bishop wrote and performed "All I Want" for the film All I Want For Christmas. And in 1998 for the film Barney's Great Adventure, Bishop sang "You Can Do Anything".
Between 1990 and 2019 Stephen Bishop released 11 more albums worldwide. Bishop has also released two more albums for the Japanese record market. His last single release was in 1991.
Stephen Bishop sporadically performed in concert touring almost exclusively in the USA. The exceptions were Ireland and Japan. He never appeared in concert in Vancouver.
January 26, 2022
Ray McGinnis
References:
Cameron Crowe, "Stephen Bishop: King of the Middle of the Road," Rolling Stone, November 16, 1978.
John Nathan, "Happily Married, and in a Relationship with Streisand," The JC News, August 18, 2011.
Vernell Hackett, "Marilyn Bergman Drifted Into Songwriting," American Songwriter, 2003.
Jason Ankeny, "Alan Bergman Biography," Verve, December 22, 2013.
"Dave Grusin: 10 Wins, 38 Nominations," Grammy.com.
"CFUN Top Thirty," CFUN 1410 AM, Vancouver, BC, May 14, 1983.
For more song reviews visit the Countdown.