#616: It Tears Me Up by Percy Sledge
Peak Month: November 1966
7 weeks on Vancouver's CKLG's chart
Peak Position #1
Peak Position on Billboard Hot 100 ~ #20
YouTube.com link: "It Tears Me Up"
"It Tears Me Up" lyrics
Percy Tyrone Sledge was born in 1941 in northwestern Alabama. His dad died while he was still an infant. From a young age he picked cotton and chopped cotton. He was raised on music in the church and also loved country music. Growing up Percy dreamed about playing baseball. But his classmates thought he'd be a singer. Percy Sledge worked as a hospital orderly and later at a chemical plant. He sang on weekends with a band called the Esquire Combos. The band traveled across Alabama and Mississippi. With his untended hair cut and gap-toothed smile, Sledge was not a typical recording artist, as record companies were increasingly scouting for attractive performers to showcase on TV, even though most households still had black and white televisions in 1966.
In 1966 two teenage members of the Esquire Combos, Calvin Lewis and Andrew Wright, were given credit for a song titled "Why Did You Leave Me Baby?" In interviews in later years, Percy Sledge said that "the song was based on his own real-life experience of heartbreak. A story in the New Yorker told that the basic structure of the song had been with him all his life—that he'd sung it to himself while picking cotton as a kid. 'It was the same melody that I'd sing when I was in the field'." Sledge told the London Telegraph, "It was about how my girlfriend had left me. I'd liked this girl all through high school. After we graduated we got together for a while, but she left me for another man." Sledge said that he had given away credits for the song out of naïveté.
The song was renamed "When A Man Loves A Woman". Sledge recalls arriving that February 1966 at the Muscle Shoals studio in Sheffield, Alabama, to record the song. "When I came in the studio, I was shaking like a leaf. I was scared." New Yorker writer Ian Crouch considers "When A Man Loves A Woman" a classic. He writes, "It's a high-modernist deep-soul classic, with the singer switching perspectives, in lonely conversation with himself. Midway, when the lyrics change from the third person to the first, he goes from wise to desperate, and, later, near the end, the vocal fades beneath the horns at the singer's lowest moment: "When a man loves a woman / I know exactly how he feels, / 'Cause baby, baby, you're my world."
Once "When A Man Loves A Woman" climbed to #1 in May 1966, Percy Sledge found himself on stage with some of the best: Otis Redding, James Brown, Joe Tex, Solomon Burke and Sam & Dave. A followup hit, "Warm And Tender Love", climbed into the Top 20 in many radio markets. This included peaking at #13 in Vancouver in August of '66. His third single release was "It Tears Me Up".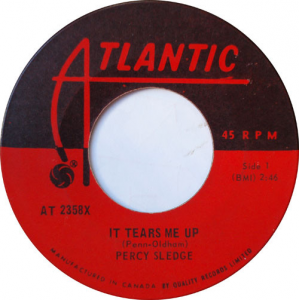 "It Tears Me Up" was another soulful ballad sung from the voice of a tormented soul: "It's a cold, cold world I'm livin' in/I turn my back and there you are with my best friend…. I see you smile at him/
You'll never tire of him." The singer lets us know that he's broken up because his relationship is over. His ex-partner is now romancing his best friend. Yet, the guy who is torn up over the loss keeps seeing his ex-girlfriend walking with her new man (his best friend) and sees them kissing each others lips and squeezing each others fingertips. In addition, he looks at her "perfect smile."
Once a relationship is over, the only thing to do is to move on. This is especially the case when your ex-partner is in newly in love with someone she'll never tire of. However, this guy is devastated and he keeps reopening the wound by continuing to look at them when they are making out. The only solution is to turn away from watching their public displays and focus on something else, or get up and leave.
Unfortunately, he is hit over and over with waves of emotion and can't break the cycle of hurt and sadness.
Between 1966 and 1969 Percy Sledge charted 17 songs into the Billboard Hot 100. Only one of these made the Top Ten. But in Vancouver Sledge had two #1 hits in 1966 with "It Tears Me Up" being the follow up #1 to "When A Man Loves A Woman".
"It Tears Me Up" also climbed to #1 in Charleston, West Virginia, #2 in Albany (NY) and New Orleans, #3 in Topeka (KS), Louisville, Pittsburgh, Atlanta, New Haven (CT) and Tampa (FL), #4 in Dallas, #5 in Knoxville (TN) and Little Rock, Arkansas, #6 in Miami and Wilmington (DL) and #7 in Providence (RI) and Hartford (CT).
The songwriters for "It Tears Me Up" were Dan Penn and Dewey Linden "Spooner" Oldham Jr. Penn and Oldham also wrote songs recorded by Arthur Conley, Joe Simon, Bobby Womack, Clarence Carter, Barbara Lynn, Etta James, Janis Joplin, Otis Redding, King Curtis and Bobby Hebb, among others. In 1960 Conway Twitty was the first to record songs by Dan Penn. In 1966 the success of his song, "I'm Your Puppet" by James and Bobby Purify convinced Penn he could make a career out of writing songs. The following year he wrote "The Dark End Of The Street" recorded by James Carr in 1967 and "Do Right Woman, Do Right Man" for Aretha Franklin. Penn also produced "The Letter", a #1 hit for the Box Tops that summer. In 1968, Dan Penn's song "Cry Like A Baby" climbed to #2 for the Box Tops.
"Spooner" Oldham was part of the Muscle Shoals Rhythm Section playing keyboard and organ. He played on the studio recording for "When A Man Loves A Woman" for Percy Sledge. Oldham also was in the studio playing on "Mustang Sally" for Wilson Pickett and "I Never Loved A Man (The Way I Love You)" for Aretha Franklin. Oldham co-wrote "I'm Your Puppet" and "Cry Like A Baby" with Dan Penn. "Spooner" became a much sought-after backing musician for recording artists on tour. Over the years Oldham backed Aretha Franklin, Joe Cocker, Bob Dylan, Delaney Bramlett, Bob Seger, Jackson Browne, Everly Brothers, Linda Ronstadt and J.J. Cale.
"Spooner" Oldham was regularly on tour backing Neil Young. He was a studio musician for Young's 1992 album, Harvest Moon. He was a backing musician on Crosby, Stills, Nash & Young's "Freedom of Speech" tour in 2006. In 2009 he was inducted as a sideman into the Rock And Roll Hall of Fame.
Penn recalls the surprise of becoming a songwriting team cranking out R&B and soul classics. Dan Penn recalls when he was 16 years old to showed up at Muscle Shoals Studio in Alabama, he'd lived in a segregated white neighborhood all his live. "When I met the singer Arthur Alexander in the studio, he was the first black person, other than the person I bought barbecues from, that I ever spoke to." Oldham recalls, "I got $12 for my first gig, when I was 15. I thought, I haven't had this much money since I picked cotton. So I stayed in bands." Oldham met Dann Penn at a recording studio in Florence, Alabama in 1965. They soon collaborated and were met with instant success. But after the assassination of Martin Luther King Jr. whatever fusion between black recording artists and white studio musicians was torn apart. And Oldham and Penn shifted away from songwriting. Oldham became a full time sideman and Penn a producer. Penn recorded several albums as well as a solo artist. Dan Penn was inducted into the Alabama Music Hall of Fame in 2013.
In 1967 Percy Sledge had another Top 20 hit in Vancouver with "Out Of Left Field". He had four Top Ten hits on the Billboard R&B chart between 1966 and 1968. He released another eight singles between the end of 1969 and 1974. But only one of these cracked the Hot 100.
On May 29, 1970, Percy Sledge appeared in the Luxurama Theatre in Cape Town before an all-black audience. On June 11, 1970, the New York Times published a report from its staff in Johannesburg, South Africa. It read, "The Government has relaxed restrictions on Percy Sledge, the American Negro singer, to allow him to appear before all‐white audiences. The success of Mr. Sledge's South African tour has been so great that white fans have been clamoring to see him. The soul singer was orginally restricted to appear before non white audiences only. Some whites even tried to masquerade as colored in order to slip into his opening night show in Capetown. On his nonwhite‐only circuit it was estimated that Mr. Sledge would earn about $19, 000. Now the estimates are doubled."
Back in the USA, Percy Sledge's concert tour was met with criticism as he was seen as violating the cultural boycott of South Africa. While others pointed to his being able to perform in front of both black audiences and white audiences as a possible sign of thawing in the hard line the government was taking. While performing in South Africa, Percy Sledge was allowed to stay at a all-white hotel in Cape Town. Harry Belafonte, Sammy Davis Jr. and Johnny Mathis were among the recording artists who were supporting the cultural boycott of South Africa. Percy Sledge recored a live album in 1970 titled Percy Sledge in South Africa. The album had an international release. Sledge also released a Christmas album in South Africa.
While Percy Sledge continued to perform in concert through the '70's, his star was fading. He was replaced by the newer Sound of Philadelphia and disco. In 1987 there was a renewed interest in Percy Sledge in the UK. "When A Man Loves A Woman" climbed to #2 on the UK singles chart. The song has been featured in the films The Big Chill, Platoon, The Crying Game and the 1994 romance film When A Man Loves A Woman. The song was featured in the 1979 film, The Rose, with Bette Midler belting it out. And in 1991 Michael Bolton covered the song which climbed to #1.
In 2011 Percy Sledge toured with Sir Cliff Richard. During the tour the pair recorded a duet covering James and Bobby Purify 's 1966 hit titled "I'm Your Puppet." In 2013 Percy Sledge was back on tour in South Africa. He also had regular concert dates over the years in the Netherlands. When he was 71 a concert set for Percy Sledge numbered about a dozen songs. He also was touring across the Deep South in the USA. In an interview in 2014 Percy Sledge told a reporter he went for a walk every morning in Baton Rouge at 5 a.m. He played pool and In 2015 Percy Sledge died of liver cancer at the age of 73 in Baton Rouge, Louisiana.
April 1, 2019
Ray McGinnis
References:
Ian Crouch, "Percy Sledge, Pop Miracle," New Yorker, April 17, 2015.
"South Africa Relaxes Curb On Percy Sledge Audiences," New York Times, June 11, 1970.
Wendyl Martin, "Date added to Sledge's SA Show," IOL, Cape Town, South Africa, May 15, 2013.
"Cultural Boycott of Racist South Africa Broken, Percy Sledge Sells Soul," American Committee on Africa, New York, July 16, 1970.
Meagan Evans, "An Interview With Percy Sledge," 11th Hour Online, Macon, GA, June 16, 2014.
"Soul singer Percy Sledge dies aged 73," Guardian, April 14, 2015.
"Percy Sledge – Obituary," Telegraph, April 14, 2015.
Nick Hasted, "Music: Good ol' Boys in the Hood," Independent, November 5, 1999.
Joss Hutton, "Spend A Little Time With the Old Folks," Perfect Sound Forever, 1998.
"The Boss 40," CKLG 730 AM, Vancouver, BC, November 12, 1966.
For more song reviews visit the Countdown.