#243: Itchycoo Park by the Small Faces
Peak Month: November 1967
8 weeks on Vancouver's CKLG chart
Peak Position #1
Peak Position on Billboard Hot 100 ~ #16
YouTube: "Itchycoo Park"
Lyrics: "Itchycoo Park"
In 1947 Steve Marriott was born in London, UK. By the age of 12 Marriott had formed several bands and writing songs influenced by Buddy Holly. In 1960 he was cast as the Artful Dodger in the new musical Oliver! at a theatre in London's West End. In 1963-64 his band, Steve Marriott and The Moments, were a back-up band to headliners The Nashville Teens, The Animals, Georgie Fame and others at concerts in London. Marriott played guitar and was his bands' lead vocalist. After the group disbanded in July 1964 Marriott met bass player Ronnie Lane and drummer Kenney Jones at a club when they were playing with their band, the Outcasts. They added Jimmy Winston on keyboards and began releasing singles, including Sha-la-la-la-lee," which went to #3 in the UK in 1966. The Small Faces were part of the British mod subculture, sharp-dressed and absorbed with looks and fashion. The word faces signaled as much, and small was a reference to all of them being no taller than 5'6″.
Later 1966 Ian McLagan took over keyboards for the band. Their live performances were infectious, frenzied and solid. They were compared to the Who, the Animals and the Rolling Stones. With Decca Records the Small Faces had four Top Ten singles in the UK in 1966. Their second Top Ten hit, "Hey Girl", peaked at #10, while "All Or Nothing" was a #1 hit that knocked the Beatles' "Yellow Submarine" out of the #1 position. "My Mind's Eye" was a #4 hit in the UK, released by Decca without the band's permission. When their contract with Decca expired in 1967, the group switched to Immediate, an independent label founded by former Rolling Stones manager Andrew Loog Oldham.
At a party in 1967 the bandmates were slipped orange slices spiked with LSD. The unintended ingestion was a catalyst to a shift in their musical direction. The Small Faces started to make psychedelic rock. The first psychedelic rock song was "Here Come The Nice" which peaked at #12 on the UK pop chart. Keyboardist Ian McLagan recalled in a mid-90s interview, "It opened up the doors, really, we started listening to different music at that point."
Next, they released "Itchycoo Park".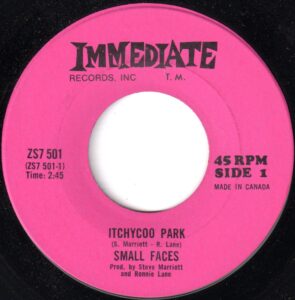 "Itchycoo Park" was mostly written by Ronnie Lane, with credits also to Steve Marriott. The song was first conceived and largely written by Ronnie Lane, who had been reading a leaflet on the virtues of Oxford University which mentioned its dreaming spires. A number of sources claim the song's name is derived from the nickname of Little Ilford Park, on Church Road in the London suburb of Manor Park where Small Faces' singer and songwriter Steve Marriott grew up. The "itchycoo" nickname is, in turn, attributed to the stinging nettles which grew there. Ronnie Lane said of the true location of Itchycoo Park: "It's a place we used to go to in Ilford years ago. Some bloke we know suggested it to us because it's full of nettles and you keep scratching actually."
The song begins "Over bridge of sighs, to rest my eyes in shades of green." There is a Bridge of Sighs in Venice. The bridge was built of white limestone in 1600. The white limestone bridge is viewed as one of the most beautiful, not only in Venice, but the world. Perhaps the "dreaming spires" of Oxford and the Bridge of Sighs in Venice are the reason for the tears of the narrator who declares "It's all too beautiful."
Turning to Itchycoo Park itself, the narrator of the song describes how "I feel inclined to blow my mind, get hung up, feed the ducks with a bun. They (the ducks) all come out to groove about, be nice and have fun in the sun."
In the Sixties "to blow my mind" meant to extremely impress, overwhelm or excite in response to what is observed/experienced. In the case of "Itchycoo Park", it is blowing one's mind in response to feeding ducks with a bun, and watching them "groove about" as they presumably swim in a lake in Itchycoo Park.
As well, the lyrics tell us the narrator is getting hung up. In the Sixties to get "hung up" meant to be preoccupied with something or someone. In the case of "Itchycoo Park", the narrator is getting hung up with feeding the ducks with a bun. Perhaps this is a sort of zen moment. It is easy when in "rat race" mode to not be especially interested in ducks swimming in a lake in a park, or bothering to feed them or hang out with them. Enjoying watching duck swim and have fun in the sun doesn't work for people who are busy with the 9-to-5 work week, and long commutes.
In "Itchycoo Park" the preoccupation of the participants in the song is just about being with ducks and enjoying the park. Next, the lyrics offer an interesting twist. While the dreaming spires (of Oxford) are beautiful, the narrator invites a friend to go to Itchycoo Park where "you can miss out school. Why go to learn the words of fools?" In this way, the lyrics offer a countercultural, anti-establishment view. Why get an education? What you get taught at places of higher learning are only the "words of fools." The choice to go to the park and enjoy its beauty is the higher value here. Middle class concerns like hard work, saving for a post-secondary education, pursuing a career, (and joining the military), were all part of an anti-establishment theme running through many pop songs from the mid-to-late Sixties (and into the early 70s). And especially in the USA, many in the new generation were asking why fall in line with the middle class messaging, when it didn't question larger matters like taxes that paid for war in Vietnam.
"Itchycoo Park" climbed to #1 in Vancouver (BC), Los Angeles, Bangor (ME), Tulsa (OK), Des Moines (IA), Edmonton (AB), Memphis, Louisville (KY), Oklahoma City, Windsor (ON), Troy (NY), Orlando, Grand Rapids (MI), Detroit, Jackson (MI), San Diego, Escondido (CA), Cleveland, Kitchener (ON), and San Bernardino (CA), #2 in Fresno (CA), Vancouver (WA), Minneapolis/St. Paul, Calgary (AB), Sacramento (CA), Oshawa (ON), Fort Wayne (IN), Toledo (OH), Sarasota (FL), Boston, Worcester (MA), Springfield (MA), San Francisco and Pueblo (CO), #3 in Santa Barbara (CA), Miami, Mount Vernon (WA), Seattle, Milwaukee, Chicago, Quincy (IL), Lincoln (NE), Cincinnati, and Oxnard (CA), #4 in Phoenix, Appleton (WI), Toronto, Regina (SK), and Kansas City (MO), #5 in Tucson (AZ), Key West (FL), Winnipeg (MB), Augusta (GA), New Haven (CT), and Wilkes-Barre (PA), #6 in San Jose (CA), Richmond (VA), Lima (OH), Hartford (CT), and Reading (PA), #7 in Pittsburgh, Providence (RI), Manchester (NH), Storrs (CT), Dayton (OH), Rockford (IL), and Lakeland (FL), #8 in Wichita (KS), Sudbury (ON), Columbus (OH), Albuquerque (NM), and Denver, #9 in Indianapolis (IN), Birmingham (AL), and Portland (ME), and #10 in Madison (WI), Omaha (NE), Billings (MT), and Raleigh (NC). "Itchycoo Park" charted in over 35 states across the USA. It stalled on the Billboard Hot 100 at #16.
Outside of North America, "Itchycoo Park" peaked at #1 in New Zealand, #2 in Australia, #3 in the UK and the Netherlands, #4 in Norway, #17 in West Germany and #19 in Belgium.
The Small Faces follow up hit was "Tin Soldier". It peaked at #3 in New Zealand and Australia, #4 in the Netherlands, #7 in West Germany and Sweden, and #9 in the UK. But in the USA the single stalled at #73.
The Small Faces final album was at the crest of their psychedelic rock experimentation. Ogdens' Nut Gone Flake had a die-cut circular cover that resembled a tobacco tin. Side one of the album included some R&B influenced tracks and whimsical psychedelic pop-soul with "Afterglow" and the album's single "Lazy Sunday." The second side of the album was conceptual and based on an original fairy tale. It was about a boy called Happiness Stan with comical monologues by Cockney comedian Stanley Unwin linking the tracks. Immediate Records issued an ad in the British papers, without the bands knowledge. The ad was a seen by many readers as a parody of the Lord's Prayer.
Small Faces
Which were in the studios
Hallowed by thy name
Thy music come
Thy songs be sung
On this album as they came from your heads
We give you this day our daily bread
Give us thy album in a round cover as we give thee 37/9d.,
Lead us into the record stores.
And deliver us Ogdens' Nut Gone Flake
For nice is the music
The sleeve and the story
For ever and ever, Immediate
Although "Lazy Sunday" was an international hit, the song provoked a rift in opinions about the style and sound the Small Faces wanted to pursue. On New Year's Eve 1968 Steve Marriott walked offstage during a Small Faces performance. In the New Year he contacted guitarist Peter Frampton and formed Humble Pie to record blues and boogie music. The remaining bandmates formed added singer Rod Stewart and guitarist Ron Wood. Stewart and Wood had recently left the Jeff Beck Group. They dropped "small" from their name to become The Faces.
The Faces played a rowdy, brawling brand of rock that could make a large arena seem like a corner bar. Rod Stewart's raspy, soulful vocals and the musicianship of other Faces bandmates made the group a rival live act to the Rolling Stones. Their onstage performances paved the way for punk bands like the Sex Pistols. They also were influences for roots bands decades later like the Georgia Satellites and the Black Crowes.
The Faces made four studio albums with A Nod Is as Good as a Wink… To a Blind Horse in 1971 their biggest seller. Their first hit single, "Stay With Me", went to #6 in the UK, #17 in the USA and #1 in Vancouver. Ronnie Lane left the Faces in the 1973 and formed another band. Rod Stewart gave more attention to his highly acclaimed solo career. Ron Wood joined the Rolling Stones after being drafted as an interim member after Mick Taylor left the Stones. Steve Marriott might have filled the position, however, he hammed up his rehearsal which turned Mick Jagger against him. After Keith Moon died in 1979, Kenney Jones joined the Who.
The Faces played their last show in November 1975 and shortly afterward spit up. Steve Marriott went through four tumultuous marriages. Addicted to drugs and alcohol, he died in a fire in his 16th Century cottage in 1991. Ronnie Lane died in 1997 after years of living with multiple sclerosis. Ian McLagan died of a stroke in 2014. Ron Wood currently has his own radio show playing pop music and telling stories about the recording artists he knows. Kenney Jones survived a cancer diagnosis in recent years and continues to make guest appearances performing on stage. In 2018, Jones published a memoir about his life as a member of the Small Faces, The Faces and The Who titled Let The Good Times Roll. Rod Stewart released his twenty-ninth studio album, Another Country, in 2015.
October 27, 2021
Ray McGinnis
References:
Faces Bio, Rolling Stone
Danny Eccleston, "The Tragic Fall Of The Small Faces," MOJO, January 24, 2014
Chris Welsh, "Obituary: Ronnie Lane," The Independent, June 6, 1997
Ben Quinn, "Faces and Small Faces Keyboard Player Ian McLagan Dies Aged 69: London-born Musician Also Brought his Hammond and Wurlitzer Sound to Acts Including Rolling Stones, Bob Dylan and Chuck Berry," Guardian, December 3, 2014
Stephen Porschmann, "10 Reasons Why Steve Marriott's Life Was a Greek Tragedy: 10 reasons why Talented Guitarist and Singer Steve Marriott's Life in Rock Music, which Started out Promising, went to pot. And Why Few Know his Name Today," Bedford Patch, Bedford, NH, October 26, 2013.
Jones, Kenney. Let The Good Times Roll: My Life in Small Faces, Faces and The Who. Blink Publishing, London, UK, 2018.
"Boss 30," CKLG 730 AM, Vancouver, BC, November 11, 1967.
For more song reviews visit the Countdown.