#370: It's A Man's Man's Man's World by James Brown
Peak Month: June 1966
8 weeks on CKLG's Vancouver Chart
Peak Position ~ #1
1 week Wax to Watch
Peak Position on Billboard Hot 100 ~ #8
YouTube: "It's A Man's Man's Man's World"
Lyrics: "It's A Man's Man's Man's World"
James Joseph Brown Jr. was born in a shack in the piney woods of South Carolina, outside the small town of Barnwell, 45 miles southeast of Augusta, Georgia. The year was 1933, and Brown never knew his parents. From the age of four he was raised in a whorehouse in Augusta. As America entered World War II in December 1941, young James entertained troops at Camp Gordon doing buck dances (similar to clogging) on a bridge near his aunts brothel. He quit school in grade six, and won a talent contest in 1944 at the Lenox Theatre in Augusta. By age 13 he had a sidewalk group named the Cremona Trio, who made pennies for songs. He also took up boxing. But in 1949 he was sent to jail for three years for armed robbery. In June 1952, after being paroled Brown joined the gospel group the Ever-Ready Gospel Singers.
In 1953 he joined a group formed by Bobby Byrd called The Famous Flames. On a tip from Little Richard, the Famous Flames went on to do an initial recording called "Please, Please, Please" in 1955. It was re-recorded in 1956 with Brown now as the lead singer. The single reached the Top Ten on R&B charts on Billboard and Cashbox in the spring and summer of the year. Meanwhile, Brown and the Famous Flames were becoming a sensation based on their live performances. Staring in 1955 James Brown would do a backflip and landing upright go into a split. Next patrons at night clubs would see Brown crawling on his stomach from table to table, as he sang his emotive tunes. (In 2011, "Please, Please, Please" was ranked No. 143 on Rolling Stone magazine's list of the 500 Greatest Songs of All Time. The single eventually sold upwards of 3 million records).
The next nine single releases by James Brown and the Famous Flames were commercial failures. By then, all the members of the Famous Flames had quite the music business and gone home. But James Brown was determined to be somebody. Now, he had new musicians with him. The tenth, a ballad titled "Try Me", became a #1 hit on the Billboard R&B chart in February 1959. With the success of "Try Me", Brown and the Famous Flames avoided the prospect of having to disband. Brown had more successes as his band stayed with the Federal label. He made the R&B Top Ten once in 1960 ("Think"), four times in 1961 (including "Bewildered" and "Baby, You're Right"), again in 1962 with "Night Train", and 1963 with "Prisoner Of Love". The latter made it to #18 on the Billboard Hot 100 By the early Sixties, James Brown was becoming known in the chitlin circuit as "Mr. Dynamite." By this time Brown had legally removed the "Jr." from his name on legal documents, so that he was simply James Joseph Brown on his passport.
James Brown also appeared in the early sixties on American Bandstand on October 19, 1961; And June 11, 1962 (with James "Goodbye Cruel World" Darren).
But even more successful than his single releases at the time, Brown released a high-energy live album titled Live at the Apollo. Recorded on October 24, 1962, the live album spent 66 weeks on the Billboard Top Pop Album chart, peaking at #2. On R&B stations in America, DJ's would play one whole side of the album, have a commercial break, and then play the second side of the album. In 1998 Live at the Apollo was inducted into the Grammy Hall of Fame.
Rolling Stone later wrote in 2013 about the album "Recorded in 1962 and barely half an hour long, it lacks the heft we associate with live albums, relegating major songs to the same eight-title medley as forgettable ones. But not only did it establish Brown as an r&b superstar and a sales force to be reckoned with, it's a time capsule, living testament of a chitlin circuit now defunct. The band is clean as a silk suit, and how the women love this rough singer's tender lover-in-song act. There is no music anywhere quite like the perfectly timed and articulated female fan-screeches that punctuate the 10-minute 'Lost Someone.'"
In the biography, The One: The Life and Music of James Brown, RJ Smith describes a violent incident in 1963 at an after hours club in Macon, Georgia, named Club 15. During a performance by Otis Redding, backed by Johnny Jenkins and the Pinetoppers, James Brown attempted to shoot his musical rival Joe Tex. It seemed Tex had done a parody of Brown on stage, and James didn't like it. The incident resulted in numerous people getting shot and stabbed. And as James Brown was on parole at the time, he got his agent Clint Brantley "and a few thousand dollars to make the situation disappear". According to Johnny Jenkins, "seven people got shot." When the shootout was over a man showed up and handed "each one of the injured a hundred dollars apiece not to carry it no further and not to talk to the press". Brown was never charged for the incident.
In 1964 Brown was back in the Top Ten on the Billboard Top Pop Album chart with another live album titled Pure Dynamite! Live At The Royal. The album was recorded at the Royal Theatre in Baltimore (MD) on November 15, 1963.
Later in 1964, Brown recorded "Out of Sight", which cracked the Top 30 on the Billboard Hot 100. James Brown wrote in a 1986 autobiography, "Out of Sight" was another beginning, musically and professionally. My music – and most music – changed with "Papa's Got A Brand New Bag", but it really started on "Out of Sight" … You can hear the band and me start to move in a whole other direction rhythmically. The horns, the guitars, the vocals, everything was starting to be used to establish all kinds of rhythms at once… I was trying to get every aspect of the production to contribute to the rhythmic patterns."
With James Browns 'sound' changing, he also switched record labels, from Federal to Smash, and finally to King Records in early 1965. With this change King Records gave Brown the promotion he had longed for. His second single with the label, "Papa's Got a Brand New Bag", climbed to #1 on the Billboard R&B chart for eight weeks, and #8 on the Billboard Hot 100 in August '65. For his effort, James Brown won a Grammy Award for Best Rhythm & Blues Recording.
His followup single, "I Got You (I Feel Good)", was even more successful with a #3 peak on the Billboard Hot 100, and landing him for the third time in the number-one spot (for six weeks starting in December '65) on the Billboard R&B chart. The song originally appeared in the 1965 teen flick Ski Party, starring Frankie Avalon. Over the years "I Got You" has appeared in many films including The Big Chill; Good Morning, Vietnam; K-9; Home Alone 4; Transformers; Garfield: The Movie and over a half a dozen others. Just as "I Got You (I Feel Good)" ended its chart run in Vancouver, James Brown appeared for the first time here in concert at the Queen Elizabeth Theatre on January 9, 1966.
What followed was another Top Ten R&B hit, "Ain't That A Groove Parts 1 & 2", which failed to crack the Top 40 in the pop charts. James Brown was now appearing on TV shows, and was flown to London where he appeared on the British variety show Ready, Steady, Go! And in May '66 he appeared on The Ed Sullivan Show along with Nancy Sinatra. Brown also appeared on Where The Action Is on 23 of their variety shows between 1965 and 1967. The October 14, 1966, telecast of Where The Action Is was a "Salute to James Brown", and the screamer-singer performed six songs during the show.
Then in the spring of '66 Brown rebounded into the Top 40 on the Billboard Hot 100 with "It's A Man's Man's Man's World".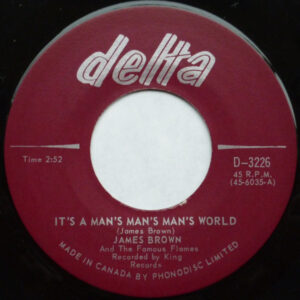 "It's A Man's Man's Man's World" was a song spelled on the record label without any commas. It was written by James Brown. In 1963 Brown co-wrote with Famous Flames bandmate Bobby Byrd "I Cried". The song was recorded by 18-year-old Tammy Montgomery, who had been a backup singer with the James Brown Revue in live concerts, and stalled at #99 on the Billboard Hot 100. (Two years later Montgomery was spotted by Berry Gordy Jr. of Motown Records. Gordy signed her to a record contract and changed her name to Tammi Terrell, after deciding her birth surname was too long. Terrell recorded successful duets with Marvin Gaye from '67 to '69 including "Ain't No Mountain High Enough", "Your Precious Love" and "Ain't Nothing Like The Real Thing").
Tammy Montgomery had begun an abusive relationship with James Brown in 1962. Famous Flames member "Bobby Bennett said he saw Brown hit her three times with a hammer outside of a hotel in Washington, DC." In 1963, Brown wrote the music for "I Cried", including a chord progression that he used for "It's A Man's Man's Man's World". Montgomery left Brown later in 1963 after one of a series of severe beatings while touring on the road. Recording artist Gene Chandler was on the tour with them. The last time Tammy Montgomery was beaten was when she went Chandler for help. Gene Chandler said later, "I witnessed the situation and she came to me for help, then I called her parents." Ironically, the lyrics in "I Cried" included these lyrics: "Keep me in pain, you keep me in pain…"
James Brown first recorded "It's A Man's Man's Man's World" in June of 1964 in Chicago under the title "It's a Man's World". But it was Brown's second version of the song, retitled in 1966 that became a hit, with the final title echoing the Oscar-winning It's A Mad, Mad, Mad, Mad World – (Best Sound Effects) a film released in November '63.
The lyrics to "It's A Man's Man's Man's World" emerged from a road trip tour James Brown was on with his backup singer, and "James's lady" at the time, Betty Jean Newsome. She recalls they were on a 20-hour drive from Harlem, through South Carolina, and further west into the Deep South.
During the drive, just prior to heading down a stretch of Carolina highway lined with hooded Klansmen burning crosses, Newsome was humming a tune to Brown. He listened carefully and began to sing along with her. "Dah-dah-dah-dah-dah-dah-dah, man's world," whispered Newsome to Mr. Dynamite as the limousine drove on. Famous Flames bandmate Bobby Byrd gave sworn testimony to this effect in a 2002 deposition, when James Brown and Betty Jean Newsome were in dispute over royalties from the record.
For his part, James Brown said in his 2005 autobiography I Feel Good, "I wrote many songs about love, but the best, I think, was also the simplest. You know how it goes: It's a man's world, but it wouldn't be nothing without a woman or a girl. To that end, it's important to be with someone who understands your life."
Rolling Stone characterized the song as "biblically chauvinistic", as Brown attributes all the works of modern civilization: the car, the train, the boat – "Like Noah made the ark", and the electric light – to the achievements of men. In addition, men are the ones who are able with their purchasing power from the wages they earn, to afford to buy toys for their "baby girls and…baby boys." With more bravado, Brown extols the man who, once he's done making things, is able to make money to buy things for himself from other men. The world painted in the song is a world where men are the creators, and the ones who participate in commerce with each other. In the public sphere described in the song, women are invisible.
Ironically, in "It's A Man's Man's Man's World" – as African-American singer James Brown lauds the accomplishments of men in the public sphere, he was listing specific inventions of white men in America and Europe. French inventor Nicolas-Joseph Cugnot who in 1769 built the world's first full-size and working self-propelled mechanical land-vehicle, the "Fardier à vapeur." It was the template for automobiles. In 1823 English engineer Samuel Brown invented the first industrially applied internal combustion engine. In 1864 Siegfried Samuel Marcus, a German-Jewish inventor, made several petrol-powered vehicles while living in Vienna, Austria. In 1876, the first modern automotive propulsion was patented by German engineer Nicholas Otto, who the first commercially successful engine to use in-cylinder compression. It was Rudolph Diesel who invented the Diesel engine in 1897. It was Carl Benz who developed a petrol or gasoline-powered automobile in 1885. And it was Henry Ford, whose Ford Motor Company (Henry Ford in collaboration with three other designers) created the Ford Model T in 1908. The Ford Model T became the first automobile to be mass-produced on a moving assembly line. From 1913 to 1927, Ford produced over 15,000,000 Model T automobiles.
John Curr a colliery manager, invented a flanged rail in 1787. And in 1820, John Birkinshaw had invented wrought iron to upgrade railway construction from wooden rails. While British mining engineer, Richard Trevithick, built the first working railway steam locomotive in 1804. And in 1847 Robert Davidson built the first electric locomotive.
A preceding the modern electric light, in 1802 Sir Humphry Davy invented the first incandescent light bulb. And in 1878 Thomas Edison invented a way for the incandescent electric light to be long lasting.
There were of course specific accomplishments and creations fashioned by African-American men, but James Brown wasn't listing any of these in "It's A Man's Man's Man's World". The song, first recorded on a demo in 1964 was written a year before the Voting Rights Act of 1965. That act sought to restore the rights of African-Americans to vote in American elections at municipal, state and federal levels. The guarantees of the Fifteenth Amendment of 1870 – which provided that "[t]he right of citizens of the United States to vote shall not be denied or abridged by the United States or by any State on account of race, color, or previous condition of servitude" – had been undermined within a decade of its passage.
Although James Brown is effusive about all these inventions by white men, he laments that all the things men accomplish would "mean nothing without a woman or a girl." In fact, James Brown moans that without a woman or girl as a companion – "he's lost in the wilderness, he's lost in bitterness. He's lost." Ironically, the great soul singer's personal relationships were often a wilderness of bitterness and abuse for the women involved with him.
On August 6, 1966, Brown returned to American Bandstand where he sang "It's A Man's Man's Man's World" and had a phone interview with Percy Sledge.
The album It's A Man's Man's Man's World, was a compilation with earlier hits from "Bewildered" to "Ain't That A Groove Part 2". The liner notes on the back of the album read: The James Brown Story: How did he get to be "the biggest cat out there?" For the 32-year-old screamer-singer, songwriter and showman James Brown, it meant a long journey that started on a winding, muddy dirt road in the South that let him, finally, to the Big City. As a youngster he picked cotton, washed cars, became a boxer, a dancer and a screaming singer. Today he is internationally known and loved. He is the idol of millions!
For James Brown Fan Club Members:
You're always right
With Mr. Dynamite
So, Please, Please, Please,
Stay Out of Sight,
Don't be a drag,
With your Brand New Bag
And that was the way they wrote liner notes in 1966 for "Soul Brother #1!" In 2004 Rolling Stone ranked "It's A Man's Man's Man's World" at #123 on its list of the 500 Greatest Songs of All Time.
"It's A Man's Man's Man's World" peaked at #1 in Vancouver (BC), Augusta (GA), Toronto and New Haven (CT), #2 in San Diego and Syracuse (NY), #3 in Windsor (ON), Cleveland (OH), Birmingham (AL) and Corpus Christi (TX), #4 in Minneapolis/St. Paul, Los Angeles and San Francisco, #5 in Akron (OH), Dayton (OH), Buffalo (NY), Orlando (FL), Roanoke (VA), Boston and Pittsburgh (PA), #6 in Columbus (OH), Winnipeg (MB), Hartford (CT), Detroit, Miami and New York City, #7 in Cincinnati (OH), Tulsa (OK), Montreal, San Jose (CA), San Bernardino (CA), Billings (MT), Wilmington (DL) and Denver, #9 in Nashville, #10 in Houston and Philadelphia.
Just after the chart run of "It's A Man's Man's Man's World", James Brown performed in Vancouver at the PNE Forum on July 17, 1966.
In 1967 Brown released what some call the first funk song. On January 3, 1968, Brown performed "Cold Sweat" on American Bandstand. "Cold Sweat", which was a #1 R&B hit and Top Ten on the pop charts in the USA, became a template for funk-infused hits that followed for Brown in the late 60s and early 70s. These include "I Can't Stand Myself (When You Touch Me)", "I Got the Feelin'", "Give It Up or Turnit a Loose", "I Don't Want Nobody to Give Me Nothing (Open Up the Door, I'll Get It Myself)", "Mother Popcorn (You Got to Have a Mother for Me)", "Let a Man Come In and Do the Popcorn", "Get Up (I Feel Like Being a) Sex Machine", "Super Bad", "Soul Power" and "Doing It to Death".
On January 7, 1968, James Brown performed in concert at the PNE Agrodome in Vancouver. Almost four months later to the day, on April 5, 1968, Brown appeared on a TV special broadcast live from the Boston Garden. It took place the day after the assassination of Martin Luther King, and cities across the US were in flames. In an attempt to keep Boston calm, the mayor had Brown's concert broadcast live, and then re- run through the night. It worked, and there were no violent riots in the Boston area. In August 1968 James Brown released a song about the racial prejudice titled "Say It Loud – I'm Black and I'm Proud". In the song Brown sang "We demands a chance to do things for ourself. We're tired of beating our head against the wall, and workin' for someone else."
In January 1969, James Brown performed at the inauguration of President Richard Nixon. And that summer, on July 18, 1969, Brown gave a concert at the Queen Elizabeth Theatre in Vancouver. In 1970 most of the Famous Flames walked out on James Brown due to disputes over money. In December '70 Brown had a new backing band headed by Fred Wesley called the JBs. Brown had a string of number-one hits on the Billboard R&B singles chart into the early 70s. These included "Hot Pants (Pt. 1)", "Make It Funky (Pt. 1)", "Talkin' Loud And Sayin' Nothing (Pt. 1)" and in September 1972 "Get On The Good Foot".
But on October 10, 1972, during the American presidential election, James Brown openly supported Richard Nixon in his bid for a second term. Browns' decision not to support for anti-war Democratic candidate George McGovern resulted in boycotts of his performances, including from a large part of his black audience. This hit him in the wallet, as both record sales and concert tickets slowed in 1973 in the United States. Brown also failed to chart a number-one R&B single in 1973 for the first time since 1964. However, in the midst of this slump in record sales, James Brown performed in Vancouver on April 8, 1973, at the PNE Agrodome.
James Brown was back at the top of the R&B charts in 1974 with "The Payback Pt. 1", "My Thang" and "Papa Don't Take No Mess". But that was the last year that 'The Godfather Of Soul' topped the charts. For most of the decades that followed, his career was in decline, with a few upticks.
In 1976 James Brown performed at Baceda's at 1607 East Hastings (near Commercial Drive) six nights in a row between October 25th and 30th.
In 1983 James Brown had a final appearance on the July 30 broadcast of American Bandstand. His last hit single, "Living In America" won Brown a Grammy Award for Best Male R&B Vocal Performance in 1987. The song was featured in the 1985-86 film Rocky IV starring Sylvester Stallone.
Between 1958 and 2002 James Brown released 63 studio albums, 144 singles and 15 live albums. On October 28, 1999, on December 4, 2000, and again December 3, 2004, James Brown appeared in concert in Vancouver – on each occasion at the Queen Elizabeth Theatre. Subsequently, on January 13th and 14th, 2006, James Brown performed in concert in the Vancouver suburb of Richmond at the River Rock Casino. He died on Christmas Day in 2006 at age 73, from congestive heart failure, resulting from complications of pneumonia.
December 28, 2020
Ray McGinnis
References:
"James Brown," This Day in Music.com.
"Sister Tells How Mom Reportedly Caught 'Abusive' James Brown In 17 Yr Old Tammi Terrell's Bed," I Love Old School Music.com, April 24, 2019.
"It's a Mad Mad Mad Mad World," Variety, November 6, 1963.
Michael Clancy, "It's a Woman's World," Village Voice, New York, December 18, 2007.
Harry Weinger and Cliff White, "James Brown: Are You Ready for Star Time?!?," Jamesbrown.com
RJ Smith, The One: The Life and Music of James Brown, (Avery, 2012).
Jason Newman, "James Brown's New Doc: 9 Things We Learned From 'Mr. Dynamite'," Rolling Stone, October 28, 2014.
"Nicolas-Joseph Cugnot," Wikipedia.org.
"Siegfried Marcus," Wikipedia.org.
"Nicolaus Otto," Wikipedia.org.
"Rudolf Diesel," Wikipedia.org.
"Carl Benz," Wikipedia.org.
"Ford Model T," Wikipedia.org.
"John Curr," Wikipedia.org.
"John Birkinshaw," Wikipedia.org.
"Richard Trevithick," Wikipedia.org.
"Robert Davidson," Wikipedia.org.
"Sir Humphry Davy," Wikipedia.org.
"Thomas Edison," wikipedia.org.
"James Brown: Concert Dates in Canada," setlist.fm.
"Silver Dollar Survey," CKLG 730 AM, Vancouver, BC, June 5, 1966.
For more song reviews visit the Countdown.