#1: It's A Shame by the Spinners
City: Antigonish, NS
Radio Station: CJFX
Peak Month: October 1970
Peak Position in Antigonish ~ #2
Peak Position in Vancouver ~ #20
Peak Position on Billboard Hot 100 ~ #14
YouTube: "It's A Shame"
Lyrics: "It's A Shame"
William "Billy" Henderson was born in 1939 in Indianapolis (IN). In 1954 he formed a group called the Domingos. Henry Fambrough was born in Detroit in 1938 and was another founding member of the Domingos. Fambrough was drafted into the army in 1961, and on his return two years later, the Spinners signed up under Motown Records. Pervis Jackson was born in New Orleans in 1938 and was another original member of the group. Robert Steel "Bobby" Smith was born in 1936 in Detroit. The group had their first record deal when they signed with Tri-Phi Records in early 1961. That year the group had a Top 30 hit on the Billboard Hot 100 titled "That's What Girls Are Made For". It peaked at #5 on the Hot R&B Singles chart, and #20 in Toronto. On May 23, 1964, the Spinners appeared in concert at the Hollywood Bowl (later renamed the Grooveyard) in New Westminster. In 1965, "I'll Always Love You" returned them to the Top Ten on the R&B charts. It also cracked the Top 30 in Vancouver (BC). But eleven other single releases between 1961 and 1970 failed to crack the Hot 100. Another Top 20 R&B hit titled "Truly Yours" charted in Vancouver in 1966.

In 1967 G.C. Cameron joined the Spinners and became the lead singer. George Curtis "G.C." Cameron was born in Mississippi in 1945. He joined the Spinners after serving in Vietnam. On August 4, 1969, the Spinners performed in concert at the Pacific Coliseum in Vancouver. In 1970, after failing to crack the Top 30 on the national pop charts in the USA since 1961, the Spinners released "It's A Shame".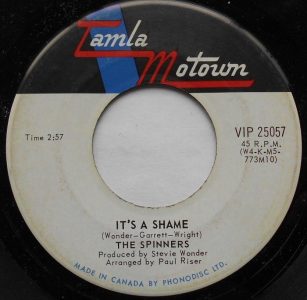 "It's A Shame" was cowritten by Stevie Wonder, Syreeta Wright and Lee Garrett. Syreeta Wright (aka Syreeta) was born in Pittsburgh in 1946 and started singing at the age of four. Her father fought in the United States military in the Korean War. Wright became a secretary at Motown in 1965 and began recording demos, including for Diana Ross and the Supremes' "Love Child". In 1968, she released a single credited to Rita Wright. She was also seriously considered as a replacement for Diana Ross, after Ross departed at the Supremes in early 1970. But, Mary Wilson vetoed the idea and Jean Terrell became the new Supreme. Steve Wonder and Syreeta Wright began to date and were wed in 1971. The pair also wrote a Top Ten hit for Stevie Wonder in 1971 titled "If You Really Love Me". But after 18 months the couple got divorced. In 1975, Syreeta had a #12 hit on the UK Singles chart with "Your Sweet Kiss". The pinnacle of her recording success was a duet with Billy Preston in 1979 titled "With You I'm Born Again". This was followed by a duet album in 1981 Billy Preston & Syreeta. In 1993, she joined the national touring cast of Jesus Christ Superstar in the role of Mary Magdalene, alongside original film stars Ted Neeley and Carl Anderson. Wright was married three times, and died in 2004 of congestive heart failure at the age of 58.
Lee Garrett was born in 1943 in Mississippi. He graduated from the Missouri School for the Blind. He later became a DJ and co-wrote "Signed, Sealed, Delivered" which became a Top Ten hit for Stevie Wonder in 1970 on the pop charts, and a #1 hit on the Best Selling Soul Singles chart in the USA. He later wrote "Let's Get Serious" for Jermaine Jackson and had his own Top 20 hit in 1976 titled "You're My Everything". Since 2004, Garrett has performed in a the Boomer Band, performing covers of classic rock and soul.
Stevland Hardaway Judkins was born in Saginaw, Michigan, in 1950. He was born six weeks premature and confined to a hospital incubator. After birth he developed resulted in retinopathy of prematurity – a condition of some premature babies – in which the growth of the eyes is aborted and causes the retinas to detach. Soon after his birth he became blind. As an adult he remarked "people who see often choose the book by the cover…. Maybe a person is also beautiful inwardly and that's the side I'll know first." As he could not see, he spent a lot of time in his family home listening to the radio. His favorite recording acts were Johnny Ace, Hank Ballard & The Midnighters, and later Del Shannon. An uncle gave him a harmonica. After he mastered the instrument, he was given a drum kit one Christmas. And a neighbor gave her piano to Stevie where she moved from the neighborhood. He formed a singing partnership with his friend John Glover. They billed themselves as Stevie and John, playing on street corners, parties and dances.
In 1962 "little Stevie Wonder", as he was nicknamed by some of the Motown staff, joined the Motown Revue. On June 1, 1962 Wonder performed a concert at the Regal Theatre in Chicago. His finale was a tune called "Fingertips". The audience was amazed and the live recording went on to be released in May 1963 as Recorded Live: The 12 Year Old Genius. The recording of "Fingertips" was six minutes and forty seconds long. So Motown decided to split the song into two parts for a single release, with "Fingertips Pt. 2" as the side to pitch to radio Deejays. The side, which was his fourth single release, peaked at #1 for three weeks in August '63 on the Billboard Hot 100. More hits followed including "Uptight", "A Place In The Sun", "I Was Made To Love Her", "For Once In My Life" and "My Cherie Amour".
In the 1970s "Superstition" and "You Are The Sunshine Of My Life", both earned him Grammy Awards respectively for Best R&B Vocal Performance, Male, and Best Male Pop Vocal Performance. In 1973, "Superstition" also earned him a Grammy Award for Best Rhythm & Blues Song. In 1974 "Living for the City" won him another Grammy Award for Best Rhythm and Blues Song. And in 1975 Wonder nabbed another Best R&B Vocal Performance, Male and Best Male Pop Vocal Grammy Awards for "Boogie On Reggae Woman". For his albums, the Grammy Awards were also praiseworthy. In 1974 Innervisons won Grammy Awards for Album of the Year and Best Engineered Non-Classical Recording. And on December 1, 1974, Stevie Wonder headlined a concert at the Pacific Coliseum in Vancouver (BC) with Rufus. In 1975 Stevie Wonder won the Grammy for Album of the Year for Fulfillingness' First Finale. That album also earned him a Grammy for Best Male Pop Vocal Performance, and a nomination for Producer of the Year. In 1976, Songs In The Key Of Life won him Grammy Awards for Album of the Year – his third in a row – and Best Male Pop Vocal Performance, along with Producer of the Year. The debut single "I Wish" also won him a Grammy Award for Best Male R&B Vocal Performance. And in 1984, Stevie Wonder won an Academy Award for Best Original Song for "I Just Called To Say I Love You" from Woman In Red. In 1986 Stevie Wonder's album In Square Circle won a Grammy Award for Best Male R&B Vocal Performance.
In 1987 Stevie Wonder shared a Grammy Award in the Pop Vocal Performance by a Duo, Group or Chorus category with Gladys Knight, Elton John and Dionne Warwick for "That's What Friends Are For". In 1996 Wonder won two more Grammy Awards for his single "For Your Love" in the R&B categories. In 1999 Stevie Wonder won a Grammy Award for Best Male R&B Vocal Performance, accompanied by Herbie Hancock for "St. Louis Blues". Between 1967 and 2010, Stevie Wonder has received 70 Grammy Award nominations, and won on twenty-two occasions.
"It's A Shame" is a song about a guy who is in a relationship with someone who messes around with him. He asks, "Why do you use me, try to confuse me? How can you stand, to be so cruel? Why don't you free me, from this prison, where I serve my time as your fool?" He complains that his emotions are being played with. But, he still chooses to remain in the relationship. It seems they don't live together, as he sits alone by the telephone waiting for a phone call that never comes.
"It's A Shame" peaked at #1 in Battle Creek (MI), #2 in Antigonish (NS), Santa Rosa (CA), St. Louis, New Haven (CT), Norfolk (VA), San Bernardino (CA), and Lansing (MI), #3 in Stockton (CA), Pittsburgh, Tampa (FL), Tucson (AZ), and Buffalo, #4 in Los Angeles, Windsor (ON), Reading (PA), Toronto, Rochester (NY), Providence (RI), and San Diego, #5 in Cleveland, #6 in Detroit, New York City, New Orleans, Columbus (OH), and Flint (MI), #7 in San Francisco, Hilo (HI), and Vancouver (WA), #8 in Philadelphia, and Madison (WI), #11 in Miami, #12 in Montreal and #20 in Vancouver (BC).
This is the second of two pop hits being reviewed from the record surveys from Antigonish, Nova Scotia.
G.C. Cameron left the Spinners when they moved on from Motown in 1972.
The Spinners released a self-titled album in 1972. The lead single, "I'll Be Around", peaked at #3 on the Billboard Hot 100 and climbed to #1 on the Hot R&B singles chart, and #15 in Vancouver. Their followup, "Could It Be I'm Falling In Love", also topped the R&B chart and reached #4 on the pop chart, and #13 in Vancouver. A third single from the album, "One Of A Kind (Love Affair)" became the group's third consecutive number-one R&B hit. It climbed to #5 in Vancouver and to #11 on the Hot 100 in the USA. In 1974 the Spinners joined forces with Dionne Warwick and topped the Hot 100 with "Then Came You". But the single stalled at #21 in Vancouver. In 1975, "They Just Can't Stop It (Games People Play)", topped the R&B charts, reached #2 in Vancouver and climbed to #5 on the Hot 100 on the Billboard chart. Late in 1976, "Rubberband Man" climbed to #2 on the Billboard Hot 100, #4 in Vancouver, and #1 on the Billboard R&B chart. At the end of the 70's, in 1979, the Spinners cover of a Four Seasons hit "Working My Way Back To You", shot to #2 on the Billboard Hot 100, but stalled in Vancouver at #18. But in 1980, the group equaled its chart run in Vancouver with the Hot 100, peaking on both charts at #4 with the medley of "Cupid/I've Loved You For A Long Time".
In 1995, an updated version of "I'll Be Around" peaked at #39 on the Billboard Hot 100.
Billy Henderson died from complications related to diabetes at the age of 67 in 2007.
Pervis Jackson died in 2008 at the age of 70 from brain and liver cancer.
From 2003-2007 and in 2019, G.C. Cameron joined the Temptations. In 2009, G.C. Cameron released the album Enticed Ecstasy.
Bobby Smith battled lung cancer, and died of pneumonia and influenza in 2013, at the age of 76.
Henry Fambrough continued to perform with the group until his retirement in April 2023.
References:
"A happy retirement by Henry Fambrough, the last original member of The Spinners," Soul Tracks, April 10, 2023.
"Bobby Smith, lead singer of The Spinners, dies," USA Today, March 19, 2013.
"Pervis Jackson, Bass voice of the Spinners, Dies at 70," New York Times, August 22, 2008.
"Spinners Vocalist Billy Henderson Dies," Billboard, February 3, 2007.
Vince Aletti, "Songs In The Key Of Life," Rolling Stone, December 16, 1976.
Bob Gulla, Icons of R&B and Soul: An Encyclopedia of the Artists Who Revolutionized Rhythm, Volume 2, (Greenwood, 2007) 308-328.
"Stevie Wonder: Blind Faith," Independent, London, UK, July 12, 2008.
"100 Greatest Singers of All Time: #9 – Stevie Wonder," Rolling Stone, December 3, 2010.
Michael J. Feeney, "Stevie Wonder Inducted into Apollo Theater Hall of Fame with Star-studded Celebration in Harlem," New York Daily News, June 17, 2011.
"The Spinners – Concert Dates – Canada," setlist.fm.


CJFX 580 AM, Antigonish, Nova Scotia, week of September 27, 1970
For more song reviews visit the Countdown.