#134: Jenny Take A Ride! by Mitch Ryder and the Detroit Wheels
Peak Month: January 1966
10 weeks on Vancouver's CKLG Chart
Wax To Watch ~ November 27, 1965
Peak Position ~ #1
Peak Position on Billboard Hot 100 ~ #10
YouTube: "Jenny Take A Ride!"
Lyrics: "Jenny Take A Ride!"
William Sherille Levise, Jr. was born in Michigan in suburban Detroit in 1945. He formed his first band, Tempest, when he was at Warren High School. The band gained some notice playing at a Detroit soul music club called The Village. Levise Jr. proceeded to front a band named Billy Lee & The Rivieras. Record producer and songwriter, Bob Crewe, saw the band and took them under his wing. Crewe renamed them Mitch Ryder and the Detroit Wheels. The Detroit Wheels were John Badanjek on drums, Mark Manko on lead guitar, Joey Kubert on rhythm guitar, Jim McCarty on lead guitar (not to be confused with the Yardbirds drummer of the same name) and bass guitarist Earl Elliott.
The band's first release was "I Need Help (Help Help)", which made the Top 30 in Pittsburgh. Their next release was "Jenny Take A Ride!" which included an exclamation mark in the song title.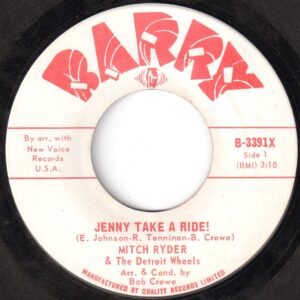 The song was originally titled "Jenny, Jenny". It was written in 1956 by R&B recording artist Little Richard, along with Enotris Johnson. The song was one of the tracks on Little Richard's debut album, Here's Little Richard. It peaked in 1957 at number ten on the Billboard pop chart and reached number two on the R&B chart. Enotris Johnson also cowrote Little Richard's hit records "Long Tall Sally" and "Miss Ann".
Richard Wayne Penniman was born in 1932 in Macon, Georgia. His father ran the Tip In Inn in Macon. He had eleven siblings. At the age of 13, Richard heard plenty of recording artists passing through his city at the Macon City Auditorium where he worked selling Coca-cola. Some of the recording artists who impressed him the most were Cab Calloway, Lucky Millender and Sister Rosetta Tharpe. He was taught to play gospel piano at a young age and sang gospel songs. He recalled that time in his life stating "there was so much poverty, so much prejudice in those days" that they sang gospel to try to keep their spirits up. In fifth grade, Penniman learned to play alto saxophone while in a school marching band. By his late teens 'Lil Richard, as he was known in his family because of his skinny frame, was a member Doctor Nubillo's traveling show, a vaudeville revue. He developed a theatrical style from his exposure to vaudeville that included wearing turbans and capes. It was a natural persona for the young man who was a prankster from his childhood. At the age of 16, in 1949, Little Richard joined Doctor Hudson's Medicine Show and performed the Louis Jordan hit "Caldonia". He got a record deal with RCA Victor in 1951.
In October 1955 Little Richard released "Tutti Fruitti". The single went to #21 on the Billboard Pop chart and #2 on the Billboard R&B chart. The following year Little Richard had hits with "Long Tall Sally", "Ready Teddy", and "The Girl Can't Help It". Other notable hits in the late '50s include "Lucille", "Good Golly Miss Molly", "Keep A-Knockin'", and "Miss Ann". In 1970 he had a minor hit with "Freedom Blues".
The credits for Mitch Ryder & the Detroit Wheels' "Jenny Take A Ride!" fail to include Chuck Willis, who recorded "C C Rider" in 1957. The first two verses of "Jenny Take A Ride" are taken from "C C Rider". The single could easily have been titled "C C Rider/Jenny Jenny Medley". Harold "Chuck" Willis was born in 1926 in Atlanta. Local Atlanta radio disc jockey Zenas Sears heard Willis at a talent show. Sears began to manage Willis and go him a record deal with Columbia Records in 1951. In 1952 Willis had a #2 R&B hit in the USA titled "My Story". Willis charted ten singles into the Top Ten on the R&B charts in the USA between 1952 and 1958. He also wrote the 1954 #1 R&B hit "Oh What A Dream" for Ruth Brown. Willis also wrote "Close Your Eyes", a #5 hit for the Five Keys in 1955. Chuck Willis died at the age of 32 from peritonitis (inflammation of the lining of the inner wall of the abdomen) in 1958, just as his song "What Am I Living For" reached the Top Ten on the Billboard pop chart and #1 on the R&B chart.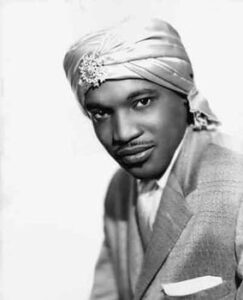 Chuck Willis (above) was nicknamed the Sheik of Shake, and also the King of the Stroll.
"Jenny Take A Ride!" begins with the complaint of a man who tells C C Rider "see what you've done. Well, you made me love you. Now your man has come." So, he vows to leave and warns if he meets another woman he won't be back at all. The third verse shifts into Little Richard's "Jenny Jenny". The singer makes it clear that he has found a new woman since he's left C C Rider. And that woman is Jenny, who he begs "won't you come along with me. Woo!"
"Jenny Take A Ride!" peaked at #1 in Vancouver (BC), San Jose (CA), Newport News (VA), Detroit, Philadelphia, York (PA), #2 in Flint (MI), Kalamazoo (MI), Little Rock (AR), and Vancouver (WA), #3 in San Bernardino (CA), Windsor (ON), Akron (OH), and Cleveland, #4 in Allentown (PA), Nashville, Brattleboro (VT), Lansing (MI), Battle Creek (MI), Seattle, and Grand Rapids (MI), #5 in Denver, Miami, Newark (NY), Dallas, Boston, and Kitchener (ON), #6 in Milwaukee (WI), #7 in San Francisco, Kansas City (MO), Syracuse (NY), and Cincinnati, #8 in Reading (PA), Fort Worth (TX), New Haven (CT), Hartford (CT), Arlington (VA), and Atlanta, #9 in Orillia (ON), and #10 in Ann Arbor (MI), Pensacola (FL), and Louisville (KY).
The band's followup hit was a cover of the Righteous Brothers' 1963 hit "Little Latin Lupe Lu". The song climbed to #17 on the Billboard Hot 100 and #8 in Vancouver. Their biggest hit was a medley of "Devil With A Blue Dress/Good Golly Miss Molly", which peaked at #3 in Vancouver and #4 on the Hot 100. In 1967, the band took "Sock It To Me Baby!" to #4 on the Billboard Hot 100, and #2 in Vancouver. Later that year they charted a cover of the Marvellettes "Too Many Fish In the Sea" into the Top 30 of the Billboard chart.
Mitch Ryder was the last person to perform with Otis Redding. They performed the song "Knock On Wood" on the TV variety show Upbeat in Cleveland on December 9, 1967. Redding and four members of his touring band, The Bar-Kays, died in a plane crash near Madison, Wisconsin the following day, December 10, 1967.
The band split up and Mitch Ryder released several solo singles. These include a medley of "Personality" and "Chantilly Lace". The former was a hit for Lloyd Price and the latter the signature song by the Big Bopper. Without Mitch Ryder, The Detroit Wheels continued to record in 1968-69. They released "Linda Sue Dixon", a reference to LSD. The song was not a commercial success.
After the group disbanded, Badanjek toured and recorded with Edgar Winter, Alice Cooper, Dr. John, Bob Seger, Ronnie Montrose, Nils Lofgren and others. Badanjek and McCarty were in a band called the Rockets in the 70s and 80s.
Ryder withdrew from music after experiencing throat trouble, moving to Colorado and pursued writing and painting. Jim McCarty went on to join the rock band Cactus and more recently Mystery Train. Joe Kubert left the music industry after Mitch Ryder & The Detroit Wheels disbanded in the winter of '67-'68. Mark Manko was briefly with a Detroit band named Catfish for a few years.
August 1, 2022
Ray McGinnis
References:
"Mitch Ryder & The Detroit Wheels," Michigan Rock & Roll Legends Hall of Fame.
David Browne, "Little Richard, Founding Father of Rock Who Broke Musical Barriers, Dead at 87," Rolling Stone, May 9, 2020.
Parke Puterbaugh, "Little Richard: 'I Am the Architect of Rock & Roll'," Rolling Stone, April 19, 1990.
Robert Chalmers, "Legend: Little Richard," GQ, March 29, 2012.
Marv Goldberg, "Chuck Willis," uncamarvy.com, 2019.
"Silver Dollar Survey," CKLG 730 AM, Vancouver, BC, January 22, 1966.
For more song reviews visit the Countdown.