#944: Jeremy by Pearl Jam
Peak Month: November 1992
9 weeks on CKLG's Vancouver Chart
Peak Position ~ #11
Peak Position on Billboard Hot 100 ~ #79
YouTube: "Jeremy"
Lyrics: "Jeremy"
Jeffrey Allen Ament was born in 1963 and grew up in a village in northern Montana. He began to play guitar in his teens. In the early 80s he had a band called Deranged Diction. They moved from Montana to Seattle. In 1984 Ament was asked to join the Seattle grunge band Green River. In 1988 he formed a band called Mother Love Bone. The band was recording their debut album in 1990, but the lead singer died of a heroin overdose, and the band split up. In 1990, Ament cofounded grunge band Temple Of The Dog, featuring Soundgarden lead singer Chris Cornell. Concurrently, Jeff Ament cofounded Pearl Jam. The "Jam" came from attending a Neil Young concert where the musician had extended "jams" of different songs on stage.
Born in Seattle in 1966, Stone Carpenter Gossard learned to play guitar in his teens. He was briefly in a band called March of Crimes from around 1982. By 1984 he was invited to join Green River. Gossard also was a member of Mother Love Bone and Temple Of The Dog, before joining Pearl Jam from its inception in 1990. Michael David McCready was also born in 1966, in Pensacola, Florida. His family moved to Seattle when he was two years old. He got his first guitar when he was eleven. He was in a few cover bands during high school. In 1990 he was invited to join Temple Of The Dog, and later that year Pearl Jam. Eddie Jerome Vedder was born in Evanston, Illinois, in 1964. He learned to play guitar in his teens. Vedder became the lead singer for a funk rock band in San Diego called Bad Radio in 1988. He was invited to join Temple Of The Dog in 1990. And subsequently was invited to join Pearl Jam. A fifth member of Pearl Jam was David Karl Krusen. He was born in Tacoma, Washington, in 1966. He was a drummer for a number of bands, including the Tacoma-based Liar's Club, a pop band.
With this lineup, Pearl Jam went to the recording studio in 1991 to work on their debut album, Ten. From the album came the single release "Alive". The single climbed to #9 in Australia in 1991, and made the Top 20 in Belgium, Ireland, the Netherlands, New Zealand, Poland and the UK. A second single from the album, "Even Flow" was a Top 30 hit in several countries internationally. A third single was released in September 1992 titled "Jeremy".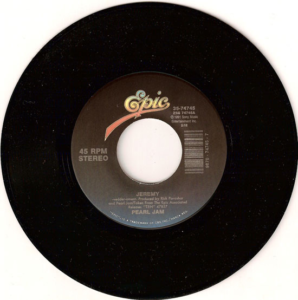 "Jeremy" was written by Eddie Vedder with music by Jeff Ament. On January 8, 1991, Jeremy Delle, a 15-year-old sophomore, died by suicide with a Smith & Wesson model 19-4 .357 magnum revolver in front of his second-period English class at Richardson High School in suburban Dallas. Delle was described by peers as "real quiet" and known for "acting sad". Delle was tardy that morning, and after going to his second-period class he was told to get an admittance slip from the school office for arriving late. Delle left the classroom, but instead of going to the school office he went to his locker where he had the revolver concealed, and returned to the classroom with it in his possession. Delle walked to the front of the classroom, and announced "Miss, I got what I really went for", he then put the barrel of the firearm in his mouth, and pulled the trigger before his teacher or classmates could react.
Lisa Moore, a schoolmate, knew Jeremy from the in-school suspension program: "He and I would pass notes back and forth and he would talk about life and stuff", she said. "He signed all of his notes, "Write back." But on Monday January 7th he wrote, "Later days." I didn't know what to make of it. But I never thought this would happen." The incident inspired Eddie Vedder of Pearl Jam to write the lyrics to "Jeremy". Vedder read a newspaper account of the incident on January 8, 1991, and was moved to write the song almost immediately.
27 years after his death, Jeremy's mother Wanda Crane spoke about her son. She said "That day that he died did not define his life. He was a son, a brother, a nephew, a cousin, a friend. He was talented." In her home she showed a reporter an award-winning picture of an elephant that Jeremy drew when he was 7-years-old. Before he was 12-years-old, Jeremy won Best of Shows at the Texas State Fair in Dallas.
Some of the images in the Pearl Jam video suggested Jeremy might have struggled with his sexuality. But, a classmate Brittany King was angry with some of the depictions. She said "That story's not accurate."
"Jeremy" peaked at #11 in Vancouver (BC). It also climbed to the top of the Alternative charts in Toronto, Los Angeles and Bethesda (MD). Ten remained on the Billboard 200 Album chart for five years selling over 13 million copies.
At the time school shootings were rare, and Jeremy Dale's public suicide in front of his classmates unheard of. But over the decade there were more school shootings that "normalized" these kinds of incidents.
On September 11, 1992, following a pep rally at Palo Duro High School, 17-year-old Randy Earl Matthews shot and wounded seven students with a .22-caliber pistol. Matthews had attended the school for nine days when the incident occurred and was believed to have been bullied at his previous school. On October 1, 1997, 16-year-old Luke Woodham murdered his 50-year-old mother, Mary, at home before killing his ex-girlfriend, 16-year-old student Christina Menefee, and 17-year-old student Lydia Kaye Dew, then wounding seven others at Pearl High School in Pearl, Mississippi. And on December 1, 1997, three students were killed and five wounded by 14-year-old Michael Carneal as they participated in a prayer circle at Heath High School in West Paducah, Kentucky. And in 1999, 18-year-old Eric Harris and 17-year-old Dylan Klebold, students at Columbine High School, killed 12 students and one teacher. They injured 21 additional people, and three more were injured while attempting to escape the school. The pair committed suicide in the library after a brief gunfight with police at the end of the massacre.
Fast forward to 2020, during the COVID-19 pandemic, there is concerning data indicating teen suicides – actual and contemplated – are rising. In teens, depression is the leading cause of suicide. Catalysts for depression include loss of a valued relationship, pressure to get good grades, consumption of alcohol, frequent change in home address, and poor family patterns. Other leading causes of teen suicide include harassment and bullying, physical and sexual abuse, feelings of isolation and confusion/anxiety about sexual identity.
A Centers for Disease Control study in June 2020 found that 1 in 4 who were 18-to-24-years-old indicated they had "seriously considered" suicide in the past 30 days. Due to the pandemic and the mandates of public health officials, more teens are socially isolated from their peers and adults who can mentor them outside the home. For teens whose family life is violent, there are serious risks of harm done by other family members, as well as self-harm. In addition, for young adults who are uncertain about their futures, there is for some a spiral of despair that becomes overwhelming. The CDC also found that guns are the most effective way to commit suicide, as Jeremy Dale's success indicates. "Of all suicide attempts that do involve guns, 90% succeed. That's one reason that gun ownership correlates with the youth suicide rate, state by state. A study last year found that for each 10 percent increase in household gun ownership in a state, the suicide rate for 10- to 19-year-olds increases by more than 25 percent." And in America, during the COVID-19 pandemic, gun sales have doubled.
What to do if you suspect a family member or friend is suicidal:
* Observe if a teenagers sadness is more than a passing mood.
* Notice if "time alone" in one's room has morphed into someone being burrowed away from others.
* If a teen mentions harming themselves or disappearing, ask if they are really thinking about doing this?
* Be aware of a teen's irritability. If everything and everyone upsets them, this might be a warning sign and a flip side to underlying depression.
* Be aware that video chat therapy seems to be a very effective way for youth to address their challenges – from the comfort and safety of their bedroom.
For anyone reading this post who has lost someone to suicide, I recommend Did You Know I Would Miss You? by Donaleen Saul.
After the album was recorded Dave Krusen quit Pearl Jam and was admitted into a rehab center to deal with addiction issues to alcohol. Krusen recalled later in an interview, "They had to let me go. I couldn't stop drinking, and it was causing problems. They gave me many chances, but I couldn't get it together." Matt Chamberlain from Soundgarden was the new drummer, briefly drumming for both bands. He would return to Pearl Jam as drummer from 1998 onward.
In 1993 Pearl Jam had a hit with "Go", peaking at #2 in New Zealand, #5 in Norway and the Top Ten on Mainstream Rock charts in the USA. Their followup release from the album Vs. was "Daughter", which climbed to #4 in Ireland and Poland, #11 in New Zealand. A third single, "Animal", was a #7 hit in New Zealand in early 1994. And a fourth single, "Dissident", peaked at #2 in Norway, #3 in Denmark, and #7 in Finland and Ireland.
In late 1994 Pearl Jam released their third studio album Vitalogy. The first single, "Spin the Black Circle", climbed to #2 in New Zealand, #3 in Australia, #5 in Norway, #6 in Ireland, #9 in Finland, #10 in Denmark and the UK, and #18 on the Billboard Hot 100 in the USA. It was the band's first appearance in the Top 50 on the Hot 100. The followup single, "Not For You", climbed into the Top Ten in New Zealand.
In late 1995 the band released a 2-track EP with the single "I Got Id". It became their first Top Ten hit on the Billboard Hot 100, climbing to #7. Elsewhere, it climbed to #2 in Australia, #3 in Finland and #5 in Norway. Then in 1996, the band released No Code. The first single release, "Who Are You", peaked at #2 in Finland, #4 in Canada, #5 in Australia, #6 in Poland and #7 in Norway.
In 1998 Pearl Jam released their fifth studio album Yield. The lead single was "Given To Fly". It made the Top Ten in Finland, Norway, Poland and Spain, and the Top 30 in the USA. In 1999 Pearl Jam recorded a cover of the 1964 hit by J. Frank Wilson and the Cavaliers, "Last Kiss". No Boundaries: A Benefit For The Kosovar Refugees. The album included songs by various artists including Neil Young, the Indigo Girls, Rage Against The Machine, Black Sabbath, Peter Gabriel and Sarah McLachlan. Pearl Jam's cover climbed to number-one in Australia and Iceland, #2 on the Billboard Hot 100 and Canada, and #6 in Belgium and Poland.
In 2000 Pearl Jam released their sixth studio album Binaural. "Nothing as It Seems", the first single from the album, peaked at number-one in Poland, #5 in Norway, #6 in Italy, and #7 in Australia and Portugal. A subsequent single, "Light Years", climbed to #4 in Poland and #5 in Portugal. The band released their seventh studio album, Riot Act, in 2002. Their first single, "I Am Mine", peaked at #1 in Poland, #2 in Canada and Portugal, #4 in Italy, #7 in Spain and #10 in Norway.
In 2009 Pearl Jam's "The Fixer" climbed to number-one in Poland. Later that year "Just Breathe" topped the charts in Poland and climbed to #9 in Portugal. In 2013 the band had a #2 hit in Portugal with "Sirens".
In 2020 Pearl Jam released their eleventh studio album titled Gigaton. A North American tour was postponed due to the coronavirus pandemic. Over the years Pearl Jam has released twenty live albums. This includes 9.11.2011 Toronto, Canada, from a concert in Toronto commemorating the tenth anniversary of the September Eleventh attacks on the World Trade Center and the Pentagon. By 2016 Pearl Jam had sold over 85 million records worldwide.
Politically, Pearl Jam performed in concert in support of Democratic candidate Senator John Kerry's campaign for president in 2004. Their song "World Wide Suicide" was critical of the decision by the Bush administration to go to war in Iraq in 2003. They also performed in concert to help New Orleans recover from Hurricane Katrina, and for Habitat for Humanity.
They won a Golden Globe Award in 2008 for "Guaranteed" from the film Into The Wild. For that song, Pearl Jam received a Grammy Award nomination for Grammy Award for Best Song Written for Visual Media. And in 2009 the band received another Grammy Award nomination for "Rise". In 2017 Pearl Jam was inducted into the Rock and Roll Hall of Fame.
September 19, 2020
Ray McGinnis
References:
Bobbi Miller, "Richardson Teen-ager Kills Himself in Front of Classmates," Dallas Morning News, January 8, 1991.
Jennifer Smith, "Mother of Teen Whose Classroom Suicide Inspired the Pearl Jam Song 'Jeremy' Speaks Out 27 years Later as the Friends who Witnessed it say they were Angry at the Band for its 'Inaccurate' Portrayal of his Death," Daily Mail, UK, November 1, 2018.
John Mark Beilue, "'Kind of chaos': Witnesses Recall 1992 Palo Duro High School Shooting," Amarillo-Globe News, September 10, 2012.
"Teen Guilty in Mississippi School-shooting Rampage," CNN, June 12, 1998.
Anya Kamenetz, "The Pandemic Has Researchers Worried About Teen Suicide," NPR, September 10, 2020.
John Colapinto, Eric Boehlert and Matt Hendrickson, "Eddie Vedder: Who Are You?," Rolling Stone, November 28, 1996.
Gene Stout, "A charged-up Pearl Jam is really into its daring new 'Riot Act'," Seattle Post-Intelligencer, November 11, 2002.
"Artist Interview: Pearl Jam's Jeff Ament and Stone Gossard," Uncut, March 19, 2009.
"Voices for Change: From Bruce Springsteen to Jadakiss, artists speak out about John Kerry, George Bush and what's at stake on Election Day," Rolling Stone, September 22, 2004.
"My Life in Music: Eddie Vedder," Spin, July 15, 2003.
Andy Greene, "Lily Cornell Silver's Eddie Vedder Interview: 10 Things We Learned," Rolling Stone, August 24, 2020.
Andy Greene, "Pearl Jam, Joan Baez, Tupac Lead Rock and Roll Hall of Fame 2017 Class," Rolling Stone, December 20, 2016.
Donaleen Saul, Did You Know I Would Miss You?, (2016).
"Vancouver's Official Top 40," CKLG 730 AM, Vancouver, BC, November 2, 1992.
For more song reviews visit the Countdown.