#4: Jezebel by Witness Inc.
City: Calgary, Alberta
Radio Station: CKXL
Peak Month: February 1968
Peak Position in Calgary ~ #1
Peak position in Vancouver ~ did not chart
Peak Position on Billboard Hot 100 ~ did not chart
YouTube: "Jezebel"
Lyrics: "Jezebel"
Witness Inc. was a band from Saskatoon, Saskatchewan. They formed in 1967 and won the Saskatoon Teen-Town Band Battle. They immediately became a touring sensation in the western provinces. They released a series of singles which became increasingly pop after the second. The band finally caught on in Ontario after several years and many personnel changes. The original band consisted of Kenny Shields on lead vocals, Ed Clynton on guitar, Dennis Tremeer on bass guitar, Les Bateman on organ and piano, and Craig Kaleal on drums. The website, Citizen Freak, "was surprised to learn that the band traveled to New Mexico to record their first 45, probably at Norman Petty's studio in Clovis." Their first single release was "I'll Forget Her Tomorrow". It peaked at #3 in Regina on CJME in August 1967. The picture sleeve for "I'll Forget Her Tomorrow" features a different band lineup than the group on the recording, with new members Dave Tupper on drums and Allen Ayers on bass.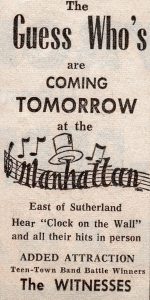 Initially billed as "The Witnesses"
in this early poster as they opened
in Saskatoon for the Guess Who at the
Manhattan club.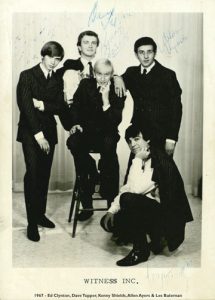 Later in 1967, Witness Inc. had this lineup:
Ed Clynton, Dave Tupper, Kenny Shields, Alan Ayers (l to r)
and Les Bateman (kneeling)
Next out, Witness Inc. released "Jezebel", a cover of the old Frankie Laine standard from 1951.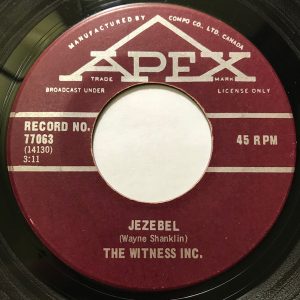 Laine's original recording of "Jezebel" climbed to #2 on the national charts in the USA for four consecutive weeks. It was kept out of the number-one spot by Nat "King" Cole's "Too Young". Laine's recording of "Jezebel" landed it in the #11 spot for the Year-End hit of 1951 on the Billboard Pop chart. In the years that followed, "Jezebel" was covered by a number or recording artists for inclusion on their albums, including Edith Piaf (1951), Gene Vincent (1956), the Everly Brothers (1961) and Herman's Hermits (1967). In 1962, Marty Wilde released a single of "Jezebel" which climbed to #19 on the UK pop chart. Slide guitarist, Rob E.G., recorded an instrumental version of "Jezebel" which peaked at #2 on the Australian pop chart in May 1963. In 1965, Johnny Kendall & the Heralds released a version which reached #29 on the Dutch pop chart.
"Jezebel" was written by Wayne Shanklin. He was born in Joplin, Missouri, in 1916. In 1951, "Jezebel" was the first notable composition to gain him attention as a songwriter. Subsequently, Shanklin wrote "Chanson D'Amour", a #6 hit on the Billboard Pop chart for Art & Dotty Todd in 1958. The single also climbed to #9 on the R&B chart. The song was successfully covered by Manhattan Transfer where it peaked at #1 in 1977 in Ireland, Norway and the UK. Shanklin wrote "Primrose Lane" for Jerry Wallace in 1959, which climbed to #8 on the Billboard Hot 100. In 1960, his song "The Big Hurt" was recorded by Miss Toni Fisher and peaked at #3 on the Billboard Hot 100, and crossed over to the Hot R&B Sides chart where it climbed to #16.Miss Toni Fisher had a Top 40 hit with Wayne Shanklin's "West Of The Wall" in 1962. Wayne Shanklin also contributed music for the 1957 westerns Shoot-Out at Medicine Bend, and The Big Land. In 1961, Wayne Shanklin wrote the music for the dramatic film Angel Baby. His compositions were recorded by Eartha Kite, Johnnie Ray, Jimmy Boyd, Tony Bennett, Eddie Albert, Danny Kaye, The DeCastro Sisters, Gisele MacKenzie, Spike Jones, Earl Grant, Connie Francis, The Chordettes, The Everly Brothers, Johnny Rivers, Sandy Posey and others. Over the years, Wayne Shanklin was married four times: in 1934, in 1942, in 1960, and the last time in 1965. Shanklin died of a heart attack at the age of 54 in 1970.
"Jezebel" is a song inspired by the Biblical story of Jezebel. She is introduced into the biblical narrative as a Phoenician princess, the daughter of Ithobaal I, king of Tyre. 1 Kings 16:31 states she was "Sidonian," which is a biblical term for Phoenicians in general. According to genealogies given in Josephus and other classical sources, she was the great-aunt of Dido, Queen of Carthage. According to Geoffrey Bromiley, the depiction of Jezebel as "the incarnation of Canaanite cultic and political practices, detested by Israelite prophets and loyalists, has given her a literary life far beyond the existence of a ninth-century Tyrian princess." Through the centuries, the name Jezebel came to be associated with false prophets. By the early 20th century, it was also associated with fallen or abandoned women. By the late 1890s, Jezebel began to be depicted in Christian sermons as promiscuous. She was described as someone who, by manipulation and seduction, misled the saints of God into sins of idolatry and sexual immorality.
In "Jezebel", Wayne Shanklin writes:
If ever the Devil was born without a pair of horns,
It was you, Jezebel, it was you.
If ever an angel fell, Jezebel, it was you,
Jezebel, it was you!….
If ever the Devil's plan was made to torment man,
It was you, Jezebel, it was you.

Jezebel is said to have a siren call, that men can't resist as they fall into her arms.
Witness Inc. took "Jezebel" to #1 on the pop charts in Calgary in 1968. The single also cracked the Top Ten in both Edmonton (AB) and Bathurst (NB).
Witness Inc. released their third single, "Harlem Lady", in the spring of 1968. In the fall of 1968, Witness Inc. released "Visions Of Vanessa". The single climbed into the Top Ten in Lethbridge (AB). By 1969 the band was Shields, Bateman, Bruce Dagenhardt, Derry Stewart, and Bob Ego (formerly of the Daisy Hill Puppy Farm) on drums.
The January 13, 1969 issue of RPM Weekly announced that the band had dropped the 'Inc.' from their name for their fifth single, "So Come With Me", recorded at Sound Canada studios in Toronto. "So Come With Me" charted in the Top 40 in Toronto, Regina (SK), Kirkland Lake (ON), and Hamilton (ON). The band continued to bill themselves as Witness into the early 70s, and split up in 1971.
Craig Kaleal joined the Leigh Ashford band, and later the Regina rock band Wascana. In 1980, Kaleal was part of the Downchild Blues Band and in the studio for their recording of the Road Fever album, and the 1981 album Blood Run Hot.
In 1975, Kenny Shields reformed Witness Inc. The lineup was totally revamped, with only Shields and Craig Kale as the only original bandmates. The new guitar players were Bob Deutscher and George Martin, Ken Sinnaeve was on bass guitar, Craig Kaleal was brought back on the skins, and Daryl Gutheil was the new keyboardist. Before long though Shields got back in touch with Bob Ego, who replaced Craig Kaleal as the drummer.
But by the mid-70s, times had changed, musical tastes in the buying public had changed with them, and Shields was unable to recapture the magic. He soon closed the book on Witness Inc. In 1976, Kenny Shields formed Streetheart, which also featured Sinnaeve and Gutheil. Bob Ego would go on to join Painter, Paul Hann and Mavis McCauley (ex of One Horse Blue) and do session work for a number of performers. In 1979, Ego then reunited with Shields and others to join Streetheart.
Craig Kaleal latter joined the Jacques Lussier Band who released an album in the early 90s.
October 9, 2023
Ray McGinnis
References:
"Witness Inc.", Citizen Freak.
David Friend, "Streetheart lead singer Kenny Shields Dies," Globe and Mail, Toronto, July 21, 2017.
Kenny Shields bio, Crazy 4 Streetheart blogspot, February 16, 2008
Darren Bernhardt, "He Was Magic": Canadian Rock Legend Kenny Sheilds Dies," CBC, July 21, 2017.
"Loverboy to Join Kenny Shields Tribute 8/29," Broadway World.com, July 28, 2017.
"Wayne Shanklin" Wikipedia.org.
Bruce Metzger and Michael D. Coogan, The Oxford Guide to People and Places in the Bible, Oxford University Press, 2001.
Geoffrey Bromiley, The International Standard Bible Encyclopedia, Eerdmans, 1995.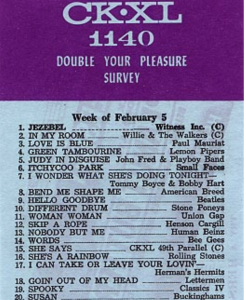 CKXL 1140 AM, Calgary – Top 20 | February 5, 1968