#549: Joanne by Michael Nesmith
Peak Month: September 1970
8 weeks on Vancouver's CKLG chart
Peak Position #3
Peak Position on Billboard Hot 100 ~ #21
YouTube.com: "Joanne"
Lyrics "Joanne"
Robert Michael Nesmith was born in 1942 in Houston, Texas. His mother, Bette invented liquid paper and would later leave the $20 million estate to him. Affectionately nicknamed "Nez," he learned to play saxophone as a young child and joined the United States Air Force years later. After two years in the Air Force, he left to pursue a career in folk music. In 1962 Nesmith won the San Antonio College talent award, performing folk songs and writing his own songs. By 1963, he had moved to Los Angeles, with the intent of getting into the movie business. He also was hosting a hootenanny at the Troubador in West Hollywood, as the "hootmaster." Nesmith released a 45 single titled "Wandering'", which he penned.

In 1964 Nesmith wrote "Different Drum", which was a #13 hit for Linda Ronstadt and the Stone Poneys on the Billboard Hot 100 and #5 in Vancouver in late 1967. During this time he formed the trio named Mike and John and Bill. They recorded a single in 1965 called "How Can You Kiss Me", which was a Top 40 hit in San Antonio, Texas, in May of '65. Later that year Nesmith released a solo disc titled "A Journey With Michael Blessing" that made the Top 50 in a few radio markets in Pennsylvania and Ohio, credited to Michael Blessing. With hopes of getting a job as a songwriter, Mike auditioned for The Monkees in late-1965.
In September 1965, Daily Variety, a Los Angeles entertainment industry paper, placed an ad that read: "MADNESS!! Auditions. Folk & Roll Musician-Singers for acting roles in new TV series. Running parts for 4 insane boys." Over 400 older boys and young men lined up at the studio near Sunset Boulevard, hopeful for a chance at stardom. Stephen Stills and Harry Nilsson were among the hopefuls waiting to be discovered. Walking to the front of the line and right into the producer's office was 19-year old Davey Jones. Mickey Dolenz, a child star from Hollywood, and Peter Tork, rounded out the quartet.
While initially a TV series about a band that didn't actually exist, The Monkees did a live promotional tour of seven cities in the USA beginning on September 1 in Hollywood. The tour featured previews of The Monkees TV show on large screens and The Monkees playing a few tunes. The Monkees went on tour with 16 scattered concert dates between December 3, 1966 (Honolulu) and May 6, 1967 (Wichita, KS). The concert in Honolulu was The Monkees first full length live concert. They were one of the acts performing at the Monterey Pop Festival in mid-June, 1967. They mounted a tour with dates in the USA and Britain between June and August. The tour included Jimi Hendrix as the opening act for seven of these concerts between July 8th (Jacksonville, FL) and 16th (New York City).
The Monkees had a series of number one hits that included "Last Train To Clarksville", "I'm A Believer", and "Daydream Believer". They also made the Top Ten with the Carol King/Gerry Goffin song "Pleasant Valley Sunday" and "Valleri". In Vancouver, the B-side to "Valleri" titled "Tapioca Tundra" also made the Top Ten.
In 1966 Nesmith wrote "Mary Mary" which was recorded on an album by the Paul Butterfield Blues Band. In 1967 his song "Different Drum" became a hit for the Stone Poneys, featuring Linda Ronstadt.
After their two-season run on TV, The Monkees had a tour to Australia in September and Japan in October. In November '68, The Monkees were featured in a psychedelic film titled Head. The script was co-written by Jack Nicholson. In addition to the bandmates, the film's cast included Annette Funicello, Frank Zappa, Toni Basil, Jack Nicholson and Sonny Liston. The film was a commercial failure only managing $16,111 at the box office. The film both alienated The Monkees fan base and caused Columbia Pictures to abandon plans for any future Monkees films.
Unhappy with the bands' direction, Peter Tork left The Monkees at the end of December, 1968, after filming the bands last TV appearance that was to air on NBC in April '69. Later in 1969, the remaining three Monkees released a number of singles. Among these was "Mommy And Daddy," a song that invited children to "ask your Mommy and Daddy who really killed JFK." Jones, Nesmith and Dolenz went on a tour with 46 concert dates in Canada, the USA and Mexico. The tour opened in Vancouver (BC) on March 29, 1969, and the final concert that year was in Salt Lake City, Utah, on December 6th. The Salt Lake City concert was Mike Nesmith's last performance as Monkee until a reunion concert in 1986. He did a few promotional TV ads for The Monkees which was now airing in reruns. The Monkees remain the only recording act to chart four albums to #1 in a twelve month span on the Billboard 200 album chart.
In 1970 Nesmith left The Monkees to form The First National Band. That year he enjoyed a Top 30 hit in the USA called "Joanne".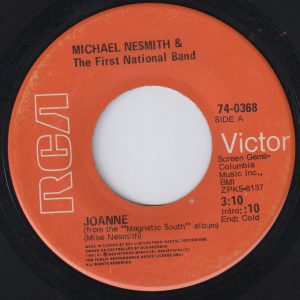 "Joanne" was composed by Michael Nesmith. It is a song about Joanne, who is "only a girl" who the singer falls in love with. She discovers her in an idyllic setting where she lives, in a meadow by a pond. She looks at him with what he perceives as revealing her "sweet love." However, he soon finds that she is a woman who is driven by "desperation." This results in a "hopeless situation" for both Joanne, the man who is held by her gaze, and "the time that made them both run."
As listeners to the song we can only guess the labyrinth of Joanne's "desperation" that she was driven by. We don't know what made her desperate. But, we know that the man who falls in love with her in this song learns soon enough that being in love with her is only a "hopeless situation." We also know that a factor in the hopelessness is "the time", or perhaps the times they are living through, whether in their family or origin, society or nation state. In America in the fall of 1970, the nation was still at war in Vietnam. The Civil Rights Movement was facing stiff resistance from the Ku Klux Klan and other white supremacist groups. And the Black Panthers were calling for revolutionary changes to society and the economic arrangement between the rich and the poor. While all of these factors were apart of the world the radio listeners were familiar with, we don't know what was disturbing Joanne.
Sometimes the people who are particularly sensitive, or socially awkward, or reclusive, choose to live in the country and seek a rural sanctuary. It may be no accident that Joanne lived in a meadow by a pond. We don't know if she was in an alpine meadow, or if this was a rustic farm setting. We have no sense of Joanne having chores to do on a farm, or duties. Her only task in life is to live in her bucolic setting. Perhaps the song is a reminder that a person who may first appear to be a picture of beauty, love and innocence, can reveal themselves as troubled. Perhaps this plaintive song has an upside: Joanne "touched" this man for a moment, awakening in him his own sense of potential to fall in love.
The line in the song "though her essence is gone" refers to her being dead, as one reader here has commented. The songs' narrator adds "I have no tears to cry for her." The man who once loved her has only kind thoughts of her, when he brings her to mind.
"Joanne" climbed to #1 in Chilliwack (BC) and Peoria (IL), #2 in San Diego, Birmingham (AL), Stockton and San Jose (CA), #3 in Vancouver (BC), San Francisco, Dallas, Memphis, Lincoln (NE), Winnipeg (MB) and Hamilton (ON), #4 in Halifax (NS), Fresno (CA), New Haven (CT), Kansas City (MO) and Victoria (BC), #5 in Edmonton (AB), Fort Wayne (IN), Sioux Falls (SD), Omaha (NE) and Wilmington (DL), #6 in Toronto, Dubuque (IA), Louisville (KY), Chattanooga (TN), Norfolk (VA) and Denver, #7 in Buffalo, Montreal and Cincinnati (OH), #8 in San Bernardino, Philadelphia, Regina (SK) and Hartford (CT), #9 in Pittsburgh, Miami, Tulsa (OK) and Manchester (NH).
The First National Band had a minor follow up hit titled "Silver Moon". The single made it to #1 in St. Louis (MO), #3 in Chilliwack (BC) and Columbus (OH), #4 in Edmonton (AB), #5 in San Diego and Hilo (HI) and #7 in Medicine Hat (AB) and Indianapolis (IN). After an eighth single released in 1972 was another commercial failure, Nesmith's band broke up. Drummer John Ware went on to join Emmylou Harris and the Hot Band. Ware was in the studio for ten of Emmylou Harris' albums between 1975 and 1983. Veteran session musician Red Rhodes, moved on from performing on stage. In the late 1970s Rhodes shifted his focus from performing to guitar electronics at his Royal Amplifier Service shop in Hollywood. And guitar player John London went on to work on a number of films as a key grip.
In 1979 Nesmith's mother, Bette Nesmith Graham, died. Michael Nesmith inherited over $20 million in US funds. In 1981, Nesmith won the first Grammy Award given for Video of the Year for his hour-long television show, Elephant Parts. In 1983, Michael Nesmith produced the music video for Lionel Ritchie's single "All Night Long". In 1987, he produced the music video Michael Jackson's "The Way You Make Me Feel". In 1984 Nesmith was the executive producer for the classic cult film Repo Man.
In 1986, Davey Jones and Peter Tork went on a 17 concert tour of Australia. An even more ambitious tour saw Jones and Tork joined by Micky Dolenz across the USA for 145 concerts between May 24 and December 3. For one of these concerts ~ the Greek Theatre in Los Angeles ~ Mike Nesmith joined the concert for an original lineup on their 20 year reunion tour. Nesmith also joined the other three bandmates for a tour of the UK in 1997.
On Friday evening, September 16, 2016, in Los Angeles, four days after the 50th Anniversary of the debut of The Monkees on NBC, Michael Nesmith walked onto the stage with Micky Dolenz and Peter Tork at the historic, and sold out, Pantages Theatre to perform what he professed would be his final concert with The Monkees. However, on April 3, 2020, Micky Dolenz and Mike Nesmith planned to launch a 14-concert tour billed as "An Evening With The Monkees." The first concert on the tour was to take place in Vancouver (BC) at the Commodore Ballroom. ​But the tour was postponed tentatively to the spring of 2021 due to the pandemic.
December 21, 2019
Ray McGinnis
References:
Damian Fanelli, "Interview: Michael Nesmith, Micky Dolenz and Peter Tork Talk Monkees Summer Tour, 'Headquarters' and What They Learned from Jimi Hendrix," Guitar World, New York, July 26, 2013.
Micheal Nesmith bio, Monkees Rule 43.com
Monkees 1967 U.S. & British Tour (dates), Monkees Live Almanac.com
Bob Rafaelson ~ Director, Head ~ trailer, Columbia Pictures, 1968.
"Monkees' Michael Nesmith Recovering From Quadruple Bypass Heart Surgery," Rolling Stone, July 26, 2018.
"The Monkees – New Tour Dates and Live Album Coming in 2020," Monkees.com.
"CKLG 'Thirty'," CKLG 730 AM, Vancouver, BC, September 25, 1970.
For more song reviews visit the Countdown.