#83: Joey by Concrete Blonde
Peak Month: September 1990
15 weeks on Vancouver's CKLG chart
Peak Position #1
Peak Position on Billboard Hot 100 ~ #19
YouTube.com: "Joey"
Lyrics: "Joey"
Concrete Blonde is a band co-founded in 1986 by Johnette Napolitano and James Mankey. Napolitano was born in Los Angeles in 1957. She was a gifted child in an arts program from a young age. In 1982, she and Mankey began to perform together in Dream 6. Mankey was born in Washington State in 1952. He moved to Los Angeles and was a member of a band called Sparks. Mankey was featured on Sparks first two studio albums in 1971 and 1973. In 1986, Dream 6 signed with I.R.S. Records and it was suggested they change their name to Concrete Blonde. The name was intended to signal both their contrasting hard rock songs with their introspective lyrics. Napolitano played bass guitar, Mankey played guitar and the pair were joined on drums by Chicago born Harry Rushakoff (b 1958). In 1979, Rushakoff was part of the glam-punk band Special Affects who released the album Mood Music.
In 1986, Concrete Blonde released their debut self-titled album. On January 25, 1987, Concrete Blonde gave their first concert in Vancouver at Club Soda. On November 30, 1988, Concrete Blonde appeared in concert at the Town Pump in Vancouver. In 1989, they released Free, and briefly expanded to include bass player Alan Bloch. From the album, "God Is A Bullet", became a Top 20 hit on the Billboard Alternative Airplay chart. In 1990, the original trio went back to the studio to record Bloodletting. On June 21, 1990, Concrete Blonde appeared at the 86th Street Music Hall to promote their new album. Bloodletting climbed into the Top Ten pop album charts in both Australia and Canada. From the album came the single "Joey".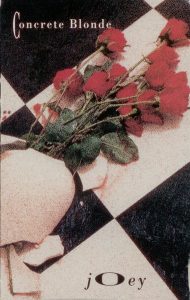 "Joey" is the only single by Concrete Blonde to crack the Billboard Hot 100. It is a song about a relationship with plenty of drama. Joey's love interest swears that they're not angry anymore at Joey. The narrator of the song is Joey's lover. They wonder if Joey is once again "passed out on the floor." They remember when they both told each other "you scare me." Joey has been fighting a secret war, and all those close to Joey can do is watch it play out. There's lost os confusion, hurting and defensiveness. But something draws them to each other because they "get lucky."
"Joey" peaked at #1 in Vancouver, #3 in Los Angeles, #4 in Buffalo, #5 in Hamilton (ON) and San Francisco, #9 in Baltimore, and #11 in San Jose (CA).
Later in 1990, Concrete Blonde recorded a cover of the Leonard Cohen song "Everybody Knows". It was included in the Pump Up The Volume Soundtrack. A second track from Bloodletting titled "Caroline" was a Top 20 hit on the Alternative Airplay chart. On February 12 and 13, 1991, Concrete Blonde performed at the Commodore Ballroom in Vancouver.
In 1992, Concrete Blonde released the album Walking In London. From the album came "Ghost of a Texas Ladies' Man". The single climbed to #2 on the Alternative Airplay chart in the USA. It cracked the Top 30 on the RPM Canadian singles chart. The following year Mexican Moon was a final album release before the band split up. Prior to the breakup, Concrete Blonde appeared in concert at the Commodore Ballroom in Vancouver on March 4, 1994.
In 1997 Concrete Blonde had a reunion. But otherwise, they were individually on to other pursuits. A final album in 2002 was released titled Group Therapy. On January 24, 2003, Concrete Blonde returned to Vancouver for a concert at the Commodore Ballroom.
Johnette Napolitano joined the band Pretty & Twisted in 1995. She has recorded as a solo artist, with the albums Sketchbook (2002), Sketchbook 2 (2006), Scarred (2007), and Sketchbook 3 (2010). Rushakoff relocated to Nashville, and joined the Steve Earle-produced band Guilt. In 2003, James Mankey released J.A.M., a solo instrumental album.
On January 26, 2012, a reunited Concrete Blonde performed in concert in Vancouver at the Rickshaw Theatre.
December 12, 2022
Ray McGinnis
References:
"Interview: Concrete Blonde," Rock Revolt Magazine, January 2013.
Samantha Sanders "The Truth About Johnette Napolitano," Grunge, December 23, 2020.
Jim Allen, "'Bloodletting': How Concrete Blonde's Breakout Brought Darkness To The Mainstream," UDiscoverMusic, May 15, 2022.
"Concrete Blonde Concert Dates – Canada," Setlist.fm.
"CKLG Top 40," CKLG 730 AM, Vancouver, BC, September 17, 1990.
For more song reviews visit the Countdown.