#277: Jojo by Boz Scaggs
Peak Month: September 1980
13 weeks on Vancouver's CFUN chart
Peak Position #3
Peak Position on Billboard Hot 100 ~ #17
YouTube: "Jojo"
Lyrics: "Jojo"
William Royce "Boz" Scaggs was born in 1944 in Canton, Ohio, 60 miles south of Cleveland. His father was a traveling salesman, and the family moved to Oklahoma and next to Texas. While attending a private school in Dallas, Scaggs met Steve Miller while he was 12-years-old. Scaggs was learning to play guitar and was invited to join Miller's band the Marksmen. In 1961-62 Boz Scaggs joined Steve Miller's band the Ardells while the pair were studying university in Madison, Wisconsin. Scaggs followed Miller to Chicago in '62-'63. Then he went to London and Sweden to perform as a solo artist in concert. While in Sweden, Boz Scaggs released his debut album, Boz, in 1965. The album only sold in Sweden and soon went out of print.

Scaggs moved to San Francisco and joined the Steve Miller Band in 1967. As a bandmate, he was at the recording sessions for the Steve Miller Band's first two albums in 1968. That year Scaggs released his second solo album, Boz Scaggs. It included session musicians Duane Allman; tenor saxophonist on Aretha Franklin's "Respect", "I Never Loved A Man (The Way I Love You)" and "I Say A Little Prayer", among others – Charles Chalmers; trumpeter with the Bar-Kays on "Soul Finger" Ben Cauley – and later on "Respect Yourself" for the Staple Singers, among others. However, Boz Scaggs did not sell well. Yet, in 2012 Rolling Stone listed the album at #496 on its ranking of 500 Greatest Albums of All Time.
Between 1971 and 1976 Boz Scaggs went to the recording studios with Columbia Records. He released four albums in four years. There was no hit single from any of these albums. But in 1976 Boz Scaggs released Silk Degrees. The album soared to #2 on the Billboard 200 Album chart. A track from the album, "Lowdown", won a Grammy Award in 1977 for Best R&B Song. It was a #3 hit in the USA. Another track, the "Lido Shuffle", climbed to #11 on the Billboard Hot 100 and #2 in Vancouver. And many of the session musicians on the album ended up forming a new band named Toto, who went on to have hits like "Africa" and "Rosanna".
Late in 1977 Boz Scaggs released his eighth studio album, Down Two Then Left. Neither of the two singles from the album cracked the Top 40. While the album eventually sold platinum in the USA, it stalled at #11 on the Billboard 200 Album chart.
Scaggs was back in the recording studio to work on Middle Man. The album produced two Top 20 hit singles: "Breakdown Dead Ahead" and "Jojo".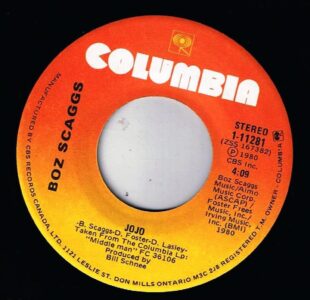 "Jojo" was cowritten by Boz Scaggs, David Foster and David Lasley. David Foster was born in Victoria, British Columbia, Canada, in 1947. He has won 16 Grammy Awards, including for writing and arranging "After The Love Has Gone" for Earth, Wind & Fire; Producing Dream Girls: Original Broadway Cast Album; Producing and arranging "Hard Habit To Break" for Chicago; Producing "I Will Always Love You" for Whitney Houston; And for garnering 47 Grammy Award nominations since 1980, variously as a writer, arranger and /or producer.
David Lasley was born in 1947 in Sault Ste. Marie, Michigan. He was a backing vocalist on "Everybody Dance", "Le Freak" and "I Want Your Love" by Chic; And backing vocalist on "He's The Greatest Dancer" and "We Are Family" by Sister Sledge. Lasley also wrote Maxine Nightengale's #5 hit in 1978 titled "Lead Me On". Lasley has also been a backing vocalist for James Taylor on ten of his albums, for Bette Midler on six of her albums, for Bonnie Raitt on four of her albums, on Ringo Starr for two of his albums, and many more.
"Jojo" is a song is about a pimp working on Broadway in New York City. Jojo has a gun and likes to wave it around just for fun. He likes the "spinning lights" of Broadway, and the "dizzy heights." Jojo is one of those men who wear "mink, gentle and soft, but who'd just as soon off you for looking the wrong way…" The lyrics also tell us that Jojo keeps his "baby high" to keep her "sweet" and keep "her on the street." Jojo also has lots of "flashy lines" to get the attention of those he converses with. He lets men looking for some action on Broadway know that for $50 (about $165 USD in 2021) "he'll get you all you want."
In 2018 the New York Post ran a three-part story about sex trafficking in the five boroughs of New York City. Discussing the experience of Alexis (a pseudonym) the former prostitute told the paper that a neighborhood pimp "managed to get in a conversation with me about a party that he was going to do, and that a famous celebrity, Meek Mill, was going to be there . . . So he asked me if I'd like to go."
The pimp told Alexis to come back that night in heels and sexy clothes. He said he also needed racy pictures of her — for the party's "VIP list." He gave her a cup of sparkling wine in the car on the way to the party, and suddenly, "I felt my jaw was like locked. I started getting, like, hot," Alexis said.
The hustler brought her to a Yonkers motel room, where men were waiting to pay to rape her — having seen ads he had made with her photos on Backpage.com. The pimp encouraged Alexis to "slide into the loop" — his euphemism for prostitution — and she reluctantly agreed.
"At that moment, my mom and I and my sister, we were struggling to pay rent, we were struggling to pay for food. Prior to that, all the apartments we had, we used to get evicted for not being able to pay rent on time," Alexis said. The New York Post story described how the teenager escaped after two years in the sex trade.
"Jojo" peaked at #1 in Mesa (AZ), #2 in Minneapolis/St. Paul and Fort Dodge (IA), #3 in Vancouver (BC) and Toronto, #4 in Ottawa (ON), Saskatoon (SK), and Providence (RI), #5 in Annapolis (MD) and San Francisco, #6 in Regina (SK) and South Bend (IN), #7 in Richmond (IN), Atlanta, and Roanoke (VA), #8 in Canton (OH), #9 in New Haven (CT), Lancaster (PA), Sacramento (CA), Miami, Springfield (MA), and Hartford (CT). "Jojo" charted well in about 30 states across the USA, was received little airplay in almost 20 states. It stalled at #17 on the Billboard Hot 100.
Following soon after "Jojo", Boz Scaggs single from the film Urban Cowboy titled "Look What You've Done To Me" climbed to #5 in Vancouver on CFMI. It peaked at #14 on the Billboard Hot 100. In early 1981 "Miss Sun" climbed to #4 in Vancouver, and stalled at #14 on the Hot 100. The single was from a compilation titled Hits.
Boz Scaggs took an eight year break from recording and returned to the studio to release Other Roads late in the summer of '88. Also in 1988, Scaggs opened the San Francisco nightclub, Slim's. He continued to be an owner of the club until it closed during the pandemic in 2020. Since 1988, Boz Scaggs has released nine more studio albums.
In the summer of 1998, Boz Scaggs went on tour as the opening act for Stevie Nicks. Early on the morning of December 31, 1998, tragedy struck the Scaggs family when Boz Scaggs 21-year-old son, Oscar, died of a heroin overdose. Oscar Scaggs had been in rehab treatment through most of 1998, and had been reeling since the death of his friend – 19-year-old Nick Traina (the son of novelist Danielle Steel) in 1997. In 2001 Scaggs was all ready for the release of his new album, Dig, on September 11. But then the attacks happened and the record company shelved its promotional plans. "The record label had an extensive publicity campaign set up and the budget was all paid for, the ads were paid for. Then came 9/11 and everything went out the window, of course. That's the breaks. I was pretty disappointed. … I'm sorry it didn't see the light of day."
In 2003 his album But Beautiful topped the Billboard Top Jazz Albums chart. His 2013 album, Memphis, has been his most commercially successful album since Middle Man in 1980. In 2015, Scaggs album, A Fool To Care, climbed to #1 on the Billboard Top Blues Albums chart. In October 2017, Boz Scaggs home in the Napa Valley burned to the ground in the wildfires. And in 2018 Boz Scaggs most recent album, Out Of The Blues, also climbed to the top of the Billboard Top Blues Albums chart. Given his personal experiences of the loss including in the 1998 death of his 21-year-old son to heroin overdose – and his home lost to fire in the Napa Valley in 2017 – Boz Scaggs knows the blues firsthand.
July 28, 2021
Ray McGinnis
References:
Laura Hamburg, "Boz Scaggs' Son Dies On New Year's Eve / Heroin overdose kills 21-year-old," San Francisco Chronicle, January 4, 1999.
Mark Hinson, "Boz Scaggs Talks About his Lost Album," Tallahassee Democrat, Tallahassee, FL, April 21, 2016.
David Browne, "'Boz Scaggs' at 50: Inside the Making of a White-Soul Classic," Rolling Stone, August 27, 2019.
Aidin Vaziri, "Pop Quiz: Boz Scaggs Lost Almost Everything in the North Bay Fires, but he Still has the Blues," San Francisco Chronicle, September 5, 2018.
Paul Cashmere, "Boz Scaggs Explains How He Became The Father Of Toto," Noise11, Melbourne, Australia, April 14, 2014.
"David Foster Biography," davidfoster.com.
Sierra Marquina, "David Foster Details Working With Legends Like Whitney Houston & More!," onairwithryan.com, July 14, 2020.
"David Lasley bio," sessiondays.com, November 2019.
Gabrielle Fonrouge, Shawn Cohen and Yoav Gonen, "Sex Trafficking Survivors Reveal how NYC Pimps Prey on the Young and Vulnerable," New York Post, April 16, 2018.
"C-FUN Top Thirty," CFUN 1410 AM, Vancouver, BC, September 13, 1980.
For more song reviews visit the Countdown.