#347: Josie by Steely Dan
Peak Month: December 1978
14 weeks on CFUN's Vancouver Chart
Peak Position ~ #4
Peak Position on Billboard Hot 100 ~ #26
YouTube: "Josie"
Lyrics: "Josie"
Donald Jay Fagen was born into a Jewish household in Passaic, New Jersey, in 1948. The first record he bought was "Reelin' and Rockin'" by Chuck Berry in 1958. In 1959, when he was eleven years old, a cousin of Donald Fagen suggested he explore jazz music. So he attended the Newport Jazz Festival. Fagen recalled later "I lost interest in rock 'n' roll and started developing an anti-social personality." By 1960, after he'd turned twelve, Fagen began frequenting the Village Vanguard jazz club. He was able to see Charles Mingus, Thelonius Monk, and Miles Davis. He learned to play the piano, and he played baritone horn in the high school marching band. Fagen also drew inspiration from the Boswell Sisters, Henry Mancini, Ray Charles, Sly and the Family Stone and a variety of Motown recording acts.
After graduation, in 1965, Fagen entered college at private liberal arts school called Bard at Annandale-on-Hudson, New York. At Bard College he studied English literature, and in 1967 befriended a guitar player named Walter Becker. The pair, who met in a coffee house on campus called the Red Balloon. They formed a band called the Leather Canary, that included future actor Chevy Chase. The trio morphed into the Don Fagen Jazz Trio, and then the Bad Rock Band. Fagen and Becker also played in concert as backing musicians with Jay and the Americans. Fagen went by the name Tristan Fabriani, which he used on stage when he played keyboards for Jay and the Americans. Over the years, Donald Fagen has created other aliases when giving credit to work he had done for himself or others. These names include Illinois Elohainu, Phonus Quaver, and Harlan Post.
In 1971 Fagen wrote a song recorded by Barbra Streisand for her Barbra Joan Streisand album. In 1972 he co-founded a band with Walter Becker named Steely Dan. In true counter-cultural style, the name was borrowed from a dildo of the same name in William Burroughs' novel Naked Lunch. (A 1976 track from The Royal Scam titled "The Fez" was about the benefits of wearing a condom). Walter Carl Becker was born in 1950 in Queens, New York. By Donald Fagen's account "Walter had a very rough childhood." In high school Becker learned saxophone and next guitar. Becker and Fagen met in 1968 at Bard College at Annandale-on-Hudson, New York. They formed a band called Leather Canary that included Chevy Chase on drums. In the summer of 1969 the pair, using pseudonyms, were part of the touring band for Jay and the Americans. Becker and Fagen also began to work together as a songwriting duo. In 1971 they wrote the soundtrack for a Richard Pryor comedy feature film titled You've Got to Walk It Like You Talk It or You'll Lose That Beat.
Steely Dan included a number of other musicians Fagen and Becker auditioned to give them a fuller sound. had a Top Ten hit in February 1973 titled "Do It Again". A followup single, "Reeling In The Years", stalled at #11. They climbed to #4 on the Billboard Hot 100 in August 1974 with "Rikki Don't Lose That Number". Unhappy with touring, Fagen and Becker decided Steely Dan would stop touring and focus solely on recording in the studio. Of their touring musicians, only two – Michael MacDonald and Jeff Pocaro – would remain in the recording studio until 1980. Of these "Peg" was a Top 20 hit for the band in 1977.
Neither MacDonald or Pocaro were in the recording studio for "Josie".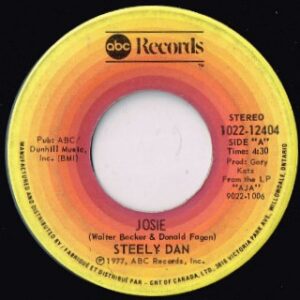 "Josie" was cowritten by Walter Becker and Donald Fagen. "The lyrics describe the boys of the neighborhood celebrating the return of a fun-loving girl named Josie who may have a shady past and anticipating the debauchery that may ensue. Some music critics have suggested that Josie may be returning from prison. In the lyrics Steely Dan sings that when Josie comes home "we're gonna…lay down the law and break it." In celebration of Josie's return, her friends are going to do some things that might be seen as disruptive to local bylaws: "rev up the motor scooters," "park in the street," and "sleep on the beach." Her friends are going to dance and party all night.
One thing about Josie that we learn from the lyrics is that she "prays like a Roman." The Romans variously prayed to a variety of their gods. This included the chief deity of Roman state religion, Jupiter, the god of sky and thunder and king of the gods. Jupiter was a divine witness to oaths, the sacred trust on which justice and good government depend. Minerva was the goddess of wisdom and strategic (defensive) warfare, and the sponsor of arts, trade, and strategy. Mars was the god of war. Juno was the goddess and protector of Rome. Neptune was the god of the sea (and freshwater lakes). Venus was the goddess of love, beauty, desire, sex, fertility, prosperity and victory. Diana was the goddess of the countryside, hunters, protector at childbirth and the moon. Apollo was the god of archery, music and dance, truth and prophecy, healing and diseases, the sun and light, and poetry. Vulcan was the god of volcanoes, fire, desserts and metalworking – often depicted with the blacksmith's hammer. Mercury was the god of financial gain, commerce, eloquence, messages, communication (including divination), travelers, boundaries, luck, trickery and thieves, and the underworld. And Ceres was the goddess of agriculture, grain crops and motherly relationships. There were more Roman gods than these. What can be meant by Josie praying like a Roman is up to the listener. But, it may be that Josie had a fascination with antiquity, or a pre-Christian sensibility.
"Josie" peaked at #2 in Kosciusko (MS), #4 in Vancouver (BC), #6 in Minneapolis/St. Paul, Salt Lake City, Fredericton (NB) and San Diego, #8 in San Francisco, #9 in Richmond (VA), and #10 in Toronto. In about half of the states in the USA, "Josie" got next to no airplay.
In 1980 Steely Dan had their third and final Top Ten hit with "Hey Nineteen". In 1982 Gaucho won Steely Dan a Grammy Award for Best Engineered Non-Classical Recording. They also received Grammy nominations for Album of the Year and Best Pop Performance by a Duo or Group with Vocals.
Steely Dan broke up in 1981 after "Time Out Of Mind" was released. By that time Becker had developed a drug habit, and moved to Hawaii to become an avocado farmer and kick his habit. While Donald Fagen went to the recording studio to release an album titled The Nightfly. His debut single from the album was "I.G.Y. (What a Beautiful World)".
In 1988 Fagen wrote the score of Bright Lights, Big City, and a song for its soundtrack. He also produced an album for China Crisis. In addition to collaborating in the recording studio with Barbra Streisand, Donald Fagen had been a session musician for Poco, Rickie Lee Jones, Diana Ross, Boz Scaggs, Phoebe Snow, Martha Wainwright, and Todd Rundgren.
On September 9, 1994, Steely Dan appeared in concert at the Pacific Coliseum in Vancouver. And they returned to the city on August 16, 1996, for a performance at the Nat Bailey Stadium.
Over the years Donald Fagen has released four studio albums. His latest was in 2012 titled Sunken Condos. That year he toured with the Dukes of September, featuring Michael McDonald and Boz Scaggs. One of the concerts was recorded at Lincoln Center in New York City and broadcast on PBS Great Performances in 2014. In October 2013 Fagen published an autobiography titled Eminent Hipsters.
Walter Becker and Donald Fagen reunited in 1993 and went on tour. They recorded two final Steely Dan albums in 2000 (Two Against Nature) – which won them a Grammy Award for Album of the Year – and 2003 (Everything Must Go). Walter Becker recorded albums for China Crisis, Rickie Lee Jones and Krishna Das among others. He also recorded two solo albums: 11 Tracks of Whacks (1994) and Circus Money (2008). He died of cancer in 2017 at the age of 67.
February 15, 2021
Ray McGinnis
References:
"Donald Fagen Discusses the Loss of Walter Becker and Steely Dan's Future," Rolling Stone, December 19, 2017.
Rob Brunner,"The Origins of Steely Dan," Entertainment Weekly, March 17, 2006.
Chris Wilman, "From the Archives: The 1993 Interview When Walter Becker Opened up About Steely Dan's Subversive Intentions," Los Angeles Times, August 22, 1993.
Joel McIver, "Walter Becker Obituary," Guardian, September 4, 2017.
"List of Roman Deities," Wikipedia.org.
"Steely Dan: Concert Dates in Canada," setlist.fm.
"C-FUN Top 30," CFUN 1410 AM, Vancouver, BC, December 2, 1978.
For more song reviews visit the Countdown.