#181: Joy by the Ventures
Peak Month: February 1972
13 weeks on Vancouver's CKVN chart
Peak Position #1
Peak Position on Billboard Hot 100 ~ #109
YouTube: "Joy"
In 1958, The Ventures were formed by Don Wilson and Bob Bogle in Tacoma, Washington. They are an American instrumental rock band that helped popularize electric guitar in pop music during the 1960s. The band's founders first met in 1958, when Bogle was looking to buy a car from a used car dealership in Seattle owned by Wilson's father. Finding a common interest in guitars, the two decided to play together, while Wilson joined Bogle performing masonry work. They bought two used guitars in a pawn shop for about $10 each. Initially calling themselves the Versatones, the duo played small clubs, beer bars, and private parties throughout the Pacific Northwest. Wilson played rhythm guitar, Bogle lead. When they went to register the band name, they found that it was already taken. Disappointed, they cast about for an appropriate name. Wilson's mother suggested the name "The Ventures", upon which they eventually agreed in 1959.
Bogle and Wilson heard Nokie Edwards playing guitar at a club in Tacoma in 1959, and asked him to join their band. Nole Floyd "Nokie" Edwards was born in Lahoma, Oklahoma, in 1935. Part Cherokee, Edwards came from a family of accomplished musicians, so that by age five he began playing steel guitar, banjo, mandolin, violin, and bass guitar. His family moved to the Tacoma suburb of Puyallup while he was a child. In his late teens, Edwards joined the United States Army Reserve. In 1958 Edwards was part of country singer, Buck Owens, band.
Robert Leonard Bogle was born in rural Oklahoma in 1934. Bogle worked as a bricklayer in California from the age of 15. He and Don Wilson (born in Tacoma in 1933) worked on construction sites around Tacoma as they formed the Ventures. A fourth member of the initial Ventures lineup was George T. Babbitt. Born in Bremerton, Washington, in 1942, he went on to become a 4-star General in the U.S. military. Just before the Ventures went to the recording studio in 1960, Babbitt had to quit the band since he was too young to play in night clubs. At the time, the age of majority was 21. Babbitt was replaced by Howie Johnson (born in 1938 in Washington State) on drums. In the fall of 1957, Johnson had been injured in an auto crash, which caused irreversible spinal damage. However, he was able to play without a neck brace shortly after joining the band in 1960. (Though the Columbian, in an obituary for Nokie Edwards, reported that Johnson had a car wreck in 1961. So either one or two car crashes.)
In 1959, the Ventures released a vocal pop single titled "Cookies And Coke". The single was not a hit. In the spring of 1960, The Ventures recorded "Walk Don't Run". The instrumental was first heard by Don Wilson on a Chet Atkins album, Hi-Fi in Focus, from 1957. It had been written and recorded by Johnny Smith in 1954. "Walk Don't Run" climbed to #2 in Vancouver in July 1960, and on the Billboard Hot 100. In November 1960, the Ventures followup instrumental, "Perfidia", climbed to #7 in Vancouver. The instrumental was a cover of a 1940 pop hit by Xaviar Cugat. The Ventures album, Walk Don't Run, peaked at #11 on the Billboard pop album chart.
Liner notes from Walk Don't Run exclaimed "Bob Bogle, Nokie Edwards, Don Wilson (guitarists) and Howie Johnson (drummer) succeeded on their first try in creating the sort of unique new sound that catches the ear of the public. The group had it's beginning when Don and Bob started practicing their guitars together, resulting in the close musical interplay that forms the basis of The Venture's distinctive sound. In February of 1960 they added Nokie and Howie to round out the new musical ideas they were creating. All four young men, who range in age from 23 to 25, are natural athletes as well as musicians. Don was a wrestler in high school. Bob played football and has done some motorcycle racing. Nokie races stock cars and Howie played baseball and football in high school. The name of their hit is Walk – Don't Run, but for them it is a matter of Run – Don't Walk up the stairway to stardom."
The Ventures found early success with a string of singles, but quickly became leaders in the album market. The Ventures were among the pioneers of concept album (starting with 1961's The Colorful Ventures) where each song on several of their albums was chosen to fit a specific theme. Some of the Ventures' most popular albums at the time were a series of records of dance music. In the early 1960s "golden age of hi-fi", with the novelty of stereo still in its experimental stages, the Ventures found their characteristic style of recording each instrument in either the extreme left or right channel, with little (if any) cross-over, enhancing the stereo effect to its fullest limits. The lineup of Bogle, Wilson, Edwards and Johnson remained intact until 1962, when Johnson quit. arty). Howie Johnson didn't like spending so much time away from his new family (his second marriage) by having to commute from Seattle to Los Angeles to record.
The Ventures charted seven songs on the Vancouver pop charts in 1961-62. The most successful was a non-USA charting instrumental titled "Yellow Jacket", which climbed to #18 in Vancouver in March 1962. While the Twist craze was still dominating the dance scene, the Ventures released Twist with the Ventures. The album featured covers of "The Twist", "Let's Twist Again". Their track, "Guitar Twist", may have inspired the melody for the 1965 Roy Head Top Ten hit "Treat Her Right". Twist with the Ventures made it to #24 on the Billboard pop album chart in '62. And in 1963 the Ventures had another Top Ten album with The Ventures Play Telstar and the Lonely Bull. Peaking at #8 on the Billboard pop album chart, it sold over a half a million copies, earning them a "gold record."
In 1964, The Ventures enjoyed a revival with a new version of their 1960 hit. "Walk Don't Run '64" climbed to #3 in Vancouver in August 1964, and #8 on the Billboard Hot 100. In 1965, The Ventures Christmas Album climbed to #9 on the Billboard pop album chart. The band continued with their recording successes in 1969 with their recording of the theme song for the TV show "Hawaii-Five-O". The single peaked at #4 in Vancouver, and on the Billboard Hot 100. The band's album Hawaii-Five-O peaked at #11 on the Billboard pop album chart.
In 1971 The Ventures recorded a cover of the German composer, Johann Sebastian Bach's "Jesu, Joy of Man's Desiring". A band named Apollo 100 recorded a more successful version which climbed to #6 on the Billboard Hot 100. However, in Vancouver, DJs gave the Ventures cover, "Joy", a spin.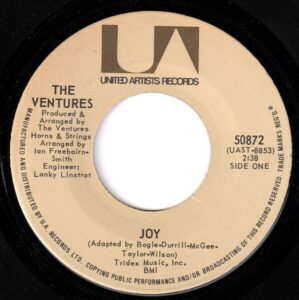 "Joy" is an adaptation of the music of the classic composer Johann Sebastian Bach. In 1685, Johann Sebastian Bach was born in Eisenach, Germany. Bach is among the greatest classical European composers, and known for the Brandenburg Concertos, Goldberg Variations, almost 200 cantatas, and much more. In 1723 wrote a church cantata, Herz und Mund und Tat und Leben (Heart and mouth and deed and life). It was written for the Marian Feast of the Visitation, celebrated on July 2. This day in the Christian church calendar celebrates Mary's visit to Elizabeth described in the Gospel of Luke 1:39-56. This scripture included Mary's Magnificat. Bach had drawn upon: "Jesu, meiner Seelen Wonne", the lyrics of which were written in 1661 by Martin Janus. Bach had also adapted the 1641 melody of Werde munter, mein Gemüte composed by Johan Schop. It has been popularized in the English 20th Century hymn "Jesu, Joy of Man's Desiring". The hymn describes Jesus of Nazareth "the Christ" as the source of joy for humanity, specifically for Christian disciples.
"Joy" peaked at #1 in Vancouver, #6 in Syracuse (NY), #14 in Scranton (PA), and #15 in Hamilton (ON).
A more successful recording of "Joy", concurrent to the Ventures recording, was by the British instrumental band Apollo 100. The Apollo 100 version of "Joy" climbed to #6 on the Billboard Hot 100. In 1979, the Beach Boys released "Lady Lynda", which peaked at #6 on the UK singles chart. The song was set to the melody of "Jesu, Joy of Man's Desiring".
In 1975-76 the Ventures had several disco hits on the Billboard Dance charts: "Theme from Airport '75" (#11), "Superstar Revue" (#3), and "Moonlight Serenade" (#11).
Between 1960 and 2004, the Ventures released 68 studio albums, 32 live albums, and many compilation albums and box sets.
Johnson continued to play locally in the Washington area with local groups until his death on May 5, 1988, at age 54.
Bogle died in 2009 at the age of 75 from Non-Hodgkin lymphoma. Nokie Edwards died in 2018, after being with the band from 1960–1968, and 1972–1985; And as a guest musician from 1999–2016. Don Wilson remained with the Ventures from 1958 to 2015.
April 1, 2022
Ray McGinnis
References:
Ernest A. Jasmin, "Bob Bogle, Ventures' Guitarist, Dead at age 75," Seattle Times, June 15, 2009.
Lars Brandle, "Nokie Edwards, Lead Guitarist With The Ventures, Dies at 82," Billboard, March 13, 2018.
Craig Sailor, "Key member of Ventures rock band dies at 82," Columbian, March 15, 2018.
"Johann Sebastian Bach," baroquemusic.org.
"Herz und Mund und Tat und Leben," Wikipedia.org.
"West Coast Music Survey," CKVN 1410 AM, Vancouver, BC, February 18, 1972.
For more song reviews visit the Countdown.