#873: Just Another Guy/The Minute You're Gone by Cliff Richard
Peak Month: May 1965
9 weeks on Vancouver's CFUN chart
Peak Position #10 ~ Just Another Guy
5 weeks on Vancouver's CFUN chart
Peak Position #11 ~ The Minute You're Gone
Peak Position on Billboard Hot 100 ~ did not chart
YouTube.com: "Just Another Guy"
Lyrics: "Just Another Guy"
YouTube.com: "The Minute You're Gone"
Lyrics: "The Minute You're Gone"
Cliff Richard was born Harry Roger Webb on October 14, 1940, in the city of Lucknow in Uttar Pradesh, India. In 1940 Lucknow was part of the British Raj, as India was not yet an independent country. Webb's father worked on as a catering manager for the Indian Railways. His mother raised Harry and his three sisters. In 1948, when India had become independent, the Webb family took a boat to Essex, England, and began a new chapter. At the age of 16 Harry Webb was given a guitar by his father. Harry then formed a vocal group called the Quintones. Webb was interested in skiffle music, a type of jug band music, popularized by "The King of Skiffle," Scottish singer Lonnie Donegan who had an international hit in 1955 called "Rock Island Line".

In 1958 Webb became the lead singer of a British rock group named the Drifters. It was during this time that Harry Greatorex, who was promoting the band, gave Harry Webb the stage name, Cliff Richard. As rock and roll made some people think of rocks, Greatorex reasoned that "Cliff" would be a rock solid name for the young 18 year old Harry Webb. Cliff Richard would go on to record nearly 150 singles that made it onto the UK charts. While his popularity in the USA was erratic, he was a big seller in Vancouver. On this survey he appears on 22 occasions. Cliff Richard had his first single on the Vancouver charts peak at number one in the fall of 1959. "Living Doll" became an auspicious beginning for a recording artist that fans in Vancouver were wild about for Richards early string of hits between 1959 and 1966, and again in the late 70s onward.
In the UK Cliff Richard had 26 of his first 28 singles, from 1958 reach the Top Ten, which included a record of 23 Top Ten singles in a row, ending in the middle of 1965. Of these 15 singles were non-album singles. Of these, the final consecutive Top Ten hit was his double-sided hit "Just Another Guy" backed with "The Minute You're Gone".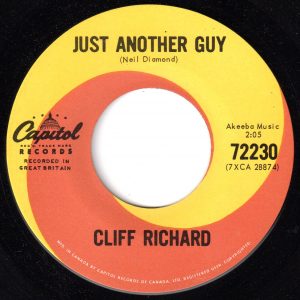 "Just Another Guy" is a song about someone who loves someone else who he considers to be out of his league. If he tried to date them and express his affections for them, they'd only laugh at the very idea. In her Psychology Today article, Should You Date Someone Out of Your League?, Madeleine Fugere writes that research shows couples who try to date who are not in a similar zone of physical attractiveness tend to have less successful romantic relationships. Studies reported in the Journal of Applied Social Psychology found that women who considered themselves to be more attractive than their partner were less invested in their present relationship. The women in the study expressed interest to exploring more sexually attractive partners outside of the relationship. Women who indicated they had these feelings also reported they flirted with other men and spent time thinking about leaving their current relationship. When people who are more attractive than someone else decide to get involved with a physically less attractive person one of the factors that studies reveal should give a less attractive person pause. For some very physically attractive persons, they have what psychologists term an "insecure attachment style." When this is the case, a very attractive person's strong discomfort with being single may cause them to date a less attractive person. The danger is that the less attractive person can feel like they have been "settled for," by the more attractive person. And the less physically attractive person may become jealous of their partner and the flirtations coming their way. Of course, some individuals highly value intelligence, humor, financial stability, devotion, patience and other qualities above physical attractiveness. But if the person you are trying to date only laughs in your face, it's a sign they don't care much for you.
"Just Another Guy" was written by a struggling songwriter in the Brill Building in Manhattan named Neil Diamond. Neil Leslie Diamond was born in Brooklyn in 1941. His parents were Russian and Polish immigrants and both Jewish. His dad was a dry-goods merchant. When he was in high school he met Barbra Streisand in a Freshman Chorus and Choral Club. Years later they would become friends. When he was sixteen Diamond was sent to a Jewish summer camp called Surprise Lake Camp in upstate New York. While there he heard folk singer, Pete Seeger, perform in concert. That year Diamond got a guitar and, influenced by Pete Seeger, began to write poems and song lyrics. While he was in his Senior year in high school, Sunbeam Music Publishing gave Neil Diamond an initial four month contract composing songs for $50 a week (US $413 in 2017 dollars), and he dropped out of college to accept it.
In 1962 Diamond teamed up with a high school friend, Jack Parker, and released a song called "You Are My Love At Last". The next year Neil Diamond released his first song under his name titled "At Night" on the Columbia label. The tune failed to get much attention and Columbia didn't renew their contract with Diamond. In the following years Diamond penned a number of songs, including "Just Another Guy". By 1966 Neil Diamond struck gold by charting his first singles onto the Billboard Hot 100 with "Solitary Man" peaking at #55 and "Cherry Cherry" climbing to #6. Later that year his song, "I'm A Believer", was recorded by The Monkees. The tune became the #5 hit of 1967.
He went on to have some of his greatest hits. These include "Sweet Caroline", "Holly Holy", "Cracklin' Rosie" and "Song Sung Blue". The latter two were both number one hits on the Billboard Hot 100. Between 1966 and 1977 Neil Diamond charted 19 songs into the Top Ten in Vancouver and 8 songs into the Top Ten on the Billboard Hot 100. His last #1 hit was a duet with Barbra Streisand titled "You Don't Bring Me Flowers Anymore" in December 1978. He had several major hits on the pop charts into the early 1980s, including "America", a song with a very positive interpretation of the history of immigration to the United States. Diamond later told a Jon Bream in his book Neil Diamond Is Forever: The Man And His Music, "America" was the story of my grandparents. It's my gift to them, and it's very real for me … In a way, it speaks to the immigrant in all of us." The song became the theme song for the 1988 campaign of Democratic presidential candidate, Michael Dukakis.
in 2016 he released his 34th studio album. In April, 2017, Neil Diamond began his 50 Year Anniversary World Tour. The tour was scheduled in three legs. The first included 35 concerts in the USA and two in Canada. The second included 15 concerts in Europe and the third 11 dates in New Zealand and Australia, ending in April 2018.
"Just Another Guy"/"The Minute You're Gone" charted as a double-sided single in the UK and peaked at #6. Outside of Vancouver, where the song peaked at #10, Calgary was the only notable radio market where the song thrived, peaking at #5.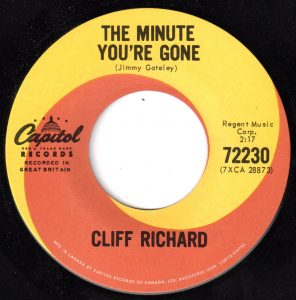 "The Minute You're Gone" is a song written by country singer and fiddler, Jimmy Gateley. It was first a hit for Sonny James, climbing into the Top Ten of the USA country charts in 1963. Gateley was born in Springfield, Missouri, in 1931. He moved in 1951 to be part of the Crimson River Rustlers in Jamestown, North Dakota. Then he joined up with Dusty Owen's Rodeo Young boys on Wheeling Jamboree on WWVA in Wheeling, West Virginia. Gateley moved back to Springfield to be part of a variety show on a local radio station. "The Minute You're Gone" is his most famous hit. Cliff Richard covered "The Minute You're Gone" and it went to #1 in the UK, #1 in Ireland and #6 in Norway. In North America, the song peaked at #16 in Boston, #11 in Miami and Vancouver, and #8 in Hamilton, Ontario. It is the most successful pop cover of Jimmy Gateley's tune.
"The Minute You're Gone" is a song exactly about what happens the moment after one person in a couple departs to do something else (like go back home, go to work, go to class at college, visit a friend at the hospital…). No matter what the reason the other person in the relationship is heading off somewhere, the person left behind cries, "dies," and feels like a child left alone at night. Now, it is lovely to think that when there is someone special in our lives that they might miss us when we're gone. But the lyrics in this song are taking another's absence to a whole new level. The person left is desolate and their world has gone "from right to wrong." It is quite a load to carry if you consider that every time you have to go somewhere, grocery shopping for example, your partner is inconsolable.
Life coach, Martha Beck, questions whether love is what is going on when someone acts like they can't live without us. Beck asks, "have you ever been in a relationship with someone whose survival truly seemed to depend on your love? Someone who sat around waiting for you to make life bearable, who threatened to commit suicide if you ever broke up? Or have you found yourself on the grasping side of the equation, needing your partner the way you need oxygen? The emotion that fuels this kind of relationship isn't love; it's desperation." Beck writes that initially, that desire to be with the other constantly can feel romantic. However, over time most people seeking a relationship will want to feel like their "other half" also has a life.
It would seem with the coming of the British Invasion that Cliff Richard would be discovered by the American record-buying public. However, it was not to be. He did have a Top Ten hit in Vancouver in 1966 titled "Blue Turns To Grey". Otherwise, Richard remained almost completely off the radar in North America until his Top Ten hit in 1976 on the Billboard Hot 100 called "Devil Woman".
Cliff Richard built on his resurgence in the mid-70's and into the 1980's he had several more hits in Vancouver, in particular with "We Don't Talk Anymore" and "Dreamin'". Richard was among the performers at the Diamond Jubilee concert held outside Buckingham Palace in June 2012. Then, on June 30, 2012, he helped to carry the Olympic torch from Derby to Birmingham as part of the torch relay for the 2012 Summer Olympics in London. Cliff Richard has also been active as a philanthropist. In October 2015 he went on tour at the age of 75.
February 27, 2018
Ray McGinnis
References:
Cliff's Career, Cliff Richard.org.
Jimmy Gateley, Musician Bio.org, July 14, 2017.
Madeleine Fugere, "Should You Date Out Of Your League?," Psychology Today, June 7, 2016.
William Langley, "Neil Diamond: The Loves of a Lifelong Mr. Lonely," Telegraph, UK, September 10, 2011.
"Neil Diamond – Biography," Rolling Stone.
Martha Beck, "How to Know it's Real Love," Martha Beck.com, February 1, 2012.
"C-FUNTASTIC FIFTY," CFUN 1410 AM, Vancouver, BC, May 8, 1965.
For more song reviews visit the Countdown.