#20: Justified And Ancient by KLF and Tammy Wynette
Peak Month: March 1992
Peak Position #1
17 weeks on Vancouver's CKLG chart
Peak Position on Billboard Hot 100 ~ #11
YouTube.com: "Justified And Ancient"
Virginia Wynette Pugh was born in 1942 in the unincorporated Mississippi community of Bounds Crossroads. The farm in which she was born was on the Alabama state line. Her father died of a brain tumor when she was nine months old. Her mother moved to work in a defense plant in Memphis, Tennessee. Wynette, as she was called by her middle name, was raised by her grandparents and picked cotton on their Mississippi farm. She learned to play piano by ear. She got married at 17 to Euple Byrd, studied cosmetology and enrolled in a Beauty School in Birmingham, Alabama. In 1964, her uncle worked for the WBRC television station in Birmingham. He helped Wynette secure an audition for the Country Boy Eddie country music television show. The show's headliner, Eddie Burns, was impressed and agreed to have her on the program. On her first show, she sang a cover of Patsy Cline's "Sweet Dreams". In 1966 she got divorced and moved to Nashville.
She got signed to Epic Records by Billy Sherrill, and she recorded "Apartment No. 9". Sherrill changed her stage name from Wynette Byrd to Tammy Wynette. "You look like a Tammy to Me," Sherrill told her in reference to the 1957 film Tammy and the Bachelor. Sherrill arranged for booking agent Hubert Long to set up tour dates for her. Most promoters did not want to book Wynette because she was a female performer. "I had begun to realize I was working in a man's world, and most of them looked down on women in the business," she later explained. In 1967 Tammy Wynette had her first hit single with "Your Good Girl's Gonna Go Bad", which peaked at #3 on the Billboard Hot Country Singles chart. Later that year, she had a #1 hit in a duet with David Houston recording of "My Elusive Dreams".
Her seventeen number one solo hits include "I Don't Wanna Play House", "D-I-V-O-R-C-E", "Stand By Your Man", "The Ways to Love a Man", "He Loves Me All The Way", "Bedtime Story", "My Man (Understands)", "Kids Say The Darndest Things", and "Till I Can Make It On My Own". She had another 13 Top Ten hits on the Hot Country Singles chart in the USA. She also had eight Top Ten hits in duets with her third husband, George Jones. This included three number-one hits on the country charts. In 1979, she published Stand by Your Man: An Autobiography.
After 1982, Tammy Wynette had only managed one Top Ten hit on the country charts, a cover of the Dan Hill song "Sometimes When We Touch", in a duet with Mark Gray in 1985. In 1991, Bill Drummond, a member of the British band KLF, invited Tammy Wynette to collaborate with the band on a recording of "Justified And Ancient (Stand by the JAMs)". The previous year she had released her second publication, The Tammy Wynette Southern Cookbook.
KLF is a band formed by Bill Drummond in 1987. He was born in 1953 in South Africa, and moved to Scotland when he was one and a half years old. After graduating from school, he worked on set design in a theatre in Liverpool, as well as a gardener and a carpenter. In 1977 he founded the punk band Big in Japan. After the band broke up, in 1979 he founded Zoo Records. Subsequently, he was an A&R man for the WEA label. He also managed Echo & The Bunnymen. Drummond teamed up with James Cauty, a former member of the post-punk band Brilliant and the hard rock band Zodiac Mindwarp and the Love Reaction.
James Cauty was born in Cheshire in 1956. He learned to play guitar and was in a band called Angels 1-5 from 1981-82. When he joined with Drummond in 1987, the duo first called their band The Justified Ancients of Mu Mu (The JAMs). Their first release in 1987 was "All You Need Is Love" which sampled the Beatles 1967 single of that name. But, Drummond and Cauty made the song into a political commentary on the media coverage of AIDS in the UK. The single was included in their debut album, 1987 (What the Fuck Is Going On?). The album featured tracks with samples of many other recording artists music. The opening track is titled "Hey Hey We Are Not The Monkees" which sampled "(Theme from) The Monkees".
In 1988, their second album Who Killed the JAMs? peaked at #3 on the UK Independent Album Chart. But their third and fourth album releases in 1990 slipped beneath the radar. But, in 1988 the duo released a non-album single "Doctorin' the Tardis" which mashed the theme to Doctor Who and the Gary Glitter single "Rock 'n Roll". The single topped the pop charts in New Zealand and the UK, #2 in Australia, #4 in Ireland, and a Top Ten single in Belgium, Finland and Norway. The single was credited to The Timelords (who were The KLF).
In 1990, The KLF released "The White Room" which peaked at #5 on the UK Singles chart. It subsequently peaked at #6 in Germany and #8 in Denmark. The song got a second life in 1992 and peaked at #1 in Denmark, #2 in Finland and Norway, #3 in Austria and Switzerland, #4 in Ireland, the Netherlands and the UK, #6 in Belgium and Germany, #7 in Greece, and #8 in Portugal.
Building on their international success of "The White Room", The KLF released "3 a.m. Eternal". This single peaked at #1 on the UK Singles chart, along with Denmark and Finland. As well, "3 a.m. Eternal" climbed to #2 in Sweden, #3 in Australia, Germany and Spain, #4 in Austria and Switzerland, #5 in Greece, the Netherlands, Norway, and the USA, and #10 in New Zealand.
In 1991, The KLF released "Last Train to Trancentral". This proved to be yet another huge international seller. The single topped the pop charts in Denmark, Greece, and the Netherlands. It climbed to #2 in Finland and the UK, #3 in Belgium and Spain, #4 in Germany and Norway, #5 in Australia and Sweden, #6 in Austria and Switzerland, and #10 in New Zealand. Another single, "It's Grim Up North", peaked at #5 in Finland, #9 in Denmark and #10 in the UK. Next, The KLF joined with Tammy Wynette to release "Justified And Ancient (Stand by the JAMs)".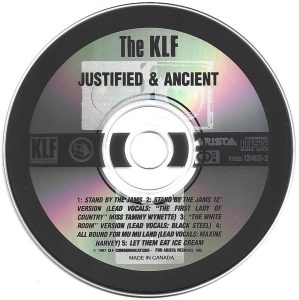 "Justified And Ancient" is a statement of identity and rebellious intent. Moreover, it deliberately understates this intent:
We don't want to upset the apple-cart, and we don't want to cause any harm.
But if you don't like what we're going to do,
you'd better not stop us 'cause we're coming through.
Drummond and Cauty wrote the song based on Robert Shea and Robert Anton Wilson's sci-fi tinged, conspiracy theory-laden Illuminatus! book series. The Justified Ancients Of Mu Mu are a fictional subversive cult who have been around since pre-history. The song lyrics describe the Justified Ancients making their way to Mu Mu Land in an ice cream van. One line in the song is "Make mine a 99." The record comes under a few different codes, including CHOC-ICE or KLF99. A '99 is an ice cream with a flake in it (Flake'99). To promote the record The KLF hijacked an ice cream van in Liverpool and gave out free 99s around Liverpool. The ice cream stunt is mentioned in the line, "They're justified and they're ancient and they drive an ice cream van."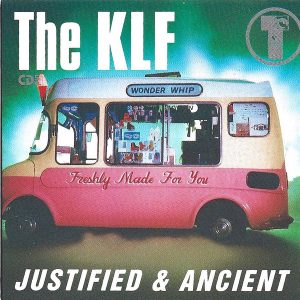 In the music video, Tammy Wynette sits on a throne as the words "Miss Tammy Wynette is the first lady of country music" scroll by. Initially, Tammy Wynette thought the title of the song was "Justified and Anxious", until Bill Drummond showed up in Nashville with the tapes of the song. In the song, Tammy Wynette explains "they called me up in Tennessee. They said, "Tammy, stand by the JAMs." (Which is what happened when Bill Drummond phoned Tammy Wynette and pitched their collaboration to her). As they drive to Mu Mu Land in the ice cream van, they admit "we still have no master plan."
"Justified And Ancient (Stand by the JAMs)" peaked at #1 in Vancouver (BC), #3 in Sacramento (CA), #7 in Los Angeles, and #11 in Minneapolis/St. Paul. Internationally, the single peaked at #1 in Austria, Denmark, Finland, New Zealand, and Sweden, #2 in Belgium, Greece, the Netherlands, Switzerland and the UK, #3 in Australia, Germany, and Norway, #4 in Ireland, #5 in Spain, #8 in Portugal and #11 on the Billboard Hot 100.
In 1993, Tammy Wynette collaborated with Loretta Lynn and Dolly Parton to record the album Honky Tonk Angels. It became a Top Ten country music album seller in both Canada and the USA. And in 1994, Wynette released an album of duets titled Without Walls. Her duet partners included Cliff Richard, Elton John, Sting, Lyall Lovett, Smokey Robinson, Wynonna Judd, Joe Diffle and Aaron Neville. Suffering from health problems, including bile duct cancer that she nearly died from, Tammy Wynette released her ninth and final studio album with George Jones in 1995 titled One. Her last recording was in 1998 with a cover of the Beach Boys song "In My Room". Tammy Wynette died in 1998 at the age of 55. She had a long addiction to Valium, to deal with anxiety before going on stage, and Demerol to prevent stomach cramps. Over the decades, Tammy Wynette recorded 33 solo studio albums.
Following a run of five consecutive UK top-five singles, The KLF executed a high-profile retirement from the music business and deleted their entire back catalogue, declaring that "For the foreseeable future, there will be no further record releases from any past, present or future name attached to our activities." In the four years following the KLF's retirement, Drummond and Cauty's musical output consisted of only a limited edition single released in Israel and Palestine ("K Cera Cera"), and a charitable contribution to The Help Album ("The Magnificent"). Drummond and Cauty's art project, the K Foundation, disposed of the KLF's earnings, including by burning one million pounds of it, money which was originally provisionally earmarked by the duo for millennium celebrations. Bill Drummond: "Originally we were going to invest the whole lot in some capital growth fund and spend it all on one big event, maybe at the millennium."
The UK's preparations for celebrating the end of the second millennium were well underway by 1997 and had already become a hot – and controversial – political topic. Following the 1997 United Kingdom general election in May, the new Labour government agreed to go ahead with the "Millennium Experience" project, an exhibition to be housed in a purpose-built Millennium Dome, at an estimated cost of £580 million, £450 million of which would be funded by the National Lottery. Construction of the Dome began in June 1997. The KLF subsequently released a single titled "Fuck the Millennium". The single climbed to #10 in Hungary, and was a Top 30 hit in Scotland, Sweden and the UK.
In 2017, Drummond and Cauty published a book titled 2023: A Trilogy. It was credited to The Justified Ancients of Mu Mu.
May 29, 2023
Ray McGinnis
References:
The Tom Robinson Show, "When The KLFs Bill Drummond Met Tammy Wynette," BBC Sound, February 27, 2020.
Tim Roland and Jay Orr, "Country Singer Tammy Wynette Dies At 55," Seattle Times, April 7, 1998.
"Wynette to enter Drug Center," Los Angeles Times, November 4, 1986.
Laura Hostelley, "10 Cookbooks Penned by Country Stars that you Need to Own," Sounds Like Nashville, November 23, 2016.
Joel Bernstein, "Remembering the first lady of country, Tammy Wynette," Country Standard Time, May 1998.
Terry Staunton, "Stand By Your Van," NME, November 23, 1991.
Andrew Harrison, "Return of the KLF: 'They were agents of chaos. Now the world they anticipated is here'," Guardian, April 27, 2017.
Ian McKerron, "Duo Burn £1M In Midnight Madness- Library of Mu," Daily Express, October 1, 1994.
Andrew Harrison, "Bill Drummond: The Man Who Wants To End Recorded Music," UK Music Magazine, June 13, 2008.
"Vancouver's Official Top 40," CKLG 730 AM, Vancouver, BC, March 30, 1992.
For more song reviews visit the Countdown.