#1300: Keep On Movin' by Finesse & Showbiz
Peak Month: November 1992
8 weeks on Vancouver's CKLG chart
Peak Position #13
Peak Position on Billboard Hot 100 ~ did not chart
YouTube.com: "Keep On Movin'"
Finesse & Showbiz were a pioneering west coast Canadian rap group formed in Nanaimo, B.C. They later relocated to Vancouver. In January 1991, the group submitted a cassette demo, "Where You At," to local Top 40 station LG73. This resulted in heavy airplay and hitting #3 on the station's nightly chart (different from the weekly CKLG Top 40. In 1992, Finesse & Showbiz was the first Vancouver rap group to release full length album with national and international distribution.
The hip-hop group included Rick Noble and Neil Scobie. In a short bio, it is said "As a young man, Rick [Noble] was overwhelmed with creativity in search for an outlet. Fortunately, hip hops musical and cultural movement left its unmistakable mark on Nobles conscience. He, discovered that the expression of poetry and its beauties in diversity combined with a raw edge allowed him to speak. He felt it was time to introduce himself to the rap game. After a stint on wordplay, Rick began to move."
The second single they released was "Keep On Moving'", from their debut album 64 Crayons.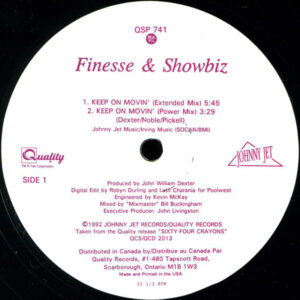 "Keep On Moving'" was a hip-hop/rap dance tune. It was in good company, as there were other dance hits dominating the Top 40 in the USA and in Canada. These included "Rhythm Is A Dancer" by Snap!, "Humpin' Around" by Bobby Brown, "Rump Shaker" by Wreckx N Effect, "Free Your Mind" by En Vogue, and "Jump Around by House of Pain.
The song title – "Keep On Moving'" – features repeatedly in the song lyrics, driving home to listeners the simple advise to keep on moving.
"Keep On Movin'" climbed to #13 in Vancouver (BC).
After Finesse & Showbiz split up, Rick Noble's bio states "Three years passed and he disappeared – quick descent into the under layer. Deep underground he began to make music, utilizing beats and rhymes to feed the love in his heart. When Thret emerged, his mind, body and soul were truly connected. It was time to shine , so began. This is…..Digital Warfare." This was the first of three albums he released between 2000 and 2010. The first was under the alias of Rick Thret, and later albums under Rick Threat.
While in 1995 Neil Scobie provided scratches and noises on tracks for Big Naked's self-titled debut album. And in 1999 Scobie engineered, programmed and mixed two tracks for the film Better Than Chocolate. The film soundtrack featured songs by local Vancouver folk icon Ferron, Ani DiFranco, and Vancouver pop group the West End Girls. In 2002 Scobie contributed drums for an album released by hip-hop artist D-Cru. And in 2004, Neil Scobie wrote "The Warning" for Canadian hip-hop recording artist Concise for the album Fame.
December 4, 2021
Ray McGinnis
References:
"Finesse & Showbiz," discogs.com.
"Rick Thret," Soundclick.com.
"Rick Noble bio," Discogs.com.
"Neil Scobie," Discogs.com.
"Vancouver's Official Top 40," CKLG 730 AM, Vancouver, BC, November 30, 1992.
For more song reviews visit the Countdown.