#406: Keep The Fire by Kenny Loggins
Peak Month: April 1980
10 weeks on CFUN's Vancouver Chart
Peak Position ~ #5
1 week Hit bound
Peak Position on Billboard Hot 100 ~ #36
YouTube: "Keep The Fire"
Lyrics: "Keep The Fire"
Kenneth Clark Loggins was born in Everett, Washington, in 1948. He grew up in Seattle, Detroit and Los Angeles County. Kenny Loggins started his professional music career at the age of 18, earning $100 per week by writing songs for a publishing firm. In 1966 he formed a band called The Second Helping that had a minor hit in San Bernardino (CA) titled "Floating Downstream On A Rubber Inflatable Raft". In 1969 he briefly played guitar in concerts with the New Improved Electric Prunes, before writing four songs for the Nitty Gritty Dirt Band. In 1970 he wrote "Danny's Song", which became a Top Ten hit for Anne Murray in early 1973. Kenny Loggins met Jim Messina in 1970 and the pair became a folk-pop duo Loggins and Messina in 1971.
In 1971 Loggins and Messina released their debut album Sittin' In which included the track "House at Pooh Corner". In 1972 they released a self-titled album with a Top Ten hit as the lead single, "Your Mama Don't Dance". Loggins and Messina received a Grammy Award nomination in 1973 for Best New Artist of the Year. Also that year, Loggins wrote "A Love Song" which was covered by Anne Murray and climbed to #12 on the Billboard Hot 100 in 1974.
Loggins and Messina released six studio albums between 1971 and 1976, with three of these certified platinum and two certified gold. The pair broke up in 1976 and Kenny Loggins pursued a solo career. In 1978 he recorded a duet with Stevie Nicks titled "Whenever I Call You Friend". He wrote "What A Fool Believes" for the Doobie Brothers. In 1980, the song earned Loggins, together with Michael McDonald and the Doobie Brothers a Grammy Award for Song of the Year.
In 1979 Loggins released Keep The Fire, with the lead single, "This Is It", climbing into the Top 20 that winter. The song won him a Grammy Award in 1981 for Best Pop Vocal Performance, Male. His second single release from the album was the title track.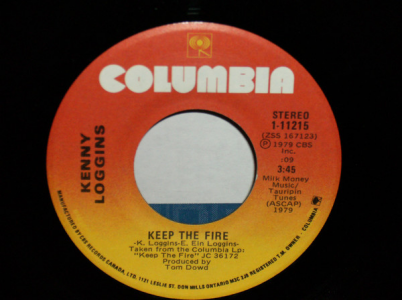 "Keep The Fire" is a song about paying attention to the spark between you and your romantic partner. In an article titled "9 Surprising But Effective Ways To Keep The Spark Alive In Your Relationship," Kristine Fellizar writes about ways to keep the fire. She refers to research by Barbara Fredrickson who found that making lots of eye contact with ones partner creates a synchronicity between the partners in their brains. Oxytoxcin is released and couples feel fantastic bursts in each others presence. Another important way to keep the fire is to get in the habit of sharing good news, the small victories in each other's lives. Sharing in the happiness of your partner deepens bonds of affection and admiration. A third practice is to just pay attention to them and ask questions to build intimacy. Be curious! A fourth practice is to sleep naked with your partner. This lets them know that you desire them sexually. Relationship coach, Jenna Ponaman, advises "Acknowledge the things they do each day that you're grateful for." In the the midst of inevitable set-backs and conflicts, it is important to notice what is working well.
Another way to keep the fire going is to take an interest in the topics and activities your partner enjoys. Reading up on a sport or hobby they enjoy, to enhance your ability to discuss it with them will be advantageous for you both. In addition, be aware of the power of scent to turn your partner on. We all have a scent and knowing what perfume, cologne or mist to apply for a romantic evening is alluring. And everyone has certain things that they like to receive as gifts as a sign that they are loved. Notice what matters to your partner, and take time to give gifts that remind them that you love them.
Of course, keeping the fire also involves love-making. But all of these other day-to-day things are part of maintaining a strong connection in and out of bed.
"Keep The Fire" peaked at #3 in Roanoke (VA), #4 in San Diego, #5 in Vancouver (BC), and #7 in Toronto. In the USA "Keep The Fire" did well on the Top 40 AM charts in Virginia, Missouri, Colorado, Arizona, Hawaii and Connecticut. Otherwise, the single faired poorly in 38 states with little chart action. Consequently, "Keep The Fire" stalled at #36 on the Billboard Hot 100.
In the summer of 1980, Kenny Loggins had a Top Ten hit on the national charts in the USA and in Vancouver with "I'm Alright", from the film Caddyshack, starring Chevy Chase, Rodney Dangerfield, and Bill Murray. Two years later Loggins was back in the Top 20 in the USA with "Don't Fight It" and "Heart To Heart". For "Don't Fight It" Loggins and Steve Perry won a Grammy Award for Best Rock Performance by a Duo or Group with Vocal. Both songs peaked in the Top Ten in Vancouver.
In 1984 Loggins had his first number-one hit on the Billboard Hot 100 with the title track from the film Footloose, starring Kevin Bacon. The song was nominated for an Academy Award for Best Original Song. It also earned Loggins a Grammy Award nomination for Best Pop Vocal Performance, Male. Another track from the film by Loggins, "I'm Free", was a minor pop hit. In 1985 his song "Forever" was featured in the soap opera The Young and The Restless.
In 1986 Kenny Loggins was back with a number-one hit in Vancouver in the summer with "Danger Zone", featured in the Tom Cruise and Kelly McGillis film Top Gun. For his recording Kenny Loggins received another Grammy Award for Best Pop Vocal Performance, Male.
In 1988 Loggins song, "Nobody's Fool", was featured in the comedy film Caddyshack,. starring Dan Aykroyd, Chevy Chase, Robert Stack and Jackie Mason. The song climbed into the Top Ten of the Billboard Hot 100.
In 1991 Kenny Loggins recorded "Conviction of the Heart", a song that became the unofficial anthem of the environmental movement in the 90s, according to then American vice-president Al Gore. Loggins performed it on Earth Day in 1995 at The National Mall in Washington, D.C.
In 1996 Loggins recorded "For the First Time" for the film One Fine Day starring Michelle Pfieffer and George Clooney. The song was not made available as a commercial single and so was ineligible to chart on the Billboard Hot 100. However, it climbed to the top of the Billboard Adult Contemporary chart in 1996. In 2000 he had another song featured in a motion picture, "Your Heart Will Lead You Home" in The Tigger Movie.
In 2005 Loggins and Messina reunited and went on tour. In 2009 Kenny Loggins released his third children's album, All Join In. It featured a cover of the 1967 Donovan hit "There Is A Mountain". That year Loggins and Messina toured the United States and Canada, reviving their "Sittin' In Again tour".
Over the years Kenny Loggins has been twice nominated for a Grammy Award in the category Best Musical Album for Children in 1995 and 2005. And in 2010 Loggins shared a Grammy Nomination for Best New Age Album.
September 30, 2020
Ray McGinnis
References:
Rick Moore, "Behind the Song: Kenny Loggins Talks About Pooh Tunes," American Songwriter, July 27, 2020.
Michael Wood, "Q&A: Michael McDonald and Kenny Loggins on their Long History as Soulful Yacht Rock Bros," Los Angeles Times, July 11, 2018.
Steve Spears, "Five Things You May Not Know About Kenny Loggins," the80scruise.com, November 6, 2018.
"Interview: Kenny Loggins on Nashville," The Tennessean, Nashville, TN, March 19, 2014.
Kristine Fellizar, "9 Surprising But Effective Ways To Keep The Spark Alive In Your Relationship," Bustle.com, May 15, 2018.
Barbara L. Fredrickson, "The Role of Positive Emotions in Positive Psychology," 2011.
For more song reviews visit the Countdown.