#1229: Keep Your Love Locked by Paul Petersen
Peak Month: June 1962
8 weeks on Vancouver's CFUN chart
Peak Position #14
Peak Position on Billboard Hot 100 ~ #58
Peak Position on Cashbox ~ #95
YouTube.com link: "Keep Your Love Locked"
Lyrics: "Keep Your Love Locked"
Paul William Petersen was born in Glendale, California, in 1945. He started his career at the age of eight and began appearing on the Mickey Mouse Club in 1955. From there he was cast as Jeff Stone on the Donna Reed Show where he starred in that role from 1958 to 1966. When he first started playing Jeff Stone, Paul was just 4'3″ tall, which is one reason he got the job. Donna herself was a petite 5'4″. Paul got this part the day after he turned thirteen. While appearing on the Donna Reed Show both he and his sister, Mary Stone, sang songs that would become hit singles. The actress playing Mary Stone was child actor Shelley Fabares who had a number one hit in 1962 called "Johnny Angel." Paul Petersen also sang songs in the Donna Reed Show including "She Can't Find Her Keys", "My Dad" and "Keep Your Love Locked".
Paul's early childhood was spent with his parents and older sister Pamela, on the Cherokee County, Iowa farm of his aunt and uncle. Economic necessity was the reason for the family of Wilma and Lawrence Petersen moved from California to Iowa. During the years on the farm Paul was taught to read by his mother at the age of four. She also enrolled him in music, tap dancing and dramatic schools at an early age. He vividly remembers the kind of punishment that was meted out when he misbehaved, a bite of raw liver. He admits this was often. It wasn't a terribly effective punishment; he still likes liver in any form provided it is cooked. His father, of Danish descent, worked as a mechanic and when the family fortunes improved, the Petersens returned to California.
When Walt Disney sent out a call for young tap dancers for The Mickey Mouse Club Paul applied for a position and was chosen to be a Mouseketeer. From the start there was no question in Paul's mind that he would be anything else but a performer. It was his choice, he enjoyed it and adapted to it without any of the traumas sustained by some children who are pushed into becoming child actors by their parents.
Paul Petersen's first movie was in 1957 in an uncredited role as Joey a in the comedy-drama This Could Be the Night. That year he also appeared in the science fiction film The Monolith Monsters as Bobby the paperboy. In 1958 he played a boy in the western Day of the Badman. Petersen got a more substantial role later that year in the film, Houseboat. He was cast as David Winters, the son of Cary Grant and future mother by marriage, Sophia Loren.
By 1962 Paul Petersen had received numerous awards in recognition of his celebrity and being a household name. These included the Professional Photographers Association award for "Most Photographed Teenager In Show Business" and named "Best Teen Actor On Television" by 16 Magazine. Petersen also had a large fan club across America and beyond.
He has played important television roles in Playhouse 90, Lux Video Theatre, Ford Theatre, G.E. Theater, The Virginian, F-Troop, Custer and Lassie.
His first hit single, "She Can't Find Her Keys", was a novelty song that peaked at #1 in Vancouver and #19 on the Billboard Hot 100. Paul's follow-up single was "Keep Your Love Locked" that was a song he was proud of. It was written by songwriting team Gerry Goffin and Carole King. Paul remembers Carole playing this haunting song for him at the piano. Goffin and King had scored two number one hits in the USA in 1961 with "Will You Love Me Tomorrow" by The Shirelles and "Take Good Care Of My Baby" for Bobby Vee. In 1962 they wrote a Top Ten hit for James Darren called "Her Royal Majesty", "Chains" for The Cookies, "Up On The Roof" for The Drifters, and two number one hits: "Go Away Little Girl" for Steve Lawrence and "The Loco-Motion" for Little Eva.
"Keep Your Love Locked" was one of 14 songs Gerry Goffin and Carole King co-wrote that charted on the Billboard Hot 100 in 1962.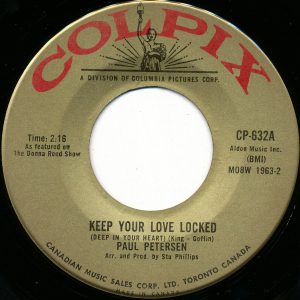 "Keep Your Love Locked" concerns an agreement between a couple who are dating and consider each other their "one and only." But while they are apart they've agreed it's okay to have a social life that includes letting whatever happens at a dance happen, even if this includes being walked home and given a kiss. The song is sung by Paul Petersen and so may concern simply the agreement of a boyfriend that his girlfriend can have fun while they are apart. In 1962 the US military draft was compulsory and so it was not uncommon for young men out of high school to be drafted for service in the US Army for awhile. Elvis Presley was drafted in 1958. Other common reasons for a young dating couple to be apart were summer jobs, summer camp and a college education. In 2016, one could add to the list the dynamics for two people newly getting involved in a long distance relationship. They might ask if it is okay to casually date other people.
For radio listeners the song addressed the practical matter of what a couple does when they are apart for an extended period of time. What is the nature of their commitment? What is the understanding they have between each other? In this Goffin-King song the couple understand each other as their "one and only." And they also don't want each other, while they are apart, to just be waiting for each other, spending their time alone and writing letters each day. In this way they put the relationship to the test, as it could be plausible that if someone else should ask for a kiss, that kiss might be memorable and send things in another direction. But if they keep their promise to keep their love locked deep in their heart, the surface attractions for other suitors will be resisted.
The problem was relevant to many couples dating in Vancouver that May, June and July of '62. The song debuted on May 12th on CFUN, a month before it appeared on the Billboard Hot 100. "Keep Your Love Locked" did better with airplay in the USA than with record sales. The Billboard Hot 100 was based on both sales and airplay and sent the song to #58. But on Cashbox Magazine where the ratings were based solely on record sales, the song peaked at #95. In Vancouver "Keep Your Love Locked" peaked at #14 on the C-FUNTASTIC 50. Paul Petersen turned 19 years old in September 1962. After "My Dad" sold a million copies in the fall of the year, Petersen was worth a million dollars (about $7.9 million in buying power in 2016).
Petersen appeared often on tour with Dick Clark's Caravan of Stars and American Bandstand. As someone who got his start as a child start Paul was interested in the wellbeing of children. He spoke about his involvement with an agency to adopt children in need of a home during an October 3rd interview with Dick Clark in 1964.
In 1967 Petersen appeared in several movies. In the Year 2889 was a post-apocalyptic film based on a short story by Jules Verne and his son, Michael Verne. A nuclear war has wiped out most of Earth's population. The film follows a group of survivors who take refuge in a Dallas mansion from not only the rising radiation levels but a ruthless tough guy and a hoard of cannibalistic mutants. His other film that year was in The Happiest Millionaire, a musical about a Philadelphia millionaire starring Fred MacMurray. In 1968 Petersen appeared in a western called Journey to Shiloh. It concerned seven young Texans in the Confederate army during the American Civil War. In Tennessee a major battle is about to take place. Along the way they encounter many perilous adventures. Petersen played alongside James Caan, Michael Sarrazin, Harrison Ford and Jan-Michael Vincent.
Paul Petersen's career on the Mickey Mouse Club and The Donna Reed Show has cast him as a representation of the "All American Boy" for a generation. By the late 60s, with over a half a million troops in Vietnam and a new counter-culture movement, people wanted to watch Jim Morrison and The Doors on TV, not Paul Petersen.
In the mid-seventies, Paul decided to embark on a writing career. His first publication was a non-fiction book, High Performance Driving, about safety and repair tips for race car drivers. This was followed by eight fictional action-adventure books in a series called The Smuggler, featuring a hero named Saveman. In 1977, he penned a biographical work about the original Mousketeers, Walt, Mickey and Me. Petersen has also been an advocate for fair child labor practices in the film and TV industry, including remunerating children for the work they do and not just their parents. His nonprofit organization, A Minor Consideration, was established in 1990. It has advocated for legislation designed to ensure that young performers actually receive the monies they earn. They have been successful in lobbying such legislation to be enacted into law in California. The organization also gives support to child actors dealing with issues related to the transition from childhood into adult careers within and beyond the film and TV industry.
January 6, 2017
Ray McGinnis
References:
Paul Petersen biography, Paul Petersen.com.
Paul Petersen interview with Dick Clark, American Bandstand, ABC, October 3, 1964.
Kent Black, "When Early Acting Careers Careen to an End: Advocacy: Paul Petersen of 'The Donna Reed Show' has Established a Support Group for Former Young Actors who Have Faced Real-life Horror Stories," Los Angeles Times, January 5, 1994.
"C-FUNTASTIC FIFTY," CFUN 1410 AM, Vancouver, BC, June 9, 1962.
For more song reviews visit the Countdown.