#732: Keep Our Love Alive by Patricia Dalhquist
Peak Month: August 1975
10 weeks on CKLG's Vancouver Chart
Peak Position: #9
Peak Position on Billboard Hot 100 ~ did not chart
YouTube.com: "Keep Our Love Alive"
Lyrics: "Keep Our Love Alive"
Patricia Dahlquist was born in the British Columbia town of Nelson in the Kootenay Mountains. She appeared in the film The Street in 1962. After high school she studied theatre, education, ballet, violin and voice in the years that followed. When she was in university in Vancouver, Dalquist accepted an opportunity to tour with Hagood Hardy and The Montage in 1970. She performed with him at the Playboy Club in New York City. She was also an opening act for Carmen McCrae.
Columbia Records released her debut album, This is Patricia Dahlquist, in 1975. Dahlquist arranged all her own vocals, as well as singing each song. The album featured several disco tunes including "Keep Our Love Alive".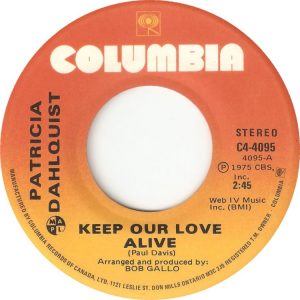 The song concerns someone whose life has been crashing down and all dried up. Now that they've met someone who brings light instead of darkness and quenches their thirst for life. Now that they've found just what they want, they're determined to keep the love they share alive forever. The song peaked at #9 in Vancouver, #7 in Peterborough (ON) and #10 in Hamilton. She had a follow up single titled "Bang A Boomerang" which climbed to #16 in Peterborough. A funk/soul/disco tune titled "Waiting For The Rain" failed to prove successful. However, in 1976 Patricia Dahlquist received the Most Promising Female Vocalist of the Year Award at Canada's Juno Awards.
Dalquist subsequently performed as an opening act for Gino Vannelli when he was on a cross-Canada tour. Along with her sisters, Dalquist also formed The Frames of Mind and performed with members of the Toronto Symphony. She has also appeared in a number of acting roles including on several episodes of The X-Files and on the Shari Lewis show. Dahlquist later founded her 'Stepping Out Performance Class' in Toronto, Vancouver and the Yukon. In this program she was able to share with students her extensive experience on stage. Patricia Dahlquist has appeared in nine made-for-TV films, and three films released in theaters. In 1981 Dahlquist was one of the voice actors on the spoken word album Big Bird and Oscar the Grouch: Camping in Canada.
For ten years she was a co-producer of Surrey Sings! In 2013 Dahlquist received the 2013 Civic Treasure Award from the City of Surrey, British Columbia. At the time it was mentioned she had appeared in "over 200 national commercials, ad campaigns, and industrial shows, including her most recent role in the highly acclaimed theatre production of Menopositive! The Musical." Dalhquist has also been a mentor to the Youth Arts Council of Surrey. At the time of her award, Patricia Dahlquist was a member of the Board of Directors of the Arts Council of Surrey. According to the Council's website, she remains a Director at Large in 2018. Her photo above is taken within the past decade.
September 5, 2018
Ray McGinnis
References:
Canadian Economy is Full Steam Ahead, Asserts Columbia Exec, Billboard, August 16, 1975.
Martin Melhuish, French Act Award Tops Surprises, Billboard, April 23, 1977
Jaimie Vernon, Proudly Canadian Patricia Dahlquist, Cashbox Canada Magazine, May 14, 2015 (from Canadian Pop Encyclopedia)
Patricia Dahlquist bio, Northern Stars.ca
About Us, Arts Council of Surrey.ca
Big Bird and Oscar The Grouch: Camping in Canada, Discogs.com.
"CKLG Thirty," CKLG 730 AM, Vancouver, BC, August 26, 1975.
For more song reviews visit the Countdown.