#864: What Kind Of Love Is This by Streetheart
Peak Month: May 1982
11 weeks on Vancouver's CFUN chart
Peak Position #13
Peak Position on Billboard Hot 100 ~ did not chart
YouTube.com: "What Kind Of Love Is This"
"What Kind Of Love Is This" lyrics
Kenny Shields was from Nokomis, Saskatchewan in 1947. When he was six years old he won an amateur talent contest. Once he graduated from high school he pursued music and in 1967 formed a band in Saskatoon named Witness Inc. The band had several Top Ten hits in local radio markets in the Canadian Prairies and in Ontario. These include "I'll Forget Her Tomorrow", "Jezebel" and "Harlem Lady". In 1969 Sheilds had a near fatal car accident and had to undergo therapy and rehab for a number of years. This meant he had to quit the band. In 1975 Shields was back with Witness Inc. and by that time he was the only original member in the band. But the pseudo-psychedlic sound that Witness Inc. was known for was no longer in vogue. The band changed its name to Streetheart and with it got a newer rock 'n roll sound. Bass player Ken "Spider" Sinnaeve and keyboard player, Daryl Gutheil, made the transition from Witness Inc. As Streetheart, they were joined by Paul Dean and Matt Frenette who both moved on to form Loverboy.

Now based in Regina, Streetheart released several singles that charted in the Top Ten in many Canadian record markets. In 1979 they released a cover of a song from 1965 by Them called "Here Comes The Night". It made the Top 20 in Victoria, Vancouver, Toronto and Ottawa. Their next hit was a cover of the 1966 song by the Rolling Stones called "Under My Thumb." It climbed into the Top Ten in Vancouver, Ottawa, Toronto, Hamilton, Regina, Saskatoon and a few other radio markets. Several more singles got the band a following, especially in the Canadian prairies. In 1980 the band won the Juno Award for most promising group of the year. In 1981 they released a "Best of" album.
In 1982 they released a self-titled album, Streetheart. It included "What Kind Of Love Is This". By this time their lineup also included Jeff Neil on guitar and vocals, Herb Ego on drums, as well as Sinnaeve, Gutheil and Shields.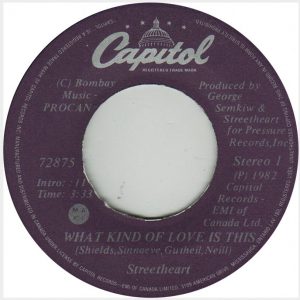 "What Kind Of Love Is This" is a song that is a case study in hoping against hope. To hope against hope is to wish for something with little reason or justification. In the case of "What Kind Of Love Is This", the singer tries to reach the person he is in love with. He doesn't hear anything back from her. He's dropped by her home and he's called her on the phone, but get's no answer. He's figured out a couple of things that should be signs that the writing is on the wall. On the one hand "she's mean when she's cruel." But then, what kind of "love" is it when you're going out with someone who is cruel to you in the first place? On the other hand "she's saving herself for another." In other words, both hands he loses. She's not interested in him because he's not the one she's waiting for. She's looking for someone else and, for whatever reason, he doesn't have the right stuff in her estimation. All this standing in line and waiting around for some indication that she'll decide to communicate with him isn't changing his luck. He sings that he needs "something to make me feel better." Likely, that something will be to try and date someone else who answers the phone and likes what she sees when he walks in the door.
"What Kind Of Love Is This" had successful chart runs in a number of radio markets, including #10 in Halifax, #9 in Ottawa, #4 in Winnipeg and #13 in Vancouver. Subsequent single releases from the album saw "One More Time" climb to #10 in Montreal, "Look In Your Eyes" climb to #3 in Winnipeg and #5 in Regina; And "Snow White" peaking at #3 in Regina. The band also charted non-album singles "Comin' True" to #1 in Regina and "Have It Your Way" to #8, also in Regina.
After six studio albums and a double-live album, Streetheart dissolved in 1983. Sheilds continued to perform with the Kenny Shields Band. In the 1990's Streetheart saw some of its' old bandmates regroup for reunion tours. The band was inducted into the Western Canadian Music Association Hall of Fame in 2003. The band planned a 40th Anniversary tour that was disrupted when Kenny Sheilds took ill and died at age 69 after undergoing cardiac surgery. A tribute concert in remembrance of Kenny Sheilds in Winnipeg, on August 28, 2017, featured the Canadian bands, Loverboy, Harlequin and Honeymoon Suite.
March 8, 2018
Ray McGinnis
References:
Mick Dalla-Vee, Bob Deutscher, Herb Ego, Streetheart bio, Canadian Bands.com.
David Friend, "Streetheart lead singer Kenny Shields Dies," Globe and Mail, Toronto, July 21, 2017.
Kenny Shields bio, Crazy 4 Streetheart blogspot, February 16, 2008
Darren Bernhardt, "He Was Magic": Canadian Rock Legend Kenny Sheilds Dies," CBC, July 21, 2017.
"Loverboy to Join Kenny Shields Tribute 8/29," Broadway World.com, July 28, 2017.
"C-FUN Top 30," CFUN 1410 AM, Vancouver, BC, May 15, 1982.
For more song reviews visit the Countdown