#1061: Kiss And Run by Tommy Roe
Peak Month: August 1963
8 weeks on Vancouver's CFUN chart
Peak Position #5
Peak Position on Billboard Hot 100 ~ did not chart
YouTube.com: "Kiss And Run"
In Atlanta, Georgia, Thomas David "Tommy" Roe was born in 1942. At the age of 17, while he was still in high school, Roe was part of a trio with Bob West and Mike Clark called The Satins. Roe wrote a song called "Caveman" in 1959, backed with "I Got A Girl" and the trio was billed as Tommy Roe and The Satins released their first single on Judd Records. When he finished high school Tommy got work a soldering wires at a General Electric plant. In 1960 the single was re-issued on the Trumpet label. This time "I Got A Girl" climbed into the #10 spot on WAKE 1340 AM in Atlanta. The trio released a song in 1960 called "Sheila", complete with Buddy Holly-esque vocal effects. But it failed to chart. Two years later Roe signed a contract with ABC-Paramount Records. Though he was just twenty years old, Roe found himself on the top of the national charts in America and Australia in October 1962 with a new version of "Sheila". When "Sheila" became a hit, ABC-Paramount Records asked Tommy Roe to go on tour to promote the hit. Roe was hesitant to leave his steady paycheck at GE until ABC-Paramount changed his mind when they advanced him $5,000.
In 1963 Tommy Roe went on tour with and California Hispanic-American singer, Chris Montez, who had a #2 hit in September 1962 when he was 19 years old with "Let's Dance". Roe and Montez went on a 21-day tour in the UK in 1963. But they were upstaged by their opening act called The Beatles.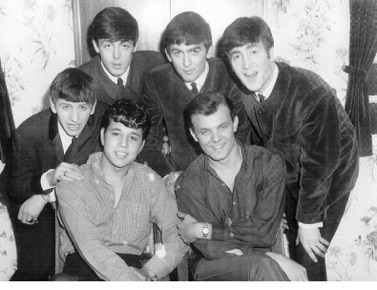 In 1963 Tommy Roe had three songs chart into the Top Ten in Vancouver on CFUN. These were "Town Crier", "Kiss And Run" and "Everybody". With "Kiss and Run" ABC-Paramount didn't put energy into promotion and the song was a commercial failure. Nonetheless, it charted in Vancouver peaking at #5, the only radio market in North America to crack the Top 40. Roe had a #4 hit in the UK in the fall of '63 called "The Folk Singer", which didn't catch on back in North America. To complicate matters, Tommy Roe's focus on a recording and performing career was reduced for the remainder of 1963 until 1966 as he served as an electrician in the US Army Reserves.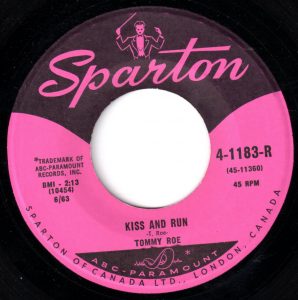 Well, have you ever thought about the way I feel
when you kiss my lips and you disappear?
Well, you think you're smart having lots of fun,
when all you do is kiss and run.
Hey, hey there, all you guys listen to me now,
she will build you up and then she'll let you down.
She will smile at you 'til she has her fun,
and then all she'll do is kiss and run.
Kiss and run, that's all she'll ever do.
She'll make a fool of you.
Kiss and run, she likes to have her fun.
All she'll ever do is kiss and run.
Well now I never knew that I could be so blind.
You just led me on, said that you were mine.
But I guarantee true love will never be,
'cause all you ever do is kiss and run.
Kiss and run, that's all she'll ever do.
She'll make a fool out of you.
Kiss and run, she likes to have her fun.
All she'll ever do is kiss and run.
"Kiss And Run" is a song about a romantic interest who is a tease and a flirt. All she wants to do is kiss and then disappear. It may be that she's just a flirt who is playing the field, though the lyrics don't state this is exactly the reason she runs away. It's plausible there are intimacy issues with this woman. She builds the guy up, but when it looks like she's getting too close and their is growing intimacy, she runs away.
In a 2015 article titled "Fear of Intimacy and Closeness in Relationships," Hal Shorey writes in Psychology Today that about 17 percent of North American adults avoid closeness in relationships. When things move toward intimacy and vulnerability the person in a dating relationship (or even in a marriage) will find a way to sabotage the intimacy by being somehow unavailable. They may flee from the partner through any number of strategies, including workaholism, a very busy social calendar to catch up with friends, or if they are dating, just not returning phone calls in a timely manner to stall feelings of growing closeness. Something as simple as being told by the person they are dating, "I love you," may spark flight from physical or emotional intimacy. Of course, in the song "Kiss And Run" the woman being sung about could be manipulative in other ways. Nonetheless, she's setting a pattern for herself and getting a reputation as someone who builds guys up only to make them feel like a fool.
Having established a relationship with The Beatles from touring as a headliner in the UK in 1963, Tommy Roe opened for the Beatles in their first concert in the USA on February 11, 1964, in Washington, D.C.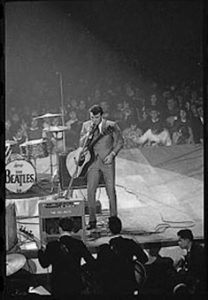 In 1964, Tommy Roe's only notable recording success was a #7 hit in Australia called "Party Girl". (It also climbed to #3 in Atlanta). In 1965 his singles failed to chart. Things changed for him in 1966 when he enjoyed a return to the Top Ten internationally with two Bubblegum-prototype hits, "Hooray For Hazel" and "Sweet Pea". After these to hit singles Roe again went through another two year drought of notable success until he had his biggest hit in 1969 called "Dizzy". Between 1962 and 1970 Tommy Roe charted 15 songs into the Top 20 in Vancouver and six tunes into the Top 20 on the Billboard Hot 100.
Tommy Roe has been inducted into the Georgia Music Hall of Fame and the Rockabilly Hall of Fame. In 2017 Tommy Roe continues to tour with a concert scheduled this August in Deadwood, South Dakota.
June 21, 2017
Ray McGinnis
References:
Tommy Roe Interview, Forgotten Hits
"Fear of Intimacy and Closeness in Relationships," Psychology Today, April 19, 2015.
"C-FUNTASTIC FIFTY," CFUN 1410 AM, Vancouver, BC, August 3, 1963.
For more song reviews visit the Countdown.