#881: Only You Know And I Know by Delaney & Bonnie
Peak Month: October 1971
6 weeks on Vancouver's CKVN chart
(7 weeks on CKLG for best chart run point total)
Peak Position #3
Peak Position on Billboard Hot 100 ~ #42
YouTube.com: "Only You Know And I Know"
Lyrics: "Only You Know And I Know"
Delaney Bramlett was born in Pontotoc, Mississippi, in 1939. He picked cotton in his youth and learned to play guitar. He left Pontoloc for the Navy as soon as he graduated from school. After three years in the U.S. Navy he returned to civilian life and moved to Los Angeles in 1959. He became a session musician in the City of Angels and by 1965 was a member of the band, the Shindogs. They were the house band for the musical variety show Shindig!, on ABC. The Show also featured Leon Russell and Glen Campbell. Bramlett was a songwriter and his tunes were being recorded through the 60's by Mel Torme, The Everly Brothers, Buddy Knox, Nancy Wilson, Nancy Sinatra, Mama Cass, Blue Cheer, King Curtis, Lulu and others. He appeared on the same stage in concert with Jimi Hendrix, Janis Joplin, Gram Parsons, Billy Preston, John Lennon, Rita Coolidge and more.
Bonnie Lynn O'Farrell was born in born Alton, Illinois, in 1944. By the age of thirteen she was performing as a backup singer for performers appearing at Gaslight Square nightclub in St. Louis nightclub. Among the people she backed on stage were Miles Davis, Herbie Mann and Cannonball Adderley. When she was 14 she sang on stage with blues guitarist Albert King. When she was 15 she joined the Ikettes to sing backup for the Ike & Tina Turner Revue. Bramlett recalls she was the first-ever white Ikette "for three days in a black wig and Man Tan skin darkener." At the age of 22 she relocated to Los Angeles in 1967. There she met Delaney Bramlett and they got married eight days later.
After giving birth to a daughter in 1968, Delaney & Bonnie toured with Eric Clapton as the opening act in the summer of 1969, headlined by Clapton's band, Blind Faith. Subsequent to the tour, Clapton helped arrange a new record deal for Delaney and Bonnie. In December 1969 a live concert album was recorded in the UK titled On Tour with Eric Clapton. The album became their most successful, peaking #29 on the Billboard 200 album chart.
In the late 60's into the early 70's Delaney was producing albums for The Crickets, Elvin Bishop, Eric Clapton, Leon Russell, Dave Mason, Duane Allman, The Everly Brothers, Jerry Lee Lewis and others. Delaney also taught George Harrison of The Beatles how to play slide guitar. The result was "My Sweet Lord," a song that began to top the charts in late December, 1970. In March 1971, a both Delaney and Bonnie starred in the film, Vanishing Point, which offered a snapshot of the mood of America in a post-Woodstock era.
Meanwhile, Bonnie was also writing songs. Her songs were recorded by Joan Baez, Joe Cocker, The Staple Singers, Leon Russell, Johnny Tillotson, The Carpenters, Bette Midler, Sonny & Cher, Ray Charles, The Average White Band and others. With Leon Russell, Bonnie co-wrote "Superstar" in 1969, a Top Ten hit for The Carpenters in 1971.
Delaney and Bonnie released their first studio album in 1969. Their 1971 album, Motel Shot, included their most successful single, "Never Ending Song of Love", which was Billboard Magazine's #67 single for the year, 1971. Their next single release, "Only You Know And I Know", was from their 1970 live album, On Tour With Eric Clapton.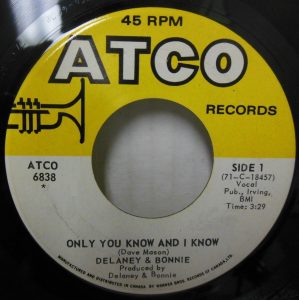 "Only You Know And I Know" is a song about trusting what you know to be true in the relationship you share with someone. It is clear that what can be the undoing of the relationship is one's own history of being mistreated in the past. It is not clear from the reference to having been mistreated if this is due to mistreatment from past relationships or family of origin. But when someone has been mistreated in the past those scars (emotional, mental and/or physical) can make it difficult to bond with a new romantic partner. Another challenge to accepting the love that is there to enjoy is communication. We can take things the wrong way or read into others statements or actions things that aren't there. And second guessing someone we are trying to build a relationship with can be an early sign of a relationship that will be sabotaged before long. If we refuse to believe "all the love we've got to show," we will not trust what is being offered. When every gesture of love is framed through the lens of mistrust, the love that is there to show is not truly received. A final problem that can emerge in a new relationship is finding balance. Few people want to enter a relationship with the other person getting their way all the time. There needs to be some way of giving voice to what each person in the relationship wants. And if, sometimes, those wants are different there needs to be a way to have conversation about how to make room for each ones distinctiveness. We can't expect the other person to want to join us in every activity we plan.
On the website, Good Therapy.org, an article titled Trust Issues: How to Get Over Them in Relationships, Marriage and Life, names several indicators that trust is an issue in a relationship. The following signs are indicators of excessive mistrust:
1) A total lack of intimacy or friendships due to mistrust.
2) Mistrust that interferes with one's primary relationship.
3) Several intensely dramatic and stormy relationships in a row or at once.
4) Racing thoughts of suspicion or anxiety about friends and family.
5) Terror during physical intimacy.
6) Belief that others are deceptive and malevolent, without real evidence.
Delaney and Bonnie released seven studio albums between 1969 and 1972. On his own, Delaney Bramlett released eight solo albums between 1971 and 2007. Delaney went on to produce a dozen records for other recording artists between 1969 and 1996. He also appeared on credits as a musician on twenty other recording artists albums, the last being on Jerry Lee Lewis' 2006 album, Last Man Standing. Delaney's songs were recorded variously by Ray Charles, The New Seekers, The Carter Family, Eric Clapton, The Statler Brothers, Conway Twitty, James Last, Chrissie Hynde, Phoebe Snow and others. Delaney died in 2008.
Bonnie Bramlett also went solo after she and Delaney divorced in 1972. She moved to Georgia and got a Scotish band named The Average White Band as her touring band. She was a backup singer on recordings for Joe Cocker, Carly Simon, Gregg Allman, Jimmy Buffet and others. She toured with The Allman Brothers Band and with Stephen Stills. Between 1973 and 2008 she has released eight studio albums and several compilations. In addition, Bonnie Bramlett appeared for several years on the TV show, Roseanne, as the character Bonnie Watkins, with the real David Crosby appearing as her husband, Duke Watkins. Over the years Bramlett has appeared in seven films, with her role in The Guardian, with Kevin Costner in 2006, among the most notable.
February 22, 2018
Ray McGinnis
References:
Bonnie Bramlett – Biography, Bonnie Bramlett.com.
Delaney Bramlett – Biography, Delaney Bramlett.com.
Vanishing Point, 20th Century Fox, 1971.
The Guardian, Buena Vista Pictures, 2006.
"Trust Issues: How to Get Over Them in Relationships, Marriage and Life," Good Therapy.org, December 12, 2016.
"West Coast Music Survey," CKVN 1410 AM, Vancouver, BC, November 12, 1971.
For more song reviews visit the Countdown.