#10: Laborer by 49th Parallel
City: Calgary, Alberta
Radio Station: CKXL
Peak Month: June 1967
Peak Position in Calgary ~ #1
Peak position in Vancouver ~ did not chart
Peak Position on Billboard Hot 100 ~ did not chart
YouTube: "Laborer"
Lyrics: "Laborer"
Singer Dennis Abbott and guitar player Dan Lowe formed a band in the mid-60's called The Real McCoys. The name was soon discarded in favor of The Shades of Blond. The band consisted of Abbott and Lowe, joined by Bob Carlson on guitar, Dave Petch on organ, Mick Woodhouse on bass guitar, and Terry Bare on drums. The Shades of Blond played covers of British Invasion hits. As well, they began to write some songs and experimented with a fuzz-guitar garage rock sound. This got them a contract to record on International Master Discovery Records, which put out an album featuring four of the new Calgary bands. By '67 they'd changed their name to 49th Parallel, and had all but outgrown the local circuit. They played the prairies relentlessly for the next year or so, making over a dozen stops in Moose Jaw, Saskatchewan at The Temple Gardens alone.
They released a single titled "Laborer".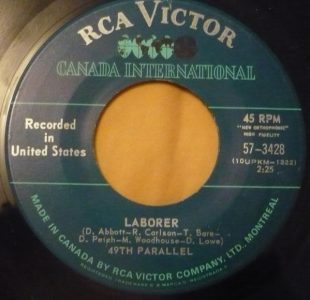 "Laborer" is a song narrated by a rich man who has "a thousand times" the wealth of the average laborer. He is set up in a powerful position as a boss of a big company where "I got a thousand of your kind doing my overtime." Moreover, "when all my money is gone, I've got a thousand in bonds." However, the laborer has something this rich man doesn't have which is priceless. And that is "a loving woman to hold and kiss each night." The rich man concludes that the only way he is going to have that kind of love and devotion is if he leaves his life of wealth and status behind and becomes a common laborer.
"Laborer" peaked at #1 in Calgary, and Lloydminster (AB), #3 in Edmonton (AB), and #10 in Grand Rapids (MI).
Subsequent single releases were "She Says" b/w "Citizen Freak," and "Blue Bonnie Blue". They all did relatively well but none broke the band with a larger audience. "She Says" climbed to #7 in January 1968 on CKXL in Calgary. "Blue Bonnie Blue" also topped the pop charts in Calgary in May 1968. As well, it made the Top Ten in Edmonton (AB), and charted in Oklahoma City, Grand Forks (ND), Winnipeg (MB) and New Glasgow (NS).
Several lineup changes followed with bass player Dave Downey taking over from Mick Woodhouse. While the departure of Dave Petch earned organist Jack Velker a spot in the lineup. The 49th Parallel toured across Canada and into the United States. They signed with Maverick Records and recorded a few more singles, including "Twilight Woman".
The extensive touring earned them more attention, which included getting airplay on more radio stations. "Twilight Woman" spent eight weeks on the CHUM chart in Toronto, peaking for two weeks at #16.
"Citizen Freak," "Labourer," "You Do Things," and "She Says" were included on a Birchmount Records compilation called The Best Of The Greatest in 1969. The album was a mix of hit songs by the Beau Marks, the Guess Who and the 49th Parallel. Later in 1969, Velker left the 49th Parallel and moved to Hollywood, hoping to become an actor. He was replaced on the organ by Dennis Mundy. A self-titled album, 49th Parallel, was released featuring "Twilight Woman". As the album was released, lead singer Dave Abbott left the band. He was replaced by Dorn Beattie. At that time, bass guitarist Dave Downey departed and was replaced by Alf Cook.
The 49th Parallel toured into 1970. The B-side to "Twilight Woman" titled "Close The Barn Door" peaked at #3 in Sarasota (FL) and #13 in Winnipeg. A followup single, "Now That I'm A Man" charted Hit Bound on the CKLG chart in Vancouver, It also made the Top 30 in Edmonton, Ottawa, Toronto and Victoria.
However, the 49th Parallel struggled to get material for a followup album that never materialized. And a followup single titled "I Need You" got little notice. In the spring of 1970 the 49th Parallel disbanded.
Lowe and Beattie moved to Edmonton and formed Painter. That band later became Hammersmith. Meanwhile, Beattie got involved with Doug Johnson in a band called All The Rage In Paris. But this band split up when Johnson moved to Vancouver to join Loverboy. Dan Lowe was later part of 451 Degrees, a band in Calgary in the late 70s-early 80s; And Prototype, a band that enjoyed a Top 20 hit in Sherbrooke (PQ) titled "Video Kids". Lowe later went on be a producer for Qwest, White Wolf and George Fox.
In the mid-90s, Pacemaker Records released The Best of 49th Parallel. The single, "Citizen Freak", later appeared on the Pacemaker compilation album, Best of Gaiety Records in 1999.
September 29, 2023
Ray McGinnis
References:
Bruce Eder, Dave Lyman, Gord McCaw, and Al Smith, "49th Parallel," Canadianbands.com.
For more song reviews visit the Countdown.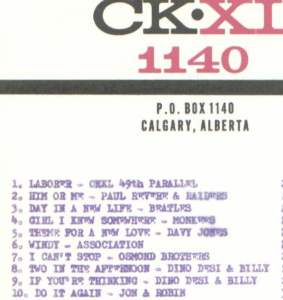 CKLX 1140 AM, Calgary, Alberta, June 5, 1967