#572: Lemon Tree by Peter, Paul and Mary
Peak Month: May 1962
10 weeks on Vancouver's CFUN chart
Peak Position #5
Peak Position on Billboard Hot 100 ~ #35
YouTube.com: "Lemon Tree"
Lyrics: "Lemon Tree"
Peter Yarrow was born in Manhattan in 1938 to Ukranian Jewish immigrants. His mother and father arrived in 1922, and his father Bernard Yaroshevitz anglicized his name in 1925 in order to get into Columbia University. During World War II Bernard Yarrow was recruited to work for the OSS (Office of Strategic Services), the forerunner to the CIA. Peter's parents divorced in 1943. After World War II, Bernard Yarrow worked in the lawfirm Sullivan and Cromwell, where Alan Dulles and John Foster Dulles had been employed. In 1952 Bernard Yarrow became a senior vice-president of the CIA-funded Radio Free Europe. Yarrow was a bright student and attended Cornell University where he graduated with a Bachelor's Degree in Psychology in 1959. Yarrow's classmate, Richard Fariña, went on to be a folk singer and wrote numerous protest songs. Yarrow performed in public at Cornell in 1958-59 while attending Professor Harold Thompson's popular American Folk Literature course. On June 25, 1960, Peter Yarrow performed at the second Newport Folk Festival.
Mary Allin Travers was born in Louisville, Kentucky in 1938. Her parents were journalists and key organizers of the local trade union for their profession. While she was an infant, her family moved to New York City and she met Pete Seeger and Peggy Seeger, who lived in the same apartment building. She also met Paul Robeson who sang her lullabies. In 1955 Mary Travers joined a folk group named the Song Swappers. She left high school and the Song Swappers sang back-up on four Pete Seeger albums that year, including a live album from Carnegie Hall. In 1958 she appeared in a Broadway show titled "The Next President."
Noel Paul Stookey was born in Baltimore, Maryland, in 1937. He learned the electric guitar and in high school between 1951 and 1955, Stookey formed a band named the Birds of Paradise. He grew up in Michigan and attended university in East Lansing. He moved to Greenwich Village in 1959.
Bob Dylan's manager, Albert Grossman, had a conversation with Peter Yarrow in 1961 in Greenwich Village about creating a new version of the Weavers for the emerging generation. Yarrow noticed a photo of a woman who Grossman said was Mary Travers. Grossman auditioned a number of singers in the Greenwich Village scene including Dave Van Ronk, who he judged to be too uncommercial for the vision he had. Paul Stookey and Mary Travers successfully auditioned and began to rehearse with Peter Yarrow. Grossman booked the trio for a gig at The Bitter End, a folk club in Greenwich Village at 147 Bleecker Street.
In 1962 Peter, Paul and Mary released their self-titled debut album, Peter, Paul and Mary. The album cover featured the trio on stage at The Bitter End. The album included "500 Miles", If I Had A Hammer", "Cruel War", "Where Have All The Flowers Gone" and "This Train". The debut single from the album was "Lemon Tree".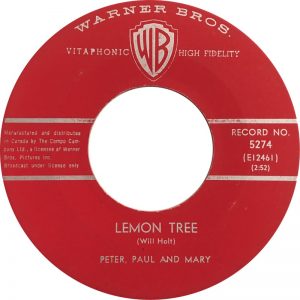 "Lemon Tree" is a riff on a 1930's Brazilian folk song. Meu limão, meu limoeiro had an upbeat tempo and mentioned "my lemon tree" and "my jacaranda tree." Will Holt heard the tune and was inspired to write a song about a lemon tree. Holt's lyrics compare love to a lemon tree. A father takes his ten-year-old son over to a lemon tree and tells him that love is like the lemon tree. A story is told about falling in love with a girl who left him for "another." One could wonder if the father is single? If he is still married, why is he telling his ten-year-old son such a dire lesson about love and lemon trees? Is the marriage about to collapse? What does the son's mother think about the lesson from the lemon tree? But this is a song, so not to worry about the family circumstances in which the father tells his ten-year-old son this life lesson.
Holt was born in 1929 in Portland, Maine. Holt was a singer and musician from early childhood, learning piano from age six. He wrote "Lemon Tree" in 1957. He wrote "Raspberries, Strawberries" for the Kingston Trio. In 1963 his off-Broadway musical The World of Kurt Weill in Song became a success. In 1969, Holt debuted on Broadway in 1969 with "Come Summer" directed by Agnes de Mille. In 1970 his musical, "The Me Nobody Knows," won him the Drama Desk Award for Most Promising Musical Writer and a Tony nomination for Best Lyrics. In 1974, Holt wrote the book for the musical "Over Here!" starring the Andrews Sisters. With Linda Hopkins, he conceived and wrote "Me and Bessie," a 1975 revue about the life and career of blues singer Bessie Smith. He collaborated with George Abbott and Richard Adler in 1976 on "Music Is," an adaptation of the Shakespeare play "Twelfth Night". His last Broadway musical was the 1979 revival of "A Kurt Weill Cabaret."
"Lemon Tree" peaked at #4 in Toronto, #5 in Vancouver (BC) and Sacramento (CA), #6 in San Francisco and Colorado Springs (CO), #7 in San Diego and #9 in San Bernardino. On the Billboard Hot 100 the song stalled at #35, as the song got very little airplay in over thirty states in the USA. The song was later used in a 1968 Lemon Pledge TV advertisement by Johnson Wax. The sung lyrics to the TV ad from a bouncy female vocal were "Lemon Pledge very pretty, put the shine down lemon good. Lemon Pledge as you're dusting brings new luster to the wood. Lemon Pledge cleans so easy, lemon way to make wood glow. Lemon Pledge as you're dusting adds protection as you go."
After "Lemon Tree", the trio had a Top Ten hit on the Billboard Hot 100 with "If I Had A Hammer". The song was adopted by the Civil Rights Movement in 1962 at rallies and protests. It had been written by Pete Seeger in support of the Progressive Party presidential candidacy of former Vice-president Henry Wallace in the 1948 election. The Progressive Party platform called for desegregation, the establishment of a national health insurance system, an expansion of the welfare system, nationalization of the energy industry and conciliation with the Soviet Union during the early stages of the Cold War. "If I Had A Hammer" was performed at rallies for Wallace in 1948. In Vancouver "If I Had A Hammer" only had one week on the CFUN chart at #44.
Their next song, "Puff The Magic Dragon" was a song about the loss of innocence in children, as seen through the story of little Jackie Paper, playmate of the dragon Puff. It climbed to #2 on the Billboard Hot 100 and #4 in March 1963 on CFUN in Vancouver (BC). Surprisingly, their next #2 hit on the Hot 100, "Blowin' In The Wind", stalled at #38 in Vancouver in July '63. On August 28, 1963, Peter, Paul and Mary performed "If I Had A Hammer" and "Blowin' In The Wind" at the rally at the Lincoln Memorial for the March on Washington for Jobs and Freedom. Rev. Martin Luther King Jr. gave his "I Have A Dream" speech that day. Joan Baez led 250,000 marchers in "We Shall Overcome". In September 1963, the #9 hit for the trio, "Don't Think Twice, It's All Right", stalled at #39 on CFUN in Vancouver. Peter, Paul and Mary appeared at the Newport Folk Festival in 1963, 1964 and 1965. In demand for performances around the world, the trio was doing close to 200 concerts a year.
In 1967 Peter, Paul and Mary had a #9 hit with "I Dig Rock And Roll Music". The song's lyrics reference several contemporary recording artists. In one verse the lyrics joyfully parody the vocal style of the Mamas & the Papas. A subsequent verse mimics Donovan and later the Beatles (a la Sgt. Pepper). After Minnesota Senator Eugene McCarthy's strong showing in the 1968 New Hampshire Primary for the Democratic Party, the trio recorded "Eugene McCarthy For President (If You Love Your Country)" and endorsed McCarthy.
In 1969, Peter, Paul And Mary earned their final Grammy for Peter, Paul and Mommy, which won for best children's album. One of the tracks, "Day Is Done", became a Top 30 single for the folk trio in the spring of 1969. That fall a song penned by John Denver, "Leaving On A Jet Plane", climbed to #1 on the Billboard Hot 100. In Vancouver the song was kept out of the number one spot for two weeks by The Original Caste's "One Tin Soldier" and B.J. Thomas' "Raindrops Keep Falling On My Head". After their success with "Leaving On A Jet Plane" the trio disbanded.
Over the years they enjoyed several reunions. In 1972, Peter, Paul and Mary reunited for a concert at Madison Square Garden to support presidential campaign of Democratic candidate George McGovern. In 1978 they reunited for a concert to protest against nuclear energy. In May 1995 they performed on the anniversary of the Kent State shootings and later performed for California strawberry pickers. The folk trio was inducted into the Vocal Group Hall of Fame in 1999. Peter, Paul and Mary received the Sammy Cahn Lifetime Achievement Award from Songwriters Hall of Fame in 2006. In 2009 Mary Travers died of cancer. In September 2019 Noel Paul Stookey has two scheduled performances in New England. Peter Yarrow recently performed a concert in Westminster, Maryland on August 3, 2019. Between August and November 2019, Peter Yarrow and Noel Paul Stookey will perform together at two concerts in Massachusetts, one in New Jersey and another in New Hampshire.
In 1995 Peter Yarrow recalled the impact the trio had in the 1960's. He said, "I was very committed. I'd seen the form rather than the shadow. I knew that the world could be a better place. I knew that folk music could and should have a role in making all that work, I mean articulating the vision and expressing creatively the sense of consensus by the activist community, by the dreamers, by the organizers. I really entered folk music more because I saw its capacity to be an actual expression of commonality than I did because the music is so extraordinary…. what really got to me was the way in which folk music communicated and allowed one to live the sense of commonality and how that sense could then be translated into any number of forms: spiritual connection, political activism, formation of a community or one sort or another in a geographical sense or in the sense of people united with a particular sense of their direction. So I was motivated by two things, by a really powerful vision of what might be in the world and an absolute belief that there was something that was achievable; And number two, by a very clear sense that I was in a position to be a player, along with Paul and Mary, and to try to articulate that vision and lobby for its actualization."
August 19, 2019
Ray McGinnis
References:
Polly Anderson, "Mary Travers of 1960s Folk Anthem Trio Dies at 72," San Francisco Chronicle, September 17, 2009.
"Will Holt Obituary," Los Angeles Times, June 6, 2015.
Bruce Weber, "Will Holt Who Wrote 'Lemon Tree' and for the Musical Stage, Dies at 86," New York Times, June 4, 2015.
"March On Washington for Jobs and Freedom," Wikipedia.org.
"Peter, Paul and Mary," peterpaulandmary.com.
"C-FUNTASTIC FIFTY," CFUN 1410 AM, Vancouver, BC, May 12, 1962.
For more song reviews visit the Countdown.