#828: Let's Work Together (Part 2) by Wilbert Harrison
Peak Month: February 1970
9 weeks on Vancouver's CKLG chart
Peak Position #5
Peak Position on Billboard Hot 100 ~ #32
YouTube.com link: "Let's Get Together (Part 2)"
Lyrics: "Let's Work Together"
Wilbert Harrison was born in Charlotte, North Carolina, in 1929. Around 1948 Harrison was drafted into the US Navy. In 1950 he was honorably discharged. After his service as a sailor, Harrison became interested in calypso music and taught himself to play guitar. In 1953, Harrison got a record deal with Rockin' Records. His first releases on Rockin' Records had a country-pop sound. He moved to New Jersey and got a record deal in 1954 with Savory Records. Harrison worked with R&B stars Big Maybelle and Screaming Jay Hawkins, the latter whose song, "I Put A Spell On You", was covered by Creedence Clearwater Revival. Between 1954 and 1958 Harrison released six 78 RPM singles that were classic R&B. Harrison is best known as a rhythm and blues singer for his #1 hit in the spring of 1959, "Kansas City". That single had the distinction of being the final song to reach #1 that was released on a 78 RPM record. "Kansas City" stayed on top of the Cashbox R&B charts for five weeks and two weeks atop the Billboard Hot 100.
Though "Kansas City" was a million seller, Harrison had released the record on the Fury label based in Harlem. Fury Records was owned by Bobby Robinson. Harrison was a recording artist with Savoy Records. Consequently, there was a legal dispute between Savoy Records and Fury Records. Savoy prevented any immediate followup releases by Fury Records while Wilbert Harrison was on the radar of pop music listeners. Fury Records eventually won the legal dispute.
Harrison bounced around from record label to record label throughout the 1960's. But his recordings with Neptune, Glades, Island, Doc, Dies, Constellation, Port, Fury, Sea-Horn, Roulette and Vest records yielded little commercial success. His eventual follow up single to "Kansas City" was titled "Goodbye Kansas City". In February, 1960, it made the Top 30 in Kansas City, Denver and Phoenix. But the song stalled at #102 beneath the Billboard Hot 100. At the close of 1960, "The Horse" made the Top 30 in El Paso, but had little commercial success. In June, 1961, Harrison had a minor hit titled "Off To Work Again," that bubbled beneath the Billboard Hot 100 at #118. In 1963 Harrison had a modest hit in some radio markets with "Near To You", where it peaked at #10 in San Jose (CA), #11 in San Francisco, #12 in Detroit and #15 in Pittsburgh. The song made the Top 40 on the Billboard R&B charts. At the start of 1962 Wilbert Harrison tried to cash in on the Twist craze by releasing "Kansas City Twist". The record was not a hit. Harrison had a #6 hit in March, 1962, in Seattle called "Let's Stick Together". The song climbed to #27 in Vancouver during an eight week chart run later that spring.
Seven years later, in 1969, Harrison reworked "Let's Stick Together". He changed the title and the lyrics and gave the song a new arrangement. He also gave the song a new title: "Let's Work Together".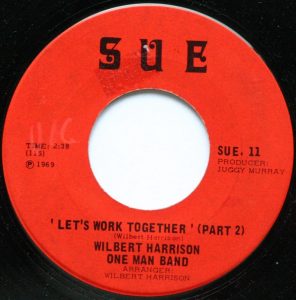 "Let's Stick Together" was a song about marriage vows and a committed relationship. With "Let's Work Together" Harrison had reworked the lyrics to reflect a universal message of cooperation between people from different ethnic backgrounds, gender and ages. In March 1965, President Johnson had begun a bombing campaign and sending American combat troops into Vietnam. By 1969 many American citizens were questioning the purpose of the war and the basis for the war. There were also racial tensions during the Civil Rights era and changing dynamics between men and women in society. A year after the song was on the radio the United States passed the 26th Amendment to the United States Constitution, lowering the voting age from 21 to 18. "Let's Work Together" was a modest hit in America. The song had its best chart runs in #1 in Tulsa (OK), #2 in Fort Lauderdale (FL), Windsor (ON), Detroit (MI) and San Bernardino (CA), #5 in Vancouver (BC) and Columbia (SC), #6 in San Francisco and #7 in Birmingham (AL).
"Let's Work Together" was one of a number of songs inviting radio listeners to aspire to cooperation and things that build harmony and sustain the common good. Among these songs in 1969-70 were "Aquarius/Let The Sunshine In" by the Fifth Dimension, "Everyday People" by Sly And The Family Stone, "Crystal Blue Persuasion" by Tommy James And The Shondells, "Hair" by the Cowsills, ""Atlantis" by Donovan, "Lay Down (Candles In The Rain)" by Melanie, "Everything Is Beautiful" by Ray Stevens, "He Ain't Heavy, He's My Brother" by The Hollies, and "Woodstock" written by Joni Mitchell and recorded by Crosby, Stills, Nash & Young.
With "Let's Work Together" cracking the Top 40, Wilbert Harrison went on tour with Creedence Clearwater Revival in the winter of 1969-70. Harrison continued to tour until 1990 on the strength of hit two hits, "Kansas City" and "Let's Work Together". He died of a stroke at the age or 65 in October, 1994. In 2001, the Grammy's gave Harrison's "Kansas City" a Grammy Hall of Fame Award.
April 19, 2018
Ray McGinnis
References:
"Wilbert Harrison, Rock Singer, 65," New York Times, October 29, 1994.
Wilbert Harrison, Discogs.com
"Wilbert Harrison of "Kansas City" Fame," Mental Itch.com
Jane Minogue, "Kansas City by Wilbert Harrison," Daily Doowop.com, April 7, 2018
Wilbert Harrison, Music VF.com.
"Boss 30," CKLG 730 AM, Vancouver, BC, January 23, 1970.
For more song reviews visit the Countdown.