#717: Levon by Elton John
Peak Month: February 1972
8 weeks on CKVN's Vancouver Charts
Peak Position ~ #3
Peak Position on Billboard Hot 100 ~ #24
YouTube.com: "Levon"
Lyrics: "Levon"
Reginald Kenneth Dwight was born in 1947. When he was three years old he astounded his family when he was able to play The Skater's Waltz by Émile Waldteufel by ear at the piano. When he was eleven years old he won a scholarship as a Junior Exhibitor at the Royal Academy of Music. Between the ages of 11 and 15 he attended the Academy on Saturday mornings. In 1962, by the age of 15, he was performing with his group, The Corvettes, at the Northwood Hills Hotel (now the Northwood Hills Public House) in a northern borough of London. While he was playing with a band called Bluesology in the mid-60s he adopted the stage name Elton John. His stage name, which became his legal name in 1967, was taken from Bluesology saxophonist Elton Dean, and their lead singer, Long John Baldry.
In 1967 John met Bernie Taupin, a songwriter. Since they teamed up they've worked together on 32 studio albums between 1969 and 2016. In the same five-decade span Elton John has released 128 singles. Of these 42 reached the Top Ten in Canada on the RPM singles chart, 29 made Top Ten on the UK charts and 26 singles made Top Ten on the Billboard Hot 100. Elton John holds the distinction of having the most successful single release in the rock 'n roll era ~ 1955 to the present ~ with his 1997 version of "Candle in the Wind" which has sold over 33 million copies. The biggest selling single remains "White Christmas" by Bing Crosby which has sold 50 million copies.
In 1969, Elton John released his debut album, Empty Sky. He received critical acclaim for his musicianship and heralded as a great new singer-songwriter. John didn't disappoint his critics, as his next album, the self-titled, Elton John, included "Your Song" and "Border Song," two of his most enduring contributions to pop music. His third album was Tumbleweed Connection, released in the fall of 1970. The album peaked in the Top 5 of the Billboard 200 Album chart. One of the tracks from the album is "Love Song." It became a Top Ten hit in Vancouver in 1976.
In 1971 Elton John recorded "Friends" and "Honey Roll" for the film Friends. Both singles climbed into the Top Ten on the Vancouver (BC) pop charts. Just as these singles were starting to chart in Vancouver, Elton John made his first concert appearance in town at the Agrodome on April 23, 1971.
His fourth studio album was Madman Across The Water. The first single release from the album was "Tiny Dancer". The follow up was "Levon".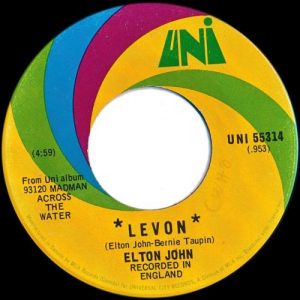 Levon is one of six songs by Elton John to make this list of the signature sound of Vancouver pop radio. It was a single released from John's fourth studio album, Madman Across the Water. Elton John and his co-writer, Bernie Taupin, liked the drummer in the group, The Band, Levon Helm. So they chose his unusual name as a fictional character in the song. Levon's father is Alvin Tostig, also a fictional character. As Levon's son is Jesus, Alvin Tostig is the grandfather of Jesus.
Bernie Taupin grew up in Wessex, England. Back in 1040 the surname of the Earl of Wessex was Tostig. It's possible that Bernie Taupin knew that factoid from British history. The suggestion comes from a Straight Dope article in March 2000 titled In the Elton John song "Levon," who is Alvin Tostig?
Levon is born a "pauper to a pawn." A pawn is a chessman in the game of chess. A pawn can move only one space forward or one space diagonally if they want to capture another player on the chessboard. In a military sense, a pawn is a soldier. A more general meaning for pawn is one that can be used to further the purposes of another. A pauper is a poor person who is insolvent and unable to pay their own debts. So Levon was born in very poor circumstances.
Levon is also born on Christmas Day that happens to be the same day that Jesus of Nazareth, according to conventional Christian tradition, is born. Levon is also born on a day when the New York Times headlines read that God is Dead. In popular Western culture the concept, "God is dead," originated with German philosopher, Frederich Nietzsche in 1882. The following year, 1883, in Nietzsche's allegorical novel, Thus Spoke Zarathustra, Zarathustra reveals that God is dead. In the novel the view is not that there is a literal God who was alive and is now dead. The novels' character, Zarathustra, contends that the Christian God has ceased to be a trustworthy source of infallible moral commandments.
In addition to this crisis of faith intoned in Elton John's song, we learn that "the war's begun." For listener's in 1972, the Vietnam War was into its second decade, having begun on November 1, 1955. It was an example of what seemed like a state of permanent war in the daily news. Prior to the Vietnam War was the Indochina War from March 1946 to May 1954. In summary, Levon is born into a world where there is a crisis of faith and an absence of peace, much like the contemporary world of the early 1970's. Into this world Levon has a child and names him Jesus. The Jesus of the Christian Gospel stories was known as the Prince of Peace. Levon is also a veteran who "wears his war wound like a crown."
Levon sends Jesus to the best school in town, out of love for his son and/or perhaps concern for family status. Levon also likes making money and is preoccupied with counting his earnings to determine how much he is worth. Levon earns his living, it turns out from selling cartoon balloons. His son, Jesus, blows up balloons all day long and watches the balloons fly away. This is not exactly helping the family business thrive. You'd want to sell the balloons to customers who'd mostly hold on to their balloons with a string.
More fantastic, Jesus imagines sailing on a balloon and flying all the way to the planet Venus. While Jesus dreams of adventures, "Levon slowly dies." But why is Levon slowly dying? Is it just a matter of chronology, that the father is older than the son and most likely the first to leave this mortal coil? Is Levon's way of living, with his focus on liking money and counting it not really life-giving? Is Levon's son Jesus, by wanting to go to Venus, someone who knows how to really live? Or is the way Jesus is living, blowing up balloons and letting them fly away, and sailing off in a balloon to Venus, so impractical that it breaks Levon's heart and will to keep on living?
Levon, Elton John sings, "shall be a good man." Vancouver record buyers like Levon and it peaked at #3 on the local pop charts. In America the song climbed to #24. It did best in the USA radio markets of Olympia (WA) and Flint (MI) where it climbed to #3. "Levon" also peaked at #5 in Minneapolis/St. Paul and St. Louis. The single also made the Top Ten in Atlantic City (#6), Detroit (#7) and Amarillo, Texas (#8).
Elton John had many Top Ten hits through the 70s, 80s and 90s. Some of these were "Rocket Man", "Honkey Cat", "Daniel", "Crocodile Rock", "Bennie And The Jets", "Goodbye Yellow Brick Road", "Don't Let The Sun Go Down On Me", "The Bitch Is Back", "Lucy In The Sky With Diamonds", "Island Girl", "Philadelphia Freedom", "Sorry Seems To Be The Hardest Word", "Someone Saved My Life Tonight", "Don't Go Breaking My Heart" (with Kiki Dee), "I Guess That's Why They Call It The Blues", "Sad Songs (Say So Much)", "Nikita", "Candle In The Wind", "Sacrifice", "Can't You Feel The Love Tonight" and many others.
In 1994 Elton John was inducted into the Rock and Roll Hall of Fame. In 1998 he became Sir Elton John when he was knighted by Queen Elizabeth II in recognition of his "services to music and charitable services." Among the many performances he has given include the funeral for Princess Diana at Westminster Abbey in 1997, and Queen Elizabeth II's Diamond Jubilee Concert outside Buckingham Palace in 2012. On September 24, 2019, Elton John performed a concert at the Rogers Arena in Vancouver (BC) as part of his Farewell Yellow Brick Road Tour.
September 14, 2018
Ray McGinnis
References:
"Elton John bio," Rolling Stone.
"Elton John bio," Elton John.com.
"In the Elton John song "Levon," who is Alvin Tostig?," The Straight Dope.com.
"West Coast Music Survey," CKVN 1410 AM, Vancouver, BC, February 4, 1972.
For more song reviews visit the Countdown.