#1154: Liars by Ian Thomas
Peak Month: June 1976
7 weeks on CKLG chart
Peak Position #10
Peak Position on Billboard Hot 100 ~ did not chart
YouTube.com: "Liars"
Lyrics: "Liars"
In 1950, Ian Thomas was born in Hamilton, Ontario. Once he began to play piano at the age of six Thomas fell in love with the world of music. He later learned the guitar. By 1969 he was in a folk group called Tranquility Base which began to tour across Canada. They had a #3 hit in Hamilton in 1970 called "If You're Looking". This led to an album, but further success eluded them. Thomas became a producer at the CBC. By 1973 he got his own record deal with GRT Records and released "Painted Ladies". The song climbed to #9 in Vancouver and #34 on the Billboard Hot 100. His self-titled album went Gold. Thomas won the 1974 Juno Award for Most Promising Male Vocalist and toured with April Wine. He got exposure on a number of TV variety shows in Canada which included both his musical and comedic talents.
In 1974 Ian Thomas released his second album, Long Long Way. The title track from the album climbed to #17 in Vancouver. However, unlike his previous Top 40 success in the USA, "Long Long Way" became the first of twenty-five single releases to fail to crack the Billboard Hot 100. While "Long Long Way" was on the charts in August and September 1974, America was going through a political crisis. Richard M. Nixon had resigned from the presidency on August 9, 1974, due to the Watergate scandal. The introspective tune questioning the notion of progress was out of synch with sentiment given the political crisis south of the border.
Ian Thomas' third album called Delights was released in 1975 to praise from the music critics, though the singles "Julie" and "The Good Life" were minor hits. Still, the album became a Gold record in Canada. Then in 1976 Thomas' fourth album, Calabash, got him back on the radar in Vancouver with the hit singles "Liars" and "Right Before Your Eyes". That year he also went on an extended tour across North America and Western Europe.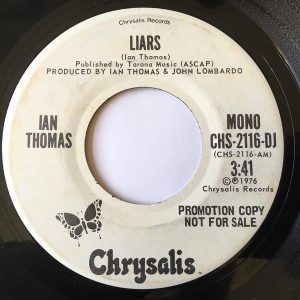 (Image of USA Promotional Copy, I couldn't
find an image for the Canadian issued GRT
printing)
In Ian Thomas' "Liars" the singer laments the corrupt environment of the music industry. The glitter, daydreams and money machine created to dazzle musicians is a distraction as too often performers find those handling their record deals and concert tours have their "finger in the pie." How often are recording artists on the short end of the stick when their managers, agents and record companies siphon off money owed to them? Tommy James & The Shondells had numerous hits in the mid to late 1960's including "Hanky Panky", "Mony Mony", Crimson and Clover" and "Crystal Blue Persuasion". Forty years later Tommy James penned an autobiography in 2010 called Me, The Mob and The Music. In his book he detailed the shady relationship that Morris Levy of Roulette Records had with Tommy James and the Shondells and other recording artists signed with Roulette. As Roulette hardly ever paid royalties to their recording artists, Tommy James documented that Roulette owed he and The Shondells royalties in the $30 million to $40 million range. Eric Burdon has written about how the manager of The Animals, Michael Jeffrey, absconded with piles of money he owed the band. Jeffrey later became a manager for Jimi Hendrix. Number of Hendrix's biographers have detailed how his UK manager, Michael Jeffrey, siphoned off huge sums of money earned by Jimi Hendrix. Hendrix was in the process of dropping Michael Jeffrey as his manager when Hendrix died in September 1970.
Sylvie Simmons explains in her 2012 biography, I'm Your Man: The Life of Leonard Cohen, that Kelley Lynch, Cohen's longtime manager, "took care of Leonard's business affairs … [and was] not simply his manager but a close friend, almost part of the family." Simmons notes that in late 2004, Cohen's daughter Lorca began to suspect Lynch of financial impropriety, and when Cohen checked his bank accounts, he noticed that he had unknowingly paid a credit card bill of Lynch's for $75,000 and also found that most of the money in his accounts was gone (including money from his retirement accounts and charitable trust funds). Cohen discovered that this had begun as early as 1996 when Lynch started selling Cohen's music publishing rights despite the fact that Cohen had no financial incentive to do so at the time. As reported in The Guardian, in October 2005, Cohen sued Lynch, alleging that she had misappropriated over US $5 million from Cohen's retirement fund leaving only $150,000. Cohen was sued in turn by other former business associates. These events placed him in the public spotlight, including a cover feature on him with the headline Leonard Cohen Goes Broke in Canada's Maclean's magazine. In March 2006, Cohen won a civil suit and was awarded US$9 million by a Los Angeles County superior court. Lynch ignored the suit and did not respond to a subpoena issued for her financial records. As a result, Cohen never did collect the money Lynch owed him.
Ian Thomas' song "Liars" may have been most popular with recording artists, roadies and others who were witness to corruption within some circles of the music industry. For most of the record buying public, occasional stories of their favorite music artists getting shafted by crooked music industry types was something they could only read about and shake their heads.
In 1979 Ian Thomas' label, GRT, declared bankruptcy. The timing was bad as his album, Still Here, had recently been released. A "Best of" album came out the next year when he was signed to Anthem Records. His album, The Runner, became his fifth gold album. Into 1980-81 Ian Thomas toured extensively. He made a guest appearance on SCTV in one of Bob & Doug MacKenzie's Great White North spots in 1981. His brother, Doug Thomas, played the fictional character Doug MacKenzie in the Great White North. Ian Thomas scored the theme song and co-produced The Hoser movie Strange Brew the same year. In 1984 Ian Thomas released another album, Riders On Dark Horses. He toured in Australia, Germany and England. His next album was in 1985 called Add Water. His final solo album release was in 1988 called Levity.
Through the 1990's Thomas was part of the band called The Boomers. Numbers of Ian Thomas' songs have been covered by other recording artists. America recorded "Right Before Your Eyes" and it climbed into the Top 50 in the USA in 1982. Anne Murray covered "Good Again", Santana recorded "Hold On", Manfred Mann did their own version of "The Runner", and Bette Midler released "To Comfort You".
He has written two books, the Canadian Best Seller Bequest in 2006, and The Lost Chord in 2008. Thomas has also featured in sitcom The Red Green Show as Dougie Franklin who hangs out at The Possum Lodge.
May 22, 2017
Ray McGinnis
References:
Gwen Sjogren, Shasta and Kerry Gordon, Ian Thomas, Canadian Bands.com.
Ian Thomas in The Red Green Show, CBC, 1991-2006.
Thomas, Ian. Bequest. Manor House, Ancaster, Ontario, 2006.
Thomas, Ian. The Lost Chord. Manor House, Ancaster, Ontario, 2008.
"Vancouver's Official Music Survey," CKLG 730 AM, Vancouver, BC, June 2, 1976.
For more song reviews visit the Countdown.