#1139: But You Lied by Cathy Carroll
Peak Month: December 1962
7 weeks on Vancouver's CFUN chart
Peak Position #11
Peak Position on Billboard Hot 100 ~ did not chart
CFUN Twin Pick Hit ~ November 24, 1962
YouTube.com: "But You Lied"
Wikipedia says Cathy Carroll was born Carolyn Stern in 1939. However, both Billboard Magazine and Radio Television Daily wrote in 1963 that Carroll was 17 years old at the time. Doing the math, that puts Carolyn Stern's birth around 1946. Cathy Carroll seemed from the start to be aiming for an award for drama queen among girl singers in the early rock 'n roll era. In the previous decade Johnnie Ray would tear at his hair and fall on the floor sobbing before his fans as he sang his 1951 million selling hits "Cry,"and "The Little White Cloud That Cried". From his histrionic performances Ray earned the nicknames the "Nabob of Sob" and "Mr. Emotion". Cathy Carroll would later record "Cry" as well, perhaps as a nod to her musical soulmate.

Country singer Ferlin Husky often gave very emotive performances in the recording studio and his producer, Ken Nelson, would try to make Husky dial it down. But when you listen to "Gone," it is debatable Husky's producer was successful. But Ferlin Husky is tame compared to Cathy Carroll and Johnnie Ray. And in the case of Cathy Carroll, it seems no one was in the recording studio asking her to tone it down. So she raised the drama in her lyrics to hit the heights. Her overblown renditions were often twinned with lyrics that were melodramatic in the extreme.
Her debut record was on Triodex Records owned by Bill Buchanan, who had a novelty hit in 1956 called "The Flying Saucer." That record involved sampling sound-bites of other Top 40 records at the time, long before current copyright laws were in place. The song chosen for Cathy Carroll was the teen tragedy song "Jimmy Love".
Cathy Carroll's follow-up single, "Every Leaf That Falls", continued on her tree-inspired heartache trajectory. She turned from falling trees to falling leaves. She learns from the start that the boy she is beginning to date already has a girlfriend who is away for the summer. However, she feels he is heartless and cruel to leave her at summer's end for the girl he has a deeper commitment to. Consequently, she is inconsolable. This song had modest success in Massachusetts and in San Francisco. Her third single, "The Young Ones", was a cover of Cliff Richard's UK hit. But her version got only some attention in Massachusetts. Then her fourth hit, "Poor Little Puppet", became her biggest seller reaching #91 on the Billboard Hot 100 and #8 in Vancouver. Her fifth single, "But You Lied", was a hit in Vancouver, Toronto and Philadelphia.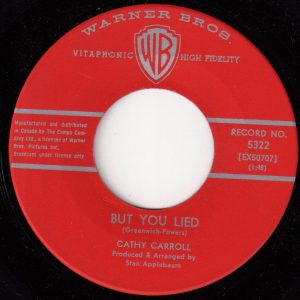 You said you'd never hurt me baby,
you said you'd never make me cry,
but you lied.
You said you'd like the way I love you,
you told me you were satisfied,
but you lied.
Roses are red, violets are blue,
no other boy can lie like you.
You said you couldn't take it baby,
if our romance ever died,
but you lied. Oh you lied.
Roses are red, violets are blue,
no other boy can lie like you.
You said you couldn't take it baby,
if our romance ever died,
but you lied.
Oh you lied.
(I think you're lying, you're with somebody new)
Oh you lied.
(I got a feeling I'm through with you)
"But You Lied" was among a number of songs "girl" soloists recorded in 1962 about boyfriends who either didn't love them anymore and/or were untrue. Brenda Lee sang, "Break It To Me Gently," Connie Francis pleaded "Don't Break The Heart That Loves You", Barbara George came to the conclusion "I Know (You Don't Love Me No More)", Barbara Lynn warned "You'll Lose A A Good Thing" while Patsy Cline observed in the aftermath of a relationship "She's Got You".
In the case of Cathy Carroll's "But You Lied", she gives up the pleasantries of pleading or cautioning. She resorts to a variant on an old nursery rhyme to express her displeasure: "roses are red, violets are blue, no other boy can lie like you." It may have been anticipated that by including these lyrics just a month after Bobby Vinton's #1 hit in September 1962, "Roses Are Red", there might be an uptick for "But You Lied." But no such luck. It peaked in Vancouver at #11 but missed the Billboard Hot 100.
"But You Lied" was co-written by Ellie Greenwich and Tony Powers, songwriters who'd grown up in New York City and worked in the Brill Building. Powers best known songs are "98.6" by Keith (1966) and "Lazy Day" by Spanky & Our Gang (1968). Later, Powers wrote some of the tunes for the TV cartoon show, The Banana Splits, which debuted in September 1968. Greenwich wrote, or co-wrote, many Top Ten hits in the 1960s. These include "Da Doo Ron Ron" and "Then He Kissed Me" by The Crystals; "Be My Baby" for the Ronettes; "Chapel of Love" for the Dixiecups; "Do Wah Diddy Diddy" for Manfred Mann; "Hanky Panky" for Tommy James & The Shondells; "The Leader of the Pack" for the Shangri-Las and "I Can Hear Music" for The Beach Boys. Ellie Greenwich later sang backing vocals on a number of early Neil Diamond recordings including "Cherry Cherry" and "Kentucky Woman".
In 1963 Cathy Carroll signed a contract with Philips Records. At the same time she got a contract with Coty, a Paris, France, based cosmetics company. She promoted their lipstick, perfumes and other fragrances as Cotys' "Miss Teen-Age America" in a 100-city tour.
Cathy Carrolls' last single release in was in 1966 called "I Wish You Were A Girl". It was a song that would make most men happy they were not a girl, unless they wanted to be tormented, constantly in pain and feel like dying. According to the song, that's what being a girl is like, especially when they are dating a guy. Cathy Carroll married Bob Halley. She gave birth to two children. Bob was a producer, arranger, and songwriter. Halley wrote a hit for Nat "King" Cole's in 1962 called "Dear Lonely Hearts". He also wrote "I Wish You Were A Girl".
March 22, 2017
Ray McGinnis
References:
Cathy Carroll, Wikipedia.org.
Daniel Kreps, "Be My Baby" Songwriter Ellie Greenwich Dead at 68," Rolling Stone, August 26, 2009.
Kyler, Tony Powers Speaks!, Rare Rockin' Records Blog, February 19, 2011.
"C-FUNTASTIC FIFTY," CFUN 1410 AM, Vancouver, BC, December 22, 1962.
For more song reviews on this site visit the Countdown.