#1032: Life Begins at the Hop by XTC
Peak Month: April 1980
8 weeks on Vancouver's CFUN chart
Peak Position #12
Peak Position on Billboard Hot 100 ~ did not chart
YouTube.com: "Life Begins At The Hop"
Lyrics: "Life Begins At The Hop"
In Swindon, UK, Colin Moulding and Terry Chambers invited Andy Partridge to be their guitar player and join Moulding on vocals. It was 1972 and the bands initial name was the Helium Kidz. The UK pop music magazine, New Musical Express, wrote an article about them. Swindon, in Wiltshire, England, was known for several other notable musicians including Justin Hayward of the Moody Blues, Gilbert O'Sullivan ("Alone Again Naturally"), late 90s UK pop singles chart topper Billie Piper ("Because We Want To", "Girlfriend"), and Josh Kumra who provided vocals on the #1 UK single, "Don't Go" with Wretch 32 in 2011.

As the Helium Kidz, the band was shaped by the music and style of the New York Dolls, especially their 1973 hit "Jetboy". The Helium Kidz fused the early punk rock scene with glam rock. After getting Barry Andrews to join them on keyboards, they renamed themselves in 1976 as XTC.
When XTC emerged on the scene with their 1978 White Music studio album they offered listeners a art-rock band with vocal phrasing and synthesizer riffs woven into a proven pop music formula successfully championed by groups like the Beatles, Kinks and Small Faces. Both Andy Partridge and Colin Moulding were excellent songwriters. Between 1979 and 1992 XTC charted 18 songs on the UK singles chart, though only "Senses Working Overtime" cracked the UK Top Ten. XTC, like Human League and Gary Numan, were more accessible than other British New Wave art-rock bands Joy Division, Cabaret Voltaire and Scritti Politti.
Asked about how they understood themselves, Andy Partridge said, "I'd like to be considered in the tradition of bands like the Kinks and Small Faces when bands weren't quite naive, but they had a sort of group feeling about them and were gently experimental and psychedelic within pop song formats. It was like they had this little round soap bubble which was the pop single and they just sort of pushed it slightly out-of-shape with experimentation. Perhaps it was a little bit of studio phasing or double-tracking or some other new technique of the time."
However, XTC only had one of their final songs crack the Billboard Hot 100, "Mayor of Simpleton", which peaked at #72 in 1989. Andy Partridge in a 1981 interview in the Musician lamented, "I don't know what to think about America. We can only play here and hope. We're not an American sounding group. We don't conform to any popular American fantasies – we don't have any strains in our music that Americans like because it's their culture or recent past history, such as that country music feel. If I sat down now, I could write the kind of song that Americans like to buy. Not to say they would, but every country loves its own reflection, it's that narcissistic thing. America likes that romantic, denim cowboy – expensive and cool in their music. Our music is different. We don't live American life-styles. I want to be successful for what we are. To everyone in England, everybody in America is either John Wayne or Farrah Fawcett. For Americans, every Englishman is Terry Thomas and every woman is the Queen."
XTC released four singles that missed the pop charts in the UK. But their fifth, "Life Begins At The Hop", expanded their fan base, including in Canada.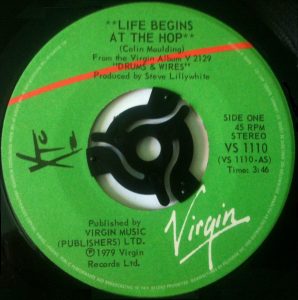 In contrast to the indifferent American response to XTC, a fan base grew early on for this UK art-rock band in Vancouver. With a hunger for all things musical coming out of the British Isles, XTC's fifth single, "Life Begins At The Hop", had just peaked at #54 in the UK. It was the bands first charting single on the UK singles chart. It peaked at #12 for two weeks on CFUN in April 1980. It also peaked at #12 on CHUM in Toronto. The song gives a nod to the 1958 #1 hit by Danny & The Juniors, "At the Hop". In the 1950s and early 60s in America dances took place at public schools and were referred to as a hop, or sock hop. School principals, concerned that the shoes teens wore to the dances would scuff the floor, required those attending the dance to take off their shoes. and so began the "sock hop."
In "Life Begins at The Hop", Colin Moulding's lyrics portray snapshots of underage youth socializing with the opposite sex at an afternoon sock hop at a church, set to an energetic beat. There are snacks and colas for the youth learning to jive. The location of the afternoon hop, at a church, takes on a sacred rite of sorts. With the coming of puberty and sexual arousal, all it takes is a place to dance and a band to switch things up. Leading XTC to summarize: "life begins at the hop, boys and girls."
The members of XTC were all working-class Brits. The song had an ironic undertone for blokes who read about these kinds of activities as trivial pastimes for middle-class youth in America. Clearly, these American kids didn't have to work in the family grocery store 'til late on a Friday night. In the official video (above) the bandmates and the women dancing are full grown adults. Life has clearly carried on since the hop and the beginnings celebrated there for "boys and girls." The tune was upbeat and exuberant with edgy camera angles giving it an experimental tone.
By 1981 XTC were continuing to make socio-political observations on tracks on their albums. On "Living Through Another Cuba" the group reflected on Great Britain's declining role in world affairs as it was no longer the dominant world power known as the British Empire.
It's 1961 again and we are piggy in the middle …
Russia and America are at each other's throats
but don't you cry
just on your knees and pray and while you're
down there, kiss your arse goodbye
we're the bulldog on the fence l while others play their tennis overhead.
Colin Moulding observed, "You can either change your music to suit American tastes or hope what you do will be acceptable without such a shift. Perhaps America should bend more than we should. For some bands, it's so important to be successful, they'll sacrifice their own musical satisfaction to that end. For us, it's not essential that we break here. We're not gonna worry about it. Musical satisfaction comes first. And, if financial rewards result from staying along our own course, all good and well. I'm glad we are what we are."
After "Life Begins At The Hop" XTC made several more appearances on the Vancouver pop charts. These were "Making Plans For Nigel", "Generals And Majors" and "Senses Working Overtime". The band had several other Top 40 singles in the UK at this time, "Towers of London" and "Sgt. Rock", which failed to chart in Vancouver or elsewhere in Canada. Between 1977 and 2005 the band released 41 singles and 14 albums. In 2006 Andy Partridge and Colin Moulding found they'd drifted apart as a creative team and Partridge told the press that XTC as a band was now "in the past tense."
August 16, 2017
Ray McGinnis
References:
Farmer, Neville. XTC : Song Stories (The Exclusive Authorized Story Behind the Music). Hyperion, New York, NY, 1998.
Looking Back to 1979, Swindonweb.com, 2014
XTC Biography, Oldies.com
At The Hop by Danny & the Juniors, Song Facts.com
For more song reviews visit the Countdown.