#1285: Life Is A Song by Gainsborough Gallery
Peak Month: January 1970
7 weeks on Vancouver's CKLG chart
Peak Position #14
Peak Position on Billboard Hot 100 ~ did not chart
At first there was a guitarist and lead singer named Mel Degan and bass guitarist Dennis Paul who were based in Edmonton. They formed a band called The Skeptics. In 1964 they relocated in Calgary and were joined with vocalist Jae Mack, guitarist Peter Marley and drummer Ray McAndrew. They got a reputation on the local scene playing at coffee shops and halls. By 1966 they were billing themselves as The Gainsborough Gallery. This was in honour of the Calgary art museum of the same name (and where they also received fan mail). Tim McHugh joined the band on keyboards.
In 1968 they went to Las Vegas to record some sessions. But the recording sessions were a bust and they headed back to Calgary. In the fall and winter of '68 they released the singles "My Little Red Book" and "If You Knew" on Apex Records. But these releases were not commercially successful. So Apex dropped the band. Subsequently, they signed with the REO label. Dennis Paul had previously been with a band called The Rebels who did some sessions with Buddy Holly's producer, Norm Petty. So The Gainsborourh Gallery headed to Clovis, New Mexico, and spent a month putting together an album. Petty was persuaded to release Life Is A Song, which appeared in record stores in December 1969. Because Jae Mack was Black, Gainsborough Gallery was passed up as an opening act on a tour of the eastern USA.
None of the songs on the album were written by any of the bandmates. The debut single from the album was "Life Is A Song".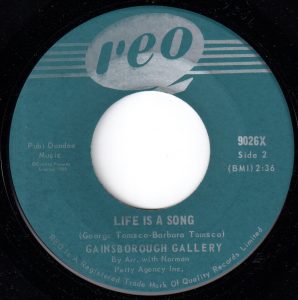 "Life Is A Song" was written by Jimmy Gilmer and The Fireballs' ("Sugar Shack", "Bottle Of Wine") George Tomsco and his wife Barbara. Tomsco was the lead guitarist for Fireballs and had written songs recorded by Tommy James and the Shondells, Ray Price, Eddy Arnold, the Ventures, the Staple Singers, and other recording acts.
"Life is a Song" climbed to #54 on the Canadian RPM singles chart. Its ten-week stay on the charts fuelled a western Canadian tour. Although Mack appeared on the album, he wasn't credited. Instead, Henry Small who didn't sing or play a note on the album, was credited. Small was a new member in the band and provided vocals and violin at the Gainsborough Gallery's live performances.
The song peaked at #1 in Calgary (AB), and #14 on CKLG in Vancouver (BC), and #15 in Edmonton (AB).
Life is a song you can't abide
if you try to sing alone,
the melody written with love
must be sung in harmony.
Living each day just for yourself
cannot bring you happiness,
knowing no love will make your life
such a lonely place to live, such a lonely place to live.
You'll be searching
for that ray of sunshine
to shine down
and make your life a whole.
When you were born into this world
you were just a child alone,
but there's a place for everyone
who has a need to need someone.
The song offers a philosophy for how to live in this world moving away from a remote, aloof path toward love and relationship with another.
The followup single in April 1970 was "Ev'ry Man Hear Different Music". It peaked #78 on the Canadian RPM singles chart. Another track from the debut album recorded in New Mexico, "House On Soul Hill", was released in the summer of 1970. But it failed to crack the RPM top 100. Neither of these follow-up singles appeared on the record surveys in Vancouver.
As the recording career of the band was going sideways, Gainsborough Gallery split up in early 1971 when their contract with REO ended. Pete Roach and Wayne Stevenson, writing on the canadianbands.com website report that "Small joined Scrubbaloe Caine, then moved to Vancouver where he formed Small Wonder and then joined the Vancouver rock n' roll band, Prism, after a couple of years on the road as part of Burton Cummings' band. Henry Small went solo and currently does production and management work. McHugh also moved to Vancouver and became a producer. McAndrew, Marley and Degan all stayed in Calgary and became session players. Dennis Paul is a financial consultant in Arizona. Jae Mack now lives in Tennessee."
Life Is a Song:
November 15, 2016
Ray McGinnis
References:
Pete Roach and Wayne Stevenson, "Gainsborough Gallery," Canadian Bands.com.
"George Tomsco," Discogs.com.
"Boss 30," CKLG 730 AM, Vancouver, BC, January 23, 1970.
For more song reviews visit the Countdown.