#1365: Like A Cannonball by Van Morrison
Peak Month: April 1972
6 weeks on CKVNs Vancouver Charts
Peak Position ~ #16
Peak Position on Billboard Hot 100 ~ #119
YouTube.com: "Like A Cannonball"
Lyrics: "Like A Cannonball"
Sir George Ivan "Van" Morrison, was born in Belfast on August 31, 1945. He is a singer, songwriter and musician. He has received six Grammy Awards, the 1994 Brit Award for Outstanding Contribution to Music, and has been inducted into both the Rock and Roll Hall of Fame and the Songwriters Hall of Fame. In 1996 he was given the Order of the British Empire for his service to music enriching the lives of people in the UK (and beyond). Since 1996 his formal title has been Sir "Van" Morrison, OBE. In 2016 he was knighted for his musical achievements and his services to tourism and charitable causes in Northern Ireland.
He is known as "Van the Man" to his fans. Morrison started his professional career when he variously played guitar, harmonica, keyboards and saxophone for a number of Irish bands while he was still in his teens. In 1964 Morrison formed the R&B garage band, Them, in Belfast, who played at The Maritime nightclub. They had hits with the garage band classics "Gloria" and "Here Comes The Night".
His solo career began with the release of the hit single "Brown Eyed Girl" in 1967. The song peaked at #10 in the USA, but climbed to #1 in Vancouver. It was the title track from Morrison's debut album. Morrison's music mostly draws on the conventions of soul music and rhythm and blues. Examples of this are showcased in his hit singles "Brown Eyed Girl," "Domino" and "Wild Night."
Morrison's father, George, was an electrician. His mother, Violet, had been a singer and tap dancer in her youth. Van was an only child and grew up in Belfast. His father's record collection of American blues and country music artists led to Van Morrison learning the guitar when he was eleven.
In 1968, Morrison released a concept album titled Astral Weeks. While some music critics applauded his efforts, the album sold poorly. In January 1970, Van Morrison released his third studio album titled Moondance. It included "Come Running", which climbed to #38 on the Billboard Hot 100.
Tupelo Honey is the fifth studio album by Van Morrison and released in October 1971. The title track from the album also became a hit on the pop charts in Vancouver in early 1972. Another track from the album that was released as a single was "(Straight to Your Heart) Like A Cannonball".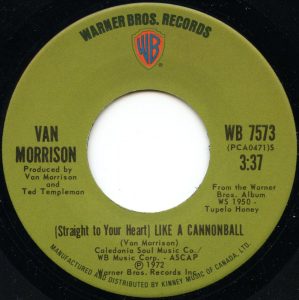 "(Straight to Your Heart) Like A Cannonball" is a song about being direct. Instead of hearing things through the grapevine, relying on things secondhand, we can move with velocity like a cannonball and have an aim that is true. Despite cloud and rain, despite hard times, we can still keep singing our song and trust in what our heart knows.
In his song, Morrison sings "Doo do loo do do" and "La la ti da, la la ti da." This is part of a long tradition of nonsense syllables sung in popular songs. It gives our listening ears a break from making sense of the regular lyrics we are hearing. In 1952, there was a film titled Lili. It featured Leslie Caron who sang "A song of love is a sad song, Hi-Lili, Hi-Lili, Hi-Lo." The song "Hi-Lili, Hi-Lo" received the Oscar for Best Music, Scoring of a Dramatic of Comedy Picture on March 25, 1954. And on April 5, 1965, "Chim-Chim-Cher-ee" won the Academy Award for Best Original Song. In 1968, the Beatles "I Am The Walrus," was punctuated with the nonsense lyrics of ""goo goo g'joob." In addition, "I Am The Walrus" had psychedelic rock lyrics that were subject to wild interpretations.
At this time of writing, Van Morrison has 6 upcoming concerts between January and February, 2019.
Over the course of his career, Morrison has released 39 studio albums, 6 live albums and 71 singles. He has been quite prolific of late, releasing five albums in the past three years. His most recent album, You're Driving Me Crazy, was released in April 2018. It includes tunes from the Great American Songbook and a number of his own compositions.
December 3, 2018
Ray McGinnis
References:
Van Morrison biography, Van Morrison.com.
Brian Hinton, Celtic Crossroads: The Art of Van Morrison. (Sanctuary Publishing, 1997).
Peter Mills, Hymns to the Silence: Inside the Words and Music of Van Morrison. (Continuum, 2010).
"Play Doesn't End With Childhood: Why Adults Need Recess Too," NPR, Washington D.C., 2014.
"The Top 40 Hits," CKVN 1410 AM, Vancouver, BC, April 17, 1972.
For more song reviews visit the Countdown.