#1377: Lisa Listen To Me by Blood, Sweat & Tears
Peak Month: November 1971
6 weeks on CKVN chart
Peak Position #12
Peak Position on Billboard Hot 100 ~ did not chart
YouTube.com link: "Lisa Listen To Me"
Lyrics: "Lisa Listen To Me"
In 1941 David Thomsett was born in Surrey, England. He immigrated with his family to Willowdale, a suburb of Toronto, when he was six years old. Living with an authoritarian father who physically beat him as a routine way of punishing his son, David left home and began to live on the streets at the age of 14. This led to a few years of petty crime, being in and out of juvenile detention centers, the Millbrook Reformatory and subsequently the Burwash Industrial Farm, an agricultural setting established in the 1910s to rehabilitate prison inmates, and next house Japanese-Canadians during World War II. While in jail a battered, old mail-order guitar was left to him by an outgoing inmate. It was then Clayton-Thomas discovered a talent for music that allowed him to believe in a different kind of life.

At the age of 18 he made his debut on stage in 1963 as Sonny Thomas at the Bluenote Club in Toronto. Ronnie Hawkins, a Canadian rockabilly artist who had modest success with hits in the late 50s ("Mary Lou") took "Sonny Thomas" under his wing. With Hawkins encouragement Thomas grew in skill and confidence. In 1964 he changed his name to David Clayton-Thomas and his band settled on the name The Shays. Their debut single was a tune by blues artist John Lee Hooker called "Boom Boom" peaked at #16 on CHUM in Toronto. The version that charted in Vancouver was by The Animals and it peaked on CFUN in January 1965 at #9. David Clayton-Thomas and The Shays first hit on the Vancouver charts was on CKLG, "Take Me Back" which peaked at #20.
In 1966 Clayton-Thomas formed a new band called The Bossmen. They had a new jazz-tinged pop sound and grew a loyal following in New York City's Greenwich Village and Toronto's Yorkville clubs. The band's piano player, Tommy Collacott, had been the accompanist for Sarah Vaughan at Carnegie Hall when he was 14 years old. The Bossmen released an anti-Vietnam protest song called "Brain Washed". The track peaked at #8 in Vancouver, #2 at CJCA in Edmonton, #6 on CHUM in Toronto and #11 on nationally on Canada's RPM singles chart. However, the Bossmen had an unsuccessful tour across Western Canada and Clayton-Thomas left the group.
He next found himself performing at "basket houses" in Manhattan where new artists sang songs to their audience and then a basket was passed around to make donations to the performer. Concurrently, in 1967, a new band had formed in New York City called Blood, Sweat and Tears. By 1968 they were looking for a new lead singer and were considering the lead singer for the recently disbanded Box Tops, Alex Chilton, whose vocals were heard everywhere in the summer of 1967 on their #1 hit "The Letter" Folk singer Judy Collins had seen Clayton-Thomas perform at one of the basket houses and was so impressed and moved by his performance that she told members of Blood, Sweat and Tears about him. At her insistence, Blood, Sweat & Tears guitarist Steve Katz and drummer Bobby Colomby went to see Clayton-Thomas in concert. They were so amazed that they asked David to front the band as lead singer.
Steven Katz was born in Brooklyn in 1945. In the late fifties Katz was on a Schnectady, New York, television show called Teenage Barn. In the early sixties he moved to Greenwich Village, the heart of the folk music scene. In 1963 he joined the Even Dozen Jug Band, along with fellow musicians Maria D'Amato (later pop singer Maria Muldaur) and John Sebastian (later of the Lovin' Spoonful). The band appeared twice at Carnegie Hall in Midtown Manhattan. From there Katz moved on to join the Blues Project, a band that played at the Monterey Pop Festival in June 1967. Katz went on to become a founding member of Blood, Sweat & Tears.
Bobby Colomby was born in 1944 in Manhattan. He earned a degree in Psychology before pursuing a career in music. David Bergeron was born in 1942 in a small town in northwestern Massachusetts. Jim Fiedler was born in Denton, Texas, in 1947. He was a member of the Mothers of Invention in 1966. And later in 1967 Fiedler was a studio musician with Buffalo Springfield. Richard Bernard "Dick" Halligan was born in 1943 in Troy, New York. He was a founding member of Blood, Sweat & Tears. Fred Lispsius was born in the Bronx in 1943. He played alto saxophone with Canadian bandleader Ronn Metcalfe's Orchestra before joining Blood, Sweat & Tears in 1967. Lewis Michael Soloff was born in Brooklyn in 1944. In 1960 he began to play trumpet and fluegelhorn professionally, and worked with Tito Puente, Maynard Ferguson and Machito.
Blood, Sweat and Tears next released a self-titled second album featuring Clayton-Thomas on lead vocals. His treatment of "You've Made Me So Very Happy", "Spinning Wheel" and "And When I Die" all shot to #2 on the Billboard Hot 100. They peaked on CKLG sequentially at #2, #18 and #5.
With its record sales successes Blood, Sweat and Tears headlined at major venues around the world including Royal Albert Hall, the Metropolitan Opera House, the Hollywood Bowl, Madison Square Garden, and Caesar's Palace. They also performed in 1969 at the Newport Jazz Festival and Woodstock. They were the first rock 'n roll band to play behind the Iron Curtain in Soviet Eastern Block countries, with the historic United States Department of State-sponsored tour of Eastern Europe in May and June 1970. With Blood, Sweat and Tears Clayton-Thomas lived on the road traveling across Europe, Australia, Asia, South America, the US, and Canada.
In the fall of 1971 the band released "Lisa, Listen To Me". The song climbed to #5 in Grand Rapids, (MI) and Akron (OH). One of its best chart runs was in Vancouver at #12.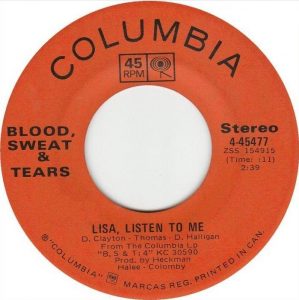 "Lisa Listen To Me" is a haunting song about a girl named Lisa. When she was younger she met a man who "took her" and all she could do was pray. The experience of being with this man left her "all alone," "unprepared" and "running scared." Then she subsequently meets a man who offers her gentle words she had never heard before. The antonyms for the word "gentle" include cruel, harsh, agitated, callous, violent, mean, hateful, severe, rough, merciless, severe and unkind. From this we know the first man was not gentle with her verbally, and implicitly physically, as she was running scared. And so was "everyone she knew." What must it have meant for this "girl," Lisa, to be part of a cohort who were all running scared? What would it be like for Lisa and her peers to only know the need to flee from men they are scared of? In the aftermath of her experience with the first man Lisa had been silent for too long. She was unable to speak about her previous experience. What are the experiences in life that leave a person unable to speak about what has happened to them? Trust is now an issue for Lisa. But along comes a second man into Lisa's life who offers her gentle words. He seeks to assure Lisa that she can speak to him about whatever she needs to unburden herself from. The tale is one of chance as "she found him or maybe he found her." They were fortunate to cross paths and find comfort in each other and a space for deep listening.
Implicit in "Lisa, Listen To Me" is the matter of violence against women. But in 1971 this was a difficult topic to raise in public, including in lyrics in a pop song. According to Del Martin's book, Battered Wives, an October 1968 Harris poll of 1,176 American adults found that 20 percent approved of slapping one's spouse on "appropriate occasions." "Lisa, Listen To Me" was on the pop charts four years before Susan Brownmiller published her bestselling book, Against Our Will: Men, Women and Rape. That book is credited with changing the conversation in North America about rape and violence against women. Even in 1982 in the Canadian Parliament, when MP Margaret Mitchell said that "one in 10 Canadian husbands regularly beat his wife," the male MPs erupted, laughing and shouting. She told the honorable members "This is no laughing matter." So how closely were radio listeners taking in the lyrical nuances of "Lisa, Listen To Me", back in 1971? How many could identify with Lisa, who found herself "running scared," moving out of her regular accommodation, and away from a man she had met to seek shelter elsewhere?
From the autobiography of David Clayton-Thomas, one of the songs' co-writers, we know that he was raised by a violent and abusive father. Clayton-Thomas experienced severe beatings from his martial-arts policer officer father, a man hardened by the horrors of World War II. As a boy, David ran away from home on multiple occasions until he left home for good to live on the streets of Toronto at the age of fifteen. It's likely he met young teenage girls on the streets of Toronto who were living on the streets because they'd also fled the violence of their family home, or accommodation they'd shared with an abusive boyfriend. Clayton-Thomas' own experience of domestic violence as a son from a father adds a layer of authenticity and compassion in the voice of the singer-songwriter in studio recording of "Lisa, Listen To Me". While others may have thought of writing lyrics touching on this taboo topic in 1971, no one else did.
In the classic rock 'n roll era, "Getting Better" by The Beatles, from the 1967 Sgt. Pepper's Lonely Hearts Club Band album, is one other example of a song that raised the matter of violence against women. The lyrics were set to an upbeat melody: "I used to be cruel to my woman, I beat her and kept her apart from the things that she loved/Man, I was mean but I'm changing my scene and I'm doing the best that I can…"
While "Lisa, Listen To Me" was charting in Vancouver, Blood, Sweat & Tears performed in concert on November 7, 1971, at the Agrodome.
Between 1968 and 1980 Blood, Sweat & Tears released 18 singles, ten of which charted on the Billboard Hot 100. Along with David Clayton-Thomas, the line-up for Blood, Sweat & Tears recording "Lisa, Listen To Me" was stellar. Bobby Columby was Blood, Sweat & Tears drummer, percussionist and a backing vocalist. He went on to produce Jaco Pastorius' debut self-titled jazz fusion album in 1976 and The Jackson's 1978 album, Destiny, featuring the hit single "Shake Your Body (Down to The Ground)." Columby maintains ownership of the Blood, Sweat & Tears name, but does not play in the current line-up of eight musicians who still tour as Blood, Sweat & Tears.
Steve Katz was a member of The Blues Project, Along with Columby, he was one of the founding members of Blood, Sweat & Tears. He contributed his talents on guitar, harmonica, flute, mandolin and vocals. After he left the band he produced two albums for Lou Reed. Katz went on eventually to become vice-president of Mercury Records.
Fred Lipsius was on alto saxophone and piano with the band from 1967 to 1971. He performed on other recordings for Janis Joplin, Simon & Garfunkel, Thelonius Monk, Cannonball Adderley and others. Lipsius has authored six books on music improvisation and teaches at Berklee College of Music in Boston.
Dick Halligan keyboards, trombone, horns, flute and backing vocals. He wrote "Lisa, Listen To Me". After he left the band in 1972, Halligan composed and arranged music for a number of motion pictures, including Go Tell the Spartans (1978), the Chuck Norris films A Force of One (1979) and The Octagon (1980), Cheaper to Keep Her (1981) and Fear City (1984).
Prior to joining Blood, Sweat & Tears, Jim Fielder was a member of The Mothers of Invention and then Buffalo Springfield. A bass player, after leaving Blood, Sweat & Tears in 1974, Fielder went on to be a session musician and currently is a member of the backing band for Neil Sedaka.
Lew Soloff is a trumpet and flugelhorn player who was in Blood, Sweat & Tears from 1968 to 1974. Prior to joining the band he worked with Canadian bandleader Maynard Ferguson, Tito Puente and others. For nearly three decades Soloff was a member of the Manhattan Jazz Quintet and the Mingus Big Band.
Dave Bargeron is a tuba, horn, trombone, bass player and backing vocalist for Blood, Sweat & Tears from 1970 to 1978. He played on eleven of the bands albums. Since 1972 he has been a member of the New York City based Gil Evans Orchestra, along with former BS&T bandmate, Lew Soloff. Bargeron has recorded with Billy Joel, Paul Simon, Mick Jagger, James Taylor, Eric Clapton and others. He has been a longtime member of the Jaco Pastorius Word of Mouth Band, and currently is a member of the Swiss based George Gruntz Concert Big Band.
Another band member who was on the recording for "Lisa, Listen To Me" was Chuck Winfield on trumpet, flugelhorn and backing vocals (1968–1973). He went on to become a professor and was teaching as recently as 2008 in the Music Department at the University of Maine in Augusta, Maine.
April 29, 2017
Ray McGinnis
References:
Blood, Sweat and Tears. Penguin Books, Toronto, Ontario, 2010.
"Blood, Sweat & Tears' Jim Fielder Keeps the Faith," Goldmine Magazine, March 22, 2010.
Keith Sharp, Freed From a Legacy, Music Express, May 22, 2013.
Dave Bargeron Official website ~ bio
Sacha Cohen, "How A Book Changed The Way We Talk About Rape," Time, October 7, 2015
Bobby Columby ~ drummercafe.com ~ bio
Dick Halligan ~ Wikipedia ~ Bio
Steve Katz Official website ~ bio
Fred Lipsius Official website ~ bio
Martin, Del. Battered Wives. Pocket Books, New York, NY, 1976.
Lew Soloff Official website ~ bio
Nancy J. White, "MPs Laughed When She Spoke on Battered Women," Toronto Star, June 13, 2008
Chuck Winfield, Woodstock Whisperer, February 5, 2016.
"West Coast Music Survey," CKVN 1410 AM, Vancouver, BC, November 19, 1971.
For more song reviews visit the Countdown.