#219: Little Arrows by Leapy Lee
Peak Month: November 1968
9 weeks on Vancouver's CKLG Chart
2 weeks Hit Bound
Peak Position #1
Peak Position on Billboard Hot 100 ~ #16
YouTube: "Little Arrows"
Lyrics: "Little Arrows"
Graham Pulleyblank was born in Eastborne, East Sussex, England, in 1939. He began to sing in his teens and in the early 1960s took the stage name Leapy Lee. This was due to his first being nicknamed Leapy at school as "I was always a leaper."At the age of 22 he released a single titled "It's All Happening". However, the song was a commercial failure. Four years later he released a cover of the Elvis Presley tune "King Of The Whole Wide World."
Leapy Lee's career was drifting along with little notice, until he got some attention from his new manager Gordon Mills. One thing led to another, and Leapy Lee was persuaded to record a song called "Little Arrows".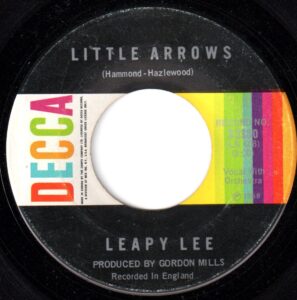 "Little Arrows" was cowritten by Albert Hammond and Mike Hazelwood. Hammond and Hazelwood cowrote "Make Me An Island" for Joe Dolan, a Top Ten hit in 1969 in Belgium, Ireland, the Netherlands, South Africa, and the UK. Next, the duo wrote "Gimme Dat Ding", a number-one hit for the Pipkins in 1970 in New Zealand, and a Top Ten hit in Canada, Ireland, the Netherlands, the UK and the USA. In 1972 the songwriting duo wrote a single Albert Hammond recorded titled "It Never Rains In Southern California". The single peaked at #1 in Japan, and the Top Ten in Canada, the Netherlands, New Zealand, Norway, Switzerland, the USA, and West Germany. "The Air That I Breathe" by the Hollies, an international chart-topping hit in 1974. Hammond and Hazelwood cowrote songs for other recording artists, including The Magic Lanterns, Cilla Black, Helen Reddy, The Fortunes, Cass Elliott, and Tom Jones. Hammond had ups and downs in his career, and briefly resorted to begging on the street corner in Gibraltar, before moving to London in the mid-60s. In 2005 Albert Hammond released his album, Revolution of the Heart. His son, Albert Hammond Jr., is a guitar player with the American rock 'n roll band the Strokes.
Albert Hammond Sr. latter told reporters that he "was working at the Chelsea Drug Store just doing dishes," when he wrote "Little Arrows". "Little Arrows" is a song about "a little boy shooting arrows." The little boy shooting arrows at everyone is Cupid, though his name isn't mentioned in the song. Cupid was originally the god Eros in Greek mythology, depicted as a slender young boy with wings. But in the height of the Roman Empire, Cupid was imaged as a chubby cherubic infant, or playful mischievous child. Both Greek and Roman legend depicted Cupid always with a bow and arrow which he used to shoot arrows of love wherever he wanted them to go. Some early artists pictured Cupid as being blindfolded, as the pairing of those in love often defied reason. According to Roman legend Cupid shot a golden arrow at Apollo, who fell madly in love with the nymph Daphne, but then launched a leaden arrow at Daphne so she would be repulsed by him.
In 1961 Sam Cooke recorded a song titled "Cupid" that included these lyrics in the chorus: ""Cupid Draw back your bow, and let your arrow go, straight to my lover's heart for me."
In Leapy Lee's "Little Arrows", once you've been hit by one of the little boy's arrows, they "hurt a little bit." You get arrows in your clothing, your hair, everywhere. And though some people put on armor, the arrows "run right through." With the onslaught of arrows coming out of the blue, those who are hit "keep falling in love again."
"Little Arrows" peaked at #1 in Vancouver (BC), Seattle, Winnipeg (MB), Minneapolis/St. Paul, Toronto, Orlando, Milwaukee, Oshkosh (WI), Fredericton (NB), Cincinnati, Battle Creek (MI), and Dayton (OH), #2 in Edmonton (AB), La Crosse (WI), Peterborough (ON), Hamilton (ON), Salt Lake City, York (PA), Allentown (PA), and Reading (PA), #3 in Calgary (AB), Worcester (MA), Springfield (MA), Nashville, and Grand Rapids (MI), #4 in St. Louis, Great Falls (MT), and Des Moines (IA), #5 in Akron (OH), Boston, Kansas City (MO), Salem (OR), and Easton (PA), #6 in Columbus (OH), #7 in New Haven (CT), and Hartford (CT), #8 in Easton (PA), and #9 in Spokane (WA), and Wilkes-Barre (PA).
Leapy Lee's followup single in early 1969, "Here Comes The Rain", was a Top Ten hit in Worcester (MA) and a #12 hit in Fredericton (NB). His next release, "Little Yellow Airplane" was a #3 hit in Smithers (BC) in May '69, #5 in Seattle in June of '69, and #1 in Johannesburg, South Africa, and #9 in Adelaide, Australia, in July 1969.
In early 1970, a minor hit with "Good Morning" – climbing into the Top 30 in Lethbridge (AB) and the Top 20 in Johannesburg – and a suitably broad show-business repertoire should have served Leapy Lee well. But his waywardness proved his undoing. Lee began drinking with East End villains and befriended starlet Diana Dors and her husband Alan Lake. One evening at a pub in Sunningdale, Berkshire, Lake and Lee were involved in a fracas during which a publican was slashed across the wrist with a flick knife. Leapy was arrested, charged and suffered the indignity of a three-year jail sentence. This seriously set back his career.
Decca Records tried to keep his career alive. In 1971 "I'll Be Your Baby Tonight" was a Top 30 hit in Milwaukee (WI). It was his eighth single release with Decca before the label dropped Leapy Lee. Two singles released on the MAM label in 1972 were commercial flops.
After being released from jail in 1973, Lee's manager Gordon Mills occasionally employed him as a producer. He released one last single in 1975 on the MCA label with no comeback.
Leapy Lee eventually left the UK to sing in bars in Majorca, Spain. Between 1999 and 2001, Leapy Lee and his family were featured a number of times on the BBC show Passport to the Sun. Around 2006, Lee was a regular columnist with the Euro Weekly News, an English language newspaper based on the Costa del Sol in Spain. In 2014 he appeared on the UK Channel 5 television show, OAPs Behaving Badly. According to Wikipedia, Leapy Lee ended his career as a performer in 2014. At this time of writing, Leapy Lee is 82 years old.
December 31, 2021
Ray McGinnis
References:
"Leapy Lee Biography," oldies.com.
Alexei Sayle, "The World According To Me – 'The Perfect Columnist is an Expat Singer with a Criminal Record and Views made for Drink-sozzled Costa Brits'," Independent, September 1, 2006.
"Albert Hammond," Wikipedia.org.
Alexis Petridis, "Like Father, Like Son," Guardian, May 2, 2005.
Prof. Geller, "Cupid," mythology.net, January 19, 2017.
"Boss 30," CKLG 730 AM, Vancouver, BC, December 1968.
For more song reviews, visit the Countdown.