#1107: This Little Bird by Marianne Faithfull
Peak Month: July 1965
6 weeks on Vancouver's CFUN chart
Peak Position #5
Peak Position on Billboard Hot 100 ~ #32
YouTube.com: "This Little Bird"
Lyrics: "This Little Bird"
Marianne Faithfull's story has been well documented, not least in her insightful 1994 autobiography Faithfull. She was born in December, 1946, in Hampstead, a borough of Greater London. In 1964 she began appearing at coffeehouses in London as one of the acts on stage. She showed up at a launch party for the Rolling Stones. At the event she met Andrew Loog Oldham, the Rolling Stones manager who was always on the lookout for new talent. Faithfull's career as the crown princess of swinging London was launched with "As Tears Go By". The song climbed to #9 in the UK and into the Top 30 in the USA and in Vancouver. At the time she was 16 years old. Her 1964 hit single was the first song ever written by Mick Jagger and Keith Richards. Two folk albums, two pop albums and a singles collection followed. Marianne Faithfull also embarked on a parallel career as an actress, both on film in Girl On A Motorcycle (1968) and on stage in Chekhov's Three Sisters (1967) and Hamlet (1969) By the end of the Sixties personal problems halted Marianne's career and her drug addiction took over.

Her early work was in folk music. Her album, Come My Way, featured her interpretations of "House of the Rising Sun," the 18th Century English folk ballad "Fare Thee Well Love", Ian Tyson's "Four Strong Winds" and the American folk tune "Portland Town". Her debut album, Marianne Faithfull, released the same day as Come My Way, included the folk tune by Malvina Reynolds, "What Have They Done To The Rain". Her follow up single was a cover of Bob Dylan's "Blowin' In The Wind." Her third single was the Jackie de Shannon composition "Come And Stay With Me". The song climbed to #26 on the Billboard Hot 100, #4 in the UK and #6 in Vancouver.
Faithfull's fourth single release was "This Little Bird".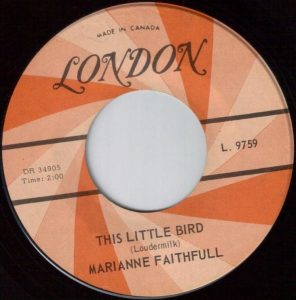 "This Little Bird" was a song written by singer-songwriter, John D. Loudermilk. Born in Durham, North Carolina, Loudermilk first got attention as the composer of George Hamilton IV's "A Rose And A Baby Ruth" back in 1956. Other notable hits he wrote for other recording artists include "Sittin' In The Balcony" (Eddie Cochran), "Angela Jones" (Johnny Ferguson), "The Great Snowman" (Bob Luman), "Ebony Eyes" (Everly Brothers), "Thou Shalt Not Steal" (Dick & Deedee), "Sad Movies (Always Make Me Cry)" (Sue Norman), "Talk Back Trembling Lips" (Johnny Tillotson), "Tobacco Road" (Nashville Teens) and "Indian Reservation" (Paul Revere & The Raiders). He also wrote a number of songs that charted successfully in Vancouver including "The Language Of Love" and "Road Hog".
"This Little Bird" was not a cheerful song. To observe birds is to know that most birds do touch the ground, to nibble and peck as some morsel to eat, or to splash and clean themselves. But the little bird in the song Marianne Faithfull sang about was perhaps too soon out of the nest and had a very short life. Noel Harrison recorded "A Young Girl" that would peak at #16 in Vancouver in January 1966, concluding with its tragic line "a young girl lying there by the road, dead." In the midst of many sunny tunes on the pop charts, there were a few reminding radio listeners that little birds die and young girls are found on side roads, dead. Perhaps existentialism was catching on in Vancouver causing a few "bummer" tunes to climb up the charts.
"This Little Bird" was Marianne Faithfull's third to reach the Top Ten in the UK. The song climbed to #6 on the British charts and #32 on the Billboard Hot 100. It peaked at #4 in Pontiac (MI), #5 in Vancouver, Denver and San Bernardino (CA), #6 in Los Angeles, and El Cajon (CA), #9 in Phoenix, Winnipeg (MB), and San Diego, #11 in Davenport (IA), and Detroit, #12 in San Jose (CA), and Seattle, and #13 in Akron (OH).
Marianne Faithfull scored another Top Ten hit in the UK and in Vancouver in 1965 called "Summer Nights." It climbed to #5 on CFUN, #10 in the UK and #24 on the Billboard Hot 100. But that would be her last hit in the Top 40 in the USA, and aside from her cover of the Beatles "Yesterday" which peaked at #36 in the UK, she was shut out of her home country too.
Perhaps her choice to record "This Little Bird" back in 1965 reflected a foreshadowing of her own awareness of her own dark side. By the late 60s Marianne Faithfull would begin a serious struggle with alcohol addiction. Into the early 70s she lived on the streets of London for several years, adding a suicide attempt and heroin addiction to her woes.
Faithfull emerged tentatively in 1976 with a country album called Dreamin' My Dreams. Though the album attracted little attention in the UK, it was a huge hit in Ireland, where the title track spent 7 weeks at number one. This led to Marianne going back on the road for the first time in a decade. However, it was her furious re-surfacing on new wave album, Broken English, in 1979 that definitively brought her back. The innocent pop persona created around her in the Sixties was shredded. Now she sang songs like "The Ballad of Lucy Jordan" about the mental deterioration of a suburban housewife. Faithfull became a kind of oracle, and the artist people turned to, to lead them through dark times. Her title track from the album, "Broken English" climbed to #6 in Vancouver in 1980 and also the Top Ten in Ottawa and Montreal, a feat only equalled on the national pop charts in France (#8).
Further new wave explorations followed with Dangerous Acquaintances (1981) and A Child's Adventure (1983). Her single second single release from her album Dangerous Acquaintances, "Sweetheart", crossed into the bottom of the Top 30 in Belgium. It got some airplay in France and climbed to #69 on the Australian charts. It did not break into the Billboard Hot 100 or the Canadian RPM singles chart. However, in Vancouver it spent seven weeks on the local charts and peaked at #15.
Over five decades Marianne Faithfull has released over twenty albums. She has starred in over twenty TV & movie productions and in over ten theatre productions. Though her downward spirals in the late 60s and into the 70s got her a lot of bad press, Marianne Faithfull has been more than a survivor. This little bird, Marianne Faithfull, has faced her demons and lived to recreate her life again and again. In 2000, Faithfull published her autobiography.
April 26, 2017
Ray McGinnis
References:
Angela Neustatter, "Marianne Faithfull: It Wasn't Just Mick Jagger Who Couldn't Get Satisfaction," Telegraph, September 9, 2013
Faithfull, Marianne and Dalton, David. Faithfull: An Autobiography. Cooper Square Press, 2000.
Jenny Johnston, "The Life, Loves and Hell of Marianne Faithfull," Daily Mail, April 8, 2007.
Dave Simpson, "I Don't Think I Had Any Choice But To Be Decadent," Guardian, January 10, 2013.
"C-FUNTASTIC FIFTY," CFUN 1410 AM, Vancouver, BC, July 10, 1965.
For more song reviews visit the Countdown.