#185: Little Green Bag by George Baker Selection
Peak Month: May 1970
10 weeks on Vancouver's CKLG chart
1 week Hit Bound
Peak Position #1 ~ CKVN
Peak Position on Billboard Hot 100 ~ #21
YouTube: "Little Green Bag"
Lyrics: "Little Green Bag"
Hans Bouwens was born in December 1944 in Hoorn, North Holland, the Netherlands. He was born to a single mother. Months before Bouwens was born, his father, Peppino Caruso, a former Italian soldier from Calabria put to labor by the Germans in nearby Grosthuizen, had been killed while attempting to escape when he was to be transferred to Germany. Bouwens was raised by his mother and his grandparents. He sang and played guitar in a schoolband (The Jokers) with Bob Ketzers, but at the age of 14 he left school and took jobs unloading ships on the Zaan and eventually as a factory worker at a lemonade factory. In 1961, he took the stage name "Body" and formed the band Body and the Wild Cats, with Bob Ketzers and his brother Ruud as well as Gerrit Bruyn on bass, all from Wormerveer.
In 1968, Hans Bouwen joined the band, Soul Invention. This was a soul band that had been founded the previous year by Henk Kramer in Assendelft. Soul Invention played covers of songs by Otis Redding and Sam and Dave. The band consisted of Job Netten (guitar), Henk Kramer and Eric Bardoen (saxophone), Jacques Greuter (keyboard and flute), Theo Vermast and later Jan Visser (bass), and Ton Vredenburg (drums). Visser and Bouwens wrote the song "Little Greenback" (sic) in the summer of 1969. The band recorded their first album in September 1969, after which, considering this was no soul music, they changed their name to The George Baker Selection. Bouwens named the band after a character from a detective novel.
The original title track from the band's debut album was "Little Greenback". This was in reference to the color of the United States dollar, and the popular Greenback nickname. However, the single was given the erroneous title "Little Green Bag".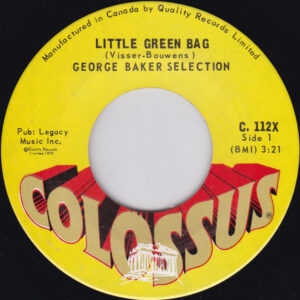 The shift from "Little Greenback" to "Little Green Bag" is a mondegreen, a mishearing or misinterpretation of a phrase in a way that gives it a new meaning. Mondegreens are most often created by a person listening to a poem or a song; the listener, being unable to clearly hear a lyric, substitutes words that sound similar and make some kind of sense. And in the case of "Little Green Bag", this is what many people were hearing when they first heard the George Baker Selection's "Little Greenback" live or in its first pressing. And so "Little Green Bag" became the song title.
The lyrical phrasing of the original make it clear "greenback" was the original word, and not "green bag." The George Baker Selection sang "Lookin' back on the track, for a little greenback." Nonetheless, the mondegreen prevailed. And so "Little Green Bag" became the song title.
Some DJs in the USA refused to play the song which they took to be referring to a "bag of marijuana". The lyrics of the song adds to the belief that it's about marijuana, since it describes quite similarly the confusion of trying to find the bag, which is a common thing marijuana smokers experience.
The song lyrics with the revised "bag" in place of "back," explain the motivation for obtaining the item: "Got to find just the kind for losin' my mind." Perhaps, originally, the guy is going to find some money and get drunk in a bar. But, with a "little green bag," his aim to lose his mind was assumed to mean he wanted to get stoned.
In a very upbeat major key, the George Baker Selection sing "Looking for some happiness, but there is only loneliness to find." He looks for happiness to his left, to his right, upstairs and behind himself.
"Little Green Bag" peaked at #1 in Vancouver (BC), Fresno (CA), Windsor (ON), Detroit, and Toledo (OH), #2 in Columbus (OH), Boston, Oklahoma City, Calgary (AB), Edmonton (AB), and San Bernardino (CA), #3 in Victoria (BC), Chicago, Toronto, Clarksburg (WV), and Memphis, #4 in Cleveland, Birmingham (AL), Sioux Falls (SD), Orlando, Salt Lake City, and Los Angeles, #5 in Allentown (PA), Hamilton (ON), Grand Rapids (MI), Des Moines (IA), and Phoenix, #6 in Kalamazoo (MI), Jackson (MI), #7 in Cranbrook (BC), #8 in Peoria (IL), Huntsville (AL), and Kingston (ON), #9 in Monterey (CA), Tulsa (OK), Syracuse (NY), and Fort Lauderdale, and #10 in Miami and Rochester (NY).
Internationally, "Little Green Bag" climbed to #3 in Belgium, and #9 in the Netherlands.
A followup released, "Dear Ann", charted in Chilliwack (BC). Climbing to #2 in the Netherlands, "Dear Ann," was such a success that Baker resigned from his job in the lemonade factory and became a full-time musician. In the next five years, the George Baker Selection had over ten Top Ten hits in various countries in continental Europe. Most of these were in the Netherlands, but they were also hitmakers in Poland, and in New Zealand.
In 1976, the George Baker Selection was topping the charts in Vancouver with "La Paloma Blanca". The single sold over seven million records, topping the pop charts in Austria, Belgium, Finland, the Netherlands, New Zealand, Norway, South Africa, Sweden, Switzerland, and West Germany. It also peaked at #2 in Australia and Spain, and #10 in Italy and the United Kingdom.
After selling twenty million records from 1970 to 1978, the George Baker Selection split up. The pressure of performing caught up with them. For the next seven years George Baker (aka Hans Bouwens) released five solo albums. In 1983 the band released a studio album titled Paradise Island. And in 1985, Bouwens reformed the George Baker Selection. They released over seven more albums into the late 80s.
In 1992 "Little Green Bag" was included in the film Reservoir Dogs. The exposure took "Little Green Bag" to number-one in Japan. It was also featured that year in a Chilean soap opera.
March 21, 2022
Ray McGinnis
References:
"George Baker Biography," George Baker.com.
"The Story Behind 'Little Green Bag' by George Baker," Muzikexpress, July 27, 2018.
"Your Average Rock & Roll Radio Survey," CKVN 1410 AM, Vancouver, BC, May 8, 1970.
For more song reviews visit the Countdown.