#1063: Little Lover by Joel Hill & The Strangers
Peak Month: November 1960
9 weeks on Vancouver's CFUN chart
Peak Position #11
Peak Position on Billboard Hot 100 ~ did not chart
YouTube.com: "Little Lover"
Joel Scott Hill played a mean electric guitar. A native of Naples, in eastern Texas, he moved to the Linda Vista district of San Diego, California, when he was eight. He picked up his first guitar a few years later and had a band by 1956 while still in high school. His cousin, Jeanette Hicks, had been working steadily as a country singer, recording for Okeh Records and performing throughout the south where she scored one hit, "Yearning", a duet with George Jones on the Starday label in 1957. On a summer visit back home, Joel headed to Shreveport, 90 miles east of Naples. He had sharpened his six-string expertise well enough that Jeanette put him to work playing lead guitar during one of her appearances on the syndicated radio and TV show The Louisiana Hayride. It was an exciting professional debut for the teenager. Johnny Cash and Johnny Horton were also featured performers that night.
When Joel returned to San Diego he started a new band. Calling themselves the Rebels, the group found steady work in 1957 and '58, often playing rock and country songs for servicemen in the San Diego area. The exposure led to one recording session for Hollywood, California's Era Records. The result was a vocal performance of "Marathon Rock" that the label didn't bother to release.
Hill's friend from high school, Jim Lee, became their manager in 1958 about the time they changed the band's name to The Strangers. Lee got them in the door at Titan Records, an independent L.A. startup. A couple of hot instrumentals were improvised in the studio by the band, the most promising a rockin' tune they called "The Cockroach Crawl." Titan Records didn't like the title, so it was changed to "The Caterpillar Crawl". The two minute track was a slow-burning scorcher, taking '50's rock to a level only Link Wray had attained. Hill could really bend a note, his guitar work reverberating to the point of momentarily turning a transistor radio into a vibrator.
"Caterpillar Crawl" took off in Southern California in the summer of 1959 and caught on in several radio markets climbing to #12 in Los Angeles and #11 in Kansas City. At the same time it reached the top 50 nationally, mostly on the strength of sales and airplay in the western states. The instrumental band released three more singles in 1959-60 to dismal record sales. Then a pop-rock vocal single was pressed in limited numbers on the Trans American label in the fall of 1960. "Little Lover" was credited to Joel Hill with the Strangers. While it didn't chart in the USA, it peaked at #11 in Vancouver. The vocal sounded similar to "Ally Oop", a #1 hit in 1960 by the Hollywood Argyles.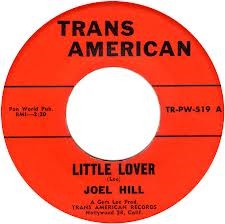 My little lover she has gone away,
I wonder just how long she plans to stay?
Or if she's ever coming back at all?
Oh little lover won't you hear my call?
Oh little lover, little lover, where are you?
It seems like it was only yesterday,
I heard my little lover to me say,
"I love you darling 'til the day I die,"
I guess my little lover told a lie.
Oh little lover, little lover, where are you?
I've looked for little lover high and low,
I can't imagine where that girl would go.
I checked the diner and the soda shop,
the downtown movie and the record hop.
Oh little lover, little lover, where are you?
I thought that everything was swinging right,
the way she held me in her arms last night.
I guess I'm just a fool who'll never learn,
because I'll sit and wait for her return.
Oh little lover, little lover, where are you?
Oh little lover, little lover, where are you?
Where are you?
Ah, way out man.
In "Little Lover" we have a tale of romantic anxiety. The guy in the song is worried that his girlfriend has left town. He doesn't know how long she plans to be away, when, or if she'll be coming back. A listener to the song, by the end of the first verse, could be forgiven for assuming that she may have indeed been gone for some time.
The second verse sets the listener up for such an expectation:
It seems like it was only yesterday,
I heard my little lover to me say,
"I love you darling 'til the day I die,"
I guess my little lover told a lie.

The guy searches for her at a local diner, a soda shop, downtown movie theatre and a record hop. But she's nowhere to be found. However, in the final verse we learn that it didn't seem like only yesterday that his little lover said "I love you darling 'til the day I die." In fact, it was only the night before that she held him in her arms. So "Little Lover" either caught a midnight train or bus, or went away on the same day that her boyfriend is now anxiously waiting for her return. If there had been an answer song composed in response to "Little Lover", those lyrics might have had someone ask the boyfriend exactly how long "Little Lover" has been gone? Chances are the answer is twelve hours or less. Presumably, "Little Lover" has parents in town and the boyfriend, if he was truly worried, could go and ask her folks if they know when she planned to return home.
But in 1960 rock 'n roll lyrics didn't need to offer a totally coherent plot. Years later in 1989 the Fine Young Cannibals had a #1 hit called "Good Thing". In "Good Thing" it's clearer the partner has left and the sense of loss is more credible. It isn't due to anxiety over a girlfriend's very short absence since a previous night of romance as reflected in "Little Lover".
After the Strangers disbanded, Joel Scott Hill did some session work for Kathy Young and the Innocents and Chris Montez. Next, Hill got a backing band called The Invaders. They were an opening act for a Rolling Stones concert in Balboa Park, San Diego on November 1, 1964. Hill went to join the San Francisco band, Moby Grape, who released two minor singles "8:05" and "Omaha" in 1967. He continued in the music business eventually joining Canned Heat from 1970-72 after Alan "Blind Boy" Wilson overdosed in September 1970. Hill was part of Canned Heat's tours that fall to Australia and Europe, playing their hits "On The Road Again" and "Going Up The Country" to rave reviews. Meanwhile, Hill teamed up with bass player and pianist, Chris Etheridge, and drummer, Johnny Barbata, to form the band LA Getaway. This blues-rock band made one rockin' yet overlooked album in 1971. In the 1980's Joel Scott Hill played in a band named Sierra.
June 16, 2017
Ray McGinnis
References:
Joel Scott Hill, San Diego Reader, November 1, 2012.
Hill, Joel Scott (19 August 1938 – Present), Feenotes.
Canned Heat bio, Canned Heat.com
Michael Jack Kirby, The Strangers: The Caterpillar Crawl, Way Back Attack.com.
"C-FUN-Tastic 50," CFUN 1410 AM, Vancouver, BC, November 5, 1960.
For more song reviews visit the Countdown.