#1102: Little Man by Sonny & Cher
Peak Month: October 1966
5 weeks on Vancouver's CKLG chart
Peak Position #3
Peak Position on Billboard Hot 100 ~ #21
YouTube.com: "Little Man"
Lyrics: "Little Man"
In November 1962, in a coffee shop in Los Angeles, sixteen year old Cherilyn Sarkisian met twenty-seven year old Salvatore Bono. At the time Bono was employed at Gold Star Studios in Hollywood working for record producer Phil Spector. Cher began to work as a back up singer for Phil Spector including on "Be My Baby" for the Ronettes in 1963, and "You've Lost That Lovin' Feeling" for the Righteous Brothers, recorded in November 1964. Meanwhile, Sonny & Cher released several singles under the billing, Caesar and Cleo, including "The Letter" which made the Top 40 in Los Angeles. In the fall of 1964 they released the single, "Baby Don't Go" under the billing Sonny & Cher. It was a regional hit that fall peaking at #2 in San Bernardino, #5 in Honolulu, #7 in Los Angeles and #14 in San Francisco. The song would chart again in the fall of 1965, after their #1 hit that summer, "I Got You Babe".

Cher was born in El Centro, California, in 1946, and Sonny was born in Detroit, Michigan, in 1935. Cher's mother, Georgia Holt, was in and out of marriages throughout her childhood. In order to make ends meet Holt worked as a waitress in Los Angeles and got some acting parts in Hollywood. She got Cher and her sister some parts, including appearances on The Adventures of Ozzie and Harriet. Cher was entranced with Audrey Hepburn in the movie Breakfast at Tiffany's. Hepburn's character, Holly Golightly, influenced Cher's fashion choices and stage presence. She quit school and left home at age sixteen in search of fame. Sonny Bono's family moved to Inglewood, California, when he was seven. By the time he was 22 years old he was writing songs including "You Bug Me, Baby", a minor hit for Larry Williams in 1957.
Between the summer of 1965 and the spring of 1966 Sonny & Cher had charted five singles into the Billboard Hot 100 Top 20. In addition, Sonny Bono had a Top Ten hit with "Laugh At Me," while Cher had two hits in the Top 20, including "Bang Bang (My Baby Shot Me Down)", peaking at #2 on the Billboard Hot 100 and #1 in Vancouver.
Their third studio album, In Case Your In Love, was released in 1967, though the first single, "Little Man," was released in the fall of 1966. In September 1966 the Sonny & Cher began an extensive tour of Europe. However, there were no new songs to showcase on the tour. Consequently, when they were in London they recorded the vocals for the backing track they had brought along and "Little Man" provided them with their biggest hit in continental Europe. Its continental flavor, with Greek and gypsy overtones, struck an immediate chord combined with numerous television appearances all over Europe. It climbed to #1 in The Netherlands and held the spot for six weeks. Sweden and Belgium were among the other countries that the song climbed to #1, while in peaked in Germany at #2 and the UK at #4. The song was written by Bono and became a signature of the duos sound along with hit singles for Cher: "Bang Bang (My Baby Shot Me Down)", "Gypsies, Tramps And Thieves" and "Dark Lady". In the USA "Little Man" stalled at #21 on the Billboard Hot 100, but climbed to #3 in Vancouver.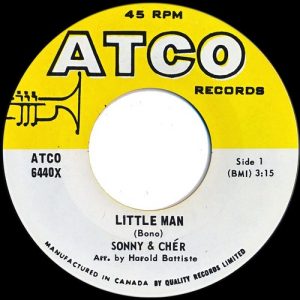 "Little Man" concerns a recognition by his "little girl" (woman), that she feels confident with him and imagines they can do anything, including catching the sun. If there's a place called "make believe" its found in the face of the "little man." The "little girl" has put the "little man" in the center of her world, as Cher sings "You and me is what I see, and that's the way its gonna stay and it will always be./ So little man, please understand, that in this world with all its land, you're all I see." For Sonny's part he sings to the "little girl" inviting her to catch his hand (as a sign of their being an item) and to come close to him, acknowledging that he hears her singing: is in harmony with her song metaphoricaly.
In the mid-60s it was not unusual for songs and song titles to refer to women as girls. The Syndicate of Sound had a #4 hit in Vancouver in July 1966 called "Little Girl", about a female who, from the perspective of the guy singing the song, is dating other guys contrary to his assumptions about the arrangement they had. Sandy Posey had a #5 song in January 1967 in Vancouver called "Single Girl" about a lonely female living on her own (no longer reliant on her parents for accommodation) who hasn't met a guy to go steady with. And Van Morrison had a song called "Brown Eyed Girl." In each case the song seemed to be about females old enough to date and make decisions for themselves. However, this didn't mean that a song title with the word "woman" signaled an evolving view of females. In "Born A Woman" Sandy Posey also sang in 1966 "It doesn't matter if you're rich or poor, or if you're smart or dumb/A woman's place in this old world is under some man's thumb." Perhaps it was an acknowledgment that, at the time, more than equal pay for equal work was in need of being sorted out between the two sexes.
In 1967 Sonny & Cher released "The Beat Goes On" from their third album. Singing in the music video in their mink coats, the song cataloged the unfolding pace of life, how things change and how things stay the same. The song climbed to #4 in Vancouver in January. They had a four year break from releasing singles. In 1971 The Sonny & Cher Comedy Hour debuted that summer. On the strength of their ratings they were able to get two more hits in the Top Ten in 1972, "All I Ever Need Is You" and "A Cowboys Work Is Never Done". Cher had a number of #1 hits including "Half Breed". Their divorce proceedings in 1974 led to the cancelation of the show and they divorced in 1975. Neither of them had any solo hits of any consequence, though Cher had a disco hit in 1977 called "Take Me Home".
Sonny Bono appeared in TV shows Fantasy Island, Love Boat and The Golden Girls. He starred in a number of movies including in 1982 Airplane II The Sequel. In 1988 Bono became Mayor of Palm Springs, California, a post he held for four years. In 1991, Sonny authored a memoir titled And The Beat Goes On. He went on to become a member of the U.S. Congress from 1995 to 1998 when he died on January 5th from a skiing accident.
Cher enjoyed a resurgence as a Top Ten recording artist from the late 80s into the late 90s. Her biggest all-time hit was in 1998 with "Believe", which sold over ten million records and peaked at #1 in 23 countries. In addition to her discography, Cher has starred in seventeen films. Of these she has been nominated (but never won) numerous times in recognition of her acting roles: Best Supporting Actress for Come Back to the Five and Dime, Jimmy Dean, Jimmy Dean (Golden Globe Award ~ 1982); Best Supporting Actress for Silkwood (Golden Globe Awards and Academy Awards); Best Actress for Mask (Golden Globe Awards ~ 1985) and Best Actress for Moonstruck (Golden Globe Awards and Academy Awards ~ 1987).
In 2017 a play called The Cher Show, about Cher's life, began to be workshopped with staged readings in January 2017. In June 2018, The Cher Show was being previewed in Chicago. Meanwhile, the rights to publish her memoir were won by HarperCollins in the fall of 2017.
May 2, 2017
Ray McGinnis
References:
Krista Smith, Forever Cher, Vanity Fair, November 24, 2010
Adam Hetrick, Cher Musical Sets Director Ahead of January Staged Reading, Playbill, November 16, 2016.
Chris Jones, "Cher sneaks into Chicago. And what does she think of 'The Cher Show'?," Chicago Tribune, June 25, 2018
Rachel Deahl, HarperCollins Wins World Rights to Cher Memoir, Publishers Weekly, October 12, 2017
Bono, Sonny. And The Beat Goes On. Pocket Books, 1991.
"Boss 40," CKLG 730 AM, Vancouver, BC, October 15, 1966.
For more song reviews visit the Countdown.