#624: Little Miss Stuck-Up by The Playmates
Peak Month: March 1961
8 weeks on CFUN's Vancouver Chart
Peak Position ~ #4
Peak Position on Billboard Hot 100 ~ #70
YouTube.com: "Little Miss Stuck Up"
Lyrics: "Little Miss Stuck Up"
The Nitwits were a vocal group that began performing in Waterbury, Connecticut, in 1952. They were a trio consisting of Chic Hetti (born Carl Cicchetti) on piano and lead vocals, drummer and vocalist Donny Conn (born Donald Clapps), and Morey Carr (born Morey Cohen) on vocals and bass. All three were born in the Waterbury area. Each had attended the University of Connecticut in the early 50's and decided to form a comedy group that also sang songs. They toured lounges in the USA and Canada. Their routine and material resembled another vocal group from the mid-50's into the early 60's named the Four Preps. Over five years of touring, the Nitwits shifted their focus from comedy skits with songs to being primarily a vocal group with comedic banter between tunes. In the spring of 1957, the Nitwits got a contract with Roulette Records, becoming the labels first vocal group. They changed their name from the Nitwits to the Playmates. In the middle of the calypso craze, they released an album titled Playmates Visit the West Indies. In 1958 they had a #4 novelty hit called "Beep, Beep." The group appeared on the Milton Berle Show in December. The single was their third Top 30 record. Since the song mentioned the Nash Rambler in the lyrics, it created a bump in sales for that model. "Beep Beep" sold a million records and got The Playmates many invitations to tour around the USA and Canada. From 1958 to 1962 they charted ten songs on the Billboard Hot 100.
The Playmates appeared on American Bandstand on May 24, 1958, and June 4, 1960. In the summer of 1959, the Playmates had another Top 30 hit titled "What Is Love?" The song's answer was found in the lyrics: "five feet of heaven and a pony tail." Their next four single released got little attention, although "On The Beach" made the local Vancouver charts for a few weeks in the winter of 1959. After four commercial flops, The Playmates released "Wait For Me". After "Wait For Me", The Playmates had another Top Ten hit in Vancouver titled "Little Miss Stuck-Up", which peaked at #4.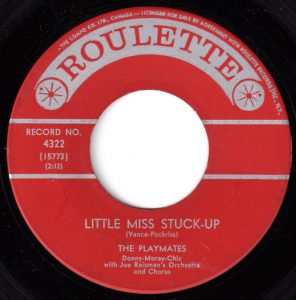 Like their earlier hit, "Wait For Me", "Little Miss Stuck-Up" was co-written by Paul Vance (born Joseph Paul Florio) and Lee Pockriss. Together they wrote a number of hit songs including "Catch A Falling Star" (Perry Como – 1957), "Itsy Bitsy Teenie Weenie Yellow Polka Dot Bikini" (Brian Hyland – 1960), "Tracy" (the Cuff Links – 1969) and "Playground in My Mind" (Clint Holmes – 1972). Pockriss also wrote "Johnny Angel", a hit for Shelley Fabares in 1962. "Itsy Bitsy Teenie Weekie Yellow Polka Dot Bikini" was actually inspired by Paul Vance's shy 9-year old daughter, Paula, and an actual incident at a beach locker. Lee Pockriss went on to write the theme songs for the 1961 film One, Two, Three, the 1964 film The Subject Was Roses, and the 1966 film, Stagecoach. In later years Pockriss wrote a number of compositions for the TV series, Sesame Street. Vance and Pockriss also wrote a parody of the Shangri-Las' 1964 #1 hit, "Leader Of The Pack". Their Top 30 rejoinder was titled "Leader Of The Laundromat", recorded by The Detergents.
"Little Miss Stuck-Up" is about a girl who goes to school and wears "the tightest little skirt" you'd ever see in the schoolyard. She also wiggles when she walks in a way that sends the guy in the schoolyard in a spin. He decides right away that he's going to make her "belong" to him. However, there's just one problem. Whenever she walks by she has her nose in the air. He always says "hello." But he gets the feeling that she doesn't know he "cares" about her. Chances are she may be unaware of how attractive this guy finds her. She could be putting on tight fitting skirts because she knows she's attractive. Or she could be putting on tight fitting skirts because she thinks that's what adult women do, perhaps like the female role models (mother, older sisters) in her home environment.
In the song the female has the nickname "Little Miss Stuck-Up". Stuck-up is a phrase dating back to 1826 in a piece of fiction written by Horatio Smith titled "The Steam Boat from London to Calais." The Oxford English Dictionary included "stuck-up" in their 1829 edition with the definition: "Unjustifiably 'superior'; offensively conceited or pretentious." For the guy in the song "Little Miss Stuck-Up", he's got his work cut out for him. Unless he can do something to shift the way she regards him, she'll always presume he's beneath her. What it will take to get her to stop walking by him with her nose in the air is not resolved in this song.
In a Psychology Today article, Susan Krauss Whitbourne offers five suggestions for how to deal with another snobbery. First, she encourages others to not buy into the pose of being superior. Don't give any indication that you think you are inferior. For the guy in this song, if Little Miss Stuck-Up isn't paying any attention to him, he needs to preoccupy himself with others who aren't stuck-up during recess or lunch break, or focus on himself in some productive way. Instead of always saying "hello," he could cut that out and become detached from her antics. Whitbourne suggests that most snobbery arises out of insecurity. All that wiggling and tight, tight skirts, is attention-getting behavior. Much as this guy likes the wiggle and the tight skirts, Little Miss Stuck-Up isn't the only fish in the sea, or female in the school yard. He needs to strike up a conversation with someone else who isn't putting it out there in such an exaggerated way. Another tip Dr. Whitbourne offers is to notice any inferiority impulses that the stuck-up person triggers in you. Taking pride in oneself will help the guy in the Playmates song get unhooked from Little Miss Stuck-Up.
Finally, the guy in the song can take each day as it comes. Expecting Little Miss Stuck-Up to keep being the way she is with her nose in the air won't help. She likely wasn't wearing tight, tight skirts when she was three. This may be a phase. There may be other girlfriends pressuring Little Miss Stuck-Up to look a certain way. Whether this stuck-up behavior on her part is for a season or a lifetime, the guy in the song can say "hello" to a lot of other school mates, and likely will make some new acquaintances as a result of his friendly, positive demeanor.
"Little Miss Stuck-Up" did poorly in the USA climbing to #70 on the Billboard Hot 100. The Playmates next single release in the spring of 1961, written by Jeff Berry, was titled "Tell Me What She Said." It was covered by Helen Shapiro who had a hit with "Tell Me What He Said" in 1962 in the UK and Vancouver. They also released a single of "Wimoweh" in the fall of 1961. The song was reworked with the title, "The Lion Sleeps Tonight", and a #1 hit for The Tokens. A final Billboard Hot 100 single, "Keep Your Hands In Your Pockets", stalled at #88 on the Billboard Hot 100 in the summer of 1962. But it made the Top 30 on CFUN in Vancouver.
The Playmates left Roulette in 1963 and released three singles with ABC-Paramount. All were commercial failures. They went on to Colpix with no better success. They were one of countless American recording acts overwhelmed and sidelined by the Beatles and the British Invasion. The Playmates split up in 1965 after releasing 24 singles and five studio albums. In 2018, Chic Hetti is the only surviving member of the Playmates.
March 13, 2019
Ray McGinnis
References:
Leslie Gray Streeter, "'Itsy Bitsy' songwriter Paul Vance looking for another hit at 85," Palm Beach Post, Palm Beach, Florida, January 24, 2015.
"Its Bitsy Bikini Songwriter Lee Pockriss Dies," BBC, November 18, 2011.
"Autos: Rambler in High Gear," Time, December 8, 1958.
Jay Warner, American Singing Groups: a History From 1940 to Today, (Hal Leonard Corporation, Milwaukee, WI), pp. 278-279.
Horatio Smith, "The Steam Boat from London to Calais," Gaieties and Gravities: A Series of Sketches, Comic Tales, and Fugitive Vagaries, Volume 3, (Henry Colburn, 1826), 277.
Susan Krauss Whitbourne, Ph.D., "5 Ways to Handle a Snob: … and How to Address to Your Own Snobbery,"Psychology Today, October 21, 2014.
"C-FUN-Tastic 50," CFUN 1410 AM, Vancouver, BC, March 11, 1961.
For more song reviews visit the Countdown.