#38: Living On Video by Trans-X
City: Calgary, Alberta
Radio Station: CFCN
Peak Month: June 1986
Peak Position in Calgary ~ #9
Peak position in Vancouver ~ did not chart
Peak Position on Billboard Hot 100 ~ #61
YouTube.com: "Living On Video"
Lyrics: "Living On Video"
Pascal Languirand is the creator of Trans X. He was born in Paris, France, to Canadian parents in 1955, and moved back with them to Canada. In an interview with Manuel Montes and Jorge Munnshe, he related that though "he was brought up in Canada, he often travelled to Mexico. The reason for this was that he used to accompany his father, a writer, who felt fascinated by this country and found there the necessary inspiration to write his books. Pascal told us that because of this, at age four he had already learnt some Spanish while playing with Mexican children his age." When he turned 18, he studied at McGill University in Montreal. He focus was electronic music and communications. He also studied cinematography at Concordia University, also in Montreal. He recalls, "Above all, I loved experimenting. I used to do so with tape, especially with my four-track recorder, with the electric guitar, something like Pink Floyd, playing with echo, the bass. Therefore, I based my work on the manipulation of sounds. My university studies, in actual fact, did not have any real usefulness for me. I preferred to experiment on my own."
In 1978, he released his debut studio album titled Minos. It showcased the skills he developed as an electronic musician in university. Next, in 1980, Pascal released his second studio album, De Harmonia Universalia. It was a hybrid of Gregorian chants and synthesizers. In 1981 he released another album, Vivre ici maintenant, which was used as a soundtrack for a Canadian TV series.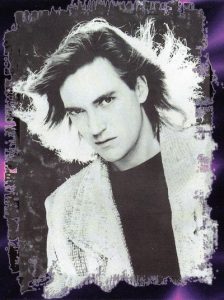 Pascal Languirand in 1981
In 1983, he came up with the idea of Trans X, found a female vocalist for his song "Living On Video", and the rest is history.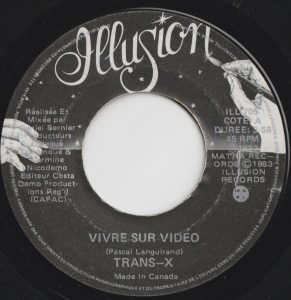 In an interview on Amazings.com, a backstory to Trans X is described. "Composing Living On Video and founding the band Trans-X responded to a momentary amusement, a sporadic incursion outside his usual artistic line. This prank opened him the door of fame and money. It would have been very easy for Pascal to reject his more personal artistic ideas and allow himself to be seduced by the promotion to Pop Star, a temptation that so many artists that at one time in their careers used to be radically alternative ones have fallen prey to, thus becoming dully commercial ones. Of course, having become Big Business for the record companies, caused him to suffer great pressures so that he kept to the path he had started. "They wanted to tell me what I had to compose. It's not strange, since many people have got luxurious houses and cars at my expense. All these intermediaries from the recording companies wanted to continue exploiting my success to their own advantage. This is why I left the game. I wanted to follow my own career, not to become a puppet of the recording companies."
"Living On Video" is a song that brings together a list of things you might want to do an an electronic musician and videographer. Pascal Languirand creates "a computer fantasy" "at the touch of a button." We who are living on video are invited to start "flying through hyperspace in a computer interface." Hyperspace is a form of interstellar travel which is faster than the speed of light. This is due to hyperspace being a higher dimension through which the shape of our three-dimensional space can be distorted to bring distant points close to each other, enabling travel into a parallel universe. The speed of hyperspace is realized by taking shortcuts though reshaping dimensions. Meanwhile, in computing, an interface is a shared boundary across which two or more separate components of a computer system exchange information.
When one is living on video, they are assisted by the invention of integrated circuits. This is a circuit in which all or some of the circuit elements are inseparably associated and electrically interconnected so that it is considered to be indivisible for the purposes of construction and commerce. An integrated circuit refers to the single-piece circuit construction originally known as a monolithic integrated circuit, built on a single piece of silicon.
The song also mentions beams of light and different colors of laser light. A laser is a device that emits light through a process of optical amplification based on the stimulated emission of electromagnetic radiation. The word laser is an anacronym that originated as an acronym for light amplification by stimulated emission of radiation.
In "Living On Video", the female voice repeats "sur un faisceau lumière." This is French for "a beam of light." The male singer repeats the word "Stop" four times. This is variously prior to singing 1) "living on video," 2) "integrated circuits," 3) "sur un faisceau lumière," and 4) "Is this reality?"
Is Pascal singing "Stop" to command our attention? Or is he singing "Stop" to abandon this technological progress? If the latter, we are being asked to give up video, integrated circuits, light beams, and accepting all of what can be constructed by this technology as "reality." Alternately, it could be we are being asked to understand that our new reality consists of these things. It's all "a computer fantasy, it is waiting for you and me."
Stop.
"Living On Video" peaked at #6 in Mesa (AZ), #9 in Calgary, #10 in Los Angeles, #11 in Sacramento (CA), and #13 in Seattle. Over the years, "Living On Video" has sold in excess of two million records. This is very impressive for a single that received limited airplay on Top 40 radio stations. The single received a platinum disc in Mexico for record sales.
According to discogs.com, "the female voice of the original recording of "Living On Video," is Laurie Ann Gill, born 18.07.1964 in Montreal. She was never credited on a Trans-X release."
In the years that follow, Discogs.com explains "1987-1990 Pascal's wife Denise, aka Lady D from Los Angeles did most of the TV shows. In 1994, Pascal settled in Barcelona, Spain and meet Lali, a Catalan girl, who did all Trans-X shows from 1994-2008. In 2006, Cerstin "Cessy" Strecker was hired to record the voice on the 2006 ZYX release of "Living On Video," and never performed live with the group. Since 2008 and actual Trans-X girl and vocalist on the new Trans-X album is Corina Lawrence, an Argentinian…"
But for the most part, Pascal devoted his attention to his avant garden musical compositions. He released five more studio albums between 1989 and 2005. The last of these was Incanta. A sign of Pascal Languirand being off the radar in the English speaking world is that his Wikipedia page appears in German.
Yet, more as a musical pastime, Pascal has returned to create more music as Trans X. In 2001 he released a Trans X album titled 010101. This was followed in 2003 with The Drag-Matic Album. Nine years later he recorded the Trans X album Hi-NRG. And in 2013 he followed with Digital World and in 2014 with Anthology. His most recent Trans X album was out in 2021 titled Dreams Are Made of Fantasies.
August 21, 2023
Ray McGinnis
References:
Manuel Montes and Jorge Munnshe, "Pascal Languirand, A Versatile Musical Style," Amazing.com.
"Trans X," Discogs.com.
"Pascal Languirand," Wikipedia.org (German).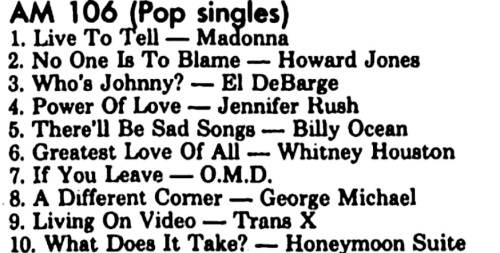 CFCN 1060 AM, Calgary, Alberta, June 15, 1986