#1187: Lonely Nights by Bryan Adams
Peak Month: October 1981
7 weeks on Vancouver's CFUN chart
Peak Position #15
Peak Position on Billboard Hot 100 ~ #84
YouTube.com: "N/A"
"Lonely Nights" lyrics
Born in Kingston, Ontario, in November 1959, Bryan Adams parents immigrated from the UK in the 1950s. His dad, Captain Conrad J. Adams, was a diplomat in the Canadian foreign service. While growing up his family was posted to Portugal, Austria and Israel. By the age of 15 Adams was playing with the band Sweeney Todd as a frontman. By the time he turned 17, Bryan Adams had landed work as a background vocalist for the CBC. His first salary came from working for Robbie King, a keyboard musician with Motown. During his senior years in high school he began playing music with his guitarist, Keith Scott.
In 1978, at 18, Adams met Jim Vallance through a mutual friend in a Vancouver music store. Vallance was the former drummer and principal songwriter for Vancouver-based rock band Prism. Vallance had recently left Prism to build a career as a studio musician and songwriter. Adams agreed to meet at Vallance's home studio a few days later. This led to the start of a partnership that has lasted nearly four decades. That same year Adams signed a record deal with A&M records for one dollar. Experimenting with pop music fads, as he had with Sweeney Todd's glam rock, Adams first solo single was the disco song "Let Me Take You Dancing". It is a song he has hardly ever performed live. This is due to his vocals on the recording being sped up to meet the 122BPM dance tempo. The song spent six weeks on the CFUN Top Ten in Vancouver. One of his most successful hits in the 1980s, "Straight From The Heart", was written in the late 70s.
Adams had a self-titled debut album in early 1980 which resulted in an indifferent response from rock music critics, though it distinguished his sound from his disco-themed first single release. His second album, You Want It You Got It, established the mainstream rock sound he has been associated with ever since. The first single release from the album was "Coming Home" followed by "Fits Ya Good". The second single made it to #30 on the Canadian RPM singles chart. The song spent at least 8 weeks on the CHUM AM chart in Toronto where it peaked at #16. In Moose Jaw, the tune climbed to at least #13, based on partial chart information online (it may have climbed into the Moose Jaw Top Ten). It also was a Top 40 hit in Ottawa. But "Fits Ya Good" didn't make the Top 30 on CFUN for hometown boy Bryan Adams. However, his third single, "Lonely Nights" expanded his fan base here in town.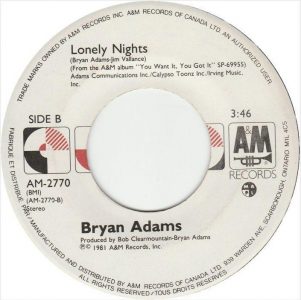 Adams tune draws on raw sexual angst to drive the relationship closer. It seems the other party is saying words that are not truthful. One person is aching to be together for the night and the other person seems concerned about their reputation. There is a matter of desire, and the pair have a chance to discover where that path will lead. What the cost will be ("when we win we may be losers") is uncertain and there are no guarantees. But from the perspective of the one who can't stand another lonely night, they are willing to go for broke.
Since then Bryan Adams has recorded eleven more studio albums that were all best-sellers. He has charted 33 singles into the Top 30 on the Canadian RPM singles chart. This includes eleven number one singles beginning with his international selling signature hits "Everything I Do (I Do It For You)" and "Have You Ever Really Loved A Woman?" Adams has been awarded the Order of Canada for contributions to popular music and philanthropic work via his own foundation, which helps improve education for people around the world. As of 2017 he has sold over 100 million records. Adams returns to Vancouver from time to time, but resides in his home in Chelsea, England, and also in his second home in Paris, France.
February 8, 2017
Ray McGinnis
References:
Matthew Stadlen, "Bryan Adams: 'My Love Life is Nobody's Business but my Own'," Telegraph, UK, October 2015.
Bryan Adams, Canadian Bands.com
Karen Bliss, Bryan Adams: 'I Don't Think About What I've Done; I Think About What I'm About To Do', Billboard, February 16, 2016.
For more song reviews visit the Countdown.