#747: Long Line Rider by Bobby Darin
Peak Month: February 1969
7 weeks on Vancouver's CKLG chart
Peak Position #4
Peak Position on Billboard Hot 100 ~ #79
YouTube.com: "Long Line Rider"
Lyrics: "Long Line Rider"
Walden Robert Cassotto was born in the Bronx in May, 1936. His mother, born in November 1917, was pregnant with him when she was only sixteen, giving birth to him when she was seventeen. In the 1930's, being a pregnant teenager was very improper. So she gave birth and was introduced to her son as his older "sister." In order for the deceit to be pulled off, young Robert was raised by his grandmother, Polly, who he understood was his mother. And he understood that his "mother" had given birth at a later stage in life. His "mother" was a showgirl in her earlier days and so not the "grandmother type." So the ruse was successful. It was not until 1968, when he was 32 years of age, that he discovered that his older sister, Giovannina Cassotto, was actually his mother. In his childhood, Robert learned to play piano, drums and guitar. According to his biographies, Walden Robert Cassotto suffered from rheumatic fever as a child. Bobby's real sister, Vivienne, said years later, "my earliest memory of Bobby as a child was about his rheumatic fever. We couldn't walk on the floor because just walking across the floor would put him in agony. I remember Bobby crying and screaming and my father having to pick him up and carry him to the bathroom, he was in so much pain. I remember being told all my life, "Bobby's sickly. You have to be careful, and you have to protect him." Between the ages of eight and thirteen, Bobby had four illnesses with rheumatic fever. Each one damaging his heart muscle more severely than the previous illness.
Bobby was told that his father was Sam Cassotto, who took a fall for the Mafia and died in prison before Bobby was born. But his older "sister" Giovannina, got quickly involved with a guy named Charlie Mafia who moved in with Polly, Bobby and "Nina." Nina and Charlie got married a few years later. The way this was explained to Bobby was that Charlie was his new brother-in-law. The young boy began to compose rhyme, sing and play child instruments by the age of six. As he spent long absences from school when he was ill, he spent time amusing himself developing an interest in music. Since he had a bad heart, he couldn't play sports like the other kids at school or in the neighborhood. Since Bobby was confined to bed for long periods, his "mother," Polly, home schooled him and told him about being a showgirl and the entertainment business. Bobby perceived that the family was very poor, a perception reinforced since they lived in a poor Italian ghetto in the Bronx. But his sister Vivienne, recalls they got the first Television on the block. In any event, Bobby dreamed that a career in the music business could get him beyond his life in the Bronx.
After a year at Hunter College where he studied drama, Bobby got hired by Don Kirshner to work at the Brill Building in 1955 as a demo writer and a demo singer under the pen name, Bobby Darin. Robert Cassotto had met Kirshner at a candy store in Washington Heights. In 1956 Darin recorded his first record, "Rock Island Line", followed by "Silly Willie" credited to Bobby Darin and the Jaybirds. Another song Bobby Darin wrote in 1956 was a novelty tune titled "I Want Elvis For Christmas", recorded by the Holly Twins, featuring vocals by Eddie Cochran. Darin had a regional #3 hit in the summer of 1957 in Buffalo, New York, with his recording of "I Found A Million Dollar Baby". This was a cover of a Harry Warren tune made famous by Bing Crosby in 1931 who charted the song to #2. One of the recording artists Bobby Darin wrote for was Connie Francis. They began to date, but Francis' father didn't approve and the relationship ended.
In 1958 Darin, who was with Decca Records, got a deal with Atco, a subsidiary of Atlantic Records. He wrote a song titled "Splish Splash, Take A Bath". The song title was shortened to "Splish Splash". When it was released it became a million seller. Darin had another song on the Top 100 for the year of 1958 called "Queen Of The Hop". He had his biggest hit, so far in early 1959, with "Dream Lover". But no one was prepared for the surprise success he had in 1959 with his cover of a 1956 song by Louis Armstrong titled "Mack The Knife". The song was an English translation of Bertolt Brecht's lyrics "Die Moritat von Mackie Messer" from the 1928 musical, Die Dreigroschenoper (or The Threepenny Opera in English). First performed in English in 1933, The Threepenny Operahad a run at an off-Broadway theater in 1954. One verse from the song, "There are some who are in darkness/And the others are in light/And you see the ones in brightness/Those in darkness drop from sight," was not included in either the Armstrong or Darin recordings. With "Mack The Knife" earning Darin the Grammy Record of the Year, he earned the respect of the adult listening audience. He also won the Grammy Award for Best New Artist. In 1959, Bobby Darin also began performing in night clubs at the age of 23. These included the Copacabana in Manhattan and the Flamingo in Las Vegas.
Bobby Darin had a string of Top 40 hits in the early 1960's that were covers of songs from across the previous century. These included "Beyond The Sea", a remake of a French song called "La Mer", by Charles Trenet, from 1947. Darin took "Beyond the Sea" to #2 He reached back further to record "Clementine", a western folk ballad from 1884. Than, Darin recorded the 1902 dixieland tune, "Won't You Come Home Bill Bailey". Next, Darin made a hit from a song called "Artificial Flowers", from the Broadway musical, Tenderloin. The musical, about the red-light district in Manhattan in the 1890's, featured stories about people living in poverty and their struggles to make ends meet. "Artificial Flowers" concerned an orphaned, nine-year-old, girl named Annie. She had to make artificial flowers for a few pennies a day" to try to make ends meet. Like the unfortunate character in "Mack The Knife", Annie also is fated to die. In her case "they found little Annie all covered with ice/still clutching her poor frozen shears." Another unlikely Top 20 hit for Bobby Darin was is remake of the 1930 hit, "Lazy River", by Hoagy Carmichael. Darin also did a cover of the 1948 hit by Nat King Cole, "Nature Boy".
Bobby Darin was endearing himself across the teen-adult divide as he drew from opera, off-Broadway shows, pioneer songs, Dixieland and classic pop standards. But in 1962, he missed the Top 40 with his remake of the 1926 tune, "Baby Face", a #1 hit that year for Jan Garber. Bobby Darin's interest in old songs was likely influenced by the influence of Polly, who raised him and had been a showgirl doing Vaudeville.
In addition to his recording career Darin was also making movies. In 1959, Darin had an uncredited cameo appearance in a film called Shadows about interracial dating. In 1960 he appeared in a comedy titled Pepe, and also sang while the credits rolled at the end of the film Tall Story. In 1961 he starred in Come September. The romantic comedy found Darin acting alongside Rock Hudson, Gina Lollobrigida and his first wife, Sandra Dee. The movie and featured the song "Multiplication", which climbed the US pop charts to #30 and #7 in Vancouver. Between 1959 and 1973, Bobby Darin either acted and/or sang a song for a film in eighteen productions. His most acclaimed role was at Corp. Jim Tompkins in the film, Captain Newman M.D. in 1963 which earned him an Academy Award nomination for Best Supporting Actor.
Meanwhile, Darin changed musical direction in 1962 with country-pop songs "Things", "You're The Reason I'm Living" and "18 Yellow Roses". The latter was a hit in the spring of 1963. With the British Invasion, Bobby Darin was kept out of the Top 40 in the USA until his Top Ten hit, "If I Were A Carpenter", in the fall of 1966. After that, south of the border, his single releases sputtered in the lower rungs of the Billboard Hot 100. But in Vancouver, Bobby Darin had four Top Ten singles between 1966 and 1969. One of these was "Long Line Rider".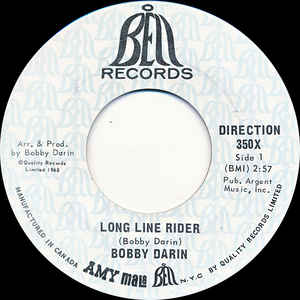 According to Bobbydarin.net, Darin performed at The Cave in Vancouver on May 15, 1968. This was the day after he turned 32 years old, on May 14th. Two Canadian Pacific Airlines stewardesses greeted him with a birthday cake and kisses. Also, in the spring of 1968, Bobby Darin joined Robert F. "Bobby" Kennedy's campaign to win the Democratic Party nomination for President. Darin was with Kennedy during the California primary and at the Ambassador Hotel in Los Angeles on the night of June 4, 1968. It was there that Kennedy learned he'd won the primaries in California and South Dakota. He came in second to peace candidate, Eugene McCarthy, in New Jersey. RFK gave a speech telling supporters that the results indicated that "the country wants to move in a different direction. We want to deal with our own problems in our own country and we want peace in Vietnam…. We are not going to continue the policies in Vietnam that have been so unsuccessful. I do not want to. And we are going to move in a new direction." Robert F. Kennedy finished his victory speech for the Democratic California Primary shortly after midnight. He left the podium and exited through a kitchen adjacent to the ballroom. It was in the kitchen, at 12:15 a.m. that Kennedy was assassinated. Bobby Darin was devastated by the assassination and attended the slain senator's funeral on June 8th. Darin also learned who his real mother was: Nina, who he'd been told was his sister. The double shock of these events led Darin to spend much of the next twelve months in seclusion, living in a trailer in Big Sur, California. Some exceptions were guest appearances in October, 1968, on Laugh-in and The Jerry Lewis Show. In the spring of 1969, he returned to Los Angeles and wrote "Simple Song Of Freedom". The song became a Top 50 hit for Tim Hardin.
"Long Line Rider" was another protest song about prisoners on a prison farm shot and buried in the ground. People want to investigate what happened and the story, as the singer tells it, is becoming an election issue. A line rider was a cowboy who patrolled ranch boundary lines, pushing stray cattle over the line back to the ranches where they belonged, according to their branding. The long line rider in Arkansas is told to "turn away" from what he discovers. Later bulldozers digging on the farm uncover tree roots with blue denim shirts and boots. The lyrics were based on a news story of the discovery of bodies at an Arkansas prison farm. The few radio markets where the song met with success in the USA was in Washington State where it reached the Top Ten in Seattle (#9), Spokane (#8), and Bellingham (#2), and San Bernardino, California (#2). In Vancouver, the song peaked at #4. But the subject matter was a hard fit with the pop music formats and got little attention elsewhere.
It was the lead single from Darin's first album release on the record label he founded in 1968 called Direction. The album was titled Bobby Darin Born Wallden Robert Cassotto, a reference to what he had recently discovered about his family background.
In July 1972, Bobby Darin starred in an NBC TV show titled Dean Martin Presents: The Bobby Darin Amusement Company. It ran from July 1972 to January 1973. In the early 1970's his health was beginning to fail, as he had always expected, following bouts of rheumatic fever in childhood. This knowledge of his vulnerability had always spurred him on to exploit his musical talent while still young. He died at 37, following a heart operation in Los Angeles late in 1973.
In 2004 a film about Bobby Darin's life, Beyond The Sea, was a minor box office hit. In 2016, in Australia, Dream Lover: The Bobby Darin Musical, premiered in Sydney. Bobby Darin has a star on the Hollywood Walk of Fame.
August 16, 2018
Ray McGinnis
References:
Dodd Darin and Maxine Paetro, Dream Lovers: The Magnificent Shattered Lives of Bobby Darin and Sandra Dee… (Warner Books, 1994).
Bobby Darin – info, Bobby Darin.net
Bobby Darin, Rock & Roll Hall of Fame
Behind the Song: Oh My Darling Clementine, Singing the Song in My Heart.com, September 2, 2015.
Baby Face (1926 song), Wikipedia.org
(Up A) Lazy River, Wikipedia.org
Tenderloin, Music Theatre International
Captain Newman M.D., Rotten Tomatoes.com
Robert F. Kennedy speech (excerpt), June 4th-5th, 1968, Ambassador Hotel, Los Angeles, CA
Kevin Spacey – director, Beyond The Sea, Lionsgate Films, 2004
Dream Lover: The Bobby Darin Musical, Dream Lover.com.au.
"Boss 30," CKLG 730 AM, Vancouver, BC, February 21, 1969.
For more song reviews visit the Countdown.