#860: Looking At A Baby by The Collectors
Peak Month: March 1967
8 weeks on CKLG chart
Peak Position ~ #8
Peak Position on Billboard Hot 100 ~ did not chart
YouTube.com: "Looking At A Baby"
The Vancouver rock band The Collectors, was formerly named The Classics who were a Vancouver group led by Howie Vickers in the mid-60s. The Classics were part of the regular line-up on Let's Go, a show on CBC TV. Though the Classics released several singles the group needed room to grow and reformed as The Collectors. They would become one of the most innovative of Vancouver's recording acts through the rest 60s. In the spring of 1967, Vickers was asked to put together a house band at the Torch Cabaret in Vancouver. Along with Claire Lawrence on horns, they recruited guitarist Terry Frewer, drummer Ross Turney and Brian Newcombe on bass. Within a couple of months, fellow Classics member Glenn Miller replaced Newcombe on bass and Bill Henderson, a student at UBC, replaced Frewer on guitars. With Vickers now handling vocals, their sound changed from doing covers of R&B tunes to psychedelic rock. This led them to gigs along the Canadian and US west coast. Their strongest fan base in America was in California. There audiences welcomed their complex arrangements mixed with harmonies and extended solos and musical ad-libs.
The band headed to Los Angeles to make some recordings with Barry De Vorzon at Valiant Records. Music critic, Richard Skelly (Richmond Review, Radio West.ca, RPM Magazine), reveals that the "band didn't have an actual name when they demoed a few songs for New Syndrome, a production firm owned by singer Tom Northcott and entrepreneur Jack Herschorn. An American ex-pat, Herschorn pitched the demo tape to assorted Los Angeles labels. Valiant bit…and brought the band down for some initial sessions. At the time, the boys were honing their style by playing behind amateur strippers at the Torch Cabaret. … patrons simply called them "The Torch Band". After recording "Looking At A Baby", Valiant (probably De Vorzon himself) gave them two options for a name: The Connection or The Collectors. Not so coincidentally, Valiant's other up-and-coming band was called The Association." Howie Vickers recalls "We couldn't agree 'collectively' on a name…They were about to press the record and (so) The Collectors it was." Out of the recording sessions with Valiant Records, The Collectors had two singles that made the Top 40 in Vancouver in 1967. The first released early in the year was"Looking At A Baby" followed in August '67 by "Fisherwoman".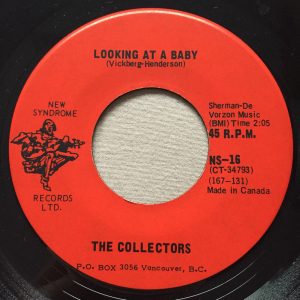 Look at a baby, what do you see,
what do you see looking at a baby?
I can see the world the way that I would like the world to be.
Innocent and pure and clean just like a newborn baby.
Look at a lady, what do you see,
what do you see looking at a lady?
I can see the girl the way that I would like the girl to be.
Warm and tender, faithful, true, just like a well born lady.
Look at a ruby, what do you see,
what do you see looking at a ruby?
I can see the world the way that I expect the world to be.
Fiery furnace, crimson hot, just like a blood red ruby.
Look at a baby, what do you see,
what do you see looking at a baby?
"Looking At A Baby" was co-written by Bill Henderson and Howie Vicksberg. Richard Skelly, writes "Vickberg is the actual surname of Howie Vickers." Bill Henderson went on to lead the band when they morphed into Chilliwack in 1970. "Looking At A Baby" offers up similes of a baby, a lady and a ruby as ways of contemplating the world. A baby offers us innocence, purity and freshness, a lady offers a wish for warmth, tenderness and faithfulness. A ruby is a fiery furnace and crimson hot, perhaps a sign the band was predictive about global warming (little joke). The world can be thought of in many things: a jungle, a war-zone, a garden, an oyster. Can the image we contemplate when we think about the world draw us nearer to the energy of that image? Thinking about the world being like a baby can offer hope and promise. The Collectors, in offering the simile of a lady as one way to think about the world, echo an ancient image for the world: "mother earth." And a ruby is one of the gemstones and is the birthstone for July. A ruby's value comes from the brightness of its red color. If a ruby isn't red enough it is called a pink sapphire. In addition to color, a ruby is valued based on its cut and clarity. A ruby comes from the earth and is of the world.
The song was on the radio in Vancouver in 1967, several years after President Lyndon Johnson sent American troops into combat in Vietnam in March 1965. With draft dodgers arriving in Vancouver, radio listeners were aware of international politics that were casting troubling images for the world. In contrast to the troubling images for the world portrayed by the news of the world, the Collectors offered images of what they were liking and expecting the world to be. The song offered hope that the world didn't have to remain static. It could change for the better.
The American poet, William Stafford wrote a poem titled "A Valley Like This." It is one of the seven Methow Valley poems by William Stafford. The poems are placed along the watershed of the Methow Valley, from Washington Pass to the Columbia River. "The Forest Service approached Stafford in 1992, a year before his death, to write a series of poems that would reflect the landscape and spirit of the North Cascades." In the poem he invites readers to consider a valley and how the world came into being. He wonders how the world is shaped and shifted and asks "what can a person do to help bring back the world?"
Sometimes you look at an empty valley like this,
and suddenly the air is filled with snow.
That is the way the whole world happened—
there was nothing, and then…
But maybe some time you will look out and even
the mountains are gone, the world become nothing
again. What can a person do to help
bring back the world?
We have to watch it and then look at each other.
Together we hold it close and carefully
save it, like a bubble that can disappear
if we don't watch out.
Please think about this as you go on. Breath on the world.
Hold out your hands to it. When mornings and evenings
roll along, watch how they open and close, how they
invite you to the long party that your life is.
In 1967, The Collectors were doing their part to help bring back the world by offering images in "Looking At A Baby" to appeal to our better natures.
In 1968 The Collectors had another Top Ten hit in Vancouver with "Lydia Purple". Several more hits followed at the end of the decade including "Early Morning" in 1969, and "I Must Have Been Blind" in 1970. After Howie Vickers left the band in 1969 they were in the process of reforming. Before 1970 came to a close they named themselves Chilliwack, a Salish Native Canadian name meaning "valley of many streams." It is also the name of a city in the Fraser Valley, east of Vancouver.
Richard Skelly writes, "The Collectors… had spent almost two years recording in California and working the psychedelic circuit up and down the Pacific coast. They did get back to Vancouver, but were stateside weeks or even months at a time. This put strains on marriages and finances. Perhaps it wasn't that alluring to be offered money-losing tours when fellow Vancouverites, the Poppy Family, (were) selling truckloads of records without (hardly) ever leaving home. In interviews, Bill (Henderson) reflected that, unlike the Collectors, Chilliwack felt it made more sense to succeed first in Canada and then tackle the USA…. (In 1970) the band had to honour commitments to perform concerts at the Osaka World Expo in Japan. As the Collectors, they'd been commissioned to create and record background music for the Canadian Pavilion. For that government-assisted Asian trip, they expanded to a five piece with Rick Kilburn on bass and Robbie King on keyboards."
Chilliwack had their first Top Ten hit in Vancouver with "Lonesome Mary" in 1971. According to Skelly, Chilliwack's record company, A&M, "fumbled by wasting "Ridin'" as the flip side to "Lonesome Mary." An ode to train travel, it had a jangly Byrds meets CS&N vibe. Unfortunately, "Ridin'" was the only obvious followup single. Likely, realizing the mistake, A&M supposedly flew the band down to whip off a pair of straight up rockers: "Hit Him With Another Egg" and "Rock n Roll Music. I never heard the finished but never-released product." Skelly writes that later re-recorded versions of these songs ended up as tracks on a subsequent album, All Over You, but these were not as good as their first recordings.
Chilliwack released three albums between All Over You, Riding High and Rockerbox between December 1972 and December 1975. Aside from "Crazy Talk", from the Riding High album, their single releases received minor attention outside of radio markets in BC.
In January 1977 the band recorded their sixth studio album, Dreams, Dreams, Dreams. At the time the band members were all involved with Scientology and there was a dedication to the founder of the Church of Scientology, Ron L. Hubbard, on the back of the album. By 1977 the bands musicians consisted of Henderson, Turney, Miller and Howard Froese on guitar, vocals, solina and piano. The album included several successful single releases in the Canadian market that included "Fly At Night", "California Girl" and "Baby Blue". But it was the band's ninth album release in 1981, Wanna Be A Star, that took them to the pinnacle of their success. The single "My Girl (Gone, Gone, Gone)", went Top 30 on the Billboard Hot 100, #3 nationally in Canada and #1 in Vancouver.
Bill Henderson has continued to perform in concert including concerts featuring the music of The Collectors and Chilliwack. For years Howie Vickers had contracts writing advertising jingles at Little Mountain Studios in Vancouver. Going by his real surname, Vickberg, Howie, served for several terms on the municipal council of the Township Of Langley. Claire Lawrence went on to play with many recording acts including Shari Ulrich, Connie Kaldor, Roy Forbes, Susan Jacks and others. Lawrence produced The Great Canadian Gold Rush show on CBC TV in the 1970's. He also scored the music for the popular CBC TV show The Beachcombers, between 1986 and 1990. More recently, he produced Jazz Beat on CBC from 2000 to 2006. Glenn Miller died in 2011 of complications related to muscular dystrophy. He had spent several decades in Toronto helping people get off drug addictions.
February 28, 2018
Ray McGinnis
References:
Bill Henderson, The Collectors, Canadian Bands.com.
Chilliwack bio ~ thecanadianencyclopedia.ca.
Bill Henderson bio, gonegonegone.com.
Claire Lawrence bio, Rate Your Music.com
Tom Harrison, "Glenn Miller R.I.P.," Vancouver Province, March 10, 2011.
Richard Skelly, email(s) to Ray McGinnis (and thanks to Bill Henderson for clarifying "fiery furnace" begins the last line in the final verse).
Subhaga Crystal Bacon, "What the River Says: The Methrow River Poem Plaques of William Stafford," Methrow Arts, Twisp, WA, Spring 2015
A Valley Like This, William Stafford, Washington Pass Overlook North Cascades National Park sign.
"Boss 30," CKLG 730 AM, Vancouver, BC, March 31, 1967.
For more song reviews visit the Countdown.