#584: Louisiana Man by Bobbie Gentry
Peak Month: May 1968
6 weeks on CKLG's Vancouver Charts
Peak Position ~ #1
1 week Hit Bound
Peak Position on Billboard Hot 100 ~ #100
YouTube.com: "Louisiana Man"
Lyrics: "Louisiana Man"
In August 2017, Rolling Stone magazine celebrated the 50 year anniversary of Bobbie Gentry climbing into the number one spot on the Billboard Hot 100. Writer Tara Murtha described the scenario. "In July of 1967, Capitol Records released "Ode to Billie Joe," a spooky wisp of a song by an unknown artist named Bobbie Gentry. Industry wisdom said "Ode" was too dark, too long, too different to get played on the radio. It was a smash hit. With no special promotion, the song unexpectedly climbed up the charts past the Doors, Aretha Franklin and the Beatles, ultimately knocking "All You Need is Love" out of the Number One spot. By August, the mysterious tale of Billie Joe McAllister jumping off the Tallahatchie Bridge was ubiquitous, the inescapable sound of the darkening days of the so-called Summer of Love."
Asked about the meaning of the song, Bobbie Gentry said at the time, "This boy's death did not get his neighbors involved," the song was about indifference and the "unconscious cruelty" of the family when discussing the reported suicide. The bridge became the focal point of people wanting to take their lives by jumping off the Tallahatchie Bridge. But the bridge was only 20 feet high, and no sure bet for ending one's life. Furthermore, the bridge collapsed in 1972.
Bobbie Gentry was born in 1942 and named Roberta Lee Streeter at birth. She was born and raised in Woodland, Mississippi, about 80 miles from the Tallahatchie Bridge in Money, Mississippi. When she was 13 she moved to be with her mom in Arcadia, California.
After graduating from high school in 1960, she chose her stage name from the 1952 film Ruby Gentry, about a heroine born into poverty but determined to make a success of her life. Bobbie Gentry started performing at local country clubs. She was introduced to Bob Hope who helped make some connections and she performed in a revue at Les Folies Bergeres nightclub of Las Vegas.
Gentry then moved to Los Angeles to enroll at UCLA with a major in philosophy. She supported herself with clerical jobs, occasionally performing at nightclubs. In 1962 she also worked as a fashion model.
She switched her studies to fine arts at the Los Angeles Conservatory of Music to hone her aptitude in composition and performance. In 1966, she made her first recording in two duets – "Stranger in the Mirror" and "Requiem for Love" – with rockabilly singer Jody Reynolds, whose "Endless Sleep" was a Top Ten hit in 1958. "Stranger In The Mirror" was a Top 40 hit in Santa Barbara, El Centro and San Bernardino (CA).
In early 1967 she sent a demo of "Mississippi Delta" and "Ode To Billy Joe" to Capitol Records. She sang and accompanied herself on acoustic guitar. Jimmy Haskell at Capitol decided to add strings to 'Ode' and the song was released on July 10, 1967. Both her single and the album, Ode To Billy Joe, topped the charts in September '67. Gentry won three Grammy Awards in 1968 for Best New Artist, Best Vocal Performance – Female, and Best Contemporary Female Solo Vocal Performance.
Despite all her accolades, her followup album in early 1968, The Delta Sweete, stalled at #132 on the Billboard Album chart. Nonetheless, Cashbox magazine's February 17 review of the album was effusive: "It must have been difficult for Bobbie Gentry to keep her head amidst the adulation and fame that were showered upon her as a result of her million-selling single, "Ode to Billie Joe", but she has survived the storm and her second album is better than her first. Eight of the songs on the set are her own compositions, and they show her to be an effective ballad writer as well as a skillful portrayer of the life of the Mississippi Delta country."
From her second album, Bobby Gentry released the single "Okolona River Bottom Band". The single stalled at #54 on the Hot 100, though it peaked at #6 in Vancouver (WA) and #2 in Billings (MT). Her second single from the album was "Louisiana Man".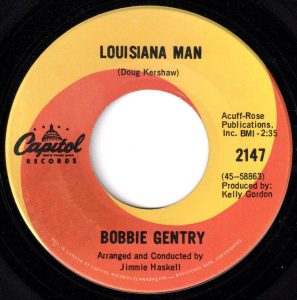 "Louisiana Man" is a song written by Doug Kershaw about a man who lives with his wife and baby girl, baby Mac, twins Rhett and Lynn, and big brother Eddie, in a house boat tied to a tree by the Mississippi River. He leaves before sunrise in the morning to make a living, heading off in a pirogue. Pirogues in the United States are associated particularly with the Cajuns of the Louisiana marsh. The early Cajun pirogues were cypress dugouts but today they are usually flat-bottomed boats. Pirogues are not usually intended for overnight travel but are light and small enough to be easily taken onto land. The design also allows the pirogue to move through the very shallow water of marshes and be easily turned over to drain any water that may get into the boat. Many radio listeners thought the lyrics in the song – "At half past Poppa he's a ready to go, he jumps in his pirogue headed down the bayou" – referred to a "hero", not knowing what a pirogue was.
The way the Louisiana man in this song makes a living is setting fishing traps on the river and selling muskrat furs in town. When he goes to town, he sometimes takes his "little girl" – the narrator of the song – to see the cowboy and Indian show. This is a song about poor folks trying to survive on the banks of the Louisiana marshes.
Doug Kershaw was born in an unincorporated community called Tiel Ridge in Cameron Parish. He didn't learn English until he was eight-years-old. But he learned to play the fiddle at the age of five. By the time he was an adult, Doug Kershaw taught himself to play 28 instruments. He and his brother Rusty formed a country duo in the mid-'50's. They recorded for Hickory Records between 1955 and 1961, charting five times on the Hot Country Songs chart. Rusty & Doug also released a few pop songs, including "Dream Queen" in 1957. They also appeared on the Louisiana Hayride and Wheeling Jamboree. They became members of the Grand Ole Opry in the 1950's.
The duo broke up in 1959 as both brothers entered the United States Army, but reunited between 1961 and 1963. Among the first songs they recorded after they were discharged from the US Army was "Louisiana Man". The song credited to Rusty & Doug climbed to #16 on CFUN in Vancouver during May '61. It was also a Top 40 hit in selected radio markets in the 'States. This included #3 in Houston and San Antonio (TX), #2 in Albuquerque (NM) and Minneapolis/St. Paul, #6 in Chicago and #8 in San Diego (CA). The song peaked at #7 in Seattle in July 1961.
In 1963 Doug Kershaw continued as a solo artist and by the end of the '60's had sold over 18 million records, mostly to Country music listeners. In July 1969, Kershaw performed at the Newport folk festival along with Joni Mitchell, Arlo Guthrie, Ramblin Jack Elliott, Big Mama Thornton, Mimi Fariña, Don McLean, James Taylor, and Jerry Jeff Walker. In November 1969, "Louisiana Man" was broadcast back to earth by the crew of the Apollo 12 moon mission. Though he released over twenty studio albums into the '80's, Kershaw struggled with drug and alcohol addiction.
"Louisiana Man" was also recorded by Bob Luman in 1962, by Lonnie Donegan, and as a duet by George Jones and Gene Pitney in 1965. In Jan and Dean, and later Rick Nelson, recorded the song in 1966. In 1967 the Pozo-Seco Singers and Harpers Bizarre made covers of the tune.
"Louisiana Man" isn't just any song about a man in Louisiana. It is a song about a man living in a small "house boat tied to a big tall tree" with six other family members. This is not a house boat in a city. This is a house boat by a river in an unincorporated backwoods, thinly settled rural area. The house boat wouldn't be allowed to be tied to a big tall tree in any incorporated area with city bylaws. This is a very poor family just scraping by.
Numbers of songs on AM Top 40 radio at the time concerned stories of people living in poverty. In the "Son Of Hickory Holler's Tramp" O.C. Smith sings about a woman with 14 children who decides to become a prostitute when her alcoholic husband runs off with another woman. In 1969 Bobbie Gentry recorded "Fancy", a song that describes a poverty-stricken single mother who lived in a shack outside of New Orleans with her two starving children. Seeing no other options, the terminally ill mother encouraged her 18-year-old daughter, Fancy, to prostitute herself as a means of making an independent living. The Kinks sang about poverty in England in the 1960's in "Dead End Street", as did Rupert's People in "Reflections Of Charles Brown". In 1963 Roy Orbison sang about a homeless person outside a department store at Christmas time in "Pretty Paper". Elvis Presley sang "In The Ghetto" about the cycle of poverty in African-American neighborhoods in the cities. In "Like A Rolling Stone" Bob Dylan sang about someone who fell from their station of affluence and status, who now doesn't "seem so proud
About having to be scrounging for your next meal." Johnny Rivers sang about the "Poor Side Of Town" and the Four Seasons sang about "Rag Doll" ("When she was just a kid her clothes were hand-me-down…. I'd change her sad rags into glad rags if I could. My folks won't let me 'cause they say that she's no good). Both songs concerned the obstacles of dating across the economic divide. In the case of Johnny Rivers' song, a woman tries to date a "rich guy" who puts her down. In Clarence Carter's song, "Patches" he explains "I was born and raised down in Alabama. On a farm way back up in the woods. I was so ragged the folks used to call me "Patches".
The struggle to keep the wolf at the door was reflected in songs in the latter decades of the 20th Century. In 1982 Eddy Grant (formerly of The Equals) sang in "Electric Avenue" Workin' so hard like a soldier, can't afford a thing on TV. Deep in my heart I'm a warrior, can't get food for the kids, good God." That same year Billy Joel sang in "Allentown" about the decline of the steel industry in the rust belt of America and its impact on laid-off workers. In 1988 Tracy Chapman in "Fast Car" sang about a dreamer who desperately seeks to claw and scrape herself out of poverty. With little formal education and a broken family life, she relies on her own meager savings from a convenience store job to escape her surroundings. Her partner's contribution is a fast car that takes them to a different situation where they repeat the same cycle of low-paid work, minimal savings, and failing to advance in any significant way economically. In 1989 Phil Collins sang in "Another Day In Paradise" about a cold, homeless woman who is crying as she beckons a stranger for help. He can see she has blisters on her feet and can't walk. Rather than helping, however, the man pretends not to hear her pleas, then whistles, and crosses the street to avoid her. In 1994 Bruce Springsteen in "The Streets Of Philadelphia" sang "I saw my reflection in a window, I didn't know my own face. Oh, brother are you gonna leave me wastin' away on, the streets of Philadelphia?"
"Louisiana Man" was one of these few songs on pop radio reminding listeners of the reality of poverty. In 1968, Bobbie Gentry's "Louisiana Man" climbed to #1 in Vancouver (BC), #2 in Fredericton (NB), #5 in Salt Lake City, Sudbury (ON) and Billings (MT), and #8 in Regina (SK), Charlotte (NC) and Knoxville (TN). But it stalled on the Billboard Hot 100 at #100. This was due to her version getting next to no airplay in 28 states in the USA. As of 2019 over 800 recording artists have made a record of "Louisiana Man". The song is regarded as a staple of Cajun country music.
Of the 26 singles Bobbie Gentry released as a solo artist after "Ode To Billy Joe", only one reached the Top 40 on the Billboard Hot 100, "Fancy" at #27 in 1970. And 18 of these single releases failed to crack the Hot 100. Thankfully, her two duets with Glen Campbell – "Let It Be Me" and "All I Have To Do It Dream" kept her voice on the Top 40. The latter climbed to #6 on the Billboard Country chart and the #18 song on the Country charts for 1969. Between 1967 and 1971 Bobbie Gentry released six solo studio albums and one album with Glen Campbell.
In 1968-69 Bobbie Gentry had her own variety show on the BBC in the UK. The show was rebroadcast in Germany, the Netherlands and Australia. In the late 60's and early '70's she appeared on shows hosted by Glen Campbell, Tom Jones and Bobby Darin. In the summer of 1974, Gentry hosted a summer replacement variety show on CBS called The Bobbie Gentry Happiness Hour.
In 1976 the film adaptation of "Ode To Billy Joe", Ode To Billy Joe was released. The film portrayed Billy Joe McAllister as in love with Bobbie Lee Hartley and conflicted about having had sex with another man in a brothel while he was very drunk. In the film, what Billy Joe McAllister and Bobbie Lee Hartley throw off the Tallahatchie Bridge into the river, is Bobbie Lee's rag doll. This event is symbolic of her throwing away her childhood and innocence, becoming an adult.
Bobbie Gentry has been married and divorced three times. The first lasted for five months, the second lasted 23 months, ending in August 1978. She married singer Jim Stafford in October 1978. Stafford and Gentry had a very small wedding in 1978, but they did allow a reporter from the Memphis Commercial Appeal to attend the ceremony on their 120-acre horse farm in Somerville, about 45 miles east of the city. The marriage lasted 11 months and she divorced him in September 1980, just prior to the birth of their son.
Rolling Stone reported in 2017 that "In 1983, Bobbie Gentry, for the first time in her career, canceled a show – a gig she was scheduled to perform with Mac Davis. A self-declared workaholic, Bobbie Gentry worked through broken bones, broken hearts, and sheer exhaustion. Aside from a few industry events, Bobbie Gentry never appeared in public as a performer again. She simply hung up her heels and vanished…"
According to a biography about her by Tara Murtha, Ode To Billy Joe (2015), Bobbie Gentry lived in Savannah, Georgia, for awhile in the 1990's. A reporter for the Washington Post contacted Bobbie Gentry by phone at her home in Memphis in 2016. She hung up on him after he told her who he was. Gentry continues to live far from the spotlight, having turned her back on a music industry that disappointed her.
July 26, 2019
Ray McGinnis
References: Tara Murtha, "The Secret Life of Bobbie Gentry, Pioneering Artist Behind 'Ode to Billie Joe': How the Singer-songwriter who Knocked the Beatles out of the Number One Spot 50 Years ago Quietly Revolutionized Country Music," Rolling Stone, August 21, 2017.
"The Mystery of Bobbie Gentry, Iconic Country Star Turned Recluse,"
"Pirogue," Wikipedia.org.
"Charley Pride performs 'Louisiana Man'," When the cowboy sings.net.
Neely Tucker, "Whatever happened to Bobbie Gentry? In Search of Country Music's Great Vanished Star," Washington Post, June 2, 2016.
"Boss 30," CKLG 730 AM, Vancouver, BC, May 25, 1968.
For more song reviews visit the Countdown.