#1104: Love Me by Bobby Hebb
Peak Month: January 1967
7 weeks on Vancouver's CFUN chart
Peak Position #8
Peak Position on Billboard Hot 100 ~ #84
YouTube.com: "Love Me"
Lyrics: "Love Me"
Robert Von Hebb was born in Nashville, Tennessee in 1938. His parents, William and Ovalla Hebb, were both blind musicians. When "Bobby" was just three years old he performed on stage in The Jerry Jackson Revue of 1942, which took place in 1941. Hebb's older brother Harold "Hal" introduced him to the audience at the Bijou Theatre. Over the next three years before he entered elementary school, and through his school years, Bobby Hebb and his brother "Hal" appeared at various Nashville nightclubs. These included The Hollywood Palm, Eva Thompson Jones Dance Studio and The Paradise Club. Their appearances were backed by William Hebb on trombone and guitar, and Olivia Hebb on both piano and guitar. The brothers sang "Lady B. Good", "Let's Do the Boogie Woogie" and other songs spanning the R&B and jazz genre in the 40s.
In the early 50s Bobby Hebb appeared on the roster of special guests on Owen Bradley's TV. This led to Bobby Hebb playing the spoons in country music star Roy Acuff's band. In 1955 Bobby Hebb sang backup on Bo Diddley's "Diddley Daddy", a Top 20 R&B single that was the follow up to Bo Diddley's debut #1 smash R&B hit "Bo Diddley". Hebb was drafted into the U.S. Army and played trumpet in the United States Navy jazz band. A while after he returned to civilian life, Hebb took over from Mickey Baker in Mickey and Sylvia at the end of the 50s when Baker moved to France.
In 1963, the day after President John F. Kennedy was assassinated, Bobby's brother, Harold, was killed outside a Nashville nightclub. Harold Hebb had gotten into a knife fight. Bobby Hebb, overcome by the two events, turned to songwriting as a path forward. The result was "Sunny". It is the song Bobby Hebb is best known for which became a smash hit in 1966. "Sunny" climbed to #2 hit on the Billboard Hot 100 and #5 in Vancouver. The song also climbed to #3 on the R&B charts and into the Top 40 on the US Country charts. "Sunny" has been recorded by many pop music artists including Cher, Manfred Mann, Del Shannon, Shirley Bassey, Wilson Pickett, Booker T. & The MG's, Dusty Springfield, The Ventures, Paul Mauriat, Andy Williams, Johnny Rivers, Frank Sinatra, Jose Feliciano, Michel Pagliaro, George Benson, Ella Fitzgerald, Anita O'Day, Stan Kenton, Percy Faith and Oscar Peterson. Hebb later recorded a disco version of the song in 1976 that was a minor hit that year.
After the success of "Sunny" Bobby Hebb had several single releases that did very well in Vancouver, both making the Top Ten. The first was "A Satisfied Mind" in the fall of 1966, followed by "Love Me" in early 1967. While the song didn't catch on in America, only climbing to #84 on the Billboard Hot 100, the song peaked at #8 in Vancouver.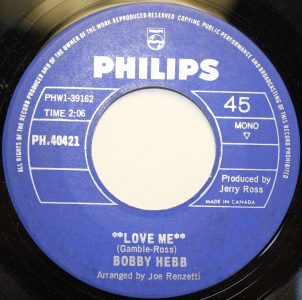 "Love Me" is a straight forward plea for someone to offer their love, truly, madly and deeply. The co-writers for "Love Me" were Jerry Ross and Kenneth Gamble. Jerry Ross was a songwriter who got a break as a booth announcer for Dick Clark's American Bandstand. Ross ended up writing songs for Dodie Stevens, Chubby Checker, Freddie Cannon, Jerry Butler and others. Among the records he helped make hits for pop stars, his most famous songs are "Someday Will Never Be The Same" by Spanky And Out Gang," "Sunny" by Bobby Hebb, "Apples, Peaches, Pumpkin Pie" by Jay & The Techniques, "Venus" for the Shocking Blue and "I'm Gonna Make You Love Me" for Diana Ross & The Supremes with The Temptations, the latter with Kenneth Gamble. For his part Kenneth Gamble wrote "Only The Strong Survive" for Jerry Butler, "Expressway To Your Heart" for the Soul Survivors, "Me And Mrs; Jones" for Billy Paul, "If You Don't Know Me By Now" for Harold Melvin & The Blue Notes, "Love Train" for the O'Jays, "When Will I See You Again" for the Three Degrees and "Do It Anyway You Wanna" for disco group People's Choice. Most of these song Gamble co-wrote with Leon Huff.
Hebb releases an album in 1970 called Love Games. After that he stopped releasing his own recordings. But Hebb kept on writing, including a Top 20 hit for Lou Rawls in 1971 called "A Natural Man". In 2005 Bobby Hebb returned to the recording studio and released an album called That's All I Wanna Know. Hebb had final tour in October 2008 that included concerts in Osaka and Tokyo in Japan. Bobby Hebb died in 2010 of lung cancer.
May 1, 2017
Ray McGinnis
References:
Bobby Hebb Biography, Bobby Hebb.com
Dan Geringer, "Philly Hitmaker Jerry J. Ross, 84, Co-writer of Soul Hit 'I'm Gonna Make You Love Me'," The Inquirer, Philadelphia, PA, October 6, 2017.
Kenneth Gamble Biography, Gamble-Huff Music.com.
"C-FUNTASTIC FIFTY," CFUN 1410 AM, Vancouver, BC, January 14, 1967.
For more song reviews visit the Countdown.