#129: Love Can Move Mountains by Celine Dion
Peak Month: January 1993
16 weeks on Vancouver's CKLG Survey
Peak Position ~ #3
Peak Position on Billboard Hot 100 ~ #36
YouTube: "Love Can Move Mountains"
Lyrics: "Love Can Move Mountains"
Céline Marie Claudette Dion was born in the Montreal suburb of Charlemagne, Quebec, in 1968. She developed a talent for singing in early childhood. At the age of 13 she recorded an album which included a song she wrote titled "Ce n'était qu'un rêve" ("Nothing But a Dream"). The song climbed into the Top Ten in Quebec. She competed in Tokyo, Japan, at the 1982 Yamaha World Popular Song Festival and won awards for Top Performer and Best Song. In 1983 she recorded the single "D'amour ou d'amitié" ("Of Love or Friendship") which became a number one hit in Quebec and peaked at #5 on the national pop chart in France. In early 1984 in Germany, Dion also released a German-language version of "D'amour ou d'amitié" titled "Was bedeute ich dir". In 1988 she won the Eurovision contest in Dublin for her rendition of "Ne partez pas sans moi" ("Don't Leave Without Me"). The song was composed by Atilla Şereftuğ, a Swiss citizen, and Dion was entered as a Swiss Eurovision contestant. That same year she gave 75 concerts as part of her Incognito tournée in the province of Quebec to support her latest French-language album.
Céline wanted to become an international star. But she was told her English wasn't good enough for her to be marketable to the huge English-language radio markets in the United States, the UK, Australia, New Zealand and Canada. In 1989 she took lessons to improve her English at Ecole Berlitz. She injured her vocal chords in 1989 and subsequently took vocal training. Later that year she recorded a duet with Canadian R&B performer Billy Newton-Davis titled "Can't Live With You, Can't Live Without You". The single peaked at #41 on the Canadian RPM singles chart. This was her debut recording singing in English.
Her debut album, Unison, was released in 1990. The debut single, "The Last To Know", appeared on the Vancouver pop chart in March 1990.
Other single releases from the Unison album include "Heart To Heart", "(If There Was) Any Other Way" and "Where Does My Heart Beat Now". The latter climbed to #1 in Vancouver in February 1991 and to #4 on the Billboard Hot 100 in March '91. Later that year she had a successful duet with Peabo Bryson singing the theme song from the animated film Beauty And The Beast. "Beauty And The Beast" climbed to #2 in Vancouver in April 1992 and #4 on the Billboard Hot 100. She won a Grammy Award for Best Pop Performance by a Duo or Group Vocal. She continued her string of Top Ten hits with "If You Asked Me To" in the summer of '92, written by Diane Warren. Later in 1992 "Nothing But The Broken Heart" climbed to #2 in Vancouver. The next single release was "Love Can Move Mountains".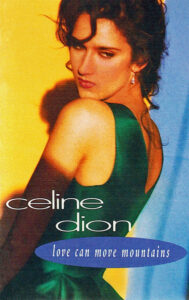 "Love Can Move Mountains" is a song written by Diane Warren. Born in Van Nuys, California, in 1956. Warren wrote English lyrics to the 1981 French song "Solitaire", a hit for Laura Branigan in 1983. Diane Warren had her first big hit recorded by DeBarge in 1985 titled "Rhythm Of The Night". Belinda Carlisle was a hitmaker in 1987 with Diane Warren's "I Get Weak". That year Heart took "Who Will You Run To" to the Top Ten, and "Nothing's Gonna Stop Us Now" for Starship. In 1988, Warren wrote Top Ten hits "I Don't Wanna Live Without You" and "Look Away" for Chicago. In 1989, Warren's song "Blame It On The Rain" became a number-one hit for Milli Vanilli. That same year Michael Bolton took "How Can We Be Lovers?" to #3 on the Billboard Hot 100. And Bad English had a #1 hit with Warren's song ""When I See You Smile".
In 1990, Taylor Dayne had a number-one hit with Diane Warren's "Love Will Lead You Back", and a Top Ten hit with the songwriter's "I'll Be Your Shelter". In 1989-90, Cher had an international Top Ten hit with Dianne Warren's "If I Could Turn Back Time", and further success that year with "Just Like Jesse James".
In 1993, Ace of Base had a Top Ten hit with Diane Warren's "Don't Turn Around". In 1996, Warren penned Celine Dion's number-one hit "Because You Loved Me". Also that year, Monica had a Top Ten international hit with "For You I Will", from the film Space Jam. And in 1996-97 Toni Braxton had an international smash hit with "Un-Break My Heart". The following year, Leann Rimes took "How Do I Live" to the Top Ten internationally. In 1998 her song "The Arms Of The One Who Loves You" was a Top Ten hit for Xscape. That year Aerosmith had a smash hit with Warren's "I Don't Want To Miss A Thing". And in 1999, Diane Warren wrote "From the Heart" for the film Notting Hill. It became a Top Ten hit in the UK for Another Level. And in 1998-99, Brandy took Warren's composition "Have You Ever?" to #1 in the USA and Top Ten in five countries internationally. At the end of the 90s, Diane Warren wrote a Top Ten hit for Christina Aguilera titled "I Turn to You", and "Music of My Heart" for Gloria Estefan.
"Love Can Move Mountains" is a song about the power of love. With love (faith and trust) anything is possible: "Oceans deep and mountains high, they can't stop us because love is on our side… We can reach the heavens and touch the sky." Indeed, when two people surrender to the vision of two lives joined as one, their determination and belief in their love can power a love story.
"Love Can Move Mountains" peaked at #3 in Vancouver, and Lancaster (PA), #5 in Lebanon (PA), #20 in Los Angeles, and charted into the Top 30 in San Jose (CA) and Minneapolis/St. Paul.
Meanwhile, Dion released five singles in French between 1991 and 1993. Of these, "Quelqu'un que j'aime, quelqu'un qui m'aime" ("Someone I Love, Someone Who Loves Me") topped the charts in Quebec. Two other French-language singles made the Top Ten in Quebec. In the midst of these chart successes Céline Dion went on a 51-concert tour across Canada between July 1992 and May 1993.
In 1993 Dion recorded a duet with Clive Griffin of the 1952 hit "When I Fall In Love". Their cover was featured in the film Sleepless In Seattle. It won the duo a Grammy Award for Best Instrumental Arrangement, Instruments and Vocals in 1994. In support of her album, The Colour Of My Love, she embarked on The Colour Of My Love Tour in mid-February 1994. The tour took her to Europe, Asia and across North America. She performed 37 concerts across Canada, including three in Vancouver at Queen Elizabeth Theatre (May 6-7-8, 1994). By the time her tour wrapped up in May 1995 Céline Dion had given 68 concerts. In September 1995 she began a performing her D'eux Tour in support of a French-language album. She began the tour with five concerts in Quebec City and then flew to Europe for 42 concerts across the UK, France, Belgium, Norway, Switzerland, Sweden, Ireland, Denmark, the Netherlands and Germany. The tour ended in February 1996.
The height of her recording career was in the period from 1994 to 1998 with a series of #1 hits internationally. These include Grammy nominated "The Power Of Love", Grammy winning "Because You Loved Me" (from the film Up Close and Personal) written by Diane Warren, "It's All Coming Back To Me Now", Grammy winning "My Heart Will Go On" and a Grammy nominated duet with R. Kelly titled "I'm Your Angel".
Of these, the theme song from the December 1997 film Titanic, "My Heart Will Go On", became her signature song selling over 18 million copies. In 1999 she won two Grammy Awards for "Record Of The Year" and "Best Female Pop Vocal Performance". The songwriters James Horner and Will Jennings won an Academy Award with "My Heart Will Go On" for Best Original Song. Dion also won Grammy Awards in 1997 for her album Falling Into You ("Album of the Year" and "Best Pop Album").
On July 19, 1996, she performed "The Power Of A Dream" at the Opening Ceremonies of the summer Olympics in Atlanta, Georgia. That year she embarked on her Falling Into You Tour from March 1996 to June 1997. She performed 148 concerts in 17 nations across North America, Europe, Asia, Australia and New Zealand. This included a concert in Vancouver on May 18, 1996. Her Let's Talk About Love World Tour lasted from August 1998 to December 1999. It saw her perform in 71 concerts in North America, 6 in Asia and 10 in Europe. That year she was also inducted into Canada's Walk of Fame in Toronto.
In 2000 her duet performance with Andrea Bocelli of "The Prayer" won the duo a Grammy nomination for Best Pop Collaboration with Vocals. In 2001 Céline Dion earned another Grammy nomination in the same category for her cover of the Frank Sinatra song "All The Way". After the attacks on the World Trade Center and the Pentagon on September 11, 2001, Céline Dion sang one of the most stirring renditions of "God Bless America" during the telecast of America: A Tribute to Heroes on September 21, 2001. In December 2001 she published her autobiography My Story, My Dream.
In 2002, Céline Dion signed a 600-show contract to appear five nights a week in an entertainment extravaganza, A New Day… at The Colosseum at Caesars Palace in Las Vegas. The show was a huge success with most performances selling out. Her contract was extended until December 15, 2007. She ended up performing 717 shows at Caesars Palace. Her gross revenue of $385,000,000 USD is equal to $475 million US dollars in 2019. On February 14, 2008, Céline Dion began her Taking Chances World Tour. The tour took her to Europe, Asia, Africa, Australia and North America. She performed at 132 concerts including on October 20 and 21, 2008, in Vancouver (BC) at General Motors Place. Her first concert on the tour was in Johannesburg, South Africa, which was a benefit for the Nelson Mandela Children's Fund. Her world tour ended on February 26, 2009.
Between March 15, 2011, and June 8, 2019, Céline Dion did another residency at Caesars Palace in Las Vegas. This one spanned 429 shows. During her residency Las Vegas Dion went on several limited tours. In 2013 she was away for one show in Quebec City and nine shows in Antwerp and Paris. She planned a tour to Asia in 2014, but due to her husband's illness the tour was cancelled. Her husband, René Angélil died in January 2016 of cancer. In 2016 she gave 28 concerts between June 20 and August 31. Seventeen of these concerts were in Quebec and the other eleven were in Paris and Antwerp. The following summer she performed 25 concerts across six countries in Europe. And from late June 2018 to August 14/18, she went on tour with 22 concert dates in Asia and Oceania (Australia and New Zealand).
Céline Dion's Courage World Tour scheduled 66 concerts across North America. The tour began on September 18, 2019, and ended on March 8, 2020, due to the Covid-19 lockdown. A concert scheduled for April 17, 2020, in Vancouver at Rogers Arena was cancelled. Rescheduled concerts in Vancouver for March 28 and 29, 2022, were cancelled due to personal health issues for the recording artist.
As of 2019 Céline Dion is Canada's top selling recording artist in history with over 200,000,000 record sales. Céline Dion has also won many awards including the Order of Canada in 2013.
Songwriter, Diane Warren has received six oscars and received a dozen Academy Award nominations for the songs she's written for film.
August 12, 2022
Ray McGinnis
References:
"Being Celine: A Look Back at the Illustrious Career of Celine Dion," Billboard, May 1, 2017.
Charles P. Alexander, "MUSIC: The Power of Celine Dion," Time, March 7, 2007.
Patricia MacDonald, "The Unsinkable Celine Dion — Pop Diva Is On Top Of The World, And Not Even An Iceberg Could Stop Her Now," Seattle Times, October 8, 1998.
Céline Dion, My Story, My Dream, HarperCollins, 2001.
Alison Segel, "How To Break Up With Someone You're Still In Love With, Because Sometimes, It Just Doesn't Work," Elite Daily, September 26, 2017.
Dorion Lynskey, "'I'm a one in a billion' – how Diane Warren penned windswept power ballads for Cher, Gaga and Dion," Guardian, August 26, 2021.
For more song reviews visit the Countdown.