#1039: Love Changes Everything by Honeymoon Suite
Peak Month: June 1988
12 weeks on Vancouver's CKLG chart
Peak Position #17
Peak Position on Billboard Hot 100 ~ #91
YouTube.com: "Love Changes Everything"
Lyrics: "Love Changes Everything"
In 1981 John Richard DeGiuli, from Niagara Falls, Ontario, formed the Honeymoon Suite. He was a guitarist and lead vocalist and went with the stage name, Johnnie Dee. After several years of line-up changes, he played alongside lead guitarist Derry Grehan and drummer Dave Bretts. In 1983 the band won a contest on Toronto's FM station Q107 for playing a song Grehan wrote titled "New Girl Now". The band expanded to include keyboardist, Ray Coburn, and Gary Lalonde on bass. A debut album followed that included their debut single and several other marginal hits. A second album, The Big Prize, included their first Top 20 single in Canada, called "Feel It Again". Another single, "What Does It Take" was featured on the soundtrack for the John Cusack film One Crazy Summer. And in 1986, Honeymoon Suite had their song, "Those Were the Days," appear in the Charlie Sheen and Randy Quaid action-horror movie, The Wraith. The following year, Honeymoon Suite recorded the title song for the Mel Gibson movie, Lethal Weapon, which was played during the final credits.
By the end of 1987 Honeymoon Suite began to do studio work on their third album, Racing After Midnight. However, an accident happened when Johnnie Dee was hit by a car at the Los Angeles International Airport. His leg was broken in a couple of places. Surgery followed. When the album was finally released in 1988 it included several singles, with "Love Changes Everything" climbing to #9 on the Canadian RPM Magazine charts.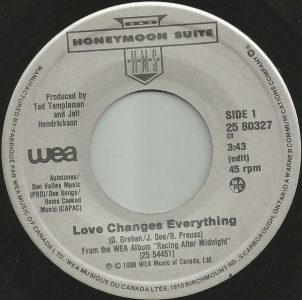 From "Love Changes Everything", we're reminded that feelings have a context that give them a home to be expressed. In the song the guys heart is warm again, no longer cold. Past experience has taught them that love was too dangerous to risk it again. However, they've met someone who takes care of them and catches them when they fall. They explain that their heart is now on a string. To give someone your heart on a string means that you will let them play with your heart the way a person plays a string on an instrument, like the guitar, harp or violin. The person playing the instrument plays each string to help play the right notes and interpret a piece of music in a way that satisfies. Giving your heart on a string is letting someone have your heart to play with and use their skills (in this case in love and romance instead of music) to take the lead in how the romance will proceed. "Love Changes Everything" climbed to #91 on the Billboard Hot 100. In Vancouver it peaked at #17.
In 1989, Honeymoon Suite were invited to have one of their songs in the series finale of Miami Vice. "Bad Attitude", was aired during scene while a Ferrari driving down a road. Also, that year, Honeymoon Suite issued a greatest hits album, The Singles. The band continued to tour in the '90s, although many line-up changes…
In 2002, they released their first new studio album in 11 years, Lemon Tongue. Playing on the album were Grehan and Dee, who were by now the group's only official members. In June 2007, the band officially announced the return of a reunited classic line-up of Johnnie Dee, Derry Grehan, Ray Coburn, Gary Lalonde, and Dave Betts. The band toured extensively throughout Canada in 2007 and 2008 and then entered the studio to record a new album. The high point of the reunion was the new album Clifton Hill.
In the summer of 2017, at this time of publication, Honeymoon Suite has ten concert dates in Canada during August and September.
August 4, 2017
Ray McGinnis
References:
Derry Grehan, Honeymoon Suite, Canadian Bands.com
Honeymoon Suite, Canadian Classic Rock.com.
"Vancouver's Top 40 Hot Hits," CKLG 730 AM, Vancouver, BC, June 1, 1988.
For more song reviews visit the Countdown.