#670: Love Didn't Die by The Chessmen
Peak Month: January 1966
10 weeks on CFUN's Vancouver Charts
Peak Position ~ #6
Peak Position on Billboard Hot 100 ~ did not chart
YouTube.com: "Love Didn't Die"
In 1959 Guy Sobell became a member of a Vancouver band called The Ken Clark Trio. They drew inspiration from The Shadows, The Beatles and Sweden's instrumental group the Spotnicks. For the first few years the trio subsisted by playing at frat parties at the University of British Columbia. In 1962 Sobell decided to form a new band. Among the musicians responding to an ad was Terry Jacks, who was 17 years old and studying architecture and a member of a band called The Sand Dwellers. Jacks band had released a single called "Build Your Castle Higher". Written along with bandmade John Crowe, it was Jacks' first recording. It was covered by Jerry Cole and His Spacemen as a track on their debut album, Outer Limits. The track was retitled "Midnight Surfer" and Jerry Cole went on to be part of Phil Spector's group of now legendary session musicians called the Wrecking Crew who played on over 40 #1 hits in the USA. Prior to His Spacemen band, Jerry Cole was a member of the instrumental group The Champs who had a #1 hit in 1958 called "Tequila". I don't know if The Sand Dwellers got any royalties from Jerry Cole and His Spacemen.
In addition to Terry Jacks, there was bass player Bill Lockie and Erik Kalaidzis who was the bands singer. Kalaidzis played chess with Guy Sobell and so they were inspired to call their band The Chessmen. By the time Kenny Moore became the bands' drummer, Kalaidzis had left the band and Terry Jacks became the lead vocalist. To begin with the band played at UBC fraternity houses for $40 a night. They played coffee houses in greater Vancouver and in 1964 released a double-sided instrumental 45 called "Meadowlands" b/w "Mustang".
From there the Chessmen toured British Columbia playing at roller skating rinks, sock hops and school dances. Meanwhile, Terry Jacks wrote "The Way You Fell". At a Brenda Lee show at The Cave in Vancouver, Terry Jacks got acquainted Brenda and her manager, Dub Allbritten. Soon after Dub expressed an interest in being the manager of The Chessmen. They agreed, and Allbritten got them a record contract with Mercury Records in the USA. On September 24 and 25, 1965, The Chessmen played two shows at the PNE (Pacific National Exhibition) along with The Castaways, Charlie Rich and The Beach Boys. The Castaways were from Minneapolis, Minnesota, had a song called "Liar Liar" that peaked that October at #4 in Vancouver and #12 in the USA. The Beach Boys were fresh off their August Top 3 hit, "California Girls." It was the fourth single to reach the Top Ten in Vancouver. "Do You Wanna Dance" peaked at #11, while "Help Me Rhonda" peaked at #2, "Dance, Dance, Dance" and "Warmth of the Sun" each peaked at #6.
On November 5, 1965, The Chessmen were the opening act for Buddy Knox. Then on November 28th, The Chessmen opened a concert at the Queen Elizabeth Theatre with Roy Orbison as the headliner. The Chessmen's concert appearances ended the year as openers for Gary Lewis and the Playboys on December 29, of "This Diamond Ring" fame. The concert seemed to help the headliners as their hit, "She's Just My Style", spent the first two weeks on January 1966 at #2 on both CFUN and CKLG's weekly record surveys. The Chessmen travelled to Nashville and cut several more singles. The first of these was "Love Didn't Die".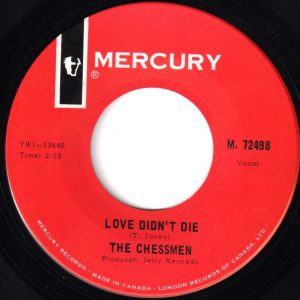 "Love Didn't Die" is a song about a couple who are not in synch with each other. One person's love is fading for the other. While their partner still has a flame that hasn't died. Now that the relationship is over, the guy still has to try hard not to love his ex-girlfriend. His thoughts remain focused on her.
In his article, "The Only Relationships We Obsess Over Are The Unfinished Ones," Dan Scott writes, "there is always that one relationship you can't shake and is almost impossible to take anything away from: The relationship that went "unfinished." In The Chessmen's song, "Love Didn't Die", the guy was the only one whose heart hadn't changed. But for his girlfriend the magic of the relationship had died. When a relationship ends, and it is not on your terms, you can end up ruminating about why. One of the reasons people ruminate about a break-up is they don't have any closure. Being uncertain why a relationship ended has be perplexing. You may worry it will happen again and you'll be blindsided. Scotti writes, "You're curious how the person you thought you knew could do what he or she did — you have questions."
Scotti also suggests "Another reason you might be caught up in the past, with respect to a relationship that didn't end properly, is you're still harboring hope for the future. Regardless of the circumstances that ultimately ended your relationship, it's important to come to terms with the fact that it is, in fact, ended. Period." Other reasons for holding on include the feelings you still have for your ex. It is not uncommon to have some feelings of fondness for someone you were in a relationship with. But tending those feelings will only keep you from moving on and noticing who or what is newly in front of you. For the guy in "Love Didn't Die," the hard fact is that her love did die. Period. While it may take time to stop playing with different scenarios and bargaining with your new life circumstance, it is also time to accept what has occurred.
While "Love Didn't Die" climbed to #6 on CFUN in Vancouver, the single didn't chart elsewhere in Canada or the USA.
Their next single, "What's Causing This Sensation", also charted well in Vancouver. But in July 1966, the band dissolved. After the band split, Terry Jacks was asked in a 1966 Chatelaine Magazine interview if success had changed The Chessmen in any way. Jacks replied, "No, we all still eat raw eggs for breakfast!"
Terry Jacks went on to form The Poppy Family with Susan Jacks, his new wife who he met at a taping of Let's Go. The Poppy Family had numbers of hit records in Vancouver and internationally, as well as solo releases by Susan Jacks and Terry Jacks. The latter's biggest hit was "Seasons In The Sun" in 1974. He would go on to produce records for other recording artists including Nana Mouskouri, Valdy, George Jones and Buddy Knox. Jacks remarried and moved to Haida Gwai on the northwestern coast of British Columbia. He has worked on a number of environmental films over the years. In 2016 he suffered two strokes.
Guy Sobell went on to be a producer and married recording artist Denice McCann. He also produced, arranged and played guitar on an album titled Snakebite by Canadian recording artist, Mya, in 1975.
Canadian Bands.com comments that in 2009 Regenerator Records released a best of collection of The Chessmen.
December 10, 2018
Ray McGinnis
References:
Chris Bishop, The Chessmen, Garage Hangover.com, December 1, 2009
The Chessmen, Canadian Bands.com
The Spotnicks, "Orange Blossom Special," 1962
Jerry Cole and His Spacemen, "Midnight Surfer," 1963
Guy Sobell credits, Discogs.com
John Mackie, "The Many Seasons of B.C. Singer Terry Jacks," Vancouver Sun, Vancouver, B.C., April 1, 2016.
Terry Jacks bio, Canadian Bands.com.
Terry Jacks bio, The Canadian Encyclopedia.ca.
Edwardson, Ryan. Canuck Rock: A History of Canadian Popular Music. University of Toronto Press, Toronto, Ontario, 2009.
Dan Scotti, "The Only Relationships We Obsess Over Are The Unfinished Ones," Elite Daily.com, June 16, 2015.
"C-FUNTASTIC FIFTY," CFUN 1410 AM, Vancouver, BC, January 8, 1966.
For more song reviews visit the Countdown.